I'm here with my weekly recap of training for the New York City Marathon. Only 8 weeks to go! Jess and I are hosting our normal weekly link-up; details at the end of this post. I am also linking up with Courtney and HoHo Runs/Mississippi Piddlin, who host similar link-ups. Check them out!
Monday: The Victory Labor Day 10k. After a 73 mile week last week, I didn't have high expectations for the 10k. My coach told me to treat it like a tempo effort.
2 miles warm-up, 6.2 miles at a 7:36 min/mile pace, 1 mile cool down. 9.2 miles total.
After the race, we took advantage of the beautiful Labor Day weather and brought Tilda along to use her Pup Pass from Sidewalk Dog.
This pass was $20 and includes a beer at about 12 breweries that are dog-friendly. The proceeds all go to a good cause (I think a local rescue).
Matilda is a fan!

Tuesday: I had a 6:55 am flight to NYC for work, so no time to run in the morning. Fortunately after a day of meetings, I was able to squeeze in a quick 3.5 mile run before dinner. My hotel was right in Times Square and just a block from my office. It was a great location for work, but not so great for trying to run after 5 pm! The crowds of tourists in Times Square made it pretty challenging to make my way to the park.
It still felt great to shake out my legs as well as make sure I knew how to get to the park for a pre-work run the next day.
Wednesday: Another Central Park run. I was supposed to do 1000m repeats, though they didn't go all that well; I think that my legs were still a bit beat from the 10k.
2 miles to warm-up, 8x1000m, 2 mile cool-down. 9 miles total.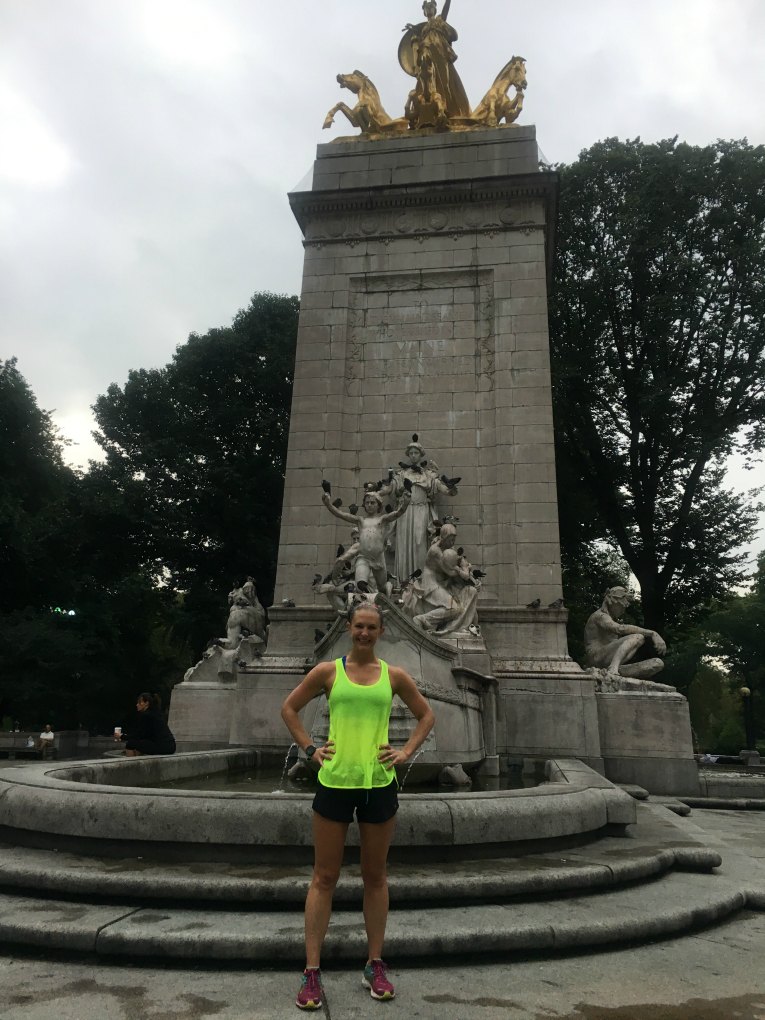 Thursday: One final Central Park run. I met my friend Jehan for 8 miles. She is faster than me, so I definitely had to work to keep up, but it was great to see her.
She showed me where all the best water fountains are located. 🙂
She is running the Berlin Marathon and the New York City Marathon- best of luck!
The next time I run in Central Park, it will be at mile 23-ish of the marathon. Can't wait!
On my way back to the hotel, I stopped by Joe & the Juice for a lovely post-run refreshment.
I was only in New York Tuesday through Thursday, arriving back in Minneapolis around 5:30 pm, just in time to squeeze in another 4 miles.
12 miles on the day.
Friday: Back in Minneapolis. I met my friend Lindsey for some morning 100m sprints. 5.75 miles total.
Saturday: Slept in on a Saturday- what??? It felt great.
Eventually, Dustin, Matilda (the vizsla) and I did about 4.5 miles together. Then my sister and my youngest niece came over to go to Woodstock in Linden Hills with us. Woodstock is this adorable little dog festival, with tons of vendors and dog-friendly activities.
Matilda entered the "average dog tricks" competition, where she showed off her "average" skills, like sit, shake, and roll over 🙂
There were some ABOVE average dog tricks – dogs jumping through hoops, singing songs, etc. It was so cute!
Sunday: City of Lakes Half Marathon! I haven't run this race in several years as it just didn't fit in my schedule, but I LOVE it! It's probably my favorite local half marathon.
It goes around Lake Harriet and Lake Calhoun two times each, which you'd think might be boring, but it's not! There are a lot of familiar faces out there cheering (and running of course) and its actually different to run on the road around the lakes I know so well, instead of the running paths. It's really just a fun runner's event that has been going on for quite some time.
**Shout-out to Becca, a reader who introduced herself around mile 7. She was running the half marathon as part of her 20 miler for training for the Twin Cities Marathon. Good luck!
I ran with my friend Christie, who also had goal marathon pace on her schedule. We successfully ran 13.1 miles at an 8:08 min/mile average. Right on pace! 1:46:45 was our finishing time.
With 2 miles to warm-up, 13.1 miles of racing, 1 mile to cool-down = 16 miles total.
My coach wanted me to get to 18 miles total on the day, which he said was fine if I did the second run later. So I followed his instructions and did another 2 miles on the treadmill- kind of odd, but whatever.
Right after the race, Christie and I rushed back to my house where we were hosting a wedding shower for my friend Lindsey. It was 16 hungry runners- lots of food, lots of fun!
One of the highlights? The other co-host Sarah made these "Performance" Rice Krispie treats.
Who would have thought you could use GU's for cooking, right?

The shower didn't really have a running theme, but the prize for the one game we played was definitely runner themed!

Summary: 62 miles of running. No strength (boo- will definitely try to do better next week!)
Only 8 weeks until the New York City Marathon!
Attention! Jess and I are planning a coffee meet-up/walk around Central Park on Saturday morning at the Starbucks at 55th/7th. Stay tuned for more information- I hope any readers/bloggers/instagrammers will be able to join us!
(Visited 424 time, 1 visit today)