Last week was a big week of training for Grandma's Marathon 2016! Here's how it went:
Monday: Morning run: 2 mile warm-up, 8x300m sprints with 90 second recovery, 2 mile cool down. I was supposed to do the 300m sprints at a 6:55 pace. Considering my goal for the TC 1 Mile was a 6:30 min/mile and 300m is much shorter than a mile, this seemed doable, but at 6 am, it felt pretty hard and I often had to walk during the recovery. I was also closer to 7:00, 7:05 for most. 6.75 miles total. Evening: [solidcore] class (and I actually made it there ON TIME! It's been so hard with Hwy 100 under construction.)
Tuesday: I had a 7 am meeting at work and it was pouring when I woke up, so I decided to just run 4 quick ones on the treadmill. Swam laps for 45 minutes after work (still loving swimming! I'm excited to check out a few local pools this summer that have outdoor lap swimming.) Also, my Garmin 225 seems to be calibrating better when I use it on the treadmill; it was much closer pace/distance wise compared to what the treadmill said.
Wednesday: Easy 7.5 miles in the morning. (lots of sweaty post-run kisses from my running companion)

That evening, Matilda's new friend Scarlet the vizsla came over. We dog-sat her for the weekend while her parents went to a wedding on the east coast. She's an 8-month vizsla puppy with TONS of energy. Matilda and Scarlet had a BLAST. Honestly, so did I; I could watch them play all day. And being around Scarlet energized Matilda into a playful puppy. I think we need another dog, right? Ha! Actually, Minneapolis has a three-pet limit, and we currently have two cats and a dog<– hoarder? 
Guess I'll have to get my fill by dog-sitting as much as I can.

Thursday:  My coach had me run 4 easy miles in the morning to shake out my nerves before the TC 1 Mile that evening. For the race, I did 2.5 miles to warm-up, 1 mile race (at a 6:27.8 pace!) and 1 mile to cool-down for 4.5 miles total. 8.5 miles on the day.

Friday: 7.5 cold, rainy miles in the morning for Flapjack Friday at Mill City Running. We took it super easy too since we were all tired from the TC 1 mile the night before. Sure, it was cold and rainy, but the pancakes, hot coffee, and good company made it all worth it.

Then I ran home from work that day- 5 miles (#runcommute !). 12.5 miles on the day.

Saturday: 20 mile long run <– where did our summer weather go? I had to pull out my gloves and an ear band for this run.
That evening we went to see the Book of Mormon at the Orpheum.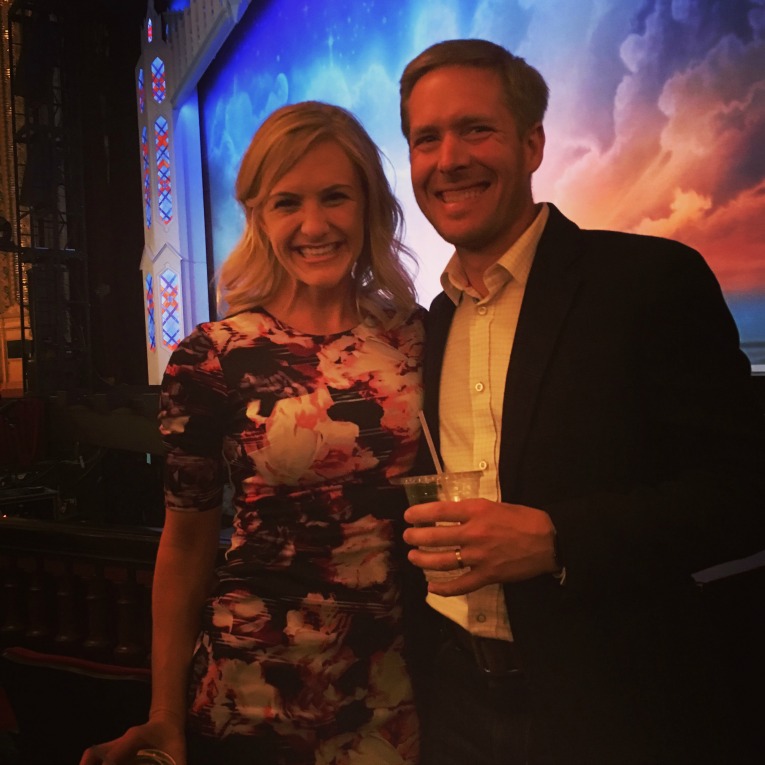 It was my third time seeing it and it's still just as good- maybe better, as I know the soundtrack pretty darn well (Man Up is a great running tune!)
I wanted to get a good posed picture with Matilda and Scarlet when I was dressed up…Lots of treats were involved- but it just didn't happen. Too much excitement! This was the best we could do.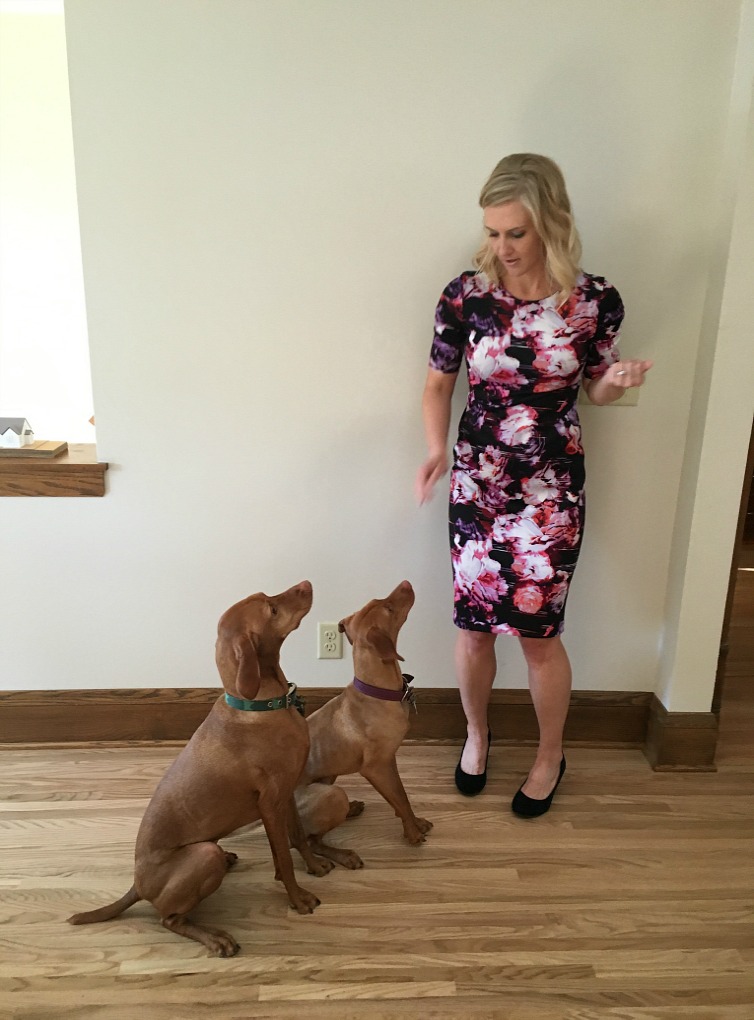 Sunday: Easy 6 miles in the morning with a few friends, then [solidcore].
That afternoon we had a big dog party with all the coolest dawgs at the Minnehaha dog park….

…followed by a bite to eat at Bread & Pickle. A lovely Sunday.
Summary: 65 miles, 2 strength classes (solidcore), 45 minutes of swimming
And for anyone who comes here for vizsla pictures, I've got you covered today! If I hadn't posted enough vizsla pictures already..here's a few more!
I swear there is a second vizsla in this picture…it's just really hard to get her to sit still, ha!

Stalking bunnies on a walk….
Chilling in the back seat on the way to the dog park…
At Bread & Pickle on Lake Harriet…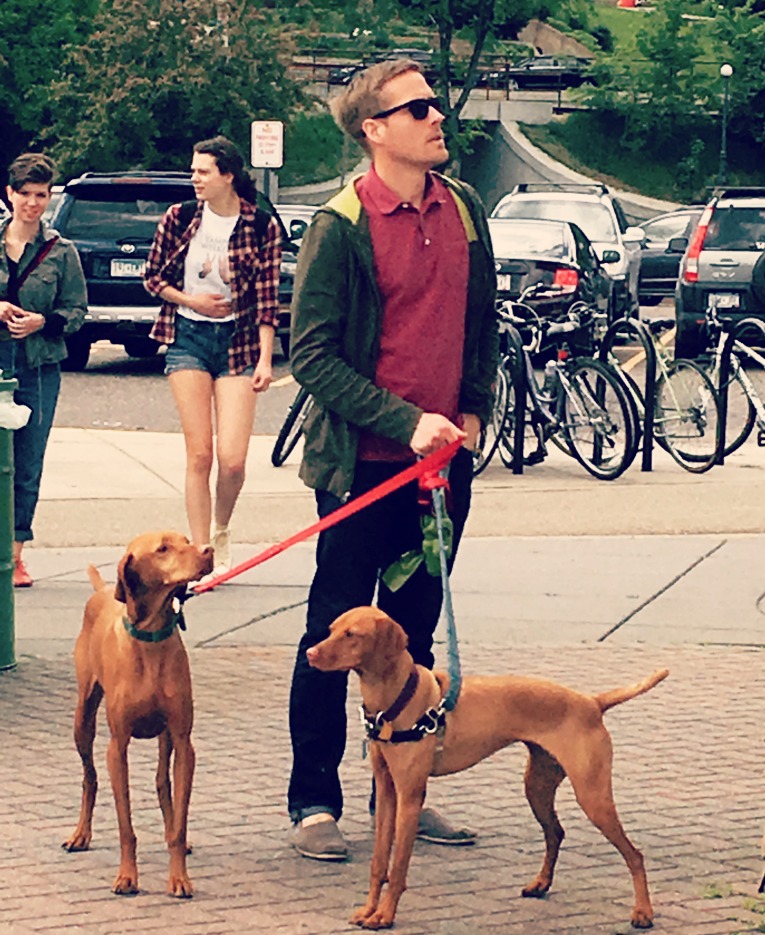 And the cutest pic of all…tired pups after a day at the dog park!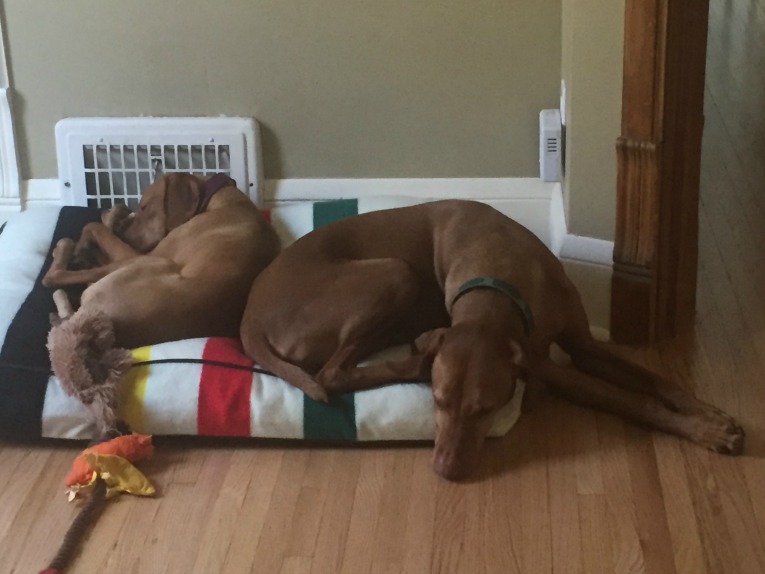 I hope you had a fabulous week and don't forget to enter my giveaway for a handmade nuun holder!
(Visited 392 time, 1 visit today)