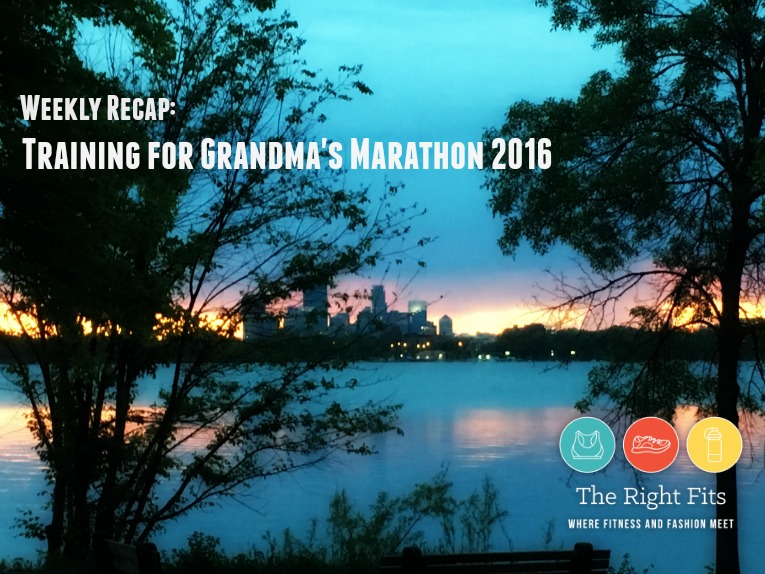 Grandma's Marathon 2016 is 3 weeks away. Can you believe that June 18th is creeping up on us so quickly? Can't wait!
Here's how my training went last week:
Monday: 7 easy morning miles with two friends. 1 hour barre class at The Barre in the evening.

Tuesday: 2 mile warm up, 5 x 1k repeats with 2 minute recovery, 2 mile cool down. My goal pace for the 1k repeats was 5k race pace, or 6:55 min/miles. Between the 72 miles the previous week and the hot, humid temps, I definitely did not hit these paces. But my coach wasn't too worried; he said it was effort based in the heat. 8.75 miles total.
Wednesday: 6 easy miles in the morning. In the evening, I did the first race of the Endless Summer Trail Run series! It was the Lebanon 10k. With about 0.5 miles to warm-up, I ended up with about 13 miles on the day. I love the Endless Summer Trail Run series; these races are a blast. They are a good "intro" to trail running, and they are super laid back events. It's just a bunch of runners that show up, run the race, and then hang out for beer and pizza. Love it.
Check out this site for the list of the rest of the races in the series. I met my friend Gina at the race; she raced it pretty hard (and did great- she's a strong trail runner!) Though I did it at a "harder" effort than just easy, I would say it was just for 'fun.' We still were able to meet up at the end. Good times.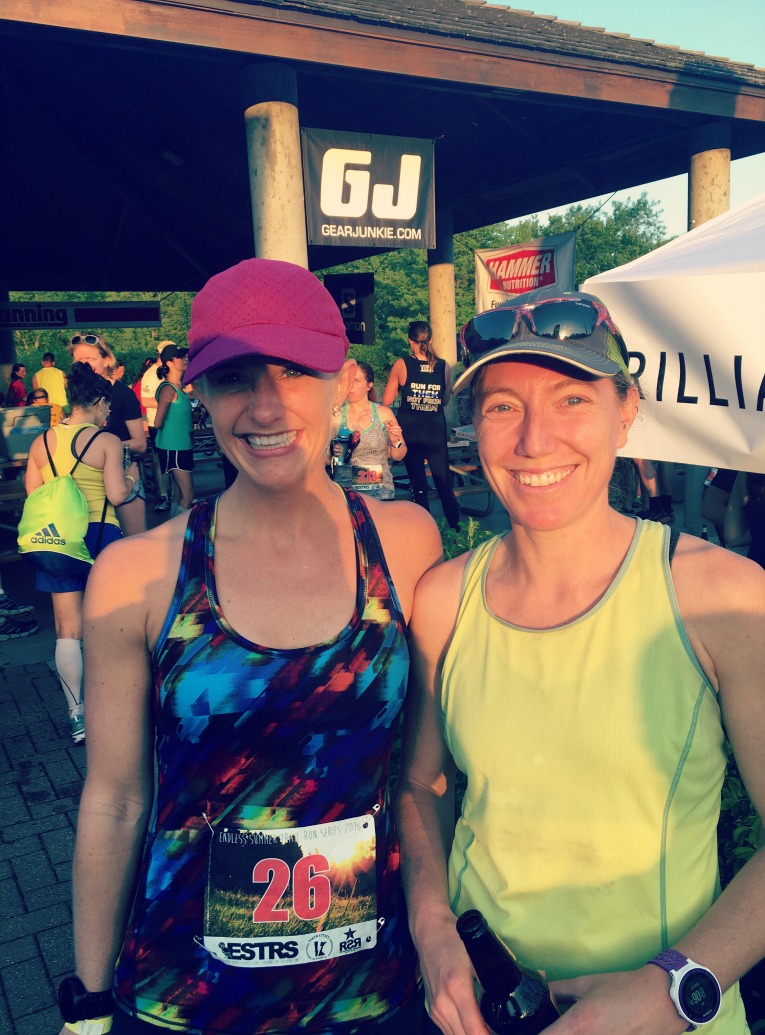 Thursday: Short speed workout in the morning- 2 mile warm-up, 10x100m sprints, 2 mile cool down. 6 miles total. I was able to squeeze in another 4 miles in the evening before meeting up with a college friend. 10 miles total on the day.
Friday: Rest from running! Much needed. I swam for about 45 minutes easy. Swimming felt SO good and relaxing.
Saturday: My run club's BIG 22 mile capitol run. We run from the Calhoun Beach Club to the State Capitol, which is the last 22 miles of the Twin Cities Marathon course. We arranged drivers to drop their cars for a ride back afterwards. There were also several awesome volunteers who hosted support stops for us along the journey to the capitol. It's one of my favorite training runs all year!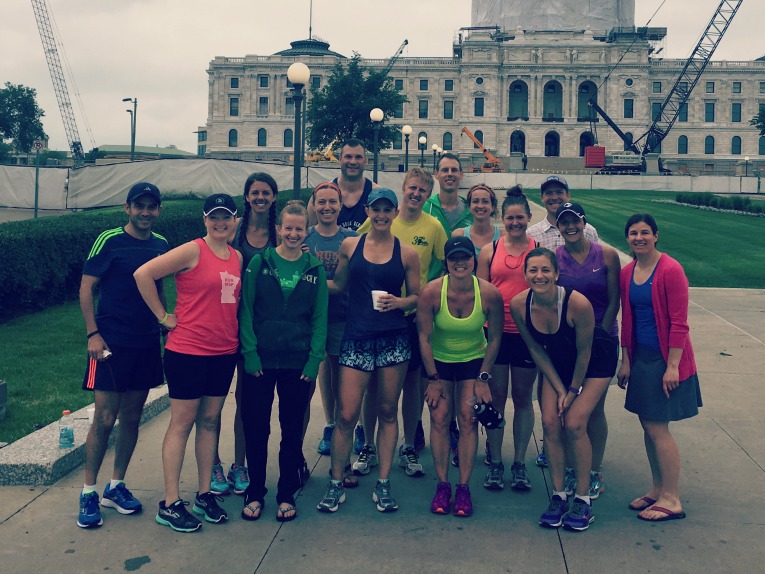 Everyone was worried about the weather, but it turned out to be decent- overcast, in the upper 60's, perhaps a little humid, but lots of fun! 22 miles at an 8:45 average.
Ready for Grandma's Marathon 2016!
For fitness fashion for the 22 miler, I wore these Sweaty Betty shorts, this Athleta tank, a Moving Comfort bra, Nike hat, and my trusty Brooks Ravennas.

The rest of the day, I was a bit of a bum. 22 miles will do that to you! Eventually, we decided to go out to dinner in St. Paul. It's funny that we can run 22 miles to St. Paul, but yet it seems so far away and we don't go out to eat there all that often.
Yet I had read a recent article about Big River Pizza in Lowertown, so we ate an amazing pizza there. As the pizza lovers that we are, we HAD to check out this new place! We followed up our pizza with a beer at Bulldog in St. Paul.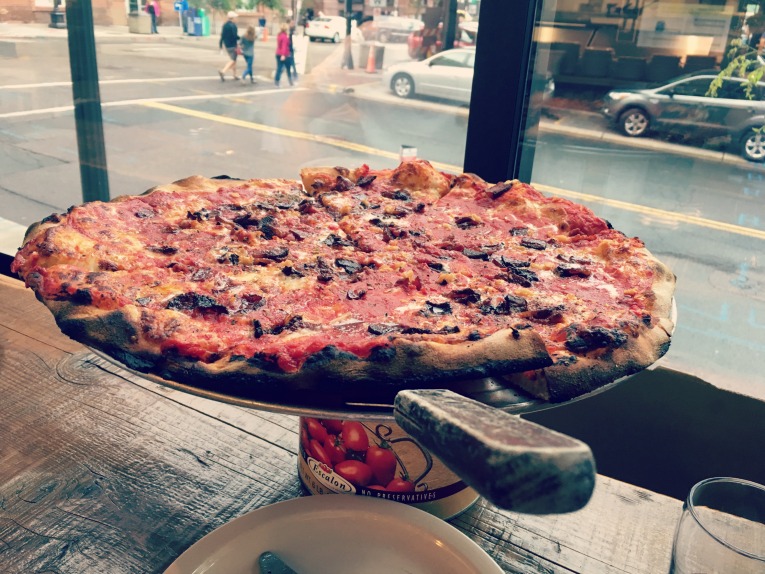 Sunday: Easy 5.5 mile run with Matilda and Dustin. I was supposed to have a "double" run this day. Tilda and I headed out for a very short, very slow second run, but man it was HOT. I had posted on Friday with my tips about running with your dog in the heat. I kept those tips in mind; I could tell that Tilda just wasn't feeling that second run, so I cut it short from 5 to 3 miles. 8.5 miles for the day.
Sunday was also the day of my running club's "Memorial Day Pub Run": 5 bars, about 3 miles of running between them, followed by a BBQ.

It's a fun event, but I am just not as young as I used to be. I showed up a little late to the pub run part, hung out for a bit for the BBQ, and then I snuck out early. However, the event still looked like a ton of fun (and I definitely recommend my run club- great group of people.)

I also wanted to be rested/hydrated on Sunday, as I raced the Brian Kraft 5k on Memorial Day Monday. (I will share more on that race later!)
Summary: 69 miles of running, 1 barre class, 45 minutes of swimming
So..my long Memorial Day weekend included a lot of running. Ha! What can I say, I just love running.
I hope you had a great long weekend full of all your favorite things! Did you do any running or racing?
(Visited 287 time, 1 visit today)