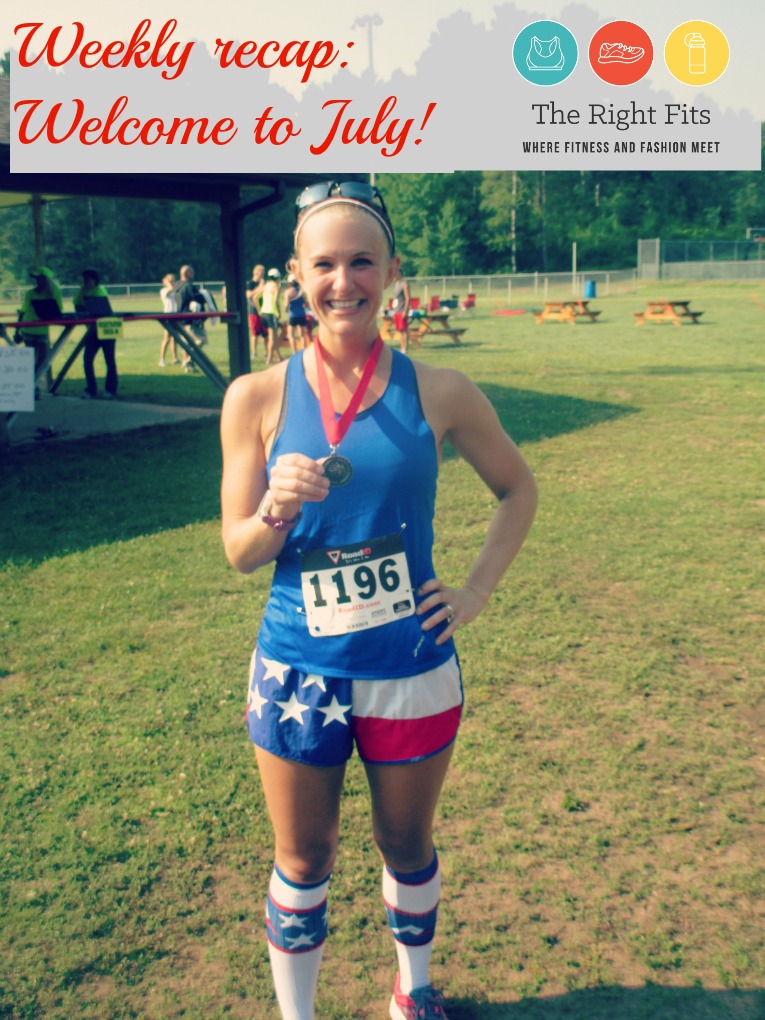 It's been awhile since I did a weekly recap. It's time to get back to it!
The Week After Marathon: The week immediately following Grandma's Marathon I didn't run at all. I did one [solidcore] class on Thursday morning. Saturday, I did my first "post-Grandma's" run, just an easy 4 mile with Matilda the vizsla. After the run, Dustin and I attended my friend Ericka's "Bells & Beers" class at 612 Brewery in NE Mpls. For $15, you got a 1 hour strength training/kettlebell class, followed by a pint of beer at 612. FUN!
Sunday morning, Dustin and I went back to [solidcore] again (The instructor was Alyssa, one of the owners- she is GREAT!) The combination of [solidcore] and the Bells & Beers class over the span of just a few days left me quite sore. It was all muscles I hadn't used during my marathon training!
Fortunately by Monday, I was feeling better and excited to really start running again.
Monday 6/29: I met two friends for an easy 5 mile run in the morning. After work, I thought I was meeting two other friends for a walk, but it turned out to be an easy 3 mile jog around Lake Harriet- whoops! I had not pre-planned for a double run that day but it was more about the social aspect and we took it easy- well, not that easy, as I tried pushing my friends' twins in a stroller!
I have to admit, the B.O.B. stroller was much more aerodynamic than I expected. It actually wasn't that hard to push the both of them! After the run, we grabbed dinner at Bread & Pickle on Lake Harriet. It was such a great summer evening- catching up with friends with a run and then dinner.
Tuesday: I ran an easy 4 miles with Matilda the vizsla
Wednesday: I met up with two friends again for an easy morning 5 miles, with a few strides thrown in to loosen up our legs. After work, Dustin and I had an early birthday dinner for him at Spoon & Stable. So good! We have been trying to get reservations here for quite some time, so I was excited to finally get an opportunity to eat here. It definitely lived up to the hype!
Thursday: REST. After work, we drove up to the cabin to start our 4th of July weekend!
Friday: "Long" run. As I ease back into running post Grandma's Marathon, my long run was only 7 miles. It was a cooler morning in Northern Wisconsin and the bugs weren't too bad. And, as I mentioned in this post, I saw a black bear on my run! It was really exciting for me, because I have wanted to see one in the wild for years.
Saturday: Gordon Good Neighbor Days 5k! This was our 4th time running this race (read about last year HERE). It's a really fun little community event. For a town this small, they do a really good job with this race. I think less than 200 people participate, but its chip-timed, they have goodie bags, online registration, and everyone is super nice and enthusiastic about the race. It's not a fast course though, as it includes some very hilly country roads with some very rocky "rustic" terrain. Quite a bit of the route is on sand too. They do have a water stop along the run (which is nice considering its only a 5k!)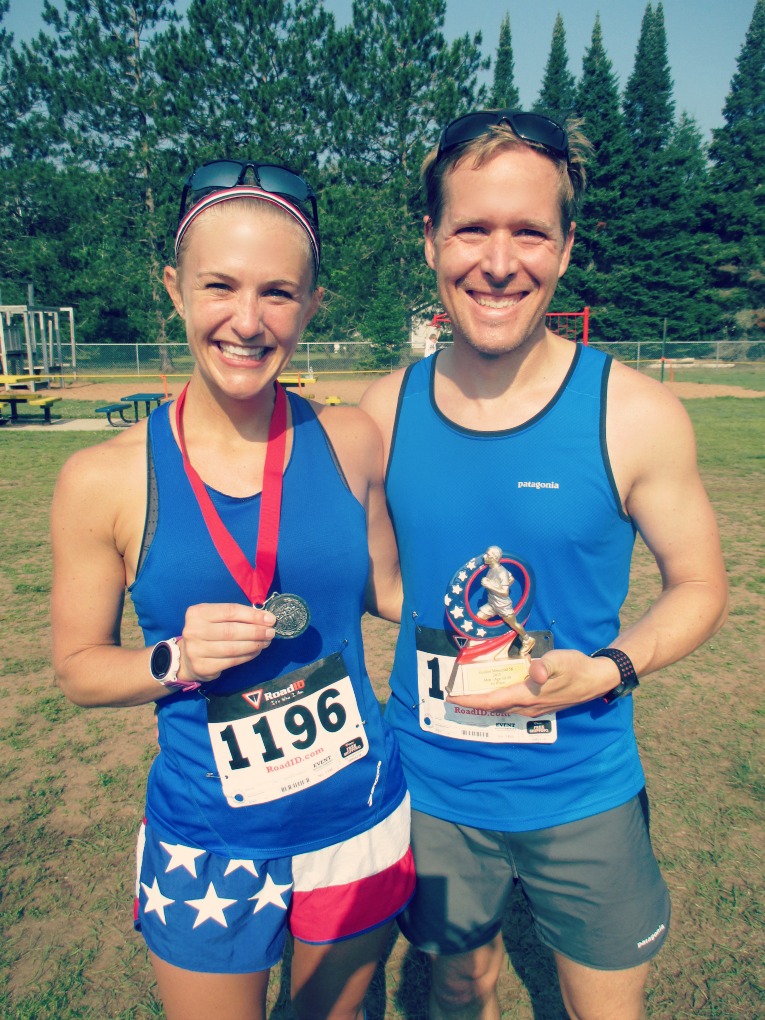 Dustin received 2nd place overall and 1st in his age group. The winner was a young college kid from Duluth. I actually ran 2 minutes slower than my Brian Kraft time and still got 2nd place in my age group…got to love those small-town races! I wasn't "race-ready" mentally and knew this would be more for "fun" but I still gave it a tempo effort.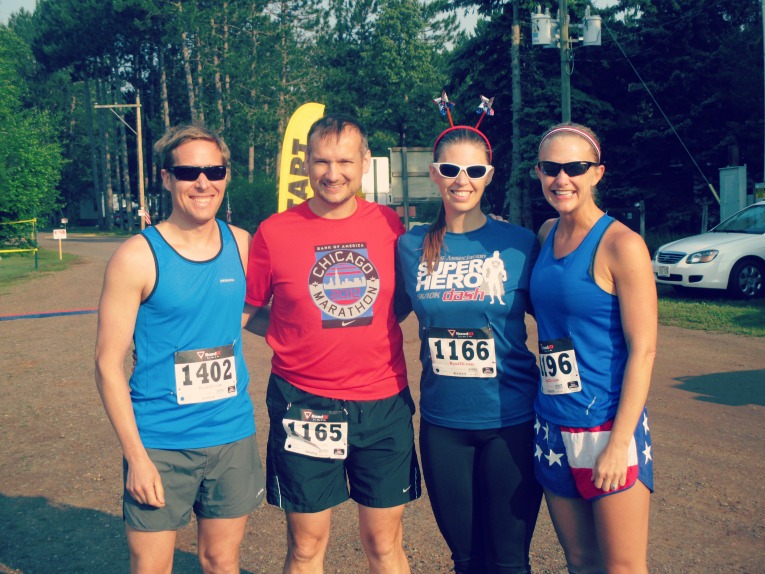 Our friends also ran the race and then they came back to the cabin for the day/night for some holiday fun! We had a blast..some paddle-boarding…

We swam, chilled on the relaxation station, boated around the lake…drank a few beers…Eventually we headed to dinner at the Golden Chipmunk
…followed by the Gordon fireworks, which are pretty impressive for a small town!
Sunday: REST. We just took it easy this day at the cabin with our friends, with more "relaxation station" and games.
Summary: about 27 miles total, lots of rest, some "cross-training" with paddle boarding, but not much else.
(Tilda definitely enjoyed our company at the cabin…and so did we!)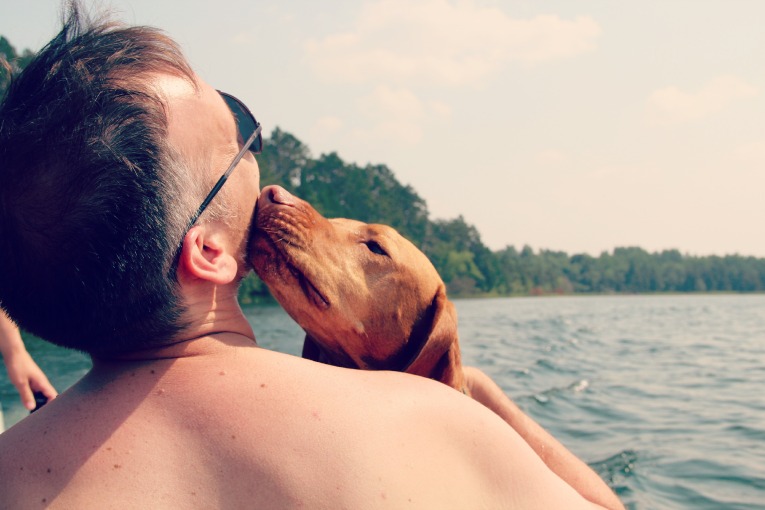 Did you have a good 4th of July? Did you run a race?

Have you ever encountered a black bear? What did you do?
Dustin had told me that I should "act big" and make a lot of noise to scare the bear away, but he was far enough away that I just waited for him to pass.
(Visited 426 time, 1 visit today)