I hope you are enjoying a long holiday weekend.
Did you run a 4th of July race? Please share! I ran a 5k on Saturday, but no race today (the actual 4th.) I did attempt my first hard workout today since Grandma's on the hills of the cabin roads. Killer.
So, I'm here with my regular weekly recap of training for….not sure yet! I am leaning towards Big Cottonwood in Utah. I have thought about it a lot and I am pretty sure I want to give Boston one last try. Part of the reason is financial. We will be heading to Boston no matter what for Dustin to run the marathon next April and as I'm sure you know, it's not a cheap weekend. It would be nice if we both could run it the same year, right? Most likely I will be registering for a marathon September 10 or 11th. My coach is easing me back into training again for me as though I have registered.
Monday: Easy 5 miles in the morning with Matilda and my friend Christie in the morning. Evening: [solidcore] class <– so awesome!
Tuesday: Easy 5 miles in the morning with a group of run club friends. Gorgeous morning. My friend Michaela said, "if there was a running documentary in Minneapolis, this shot would be the opening credits." So true!
Wednesday: 5.5 miles with Matilda in the morning. After work, we hit the road to my in-law's cabin for an extended holiday weekend (though it was my family who joined us up there for the 4th!)
Thursday: I woke up to pouring rain at the cabin, so I waited until it let up to head out for a run with Matilda. We did 6 miles around an 8:40 average- that was tough on those hilly country roads, but my legs were feeling pretty good after lots of slower runs this week.
Friday: My sister Cresta and her family joined us at the cabin, so she joined me for a morning run. We covered 6 miles together. Such a great way for us to catch up just the two of us.

Since Friday's forecast looked to be the coolest of all the days my family would be at the cabin, we decided to head to Hayward, Wisconsin for the afternoon.
We went to the Fresh Water Fishing Hall of Fame and Museum.
Have you been? Very kitschy and a bit dated, but somehow still appealing its in own charming way. My five year old niece Harriet told me it was her favorite part of the weekend, other than the "Mike & Ike's," (i.e. yes, the candy. Ha!)

Also in Hayward, we went go-carting and stopped by the Norske Nook for some lefse.
We had to go to the Moccasin Bar. Yes, we took the kids to a BAR- but the Moccasin Bar is not just any bar, it's a tourist attraction in itself. Its often featured in "Oddball Wisconsin" guidebooks, as its packed full of stuffed animals placed in funny dioramas. Kids and adults love it.
Saturday: Gordon Good Neighbor Days 5k. Dustin and I have run this race for several years now (read about previous years here and here.) It's a charming little small town race with just over 100 participants. My nieces, who are 13 and 9, both came in first their age groups! (My third niece is only 5 and didn't run.)
Dustin also won his age group (2nd overall.) He was beat by a 15 year old boy who ran a 17:43!

I ran one mile to warm up and then ran a 23:16 for the 5k. Compared to the 21:45 I ran at the Brian Kraft at the end of May, I was quite a bit slower, but I wasn't surprised. The course is not easy- some hills and a large portion of it is on a sandy ATV trail. And of course, its only been two weeks since Grandma's Marathon; my expectations were low. I ended up in 3rd place in my age group or 7th overall for women. The two women who beat me were both in the low 20's, so I couldn't have beat them even on my best day!
Mile 1: 7:02 (on pavement)
Mile 2: 7:56 (on sand and rock/ATV trail)
Mile 3: 7:40 partially sand/rock and then back to pavement for the end:
Final 0.1: 6:06
Total time: 23:16
I started out too fast for where I am right now and definitely faded quickly. But it was still a fun healthy way to start the day and I was so proud of my family too. I think we have a couple of future runners here!

The rest of Saturday was very active, with lots of SUP (stand-up paddle boarding), a swim across the lake (which is about a mile- we had Dustin pick us up in the boat rather than swim all the way back as well!), canoeing, bocce ball, and more. Eventually, we made our way to the town fireworks.
(Sure sign of a small-town: signs like this!)

Sunday: My sister loves trail running, so she suggested we check out a nearby trail she had passed on the drive to the cabin. Unfortunately, the trail wasn't very well maintained in the summer, i.e. a lot of tall grass, which is a prime location for TICKS.
After covering about 3 miles, we emerged to find SEVERAL wood ticks on ourselves and on Matilda. Matilda takes Frontline, which should help protect her from the ticks actually biting into her, but it was still freaky to this city girl to have to take so many of them off her. It gave me the heeby-jeebies when I found a bunch on me too. We were coated in bug spray before we went, but apparently that's not fool proof. I understand the high risk of Lyme's disease in this part of the country and I am currently sufficiently freaked out that there is a deer tick somewhere on me still…
Post-tick freakout.
Summary: About 35 miles of running. 1 strength class. Lots of swimming and paddle-boarding.
Just for fun, here are a few more pictures from our cabin celebration. 
It's funny because Matilda isn't a huge swimmer, but she LOVES to be on any boat- canoe, motorboat, paddleboard, doesn't matter! She likes to be ON the water, she just doesn't love to be IN the water. She does get more comfortable swimming though as any weekend here goes on. She wants to be part of the action if we are hanging out on the lily pad or relaxation station and she would be willing to swim out there just to be close to Dustin and me! (Typical velcro vizsla behavior, she doesn't like it when we are both on/in the lake without her.)
It was so great to spend the holiday making memories with my sister and my brother-in-law and their kids.
Happy Independence Day to you and your loved ones!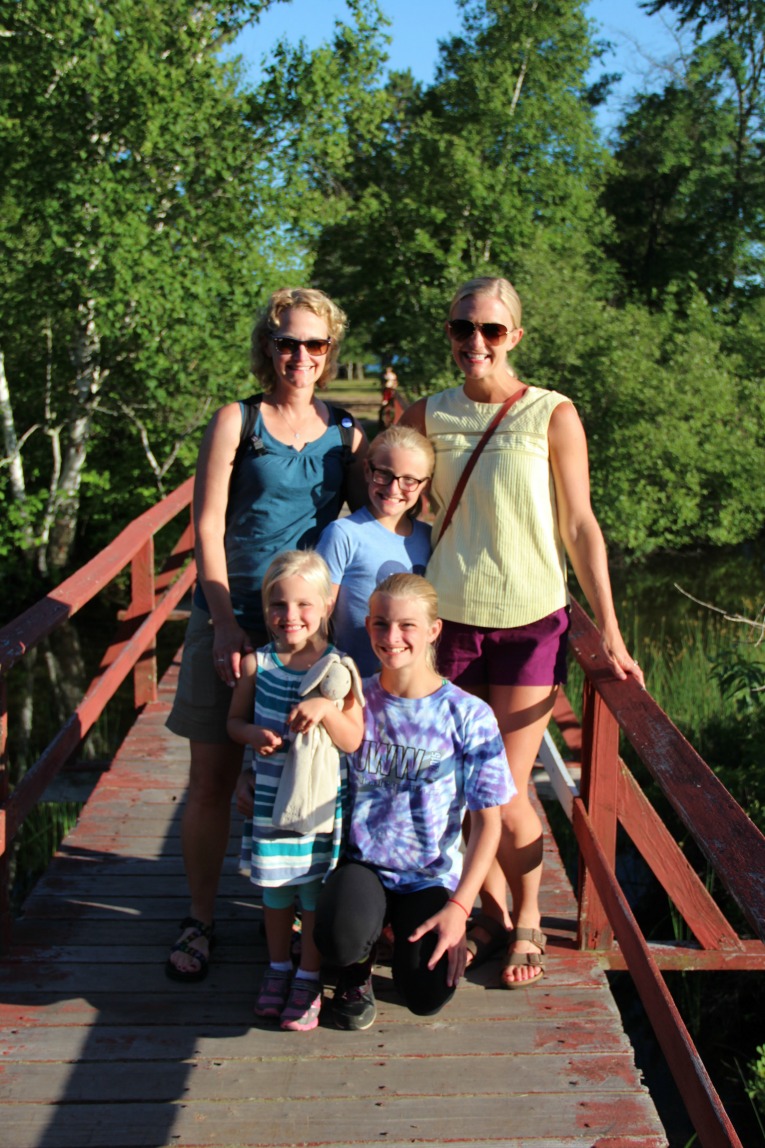 (Visited 365 time, 1 visit today)