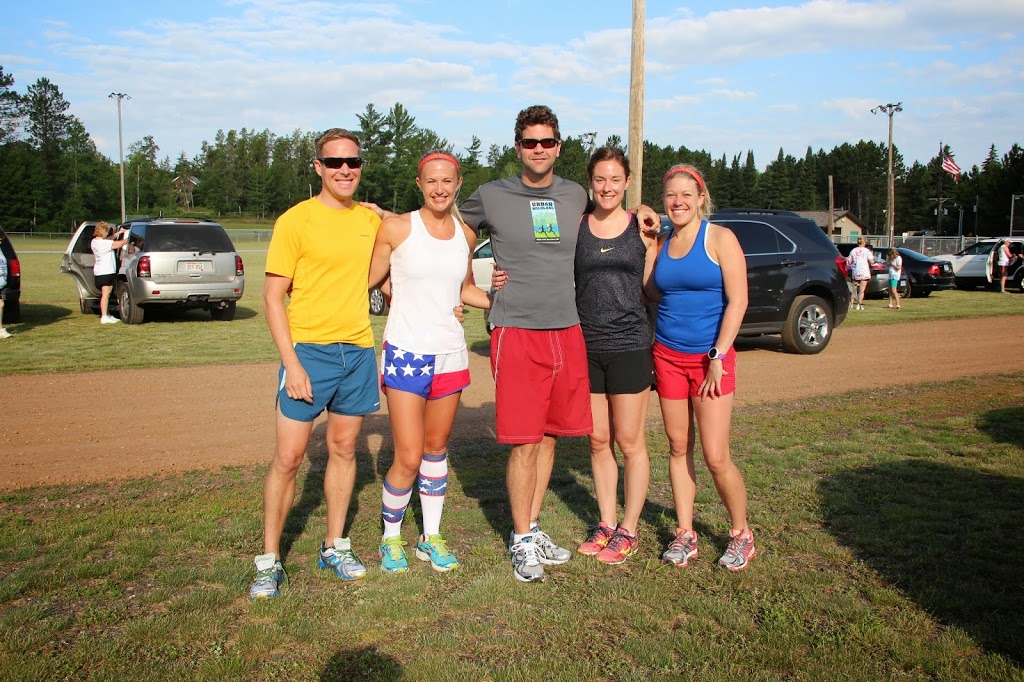 Gordon, Wisconsin is a town in Northern Wisconsin with a population of less than 800 people, but they take their 4th of July celebrations very seriously. There are mud volleyball tournaments, a festival, duck races, "world-class fireworks"…(here's a picture of us at the fireworks this year)
Dustin and I had participated in the 5k a few times in the past (pre-blog)  When we decided to invite our friends Abby, Andrew, and Kelly up for the 4th of July, we were quick to encourage everyone to sign up for the race as part of the weekend activities!
The race actually had online registration this year, which was a big step up from the mail-in registration the last time we participated. It was also chip-timed, which was pretty huge for such a small race! In fact, we could look up our official times immediately following the race on a handful of computers at the finish area. #fancy!
The race started at 8:30 am, so we arrived around 8 am to pick up our bibs and do a short warm-up run (about 1 mile).
The start line was kind of humorous, as no one wanted to "toe the line." It was a shy crowd, and the five of us ended up pretty close to the front by default, since no one else wanted to move in.
Right at 8:30, the woman organizing the event held up a blow horn and then we were off!
The course was only paved for about 1 kilometer, and then it was all very loose sand and rocks/gravel mix. We probably should have worn our trail shoes to this one!
Speaking of trail shoes, I purchased my first pair.  I bought the Brooks Cascadia, which are the trail version of the Brooks Ravennas (my regular running shoe). I will be wearing them for the first time this Thursday at the Surly Furious Five Miler. I will let you know how they work!
Anyways, back to the race. So the course was quite challenging in terms of terrain, and it was also a little short of the 5k (I think most of our Garmins were just under 3 miles instead of 3.1 miles)  Therefore, Dustin doesn't really count his 18:31 as his new 5k PR, and I know that I wasn't actually running 7:35's either (my official time: 23:03. Trust me, I was not running that fast on the sand!)
But despite the shorter distance, we were all very impressed by this race. There were plenty of people at the finish area cheering on all of the runners, and it looked like quite a few families did this run as part of their family 4th of July celebrations. Considering the size of the town (less than 800 people), it was remarkable that nearly 200 people participated in this race.
I think what the race may have lacked in accurate distance or that sort of thing, they definitely made up in spirit!  The volunteers were all really great. They even had two water stops on the course, which aren't always available for a short race.
Here's my summary of the pros/cons of the 5k:
-Plenty of parking onsite
-Nice t-shirts (who cares if they were cotton?). 
-The goody bag also had some Jack Link's Jerky and a few unique items.
-Plenty of water at the finish
-Possibility of winning an age group award- Dustin placed first in his age group (30-39) and he received a pretty impressive trophy! That trophy is proudly on display at the cabin now.
Cons:
-"Trail course" made the run a bit more challenging. One of the runners in our group is still recovering from ankle surgery, so the uneven terrain was definitely a little worrisome for him, but he seemed to still have a good time; he just took it a little easier than normal to ensure he didn't hurt himself.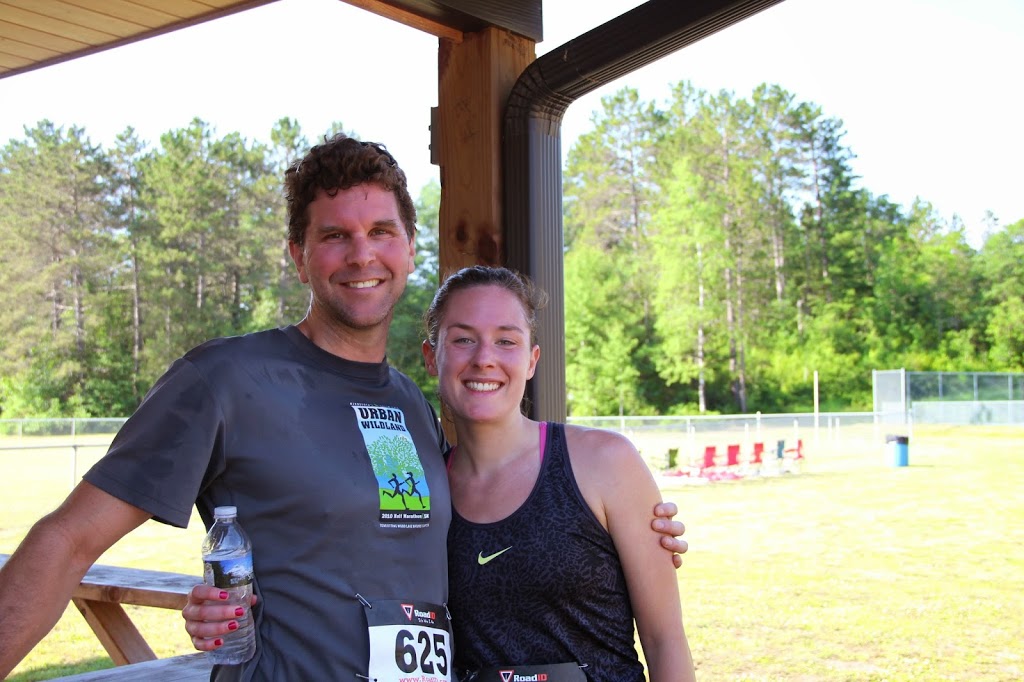 I think we all had a great time running in this race, and I really wish the event all the best 
in the
future!
 I hope they continue to grow and improve. It was so wonderful to see such enthusiasm for running in an area that probably doesn't have a lot of opportunities like this.
I rate this run a 10/10. Two thumbs up for the Gordon Good Neighbor Days 5k. If we are back at the cabin next 4th of July, we will definitely be running this race again!
(Visited 201 time, 1 visit today)