Hi runners!
I thought I'd share an article today from Fix.com about how to pick the right running shoes!
I've written in the past about my shoe of choice, the Brooks Ravennas, but just because these shoes are the Right Fit  for me, doesn't mean they are for you!
So, how do you know how to pick the Right Fit in running shoes?
Well, here are some tips from Amby Burfoot, 1968 Boston Marathon winner!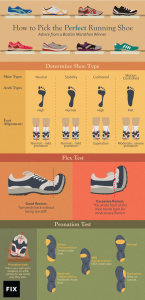 Source: Fix.com
Check out the article for more details, but here are the basic tips that they provide:
1. Shop at a speciality running store.
Locally, we have a lot of options- Mill City Running, Gear, TC Running Company, Marathon Sports, Running Room, Run n Fun. Any one of these stores will have experts to help you find the Right Fit. 

2. Try an online shoe-selection calculator.
I have never actually tried this, but the Fix.com article provides two options to try, Runner's World's Shoe Finder and Road Runner Sports Shoe Dog.

3. Let your feet be your guide.
By this, they mean shop in the late afternoon when your feet are the most swollen and never buy tight fitting shoes.
There are lot more details in THIS ARTICLE, and I hope you find it helpful!

A Friendly Reminder to Replace Your Running Shoes Frequently!
I'm pretty diligent about tracking my miles with each pair of shoes, and I try to replace them around 400 miles. But if you don't track your miles, there are other ways to tell if your shoes are "dead:"

-Try on a new pair of the model that you are currently wearing
-Compare these to your current shoes
-If the cushioning in your shoes fees dead in comparison, it probably is! Time for a new pair.

If you do track your shoe's life, the recommended mileage is anywhere between 350-550, though this can vary based on your running style, body weight, and the surface you on which you run.

But definitely remember to replace your shoes in a timely fashion! Running in old or worn out shoes can lead to an increase in injury. 

What should you do with your old pairs? Recycle them!
Runner's World offers this full list of places to recycle your shoes: 
http://www.runnersworld.com/article/0,7120,s6-240-319–10041-0,00.html
(Visited 1,203 time, 2 visit today)