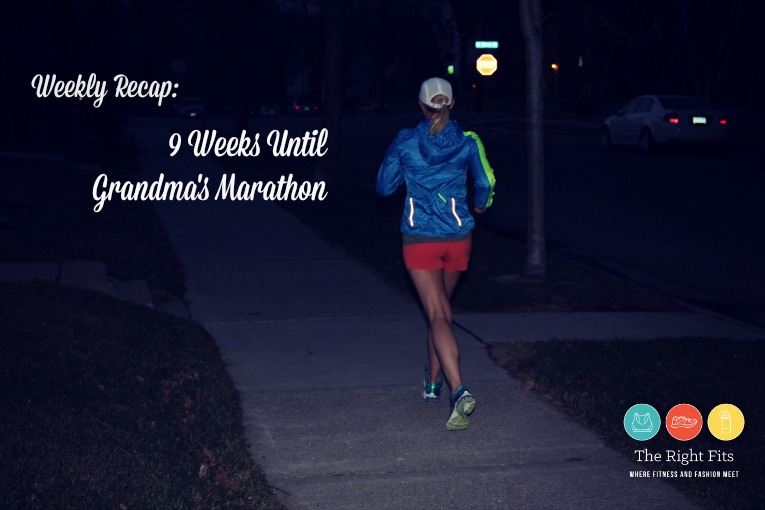 Looking for some spring running gear? Check out some tips from yours truly and a few other local runners in this post from Minneapolis Running. Let me know if you have any other spring running tips, I'd love to hear them!
I'm so excited for my running friends who are out in Boston for tomorrow's race! There are about 15 people from my running club there this year, and I'm hoping they all have amazing experiences. Good luck runners!
I've got a long way to go if I ever want to get to Boston myself. I'm 33 years old, so the qualifying time will be 3:40 very soon, which is somewhat more attainable than the 3:35 qualifying time that it is now. Cheers to getting older I guess!
Anyways,  another week of training for Grandma's Marathon is complete!
Here's how things went:
Monday: Easy run with my running club.  7.5 miles
Tuesday:  Run club again, this time for a threshold workout: 1000m repeats at a 7:40 pace, 1 minute recovery in between. 7.5 miles total
Wednesday: 6.3 miles in the morning with my friend Kelly, pure barre after work. I purchased a recent Groupon for pure barre because there's a new location very close to my office- super convenient. I went there a few time with my Class Pass and enjoyed it, so I jumped on the Groupon opportunity.

Thursday: Speed workout- 400m repeats at a 6:45 pace. Whew! These repeats were super short, but at a very fast-for-me pace. It was a bit of a struggle, but I made it through. Afterwards our running club had a pasta party at Pizza Luce to send off the Boston runners.
Friday: Easy 4 miles in the morning with Matilda
Saturday: 17.5 mile long run with run club. My coach had me do 7 miles in the middle of this at goal marathon pace. It seems like a lot of the coaches that my friends are using do a lot more goal marathon pace within the long run, versus just doing the long runs easy.
Sunday: Easy 6 mile recovery run with Matilda.
Total: 55 miles, 1 barre class…no yoga.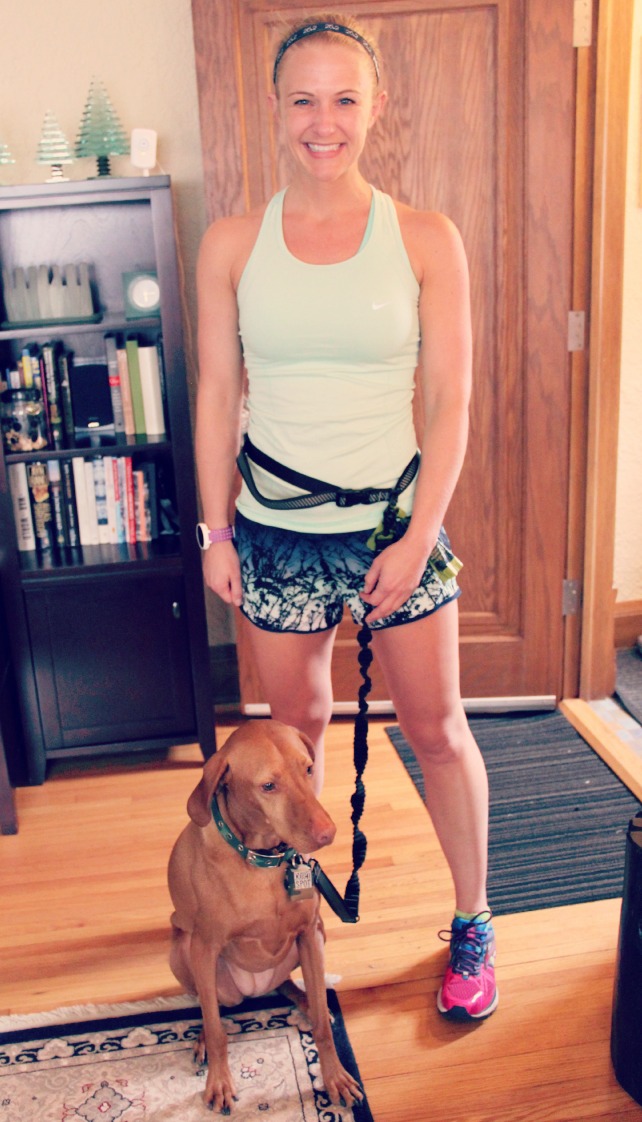 Matilda is a 6 year old vizsla, and vizslas are a very lean breed by nature. Our vet has said she likes to see a bit of ribs on a healthy vizsla- not a lot of ribs, but just a bit. And Matilda has always been lean! We have never had an issue with her weight; we run with her a lot and she gets a lot of dog park time and walks. But somehow she got a little chubby! She used to weigh only 45 pounds. On Friday, I took her in to get a canine flu vaccine and she was up to 52 pounds.  Yikes! We are cutting back on her meals and no more treats….time to lose that winter weight, especially in time for the Fast & Furry 8k on May 30th!
FYI, dog owners- our vet recommended that we get the flu vaccine as a safety precaution. There are no reported cases of dog flu yet in Minneapolis, but there are a lot in Chicago which is not too far away. 
Lots of running this week, but I did have time for a birthday celebration for a friend on Saturday. Her party theme was "Part Animal:" part animal, part cocktail attire. I found our masks on Etsy and was very pleased with them!  I love a themed party.
That's it from me this week. Stop by later this week for a "Where to Run in Chicago" guest post!
(Visited 234 time, 1 visit today)