My friend Heather has graciously written a guest post for you about where to run in Chicago and what to know! Enjoy!
Chicago, America's second city, is known for deep dish pizza, cutting edge comedy and pioneering architecture. But few people are aware that Chicago actually boasts one of the more vibrant running communities in the country. We all know that Midwestern runners are some of the heartiest in the land. And true to form, Chicagoans know how to bring it – putting up with harsh winters, sweltering summers and big city obstacles.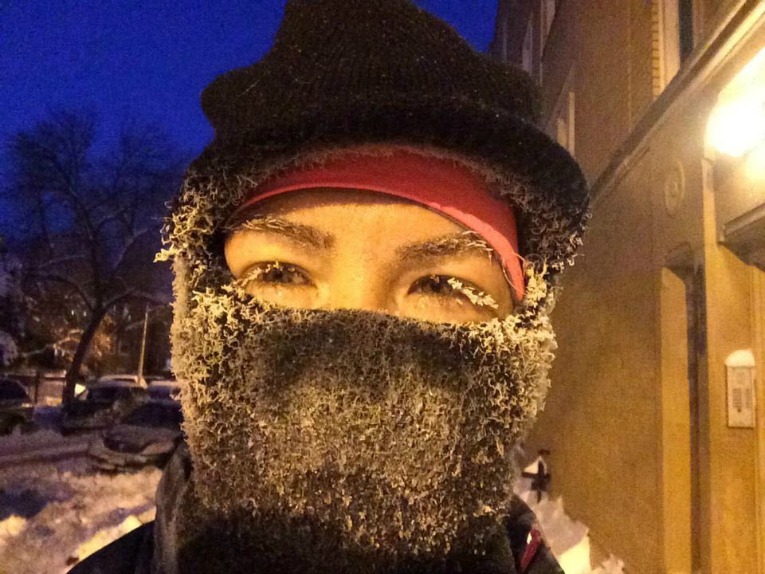 Running through Chicago winters is not for the faint of heart….
But, it's easier than most people know … because we have a little secret. We in Chicago are blessed with an alluring lakefront, an exceptional amount of parkland path, and a supportive city government and population. Winter or summer, our most popular routes are maintained and beautified. And, shockingly in a city this large, one can actually find a peaceful stretch of trail all their own. Here are our best spots:
Most Popular: 
No surprises here. It's our gorgeous lakefront path stretching 18 miles along the west coast of Lake Michigan. You'll run along beaches, through parks and soccer fields, past or through the zoo (technically in the adjacent Lincoln Park which offers it's own 1200 acres of space), all while taking in the architectural masterpiece that is the downtown Chicago skyline. On weekends in the summer you'll share the path with multitudes of running groups during peak marathon training season (and cyclists too – watch out!).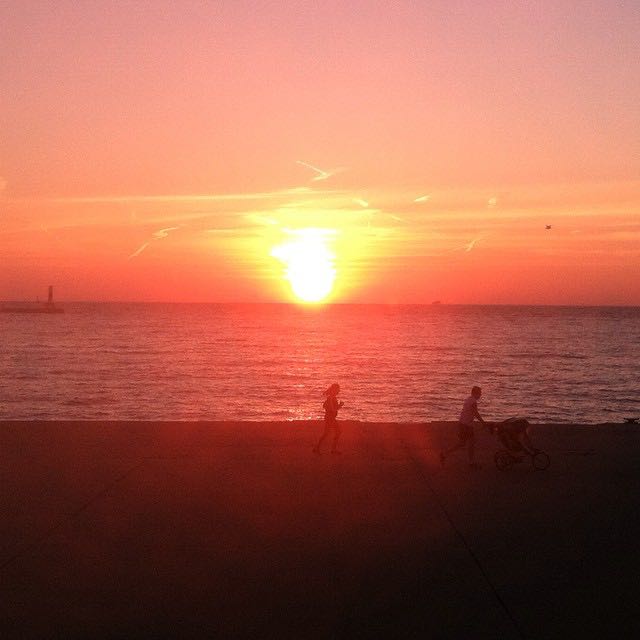 During the summer there are plenty of available bathrooms and drinking fountains in addition to water/Gatorade stations provided by local running stores. In the winter, you'll endure bitter winds and cold but you'll have long stretches of clear path to yourself (because, yes, the city plows our main running paths). But note that the bathrooms and drinking fountains are unavailable in winter. Never fear though – at most areas along the trail you're never more than a few blocks from a friendly neighborhood business.
Running on the Lakeshore Drive in the winter…
Pro Tip: Always have a $20 bill stashed on your person. My favorite out and back long run route here (approx. 15 miles) is starting at the Totem Pole, heading South (toward downtown) until you hit Navy Pier. Navy Pier is a great refueling stop – especially in winter. Warm up, use the bathrooms and fill your water and then head a bit further south to the Museum campus/Soldier Field. Turnaround and head back to the Totem Pole. To get to the Totem pole starting point take Lakeshore Drive (LSD, in local vernacular) to Irving Park Rd. Head into the park right off the exit and find parking near the tennis courts. The beautiful thing about the Lakefront trail is that it can be accessed easily from most neighborhoods in Chicago in which a visitor may find themselves, including downtown. So just point yourself East until you hit the lake and then choose whether to head North or South. You won't be disappointed.
More information here!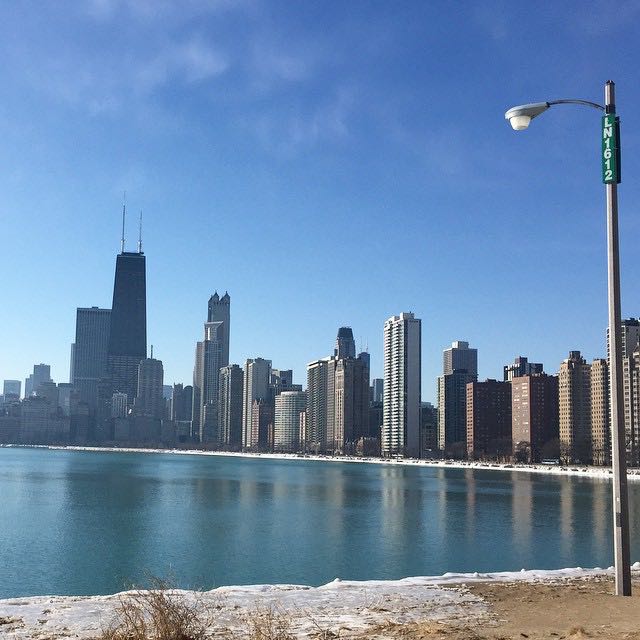 Best Nature Run:
Yep, you can find a little slice of nature in the heart of Chicago. To feel like you're away from the big city head over to the North Branch Trail which winds for about 17 miles through Forest Preserve and golf course land all the way to the Chicago Botanic Garden (also a worth a visit). The trail is well manicured, peaceful, shaded and offers a virtual guarantee of up close deer viewing (the deer here have no reason to fear people). There is plenty of convenient (and free) parking all along the trail. Bathrooms and drinking fountains occur at regular intervals along this trail too.  However, they are unavailable in winter so plan accordingly.
I often use this trail as a change of scenery for some of my longer runs. My favorite run here is an out and back from the parking area at Bunker Hill (N. Caldwell and N. Tonty Avenues). Head North on the trail from Bunker Hill. If you follow the trail as far as West Dempster and then head back you'll net about 8 miles.
More information here!
How 'bout a neighborhood jaunt?
Chicago is a city of distinct and proud neighborhoods. If you're more interested in getting your tourist action on than getting that quality training run in, take a meandering run through some of the city's more interesting neighborhoods. Sure, you'll be stopped by a lot of red lights and you'll frequently have to squeeze by other pedestrians – but you'll also get some local flavor (because you should definitely stop for some grub – I mean you have to replace those calories, right?!) For history and fancy homes, check out the Gold Coast and Old Town. If you're looking for a party, head on up to Wrigleyville. And if you're seeking hipster central, look no further than Wicker Park. If you're looking for some company and a guide, check out City Running Tours.
Just a hop, skip and a jump:
Just a 40 minute drive southwest of Chicago (on your way in or out of the city perhaps?) sits Waterfall Glen, a gem of a forest preserve with four mapped trails stretching to nearly 11 miles, plus some more mysterious unmarked footpaths. If you want to let the city slide away, this is your spot.  Bathrooms and water are only available near the main parking area so plan accordingly.
Coming Soon:
The 606 is a new trail coming to Chicago. As of this writing it is not yet open (expected opening June 2015). The design is in the vein of the High Line in NYC … that is a reclamation of an old elevated train track that has fallen into disuse. The trail is expected to be 2.7 miles long when it is completed and can be accessed in the Wicker Park neighborhood. For more info: http://the606.org/map/
Safety:
Chicago is a big city with more than it's share of big city problems. Some neighborhoods are not advisable at all (none of which are included above). The vast majority of the city is very safe if you take the usual precautions. If you're a woman (or really anyone), running alone at night in unlit parks and other dimly lit areas that are off the beaten path is not advisable. I run in my neighborhood at night frequently and have never had any trouble – but I do stick to well-lit streets. Nonetheless, I caution folks to think safety first. You know the drill. Overall it is very safe. I've been running solo here for 13 years and not once have I found trouble with crime. As always, staying aware of your surroundings is key.
Running Stores:
Fleet Feet, with locations across the city, is one of our go-to stores for gear, advice, and fun runs. Stop in to any of their locations to join a fun run or learn more about the upcoming race circuit. 
Running Away Multisport is another reliable source for all things related to the Chicago Running Scene.
Running Groups:
CARA (Chicago Area Runners Association) is the local giant in the training and racing circuit realm. If the allure of Chicago persuades you to stick around for an extended period, look them up.
But otherwise, if you're just looking for a fun bunch of folks to run with free of charge, look no further than the Clocktower Runners. More info here.
So, if you're headed to Chicago, don't forget those running shoes. Rain or shine, sweltering or bitter temperatures, snow or fog – you'll always find other runners out there enjoying what Chicago has to offer to the running tribe. And you definitely don't want to miss it!
Heather at the finish line of the Chicago Marathon…
(Visited 3,205 time, 2 visit today)