It's time for Fit Tip Friday!
Today, I'm sharing someone else's tips- that someone 
being
 Jeff Galloway.
Two Thursdays ago, I attended a
Jeff Galloway
Meet and Greet at the
Run n Fun
Minneapolis store.
Run n Fun Minneapolis
This event began at 5 pm with shopping, snacks, and an opportunity to say hello to Jeff and take pictures. At 5:30, he began his official "speech". 
He covered these topics:
1) Marathon Training with the Jeff Galloway Run/Walk program 
2) Motivation/Visualizations 
3) Nutrition  
4) Cross training
I'll start with what he shared about motivation because that was the topic I enjoyed the most.
I have mentioned before that I struggle with the mental side of running. My issue isn't that I lack the motivation to run- it's my ability to push myself through the uncomfortable and control my negative thoughts during a race when the 'going gets tough…'  (like when the going got tough in the race below…)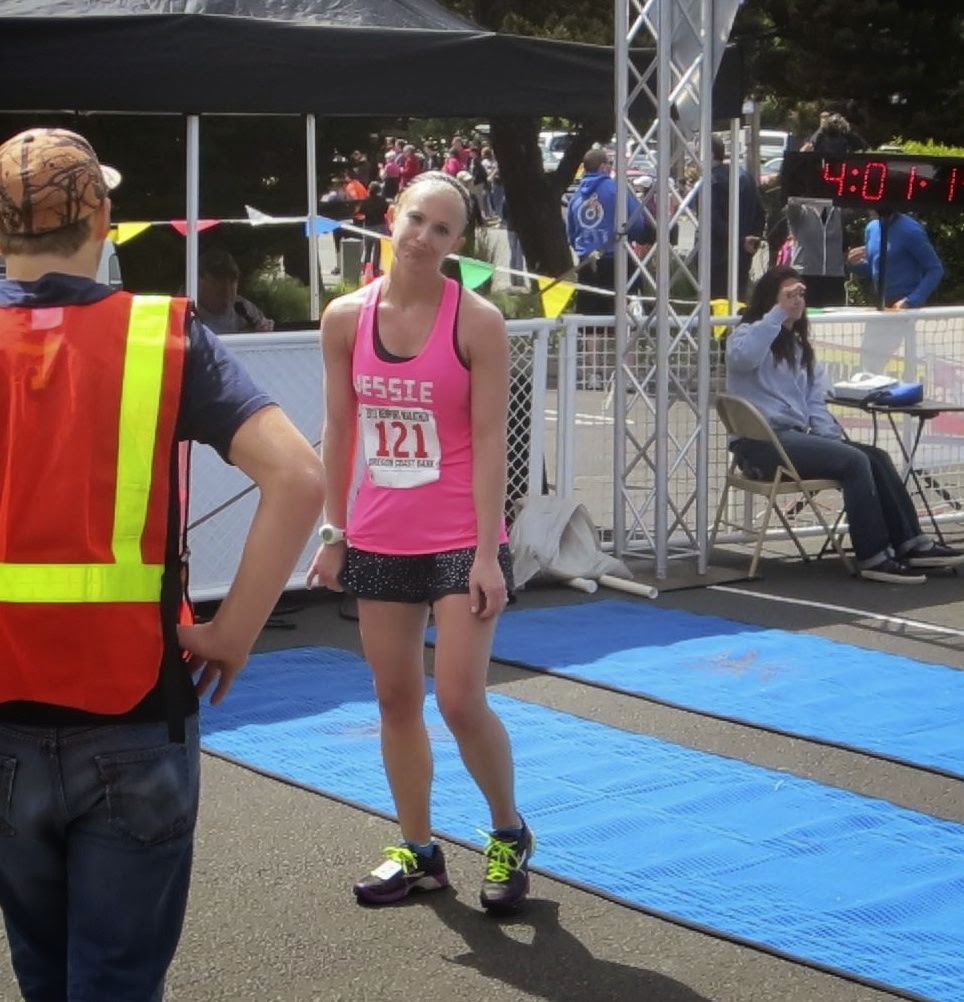 During his speech, Jeff went into the science of the brain a little, discussing how most of the time when running, it's our subconscious brain that is controlling the process. At some point in a race, your subconscious brain has decided "this is hard." 
For me, this is when I start to question myself. I start to question EVERYTHING.  
Why am I doing this? What was I thinking? I can't run a marathon. I should just quit…
Ah, the negativity!
This is when mantras or positive thinking need to come into play. According to Jeff, this is when you need to take control of your conscious brain to overcome the subconscious. You need to consciously tell yourself that YOU CAN DO IT. YOU ARE STRONG. 
You need to focus on a phrase or "mantra" that allows you to block out those negative thoughts- block out the, "This hurts. I'm slow. I can't keep this pace anymore" and instead, reign in the positive– I GOT THIS.
The mantra that works for you is most likely different than the mantra that works for me. Jeff said his mantra was "Relax, Power, Glide."   He said he'll repeat that over and over again to himself during a race to block out any negative thoughts.
At the Ron Daws 25k this past spring, (which usually kicks my butt with the hills), I practiced using a mantra. "You are strong. You are awesome. You're doing great." I kept saying that to myself OVER AND OVER….I was able to avoid that point where I give up mentally. I didn't set any world records that day, but I did control my negative thoughts by not allowing them any space. 
(For another interesting take on mental strength and running, check out 
THIS ARTICLE)
•My heart is pumping better
•More blood in the muscles
•The strength is in there, I'm feeling it
•Talk crazy to me, right brain
•I feel comfortable-I'm in control
•I feel good-I feel strong

…he didn't mention "You're so smart and pretty."
Some of you might not need these mental tricks the way that I do, but I'm an over-thinker as well as a bit of a negative thinker, and I think this tendency is only magnified in running. Even though I LOVE running, it still stresses me out.
Anyways, this was my favorite part of Jeff's chat because it resonated the most with me and my "Negative Nancy" thoughts.
Jeff shared some of his visualizations that help him during a race. For example, he envisions a big rubber band around his waist that he throws/lassos over a person in front of him. He visualizes that this rubber band is now around the person in front of him and that person is now PULLING HIM ALONG. He imagines that he can feel their strength and their pull becomes his pull and just like that…he gets faster!
Sound crazy? Well, I tried it a little bit at the 
Wedding Day 5k 
a 
few
 Saturdays ago. I saw my friend Rachel 200 yards or so in front of me. I threw my rubber band around her (in my head of course. That might be weird otherwise…) and had her pull me in. 
I think it kind of worked! I ended up passing her towards the end of the race.  I know most people weren't racing this 
Wedding Day 5k
 but still…it seemed to help me push it a little bit harder than I would have otherwise. 
Thanks for pulling me with your rubber band, Rachel!
Jeff uses "Super Fruit" to fuel on his long runs, which are tiny dehydrated pellets of fruit, all natural. He doesn't use Gatorade or Powerade, but only water during a race. He doesn't believe in salt packets for regulating your body even on really hot days. This is because he believes that nearly everyone in the U.S. gets plenty of salt in their diet. (He's probably right). Even though he doesn't use GU's or any of those types of fuel, he does regularly get feedback from people that he trains that those work; he said you have to experiment a little to figure out which one you prefer, as its really a personal preference.
Jeff said that the only cross training that really makes you a better runner is pool running…or running running. He said he does a little bit of strength training with just a few moves: running in place with dumbbells and some core work (like planks and bicycle crunches). He recognizes the benefit of cross training for a mental break as you are still getting a cardio workout without the stress on your joints; however, he doesn't think it makes you a better runner.
4. The Jeff Galloway Run/Walk Program
I'm guessing that some of you reading this weren't interested in coming to the Run n Fun event because you're familiar with this topic and have already decided it's not for you. I don't blame you! I wasn't sure if I wanted to hear about a program that I had already heard about and I had already decided that this program wasn't for me (at this point in my life, that is.) 
Even though I don't think the run/walk program is for me, I do think it has its place in the running community, and I wouldn't write it off completely…and I'm actually glad I listened.
Basically, Jeff's program has all levels of runners figuring out a run/walk ratio during distance running that allows them to finish strong and recover quickly. The idea is that those walk breaks allow your body to recover and then you run stronger when you start running again after the walk break. 
This program works for him. He's a 70+ year old man who runs a marathon a month. He testified about how in April this year, he ran the Boston marathon. A week later he ran the Big Sur marathon, and the next day he was running on the beach in Carmel. Impressive!
I believe him. I think his program is a valid method for people who are running that many marathons a year. I also think it's a valid approach for newer runners as well. 
However, I had to give him the side-eye when he gave an example of a man who used his program to run a 3:15 marathon. I mean…that's fast.
According to his story, this man had previously ran 3:15 marathons but was more recently struggling  to attain that goal. He was running closer to 3:45's, as he usually ended up walking/struggling through the last six miles of the race. Jeff "dared" him to try the run/walk program for the entire marathon, with 1 minute of walking after every mile. This man was doubtful, but he decided to stick with it, if only to prove Jeff wrong. And of course….it worked. The man ran a 3:15 marathon walking for an entire minute after every mile.
Now, the reason why I gave that story the side-eye is because that would mean this mean he was walking for 26 minutes of his race, and yet he still ran a 3:15. That would mean that he had to run significantly faster than normal when he was running in order to make up that 26 minutes. See why I'm skeptical? 
If Jeff had told the same story about someone applying that method to run a 4:45 marathon, I would believe it. I think this program works best for those runners who are a 4:30 marathon and up. I get skeptical when I try to wrap my head around this program working for someone who applying this program to a 3:15 marathon. A 3:15 marathon is a 7:26 min/mile if run at a consistent pace.  If this person has 26 minutes of walking built in, this means he was running a 6:58 min/mile during his running. Possible? Maybe…but I'm skeptical.
You can see how Jeff's run walk program is a bit controversial in the running community. Personally, I won't be trying it out anytime soon. Even though I have that 50 state goal in mind, I'm still only running 2-3 marathons a year, and I generally train for each one.  If I were pursuing the 50 state goal the way that a lot of the Marathon Maniacs do, with back to back marathons in a weekend, etc, I probably would follow Jeff's plan, as I wouldn't be concerned about time- just about completion.
Jeff wasn't pushy about his program, which was nice. He admitted that it's not for everyone. When he was training for the Olympics or winning the Honolulu marathon, he wasn't following this plan. I think it's an interesting topic for discussion, and I still found the chat to still be valuable. I also enjoyed hearing from someone who has been running for so many years and has completed so many marathons. If nothing else, he's definitely experienced!
The bonus question that I asked him after his official chat: "What products or gear exists now that you wished would have existed back in the 70's when you started running?"
He said that there a lot of recovery drinks out there that he thinks are really good. 
One of the most important products for runners is one that did indeed exist in the 70's, it just wasn't as accessible- the answer? Massage!
With that said, I think I'm going to call and book a massage for this weekend. Jeff Galloway told me to.
(Visited 262 time, 1 visit today)