This past Monday (Labor Day), I ran the Victory Labor Day 10k.
Per the website, "A Labor Day tradition within the Minnesota running community for 33 years, the Victory 10K, 5K and Kid's Run are set again for 2014. Run a PR on our pancake flat 10K course, blistering 5K course, or both by registering for the Double Header! No need for a sitter, the Victory Races are a family affair. Introduce your little ones to running by signing them up for our kid's half mile run."

So, yes, there was the option to run the 10k and then the 5k afterwards. My friend Gina did just that, and she raced both of them very well. So impressive! (All this after coming off a 4th place win at a local triathlon on Saturday. Rockstar!) I pushed myself during the 10k, so there was no way I could have raced a 5k afterwards, but a little part of me thought it sounded pretty fun. Maybe next year!

Anyways, the 10k race started at 8 am. It was a cooler morning than it has been, but still plenty humid and sweaty. The 5k race started at 9:30 am on the same course. 
The Course:
The course is advertised as the fastest 10k in Minnesota, and I bet that's true. From the website, "this course is flat, straight and fast! It starts on Webber Parkway near Colfax and proceeds west on Victory Memorial Drive to the flagpole. It then turns directly south to Lowry to the halfway point turn-around and returns the same route, finishing on Webber Parkway near Bryant Ave. USATF certified. Split at 1 mile. The 5K course is flat asphalt, out and back."

The course was an out-and-back, but for a 10k, I liked that. It was fun to see everyone from our running club who was racing, and we were all able to cheer for each other.  The below picture is missing a few people, but as you can see, it was quite a turnout from our club! Way to represent, Calhoun Beach Running Club!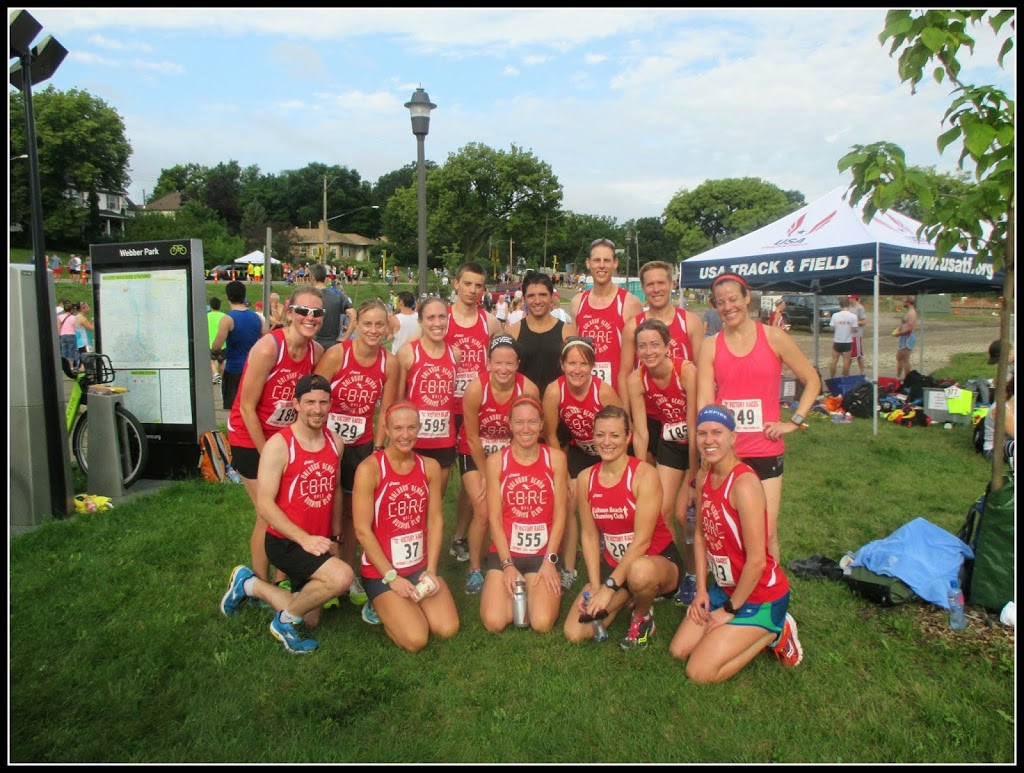 The course didn't have a ton of shade so it definitely got a little warm when the sun was out, but there were two water stops on the course, which helped.
The race was not chipped timed- only gun timed. This race is part of the USATF racing team circuit and it attracts a VERY competitive field.  The winning men's time was 30:53 (4:58 pace- holy cow!) and the winning women's time was a 36:20 (a 5:51 pace). Unbelievable!
Me? Not quite that fast, but I was happy with my performance. I ran a 48:16, or 7:45 min/mile average.
Here are my splits, if you are curious:
Mile 1: 7:39
Mile 2: 7:45
Mile 3: 8:02
Mile 4: 7:36
Mile 5: 7:56
Mile 6: 7:39
Last 0.2 miles at a 7 min/mile pace (at least I finished strong!)
I haven't done that many 10k's so this was a PR for me, which is always a nice surprise. I really tried to focus on the positive mantras, especially in the last few miles when it started to hurt. I didn't pace myself perfectly, but it seemed somewhat consistent.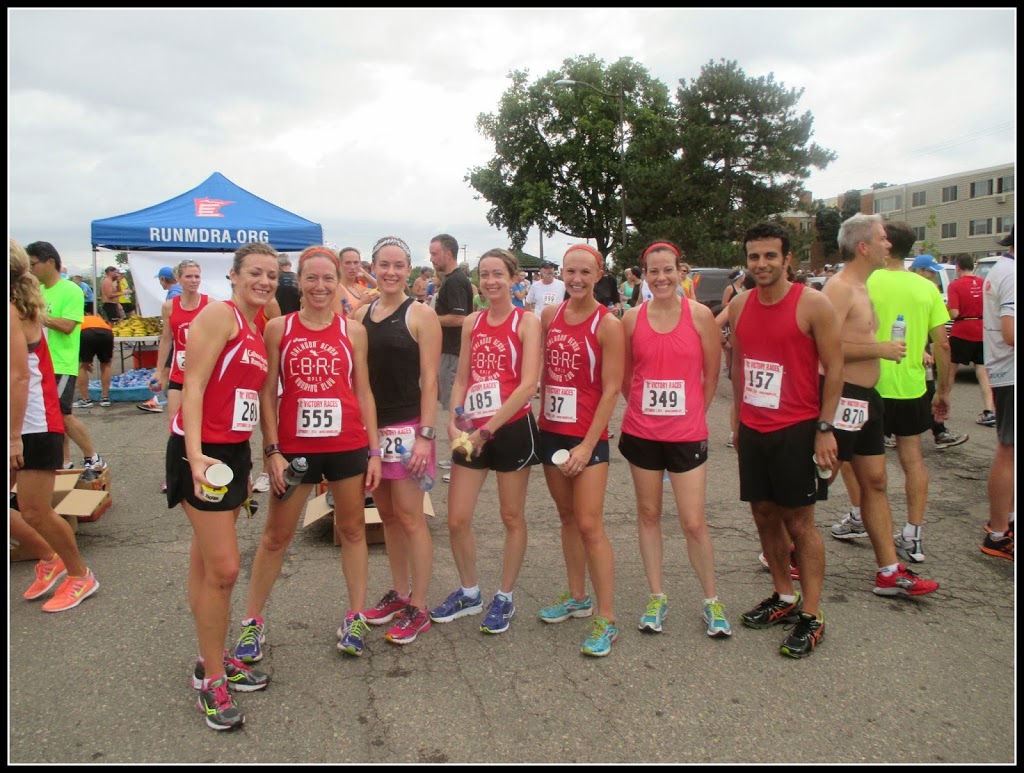 Gear/SWAG:
Everyone receives a long sleeve cotton t-shirt. I'm all about the cotton tees now, as long as they are cozy and not enormous. This one seems to be a winner.
I didn't get any pictures, but the post-race food included hot dogs, bananas,
Propel Fitness water,
noosa yogurt (yum!), fruit punch, and probably more that I'm missing. It was a pretty decent spread for a 10k.
I definitely recommend this 10k if you're looking for a flat, PR course. And if you're looking for a challenge, do the double!
(Visited 203 time, 1 visit today)