It's Sunday, so it is time for the Weekly Recap at the Right Fits!
Let's start with fitness…
What's happening in fitness this week?
Last week, my recap included a lot of running but not a lot of cross training. This week was a little more balanced.
Monday: 1 hour long barre class at The Barre in the morning and then 7 mile run with the Calhoun Beach Running Club. I had a 20 minute tempo run in the middle of this run. My legs felt pretty tired, and I struggled to keep an 8 min/mile pace (my tempos should be closer to a 7:35-7:45).
Tuesday: 5.5 mile run with Matilda, slow recovery run
Wednesday: 1 hour strength conditioning class for runners at the Calhoun Beach Club
Thursday: 5 mile run as part of the Jeff Galloway event at Run n Fun <– I'll share more on this later!
Friday: 16 mile long run. I started at 6 am with my friends Abby and Meggan, so you'd think we were up early enough to beat the heat. Spoiler alert..we weren't. It was a brutally sticky run and not one of my best long runs. Due to schedule constraints for the other girls (who started even earlier than me) I was on my own for the last 3 miles. My paced dropped significantly in those last three miles and I was doing more of a run/walk. I just don't do well in the heat. We ran a route that had plenty of water stops and I carried fluids in my Nathan hydration belt, but the humidity still really got to me. Additionally, my sweaty shoes were soaked through, which started to cause a lot of blisters. I'm not saying I'm ready for cold temperatures- I'm not. But I am admitting that running in the humidity is definitely a challenge.
Saturday: Wedding Day 5k <– race recap to come! Our old run club coach Paul married his lovely wife Laura yesterday and he planned a really great Wedding Day 5k to kick off their special day with a run. The race started at 7 am because the bride and her bridesmaids needed to get going with hair and make up and whatnot. To be honest, we were up a little later than normal on Friday imbibing a bit with all the wedding guests. That 6:30 am wake up call came pretty early. I tried to do a little bit of a warm-up before we started, but really I was going from sleeping to a harder tempo-esque effort a little too quickly. However, due to Dustin's speediness, we still won the fastest combined time for a married couple!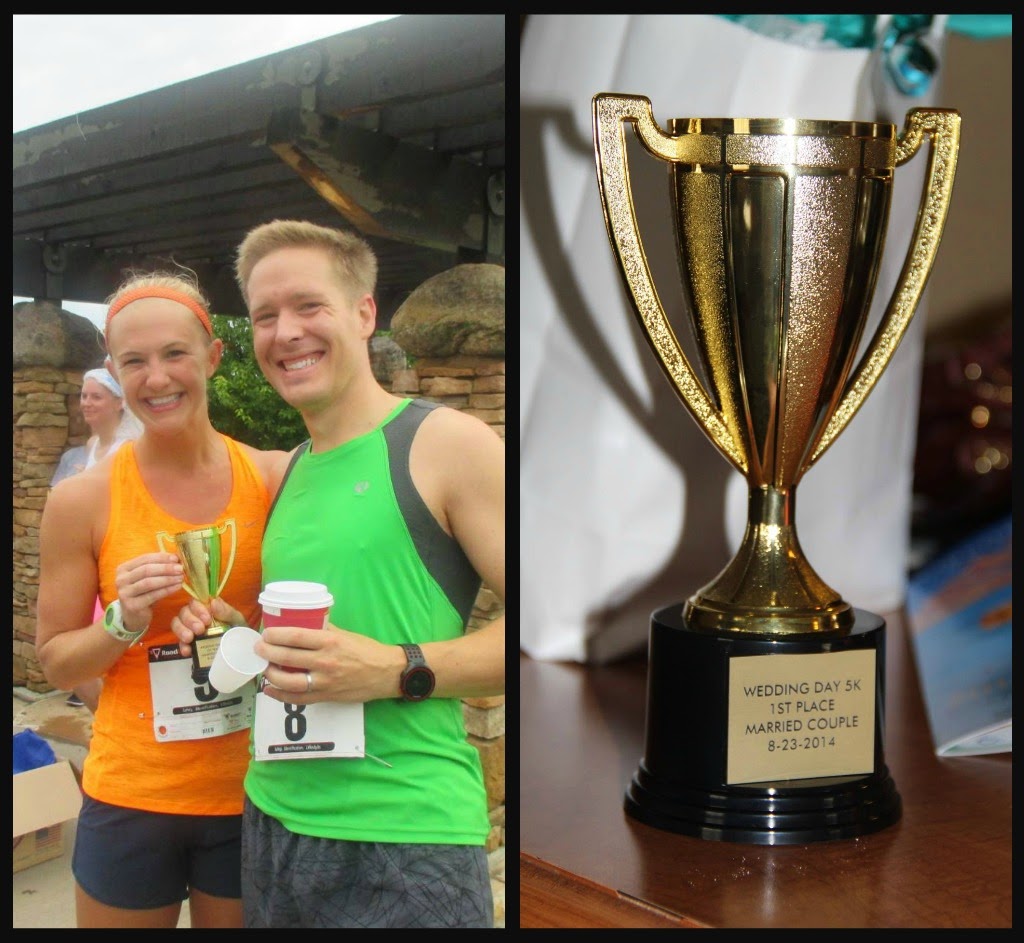 Sunday: Most of today was spent in a car driving home from Sioux Falls. When we arrived back in Minneapolis, I figured I would either take a nap or go for a run. I went with the run option, hoping to detox some of that wine I drank over the wedding weekend.  Of course, this run was at the hottest part of the day. It was a slow and sweaty four mile run, but it did make me feel better.

Total: 6 days of running with one tempo workout and one 5k race, one strength class, and one barre class
What's happening in fitness fashion?
The Wedding Day 5k had official race shirts. They are cozy gray t-shirts that I know I will wear to lounge around the house. Someone commented that it seemed that a lot of races are moving away from technical tees and towards cozy old-school quality cotton tees. The Torchlight 5k was that way, as well as the Brian Kraft 5k...and now the Wedding Day 5k!  I like this movement in races. I have way too many technical race shirts that I never wear again, usually because they don't fit that well. It seems that more men continue to wear their old race shirts (I know that Dustin does), but not as many ladies like the ill-fitting race shirts. Keeping the cozy cotton tees coming please race directors!
What's happening in fashion?
The wedding this weekend in Sioux Falls, South Dakota was so gorgeous. The reception was held at Calico Skies winery across the border in Iowa and it was such a beautiful location for a reception. The wine and food were so good, and I couldn't get over all the beautiful touches for the wedding<– more pictures to come! As for fashion at this wedding, I wore the Azure Scroll Dress from Anthropologie. I usually have a really good luck at Anthropologie for cocktail dresses, and this dress is one that I feel I will wear plenty of times in the future. The color and pattern is bright and fun, but the simple shift style keeps it classic. The necklace is also from anthropologie.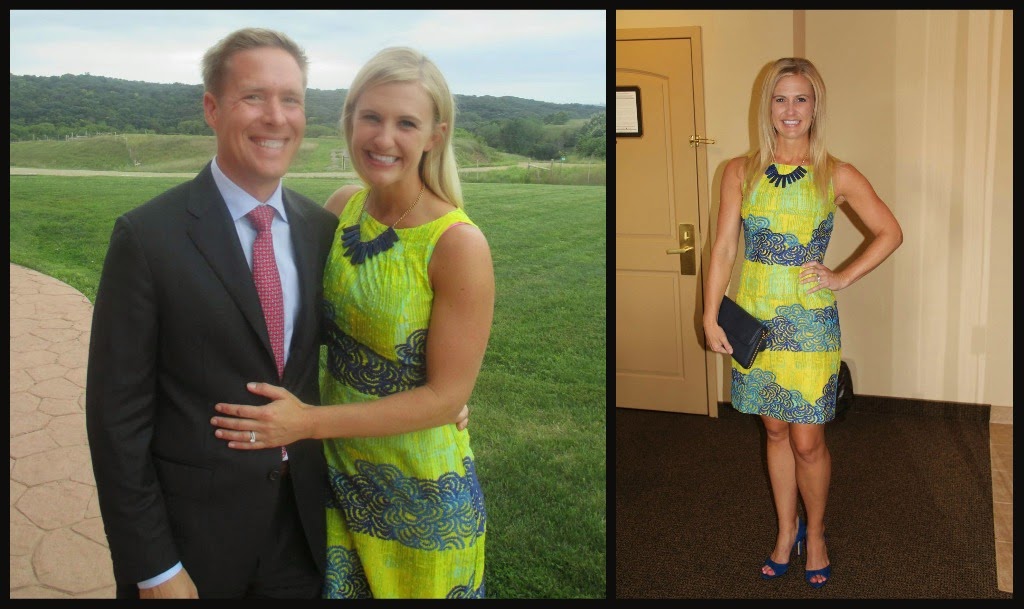 That's all from the Right Fits this week…
What are your tips for staying cool on hot and humid runs?
Have you been to Calico Skies winery?
(Visited 275 time, 1 visit today)