Since I'm not personally able to test out any new running gear these days, I thought this was the perfect time to do a series of posts featuring your favorite running gear. A crowd-sourced series of the best running gear from voices other than just mine!
I'm reaching out to all the runners that I know to share their most favorite running gear; after I've shared all the posts, I hope to do one summary of the most popular items from my most "unscientific" survey.
Here is part 1  part 2, part 3, and part 4. I'm also turning this into a link-up for other bloggers to share their favorites on their blogs, see below to add your post to the link-up. If you don't have a blog and are interested in being featured to share your favorites, please let me know!
Today's post features two running friends of mine, Sarah and Lindsey!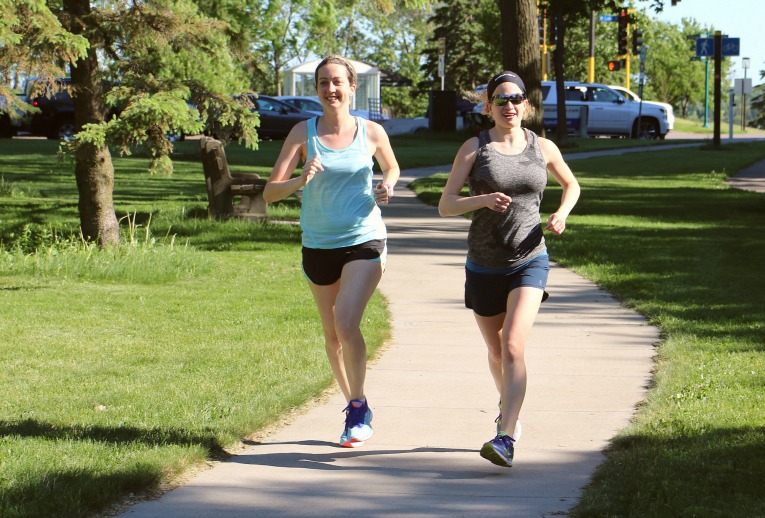 Sarah:
Hi! I'm Sarah. I am lucky to live right off of the Chain of Lakes in Minneapolis, and love running around them whenever I get the chance. I wish every run could be 50 degrees and partly cloudy with a comfortable tailwind, but since that's rarely the reality, I am all about clothes that are as lightweight as possible for the summer. I also like my running gear to be budget friendly.
Sarah's Favorite Running Headband:
Curly hair and summer humidity are sworn enemies, so I never go out for a run without a headband. This braided headband from Old Navy is one of my favorites for staying in place and keeping all pieces of hair away from my face. I've also found headbands that work well from Athleta and Lululemon, like this one and this one.
Sarah's Favorite Running Top:
For runners on a budget, you can't beat the C9 Champion brand from Target. The tops  I prefer are loose and wicking and as lightweight as possible. They also have a variety of colors to choose from.
I also have been successful finding sports bras from this brand.
Sarah's Favorite Running Shorts:
My go-to brand of shorts for races is always Saucony. Their shorts are lightweight and wick moisture well. I also love the roomy zippered pocket in the back to hold plenty of gels for race day or keys during a training run.
Lindsey P:
Lindsey Pierret, age 30. "I've been running for 20 years. I am not training for anything at the moment, but am taking some time to mentally and physically recover from a tough spring marathon attempt. I may pull the trigger on a fall 2018 marathon,  but I am focusing more on spring 2019 as my next A-level race to try and qualify for the Olympic trials.
Comfort and sweat wicking are probably my top two factors when purchasing running gear. "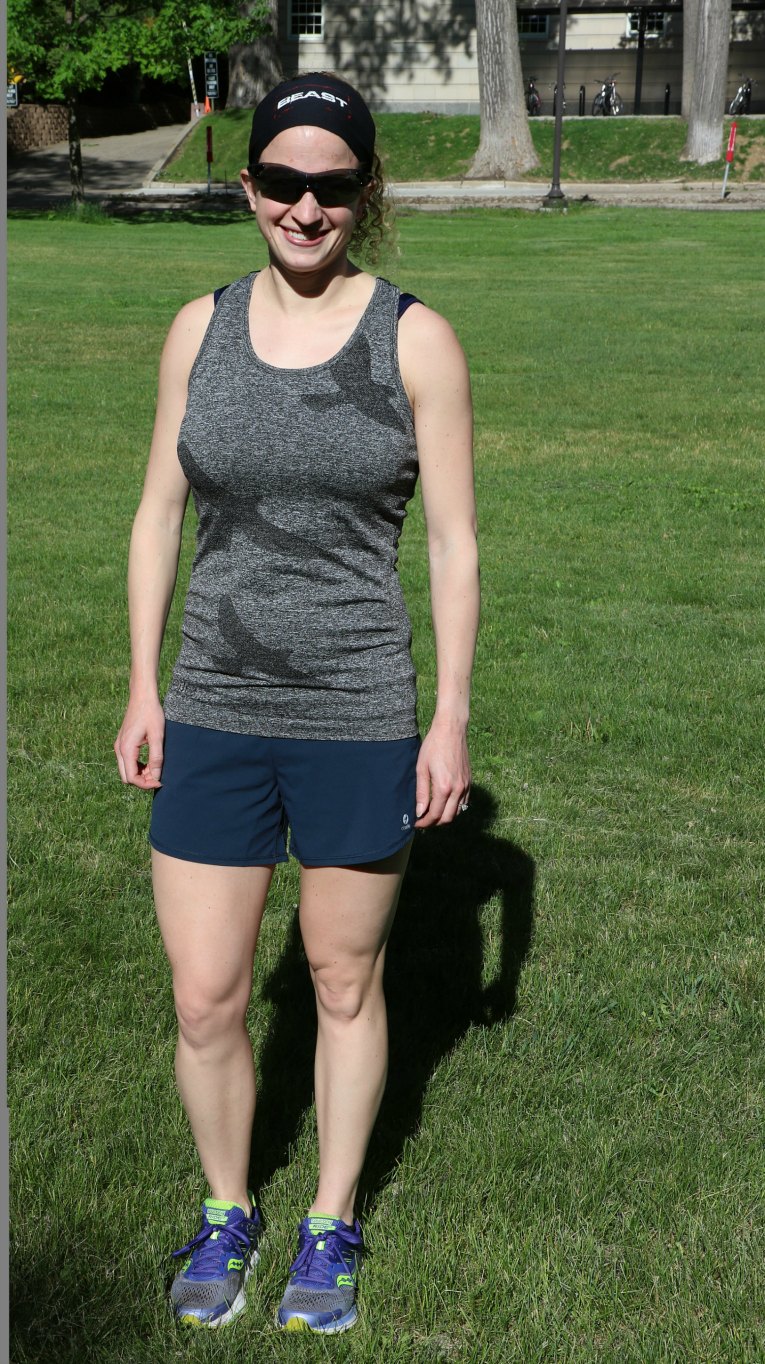 Lindsey's Favorite Running Top:
"My favorite running top is the Oiselle Flyte tank. It doesn't rub and is cool and comfortable for hot summer days. I just love the Oiselle brand and what they promote for female runners and athletes."
Lindsey's Favorite Running Shorts:
Similar to my favorite top, my favorite shorts are Oiselle. They are the Rogas, which are  also cool and comfortable for hot summer runs. I don't get back from a run and feel like I need to ring out my shorts.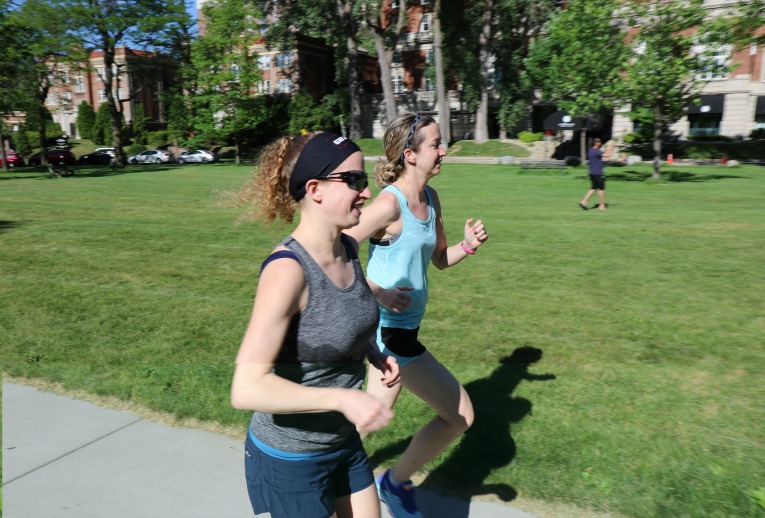 Lindsey's Favorite Running Sunglasses:
"I love the Smith PivLock Asana. The new Chroma Pop technology is fabulous! Easy lens change for different levels of sun.
*Also pictured: A bondi band (headband). This is great for wicking in the summer time! I also love all the fun phrases."

Lindsey's Favorite Sports Bra:
"I love the Brooks Fiona ; it is great for support! I have never found a sports bra that compares to this one. Pro tip for anyone who is bigger up top! 🙂"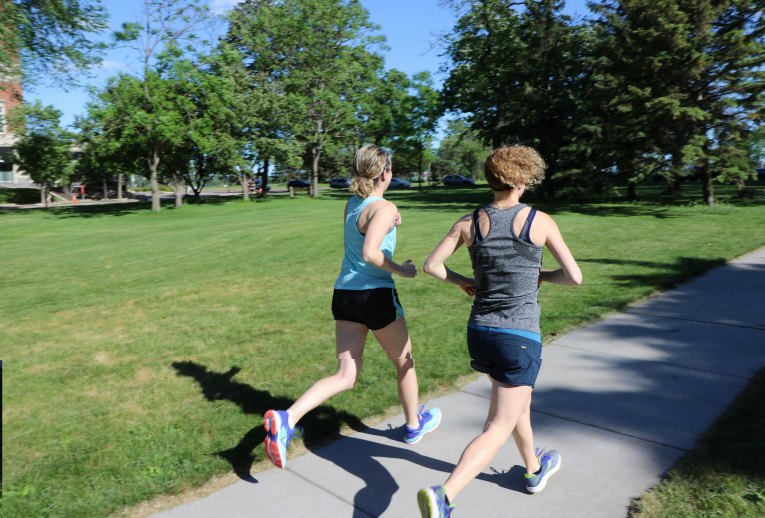 Lindsey's Favorite Running Shoes:
"I run in the Saucony Rides; I've been running in a version of Saucony's for 17 years. I switch it up for a different particular shoe for races and would be happy to share those if helpful to anyone!"

Thank you so much Sarah and Lindsey for sharing your all time favorite running items with us!
(Visited 573 time, 1 visit today)