Happy Twin Cities Marathon day!
If you ran, how did it go? I was out there cheering and it seemed like a great day for a marathon!
Speaking of marathons, here's how my training for the New York City Marathon went this past week! (Also- I'm linking up with Jess as normal, details at the end of this post, as well as HoHo Runs/Mississippi Piddlin, who host similar link-ups. Check them out!)
Monday: 6 miles in the AM, 4 miles in the PM, 10 miles total on the day.
Tuesday: Short speed workout: 2 mile warm-up, 8x400m with 2 min recovery, 2 mile cool down. This shouldn't have been a very hard workout, but my legs just did not want to go very fast…7.6 miles total.
Wednesday: 6 easy miles in the morning, [solidcore] after work (Love that place!)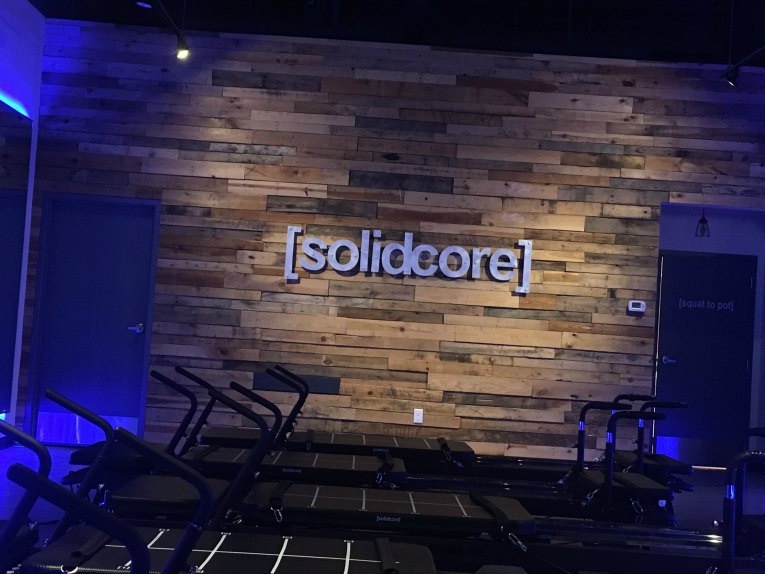 Thursday: I took both Thursday and Friday off of work, as my good friend was getting married on Friday. I knew that I wouldn't be up for a long run Saturday morning (because, Friday wedding) and Sunday was the Twin Cities Marathon (my favorite running day of the year!) so that also wouldn't work for a long run. So that meant another day of PTO in order to fit in my long run!
It worked out pretty well as my friend Christie had a somewhat similar workout to do. We met at the crack of dawn to get her run done before work. 3 miles to warm-up, then 1 mile at goal marathon pace (8:15) followed by 1/2 mile at an 8 min/mile pace followed by 0.5 mile recovery. We repeated that sequence 4 times before Christie left me for her cool-down and I stopped at my car for a GU and some Gatorade before doing a few more at goal marathon pace followed by 2 miles to cool down.
Tough run but so glad I got it done! 17 miles before 8 am.
I did take a lovely nap that afternoon after taking Tilda to the dog park to burn off some energy- after that she was the best cuddle buddy for a nap 🙂

That evening was the rehearsal dinner for the wedding. (Dress found HERE.)
The rehearsal dinner was at Brit's Pub downtown and was lovely.
There was a quiz "how well do you know the bride and groom?" My friend Sarah got 1st place and I got 2nd. It's amazing how well you get to know someone when you run so many miles together!
Friday: The wedding day! But first…a run!
A bunch of run clubbers met at Mill City Running for their Flapjack Friday.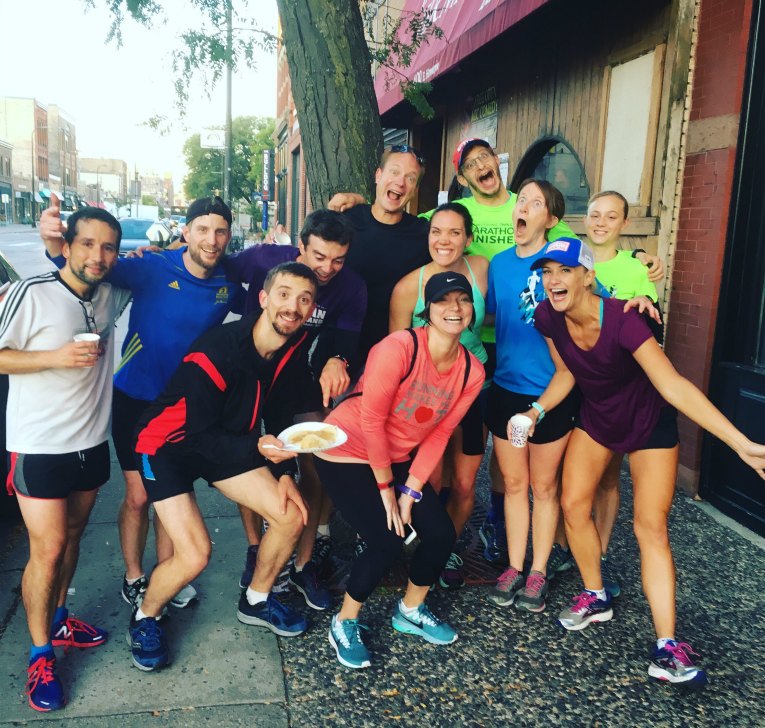 Christie and I covered 6 easy miles. Then a quick shower before heading to the Hilton downtown for hair and makeup!
The wedding was at the Calhoun Beach Club, which is perfect because that's where the couple met.
These runners clean up well!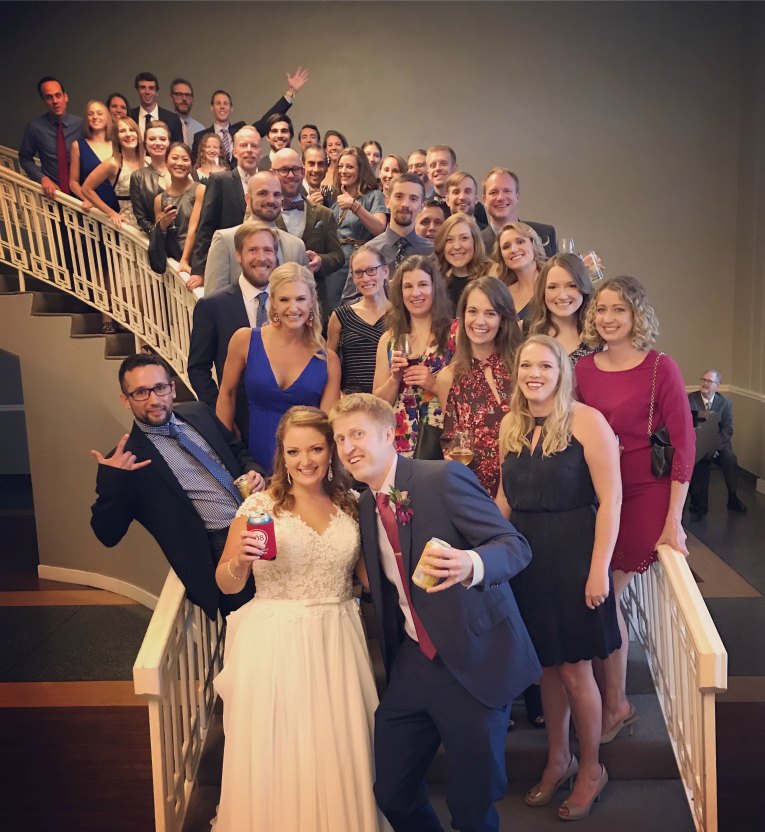 Dress found HERE. Earrings and clutch from Rent the Runway!
Saturday: Slept in…eventually I made my way out for a run with Dustin and Matilda. 2 miles to warmup and then 3 miles at a 7:25 min/mile, 2 mile cool-down. Dustin and Matilda joined me for the first 5, just not the final cool-down miles.
In the early evening, I went out for another 4 miles for 11 miles on the day. Oh those doubles, they're killing me! I find them tougher to do on the weekend as it really feels like all I did in a day is run!
Sunday: Twin Cities Marathon day! If you've been reading for awhile, you know that I paced my sister Erin at this marathon last year and it was SO. MUCH. FUN. Gosh, I really love this marathon.
Though I was only a spectator this year, it was still a blast. Matilda, Dustin, and I walked over to Lake Calhoun around mile 4.5 first: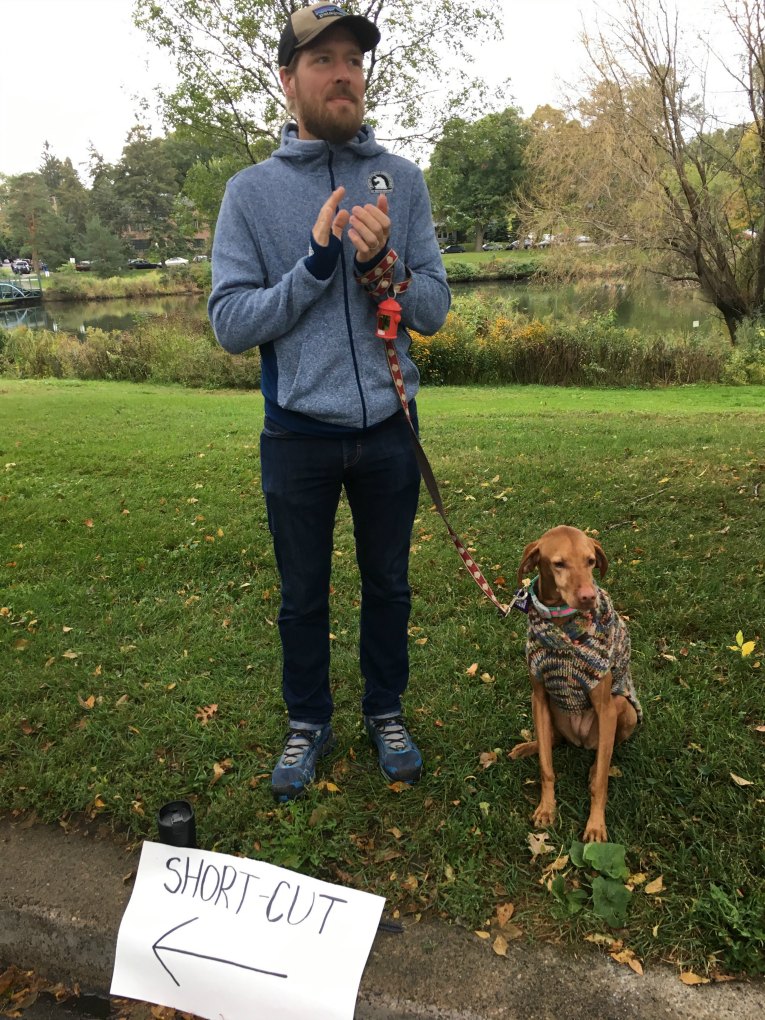 Then we headed to mile 24 on Summit Avenue to meet up with the rest of our run club friends.
Though it was rainy, it was cool enough that most runners had a really good day out there.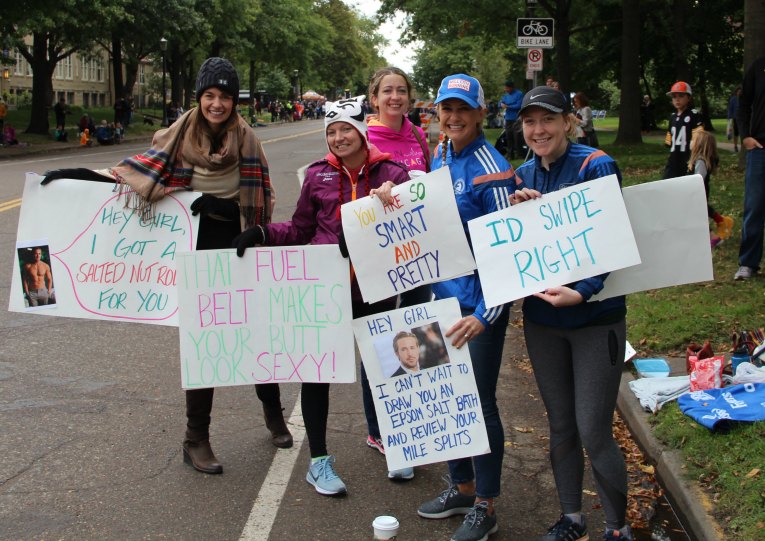 After several hours of cheering in the rain, I wasn't all that inspired to run outside in the rain myself…so instead I zoned out on the treadmill for 9 miles on the old Landice while Tilda kept me safe 🙂
I think she forgot about this whole treadmill thing so she didn't want to leave my side so I put one of her dog beds in the treadmill room so she was more comfortable. (So spoiled!)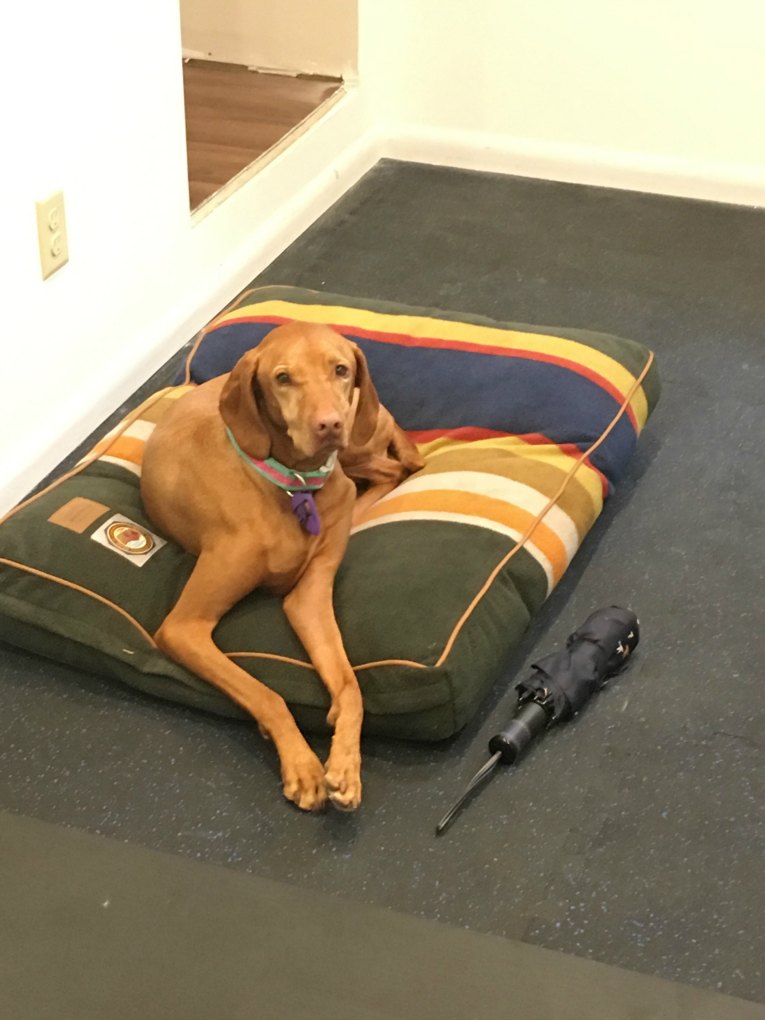 Summary: 67 miles of running, 1 strength class (solidcore).
Are you running the New York City Marathon? Or will you be in town for it to cheer?  
Join Jess and me on Saturday for a Starbucks stop and casual walk around Central Park. I'll be doing a shake-out run there around 8:00 am if anyone wants to join me of that, but our official social meet-up will be at 10 am. Let us know if you can make it!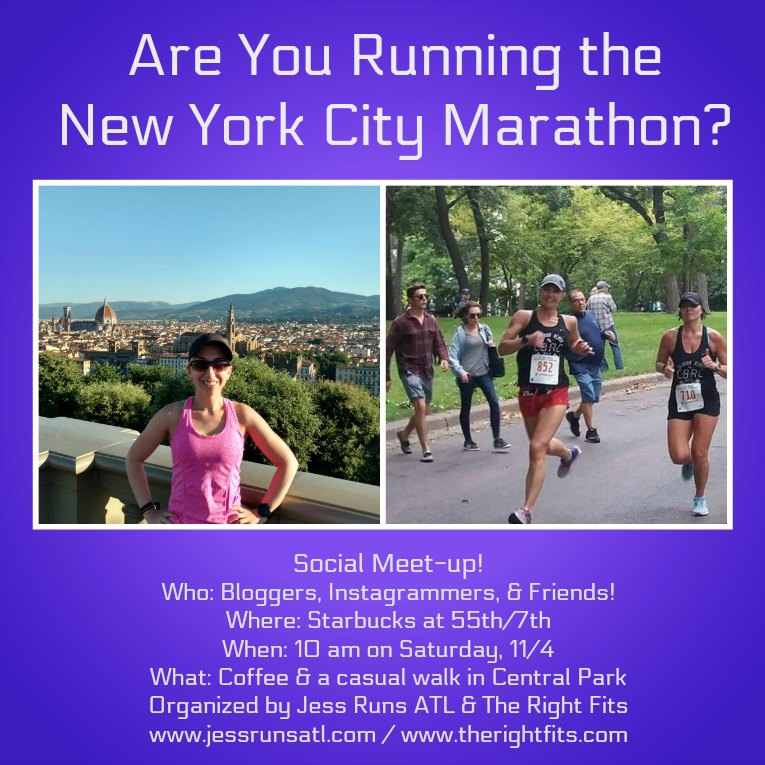 (Visited 473 time, 1 visit today)