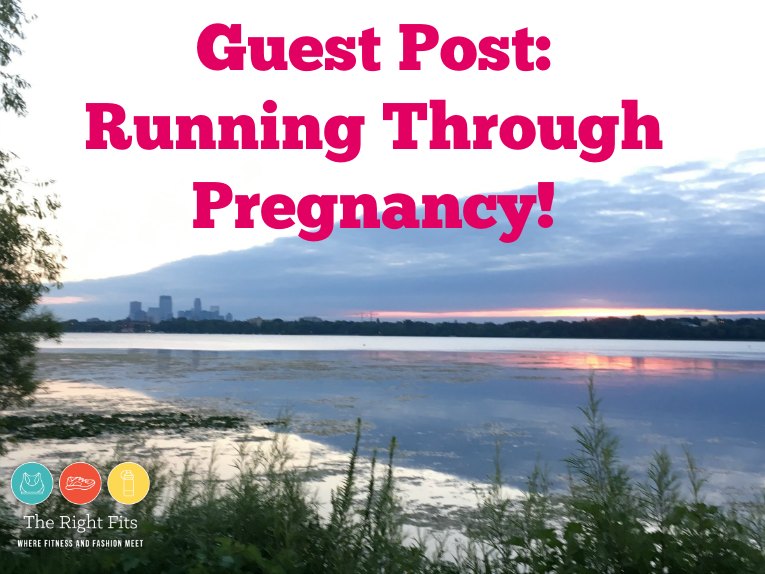 I have a guest post for you today from my friend Paige. I met Paige through social media/the blog/the running community awhile back and then actually met her "IRL" this past year- she's awesome, and a very talented runner! I followed her on Strava throughout her pregnancy and was amazed by how much (and how fast!) she continued to run, so I asked her to share her experience with you guys. I know that every person's experience is so different, but I hope you enjoy hearing about hers as much as I did!
First Trimester: Weeks 1 through 13
Average weekly mileage: 35 miles
Average monthly paces: November 7:33 min/mile, December 7:35 min/mile, January 7:48 min/mile
I found out I was pregnant on Friday, December 9, when the test turned instantly positive at 5 AM. It was a bittersweet feeling. I was so happy to be pregnant, but also like "crap – life is about to change, and is there any way I can sneak in another marathon before I get too huge??" 🙂
Mid-run right after telling my husband (Brennen) I was pregnant
I had just come off of training for three marathons in 2016 (Boston, Grandma's, and Twin Cities), so all the running I was doing the first five-ish weeks of pregnancy before I saw that positive test was unstructured. The treadmill became my best friend through the winter. I had easy access to water and the bathroom (because the urge to pee is insane during pregnancy). I tried to keep things interesting on the mill by varying the incline for set miles, or doing short pickups. I am typically a five-days a week runner (even during marathon training), and that trend continued through my first and second trimesters.
My initial symptoms of pregnancy were unbelievably sore breasts, thirst, tiredness, bloating, and light nausea/dizziness in the afternoons that was curable with snacks. I really think I had minimal symptoms due to exercise. As in normal life, I had more energy on days that ran.
My weekly long runs in the first trimester ranged between 8 and 13 miles. I fueled my long runs pretty much the same way I had been pre-pregnancy (Nuun with caffeine pre-run, chocolate Honey Stinger gel [if needed] during the run, and some sort of snack right after the run). I used to drink coffee before every long run, but had a strong aversion from it in the first trimester, though coffee came back into my life in the second trimester.
Second Trimester: Weeks 14 through 27
Average weekly mileage: 39 miles
Average monthly paces: February 7:55 min/mile, March 8:00 min/mile, April 8:05 min/mile
I got to the point in the second trimester where I forgot I was pregnant a lot of the time. I wasn't showing – I just looked like I gained weight to my thighs, butt, hips, and breasts, and my symptoms were pretty much non-existent. This made running pretty easy for me, despite the still intense urge to pee every mile or two. I started running outside again and knew the locations of all the porta-potties around Minneapolis and all the best spots to squat in the woods.
I logged my highest mileage in the second trimester with nearly all the miles with my German Shorthaired Pointer pup named Finn. (Weekly long run ranged from 10 to 14 miles.) One of my husband Brennen's biggest pet peeves with me was not telling him where or how far I was going on runs. I loved the freedom of making up running routes or distances as I went, since I had no training plan. Some runs felt so good that I ended up going way farther than planned. I think it helped ease Brennen's mind by knowing I had my big scary dog (insert all the sarcasm) Finn with me.
Mid-long run with Finn around Lake Harriet
I noticed my blood sugar crashing really fast at the end of runs starting around week 18. Also, my legs sometimes felt like jello in the middle of runs. Snacks right after running became the norm.  I talked to my OB about it more at 20 weeks, thinking that I might have an iron deficiency. My hemoglobin results came back totally normal, but my ferritin was low (10 ng/ml). My OB recommended I supplement with foods. I got on the blackstrap molasses kick in the mornings. (Two tablespoons of blackstrap molasses and an orange for vitamin C absorption taken thirty minutes before actual breakfast.) I'm not sure if it helped, as I haven't had my ferritin tested since, but the jello leg feeling went away.
I ran the Hot Dash 10 Mile mid-March at 19 weeks pregnant. (I finally met Jessie after this race! See her race recap here.) Brennen told me that I was NOT allowed to race it. He clearly knows me and my personality. ☺ I said I would do 8 minute miles. Well my first mile was a 7:52, and my last mile was a 7:12, so I didn't listen very well. (Overall, I ran a 1:16 with an average pace of 7:37.)
I was on cloud nine after this race, a 7:37 average with no speed work training and 19-weeks pregnant!? That was a win for me. I also ran the Twin Cities 1 Mile at nearly 27 weeks pregnant. I honestly figured I would run near a 7 minute/mile, so was completely shocked when my official time came in at 6:00. My time from the previous year was a 5:51! I decided then that this baby was destined to be an athlete. ☺
Third Trimester: Weeks 28 through 38
Average weekly mileage: 24 miles
Average monthly paces: May 8:18 min/mile, June 8:24 min/mile, July 8:33 min/mile
The third trimester started out with a bang. My first run at 28 weeks was rough. I figured I had finally hit the wall of pure exhaustion. There were so many runs where I figured end was near for running, but then I would have an amazing run where everything clicked that kept me coming back for more. It was a roller coaster. I was forcing myself to do a weekly long run because I was signed up for a half marathon. My long runs ranged between 10 and 12 miles before the race.
I ran the Gary Bjorklund Half Marathon as part of Grandma's Marathon weekend at 32 weeks pregnant. When I signed up in March, I wasn't even sure I would still be running at that point in pregnancy, but I figured it was worth the risk. I ran Grandma's Marathon in both 2015 and 2016 and knew that weekend is the best of the entire summer – missing out would have been really hard for me.
I was thrilled with my race execution. I went out at 8:35 minute miles and then starting cutting down the pace with each mile around mile seven. Mile 13 was sub-7 minute pace! Flying by other runners the last couple of miles through downtown Duluth was an awesome feeling. I finished the half marathon in 1:48:21 with an 8:14 average pace. I was pretty happy about that!
Brennen and I after the Gary Bjorklund Half Marathon
After the half marathon I instantly changed my running game plan. I starting running every other day instead of five days per week, and my mileage dropped significantly. (Until the half marathon I was running between 30 and 40 miles per week. After the half marathon and until baby arrived I was running between 15 and 25 miles per week.) Recovery was getting longer between runs, and dragging my now very heavy body around was a struggle.  I was trying to keep my motivation up because I had read that running through pregnancy = early baby, easy labor, and easy recovery.
I ran 1,217 miles throughout pregnancy, crushing my initial goal of 1,000 miles. My OB warned me late in the third trimester that our baby was going to want to bounce as a result of all the running. This could not be truer! Jack loves for us to hold him while sitting on the exercise ball bouncing. ☺
Birth Story
Brennen and I were geared up to drive to a cabin weekend on Wednesday, July 26, but I had my 37 week OB appointment that morning, and my doctor greatly advised us to stay home. (I was 1 cm dilated and 70% effaced, and my cervix was completely soft.) We were heading to the middle of nowhere Wisconsin with the closest hospital about an hour away. We made it not even 3 miles down I-94 before I told Brennen, "I am having this baby this weekend." He instantly turned around to head home. I'm not sure if I was intuition or what, but I am so glad we stayed home!
The day before our baby was born on Friday, July 28, I took Finn for a six mile run in the morning on the Cedar Lake trails. I spent the rest of the day cleaning our home, relaxing, and bouncing on my exercise ball. (I had originally taken the day off for the cabin weekend. This ended up working out great as I was able to have some "me" time before this baby arrived!) For dinner that night we had homemade pizza with jalapeños because spicy food is "supposed" to start labor. I was doing all I could to get this baby out!
I woke up that night at 11:30 PM to light contractions (I learned they were very light as the real ones kicked in later on!) and slightly damp boxers. I wasn't convinced it was amniotic fluid, so I went into our living room to bounce on my exercise ball and time the contractions. A couple hours later I went to the bathroom again and noticed more dampness. I decided to call the nurses line around 2:30 AM. The contractions were still light, but within a few minutes of each other. I was majorly delaying waking up Brennen because he had 4-hour ride and brick run planned for 6 AM as part of IRONMAN training. (Note: When you decide to try to get pregnant, look ahead at the calendar and be sure your husband isn't signed up for an IRONMAN in nine-ish months…) The nurse told me that since I was "maybe" leaking fluid I should go in. Thirty minutes later Brennen and I were on our way to the hospital. In triage, the nurse confirmed it was amniotic fluid. This baby was coming early at exactly 38 weeks!
We got admitted to our room around 7:30 AM to hang out. The OB told me that I was too comfortable – I was able to still talk and walk during contractions. My body wasn't going into labor naturally, so they started me on Pitocin around 11 AM to speed things up. The pain slowly increased until 1:30 PM when it began intensifying quickly. I was officially sitting on the bed, moaning, and even crying through contractions. I had never felt this kind of pain. I was told that childbirth is like a marathon. I even had all the mantras set up similar to a marathon: "you can", "stay in the contraction you are in", etc.
All lies! Contractions are more like running 400 meters at an absolute dead sprint with 30 second breaks– over and over and over. This kind of pain doesn't work for me. I am a slow pain person: I love the marathon, and I despise the 5k.
At 2:30 PM I decided to get an epidural. (I was six cm dilated.) I was always open to having an epidural, but I had two rules: try laboring first without it and make the decision to get one in between contractions. GOD BLESS THAT EPIDURAL. I was in heaven after it took. I even took a nap!
At 5 PM I was fully dilated and had the severe urge to push. Brennen and I were both shocked to hear that we were going to start pushing with just the two of us and my nurse in the room! (Most people push for hours, so this is the norm.) Maybe fifteen minutes into pushing, the baby was crowning, and my nurse called the team in (which included probably five other nurses and OBs). Twenty-eight minutes after that first push at 5:42 PM, our baby BOY was born! (We did not know if baby was a boy or girl! This was the best surprise!) The team was pretty impressed with this short amount of time pushing for my first baby. (I have been warned that I will probably push for less than five minutes on future babies. Yikes!) Pushing did not hurt at all! I lucked out with an epidural that completely took to both sides.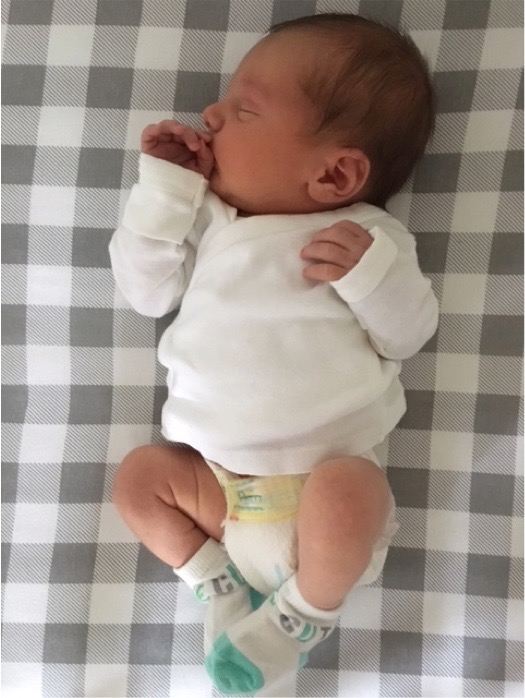 Jack Brennen Schulz – 7 lbs, 1 oz. 20 inches long.
I had one small first degree tear, so one stitch. I took one dose of acetaminophen right after delivery and nothing for pain since. Post childbirth was definitely the same feeling as crossing that finish line, but way better because the pain of laboring was way worse! I definitely celebrated childbirth with eating all the food just like I do post marathon.
Postpartum Recovery
The day after Jack was born, Brennen and I went for a walk outside around the hospital while Jack had his 24-hour newborn screens. That first walk was definitely slow. Brennen was shocked to hear me say, "we need to go slower". (I'm the speed walker in the family.) Once we were home from the hospital, I started walking more and more. It became my routine the first couple of weeks postpartum to take Finn for a morning stroll since Brennen could stay home with Jack. I did my first push-ups in nine months right away too!
During my second week postpartum, I secretly started doing some very short jogging with Finn – like 15 feet just to see how it would feel. I eventually worked this up to a couple of 50 meter jogs during the walks. At 16 days postpartum, I took Finn for a morning walk out one mile from our home, then turned around an jogged the route back. This mile felt great! It was definitely a huge morale boost.
On Jack's 22 day of life (3 weeks, 1 day postpartum), I went for my first official run mostly to relieve some stress. Brennen and I were visiting our families in our hometown for the weekend, and I walked downstairs on Sunday morning to my sisters and parents having a battle over who got to hold Jack next based on how much time each of them had holding him the day before. (Really family?) I needed to get out of there. (Brennen was already out doing a long run.) Finn and I went for a two mile jog at an 8:34 pace. This run was tough. I was so happy to be running, but I had a side ache for the majority of the time. My stride also felt funny, which in hindsight makes sense as I had been running with a bunch of extra weight and shifted center of gravity for many months in a row. Despite my light walk-jogs I had been doing, this felt completely different, and I was worried I had pushed it too hard too soon. I took the next three days off before going for a three mile run again. This run was great! I felt so strong, and I just let my body dictate the pace. 3.1 miles at 7:55 pace around Lake of the Isles.
With Baby Jack and crazy Finn after my first run postpartum. 
After this run I continued to gain confidence and kept building mileage. I found myself loosely adding a mile each run and then backing off by a mile or two. I set some rules for myself – ignore the pace on the watch (I am a slave to wearing it because strava!, but pace wasn't important); keep it to 4 or less runs a week; and if you don't want to run, don't!
Now at nearly seven weeks postpartum, I have topped my long run at 7 miles (7:55 pace). At six weeks postpartum I ran a 5K fun run as part of IRONMAN Wisconsin weekend and ended up placing first female! (There were only like 100 runners.) I ran a 21:31 per my Garmin for 3.08 miles. This wasn't a PR, but was actually the first 5k I have ever negative split (7:13, 7:02, 6:51, and 5:23 for the last 0.08). I typically am a fly and die 5k runner, so this was a nice change! I also have been officially cleared by my OB with no restraints for exercising, which is great, but also means it's time to get to work. For the past 10 months, I have allowed myself to stay pretty comfortable during runs. No tempos, speed work, or overly long runs. I have to get used to pushing myself out of my comfort zone again, which I think will take time, but I am definitely excited!
My postpartum running goals:
Stay healthy – no injuries
Consume enough calories – for running and breastfeeding. (Breastfeeding requires around an extra 500 calories a day! Jack is priority. If running needs to go in order to continue to feed him, then I'm done with it.)
Build base mileage –I want to get back into marathon shape for either next spring or fall.
Run the Twin Cities 10 Mile – I have no time goal for this, just going to go out there and enjoy the run and marvel at how amazing the human body is.
While losing the baby weight would be an ideal goal, I decided not to think about it. At seven weeks postpartum I am down 17 of the 27 pounds I gained. And I have been sitting at this weight since Jack's one week birthday. After talking with my OB, she said women typically fall into one of two categories while breastfeeding: dropping all the baby weight plus some OR holding on to five to ten pounds until done breastfeeding in order to ensure adequate calorie/fat stores. I am guessing I will fall into the second category as my body was pretty lean pre-pregnancy. Also my appetite is so high. I have probably never eaten so much food as I have the last trimester of pregnancy and now postpartum. I am even snacking in the middle of the night after feeding Jack because my stomach is growling so hard that I can't fall back asleep!
Overall I haven't been pregnant before so don't have anything to compare to, I think I had a relatively easy pregnancy, uncomplicated and textbook childbirth experience, and quick postpartum recovery. Maybe it was due to genes or luck, but I like to think it was from running. ☺
My Favorite Gear for Running While Pregnant
The Right Sports Bra:
Until 14 weeks pregnant, I was just doubling up on bras for running. I bought only one because I figured that soon enough I would need an even bigger bra. Pre-pregnancy I was a small in sports bra and 32B in real bra, and by the end of the pregnancy I had grown to a 34DD in sports bra! YIKES. Now at about seven-weeks postpartum, I am wearing my 32D sports bra the most comfortably. My first bra of choice at week 14 was the Brooks Uprise Cross Back in size medium. I bought my second sports bra (Brooks Fiona) around week 20 in a size 32D. Finally, my third new bra (Brooks Juno) arrived around week 30 in a size 34DD. The Fiona and Juno styles were excellent purchases, as they have front adjustable straps that allow easy access for nursing! #runhappy #nursehappy (Yes, I definitely get home from runs and immediately feed my baby while still sweaty. Nothing wrong with a little extra sodium. ☺)
Support Belt:
I starting wearing a Medela maternity support belt at 20 weeks pregnant based on the recommended from my OB. I wore the belt for nearly every run until our baby was born in July. It really did make a difference by lifting my belly up and alleviating pressure on my round ligaments and bladder.
Compression Socks:
Leg swelling and cramping during the third trimester of pregnancy is no joke. I eventually figured out that I needed to get my run done in the morning before any swelling started and to beat the heat over the summer months. I started taking a magnesium supplement and sleeping in 2XU recovery compression socks to help with swelling and cramping. Luckily, my calves only cramped at night and not while running.
Other pregnancy running favorites:
Body glide (for thigh chafing), MRM Natural Whey Protein in Dutch Chocolate (doesn't contain metals so wouldn't harm baby), RoadID (which had my blood type, just in case something were to happen),& Brooks Running Pick Me Up Tank (super stretchy and long tank to accommodate the bump).
Thanks so much Paige for sharing your experience and tips!
If you guys have any questions for her, feel free to comment here or email me and I can connect you with her!
(Visited 1,012 time, 1 visit today)