Cheers to running outside! Though my paces were slower than normal, I got outside for all but 10 out of 60 miles of running. Yay!
Here's how this week of training for the Antarctica marathon went:
Monday: HUGE blizzard in Minnesota, just as forecasted. I think in the city we received over a foot of snow. It was the most snow in a single day in the past 7 years; it was nuts. It started in the morning after I was already at work and just kept coming down until probably midnight Monday night. I was lucky that Dustin gave me a ride home Monday from work so I didn't have to take the bus because there were a LOT of buses stuck in the snow on the drive home. I heard horror stories of people being stuck for hours.
Blizzard outside means treadmill running…There was no chance that the trails would be plowed, so I was grateful to have the treadmill in the basement as an easy option. 1 mile to warm-up, 4×1 mile at a 7:30 pace with 1 minute recovery, 1 mile cool-down. 6 miles total. I paused the treadmill during the recovery rather than jog as it was a struggle and I needed to catch my breath. 6 miles total at an 8:32 min/mile pace.
Tuesday: Rest day. I had a dentist appointment at 8 am and then took the bus into work a little later and it was still really slow going with all the snow. Glad it was a rest day.
Wednesday: Run commute! I realize it was a bit bold to decide to test run commuting for the first time at this new job two days after a blizzard, but the temperatures were better (20's) and I figured I would just go slowly over the snow. The most direct route for me from my house to work would be closer to 5 miles, but I added on to get to 9.2 miles, nice and easy.
Run commuting is a bit easier for me than for most people, as I was able to put all my work stuff in Dustin's car, run to work, get my stuff from his car in the parking ramp when I got there, shower at the YMCA (a block away) and then head back to work, leaving my running stuff in Dustin's car for him to bring home. This is a huge benefit of working in the same building as him. Run commuting would still be possible without him, but it would take a lot more planning ahead to leave stuff at the office the day before.
P.S., I pack everything in this Apera bag, which is AMAZING. It has so many nooks and crannies to store different items. Apera thought of everything with this gym bag, I highly recommend it! It's not a backpack for running- if I need to carry some things with me while actually running, I'll use this Patagonia bag that I purchased a few years ago to run commute. The Apera bag is a regular gym bag but I packed in a ton of stuff, including my winter coat.
Thursday: What can I say, I loved the run commute so much I decided to do it again. 7.8 miles. I made a feeble attempt at some 1k repeats, but the trails were not on my side, so I focused on getting in the miles and not worrying about pace.
Friday: And yet another run commute! This time, my friend Christie met up with me for about 6.5 of the miles. 10.5 miles total before work, and still showered and at my desk by 8 am! I got pulled into a meeting right away and didn't get to eat anything until closer to 9:30 and I was so hungry by then. That's what 10.5 miles on an empty stomach will do to you!
Run commuting…skip this traffic: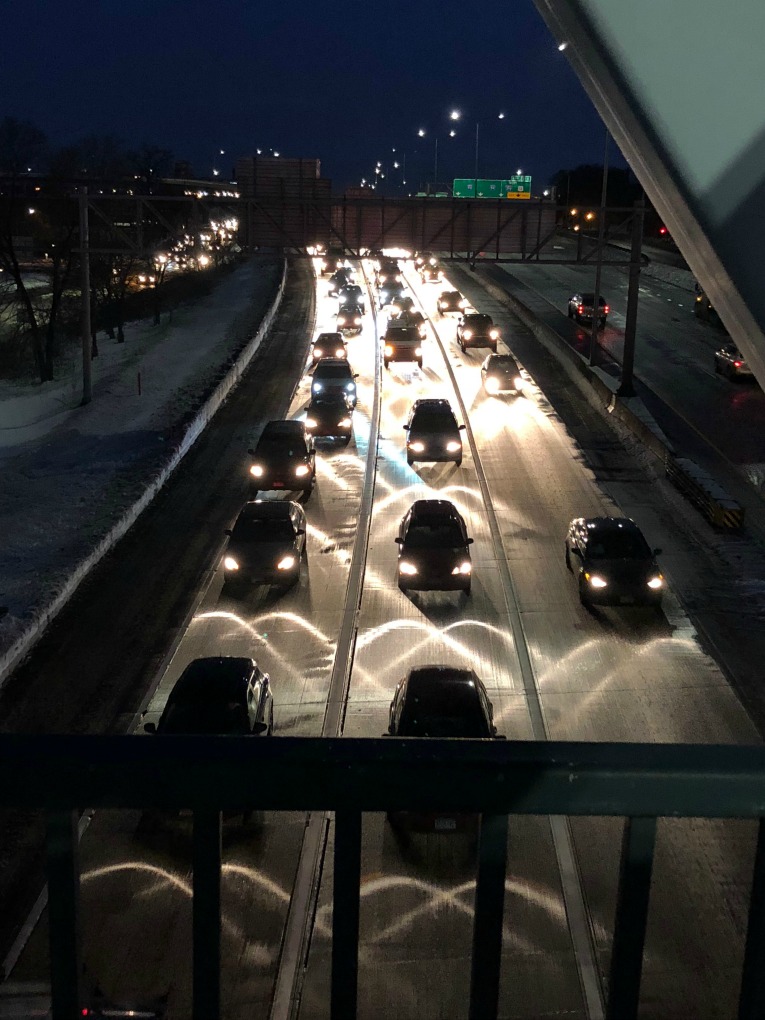 Run by pretty scenes like this instead!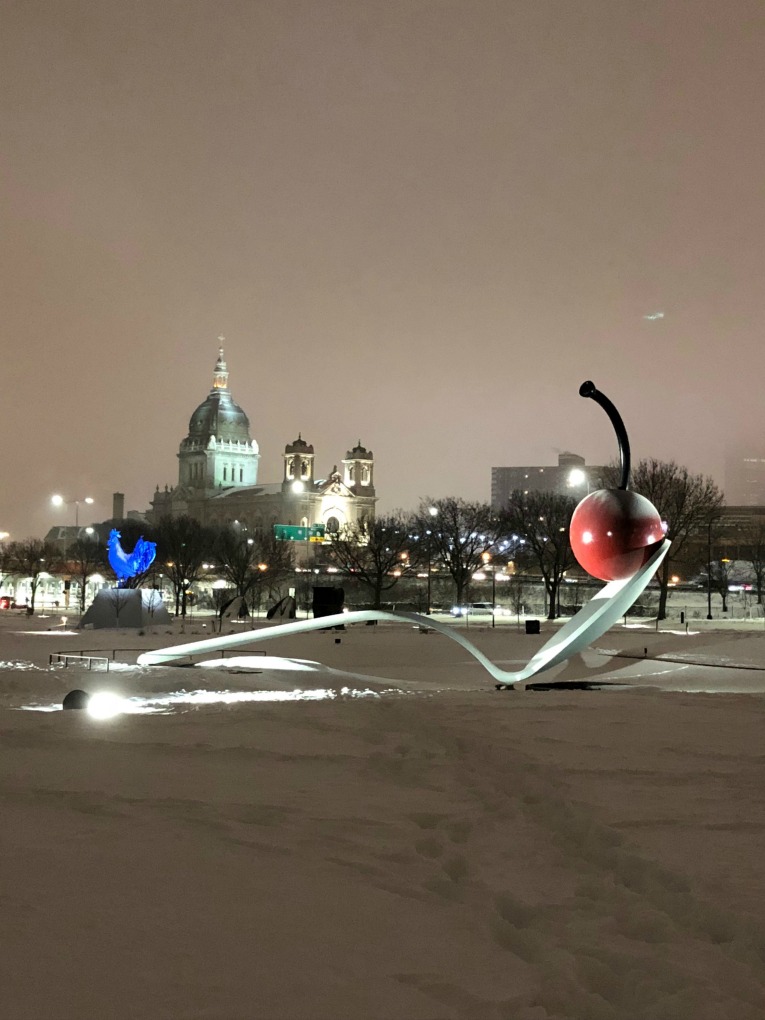 Saturday: 17 mile long run with the Calhoun Beach Running Club. It had been in the upper 40's on Friday, so a lot of the snow had melted. But since it got below freezing Friday night, all that melt turned to black ice. It was SOOO slippery. At least the sun was out, so we could generally tell where the ice was. Most of the time we had to run on the roads instead of the running trails as the trails were not safe. I wiped out once on the run; it definitely shook my nerves, but fortunately no injuries.
Post fall, I was just fine…and so were my Oiselle flyout tights
(Christie and I were twinsies! Love these tights.)
I ran 12 with the club and 5 on my own (a bit before the group met and a bit after). We had a visiting runner from Dallas join us for the day and she got a kick out of running past the art shanties on Lake Harriet. Guess they don't have art shows on frozen lakes in Texas, ha!
After the run and a bit of recovery, Dustin and I walked over to Lake Calhoun with Matilda to spectate at the Loppet skijoring events. If you haven't heard of skijoring, it's cross country skiing with your dog. Generally your dog helps you move even faster by running ahead of you on a longer leash snapped around your waist and pulling you along a bit. (Clearly I'm not an expert. If anyone is reading this who skijors, please correct me in the comments!)
The event consisted of a 10k, 5k and 3k. It was quite the mix of abilities, but it was SO adorable!
Of course, there were some competitive dogs/skiers, but there were also quite a few amateurs that were even more fun to watch. There was this tiny little white fluffy dog that couldn't have weighed more than 10 pounds happily trotting along side his skiing owner and there was one happy golden retriever who had become unhooked from his owner and was sprinting off on his own doing his own thing!
Seriously, what an amazing event. We had such a good time. Surly Brewing was there with a tent, so we had a beer while we cheered.
Dog lovers- you would love this event!
And Matilda's friend Luma (another vizsla) competed for this first time! Luma is Erin from sweet sweat life's dog. Luma did so great and looked like she was having the time of her life!
Just for fun, here are more pictures of the dogs and their skiers.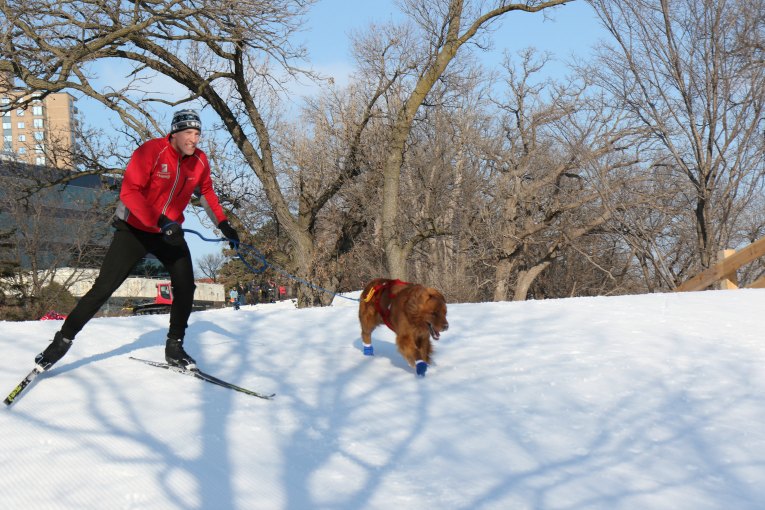 Only in Minnesota will you find a man skijoring in shorts in January!

Oh, no, a crash!
Tilda was a little jealous she didn't get to run, but neither Dustin nor I are great cross country skiers. I wish we were, the dogs all seemed SO happy to be there!
(And check out the adorable puppy in the background in this pic!)
Paige's dog (from this post) and her husband also competed in the skijoring!
We also saw some speed skaters out there:
When you live in Minnesota, you get to enjoy unique winter events like this!
Sunday: Another slippery run…fortunately no falls this time. Dustin and I ran 6 miles together outside. I had a double on my schedule; my coach said there should be at least 5 hours between runs on a double day. By the time I could go for the second run, I decided to treadmill sounded more appealing. After all, I had run A LOT of miles outside this week so one short 3.4 miler wouldn't break me. Right?
Summary: 60 miles of running! Yep that last 3.4 miler on the treadmill brought me to my first 60 mile week in training for Antarctica. Almost all of the miles were at an easy pace, though they all felt hard due to the elements. I'm so glad I was able to get outside as much as I did as I think that will really help to prepare me for running in Antarctica.
In other news, Marathon Tours hosted a conference call for all the participants in the marathon trip this year. I'm drafting a post to share some of the things I learned on that call for anyone that might be interested. I found it very helpful and informative. They are such an organized and impressive organization. Stay tuned for that post!
I'm linking up with HoHo Runs and Taking the Long Way Home for their Weekly Wrap link-up, check it out: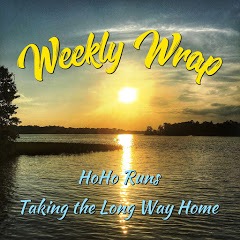 (Visited 445 time, 1 visit today)