Another week, another weekly recap! I'm linking up with Jess at Jess Run ATL; join us! Details below.
Here's how training for the Boston Marathon went this week:
Monday: I had the day off of work for the New Year's holiday, so I was able to run outside in the sun! Yay! My workout was "Yasso 800's": 2 mile warm-up, 6x800m with 2 minutes in between each, 2 mile cool-down. The goal pace for the 800's was under 7 min/miles. I didn't hit that pace for most unfortunately. Even in the sun, I was still nervous on the icy parts but I gave it my best effort. I talked to my coach about how I don't seem to be hitting the paces on my workouts and he said it will come back, just takes time. Just keep at it….8.2 miles total at an 8:21 min/mile average.
Since I had the whole day off, I was able to squeeze in a barre class at The Barre (in Edina) too, which felt great. I wrote a whole post here about why barre is great for runners and I definitely stand behind everything I wrote then. The class incorporated all the core and glute strengthening that my friends at Orthology are telling me I need to do to deal with my injuries.
Tuesday: A rainy evening on Monday inevitably meant that I would wake up to black ice when that rain froze overnight. So instead of slipping some more, I opted for the treadmill: 7 miles at a 9:10 pace. I had high hopes of trying out the indoor running at the US Bank Stadium for my double run, but I was stuck at work too late. The indoor running goes from 5-8 pm; I left work around 7:15 and knew I couldn't make it there in time, (apparently they start kicking people out before 8 pm.) So, it was another 6 miles on the treadmill instead at a 9 min/mile pace. 13 miles on the day. My first double of the Boston training season!
Wednesday: 8 miles on the treadmill, 9 min/mile. So much Netflix & Treadmill this week…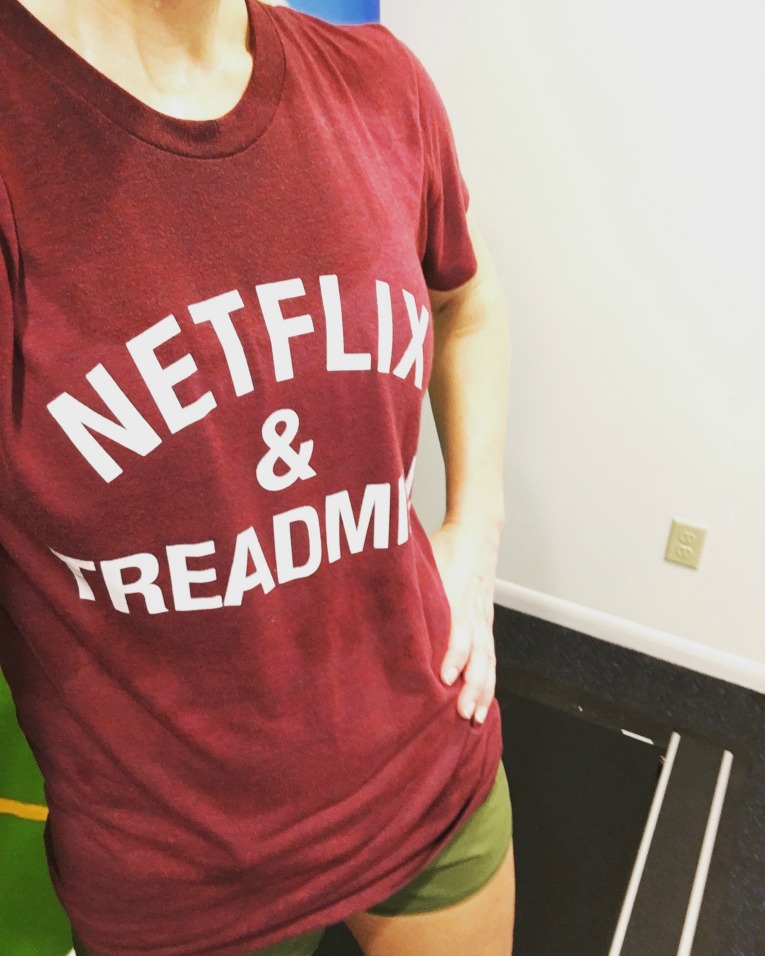 Thursday: Short speed workout: 2 mile warm-up, 15x200m sprints with 45 seconds in between, 2 mile cool-down. Since I did this on the treadmill, it was easier just to do 1 minute on, 1 minute off, which wasn't exactly right, but close enough. 7 miles at an 8:43 min/mile average.
Friday: Complete rest! We had a 9 am flight to Chicago. Upon arrival, we checked into our hotel and then found lunch at the Purple Pig (yum! And yes, I had an IPA at lunch. #vacation).

We stayed at the Virgin Hotel, which is a pretty new hotel I believe; we were pleasantly surprised at how nice it was as it wasn't very expensive. (Great location for running and for Hamilton too!)
No trip to Chicago is complete without a stop at Dylan's Candy Bar! My sweet-toothed husband couldn't resist some candy after lunch.
We spent the rest of the afternoon at the Art Institute: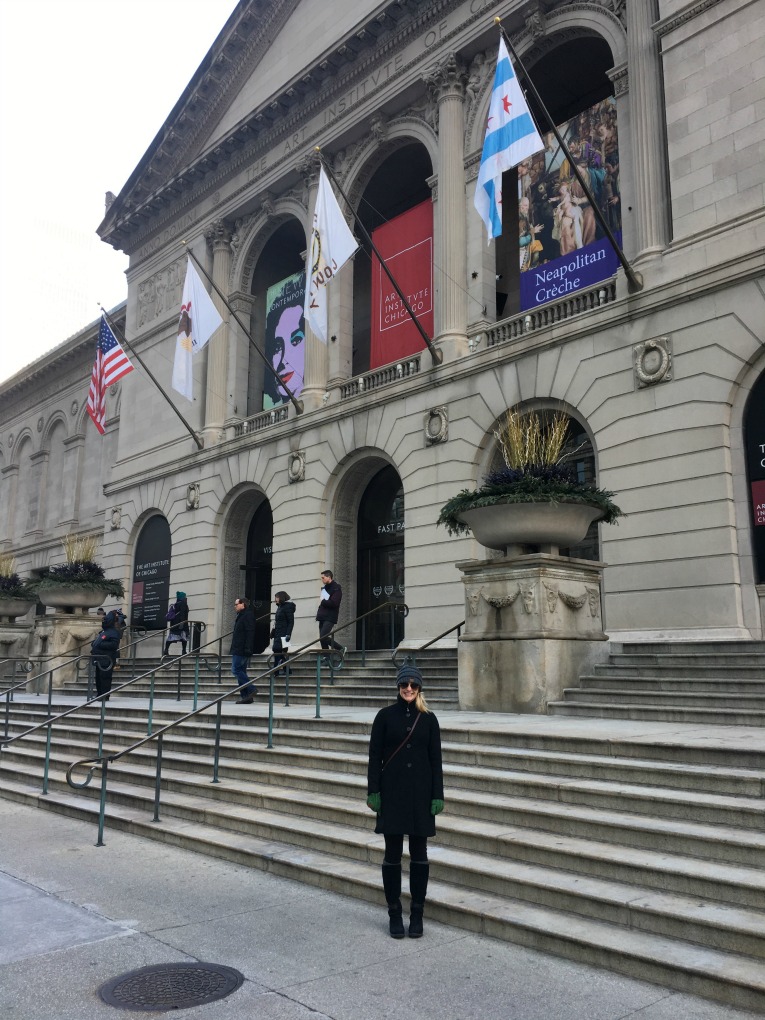 If you are in Chicago, I definitely recommend a day here.
They have a great collection of all the usual suspects:

As well as some unique exhibits. I actually was fascinated by the paperweight collection!
And the "Tiny Rooms"
That evening, we had a delicious dinner at Momotaro.
Saturday: We were up early to get in our long run- just a part of 'vacation' for us during Boston training! We were both dreading it because it was crazy cold in Chicago..and WINDY! They don't call it the windy city for nothing.
But with the right gear, the run actually wasn't terrible.
I wore Craft tights, an old lululemon base layer, an old lululemon jacket, a gaitor, hat, snowboarding socks, and Craft gloves. I also put some of this "Warm Skin" protectant on my face before the run, which seemed to help.
Our hotel was close to the riverwalk, which we took down to the lakeshore path. There we ran out and back along Lake Michigan. A passing runner told us that we could stop at the St. Joseph's hospital for bathrooms and water fountains, which worked out well, as it was just about 7 miles into the run, perfect time for a GU. We even saw my old running friend Ellen along the run (hi Ellen!)
We kept up a good pace (for me); I was so grateful for Dustin's company! 16.4 miles at an 8:30 average.  (Strava matched my Garmin for overall average pace and distance, but it shows some sub-8 min/miles which didn't actually happen. It was much more consistent around 8:30 min/mile.)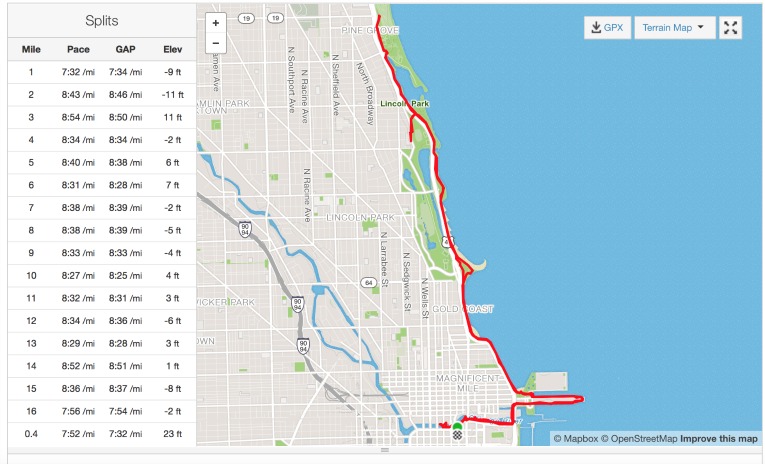 Post run, we quickly showered and headed to brunch; we had hoped to try Wildberry based on my sister's recommendation, but the wait there was nearly 2 hours. After 16 miles in the cold, I was much too hungry to wait that long!
Instead we ended up at a little diner called Eggy's, which was just fine.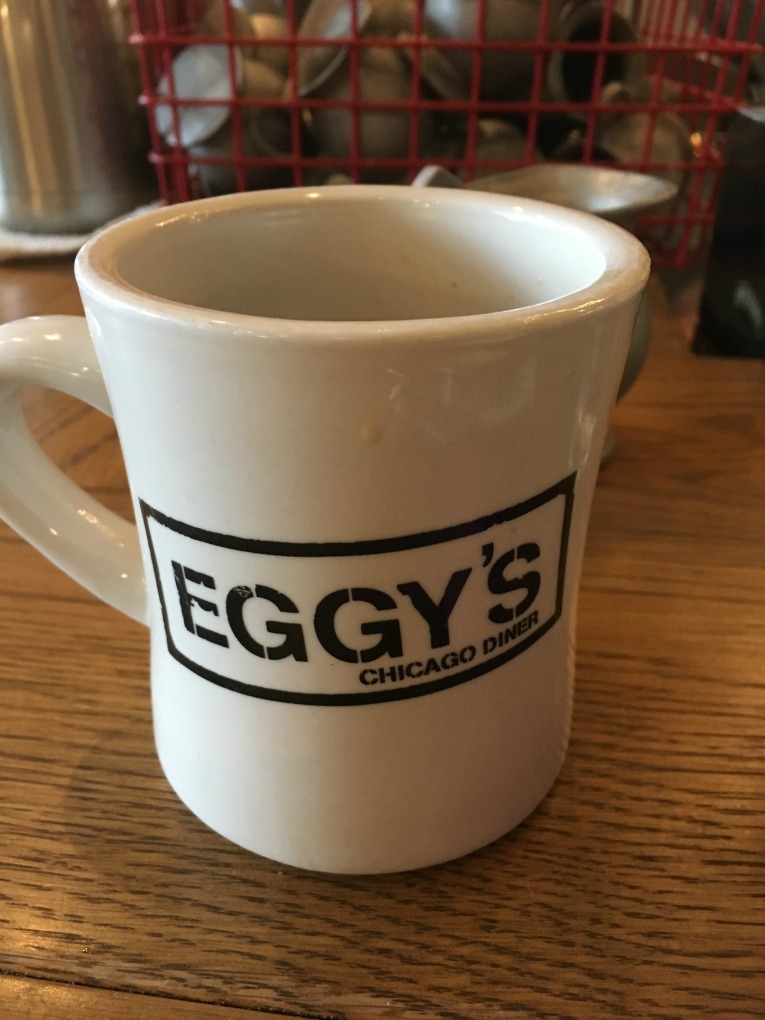 We had just a bit of time to relax before it was time for the primary reason for our visit: Hamilton!
I've been obsessed with this musical since it came out. When I was in New York last June, I was really tempted to pay up to see it with Lin Manual-Miranda as Hamilton, but I was talked out of it since even just one ticket would have cost a small fortune.
Instead, I bought tickets with my sister Cresta, her two older daughters (the youngest was too young to sit through a play), my brother-in-law, and Dustin for the matinee in Chicago. It was also my sister's birthday, so a fun way to celebrate!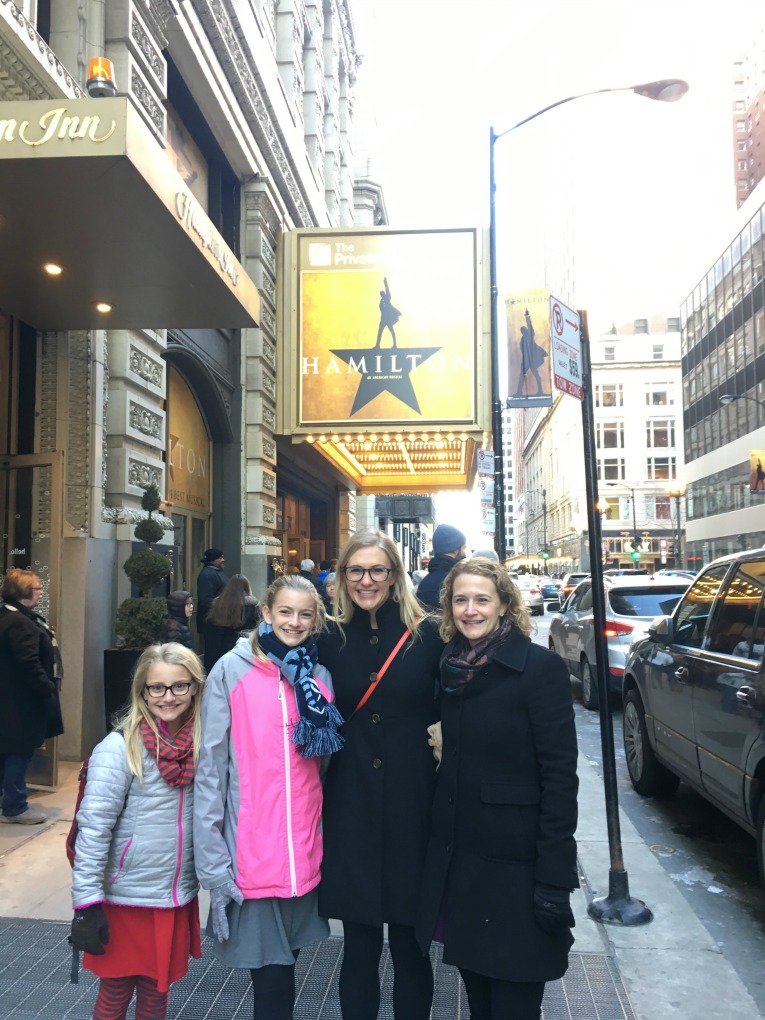 The play? AMAZING. Exceeded expectations. Loved it. I've been listening to the soundtrack for so long, but it was so much fun to see it all in context with all the amazing dancing and costumes. I absolutely loved it and will definitely see it again in 2018 when it comes to Minneapolis.
After the play, my sister Erin and her husband came into the city to join us for dinner at Trattoria 10. After dinner, Cresta and her family had to catch the train to head back to Milwaukee, but the rest of us headed out for a bit more fun in Chicago. We went to Untitled Supper Club and then checked out Revolution Brewery before calling it a night. Good times.
All in all, a quick fun weekend in Chicago!
Sunday: We flew back to Minneapolis Sunday morning. I ran 5.5 miles outside at an 8:30 min/mile pace.
Summary: 58 miles of running (so close to 60!) and one barre class. Next week is a cut back week (lower mileage) which is good because it looks like it will be too cold to run outside again 🙁 Boo. More Netflix & Treadmill I guess!
On more thing…my sister and nieces gave me the cutest t-shirt. Wisconsin and Minnesota can be friends!

Don't forget to join Jess and my link-up and KEEP PLANKING!
(Visited 443 time, 1 visit today)