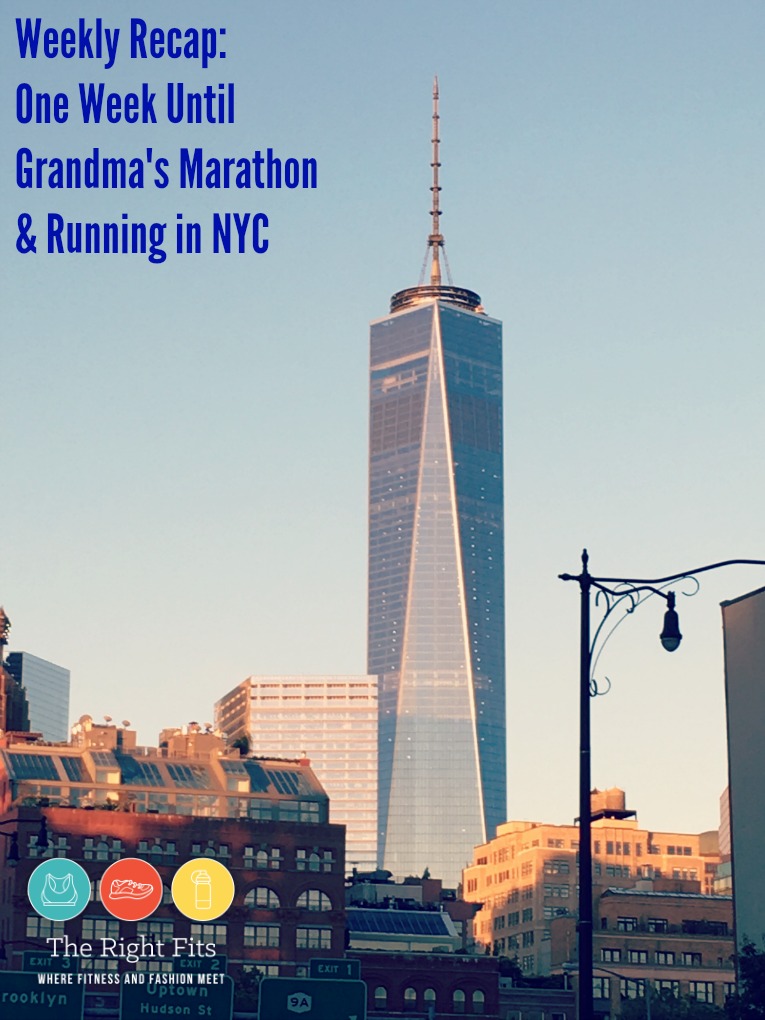 Happy Sunday! Another week, another weekly recap. Grandma's Marathon is just one week away! This week was full-on tapering, but I still had some memorable runs.
Monday: Short tempo run: 2 mile warm-up, 3 miles at a 7:30 pace, 2 mile cool-down. Due to the particular route, I ended up with 7.5 miles total.
Tuesday: Easy 6.5 miles in the morning. Pure Barre class after work.
Wednesday: 6 morning miles with Matilda. Yoga on the rooftop of the Galleria parking lot after work (more info here).  Every other Wednesday this summer, Corepower Yoga is pairing up with lululemon and the Galleria (in Edina) for free yoga at 6 pm. The teacher, Caroline, was fantastic. My friend Vicki joined me and we had a great time.
Thursday: Rest day- complete rest. I flew to NYC just for one night to attend a conference for work on Friday. I didn't have a ton of time to do much (other than the conference of course)…I arrived just in time for dinner across the street from my hotel at MAMO, which was great.
The key to dinner alone when traveling for work? Bring  your nook along for something to read.

Friday: I was up early before the conference to squeeze in a run. I was staying in SoHo, so my friend Christie recommended heading to the Hudson River Park, i.e. the West Side Highway running path. It was less than a 1/2 mile from my hotel. Plenty of other runners out, bathrooms if you needed them, water fountains (though the weather was surprisingly cool).
I did 6 miles, enjoying the lovely change in scenery.

I flew back Friday evening, delayed quite a bit due to storms across the Midwest.
But I was back in Minneapolis just in time for one last "long" run on Saturday in the HEAT!
Saturday: Holy moly, it was so hot and humid in Minneapolis. I had 12 easy miles; we stopped at every possible water fountain along the way, as well as the Twin Cities in Motion sponsored stop by Lake Calhoun.
It's pretty rare that its a sports bra run for me, but Saturday was definitely one of those days. (Wearing the Runway Bra from Oiselle.)

The rest of Saturday included a goodbye brunch for a friend who is moving to Michigan, the dog park with Matilda (shirt found HERE)…

…a quick stop at a friend's birthday party at Spoon & Stable:

..followed by the Brandi Carlile/Avett Brothers concert at the Target Center. Busy little Saturday!

Sunday: Early run with my friends Vicki & Tricia (and Matilda). 4.5 miles.
Summary: 42 miles, 1 barre class, 1 yoga
This upcoming week will include lots of rest, hydration, and working on my mental game.
To help prep my mental game, I'm attending this event on Wednesday. Tickets are still available (buy them here). Join me!

(Visited 354 time, 1 visit today)