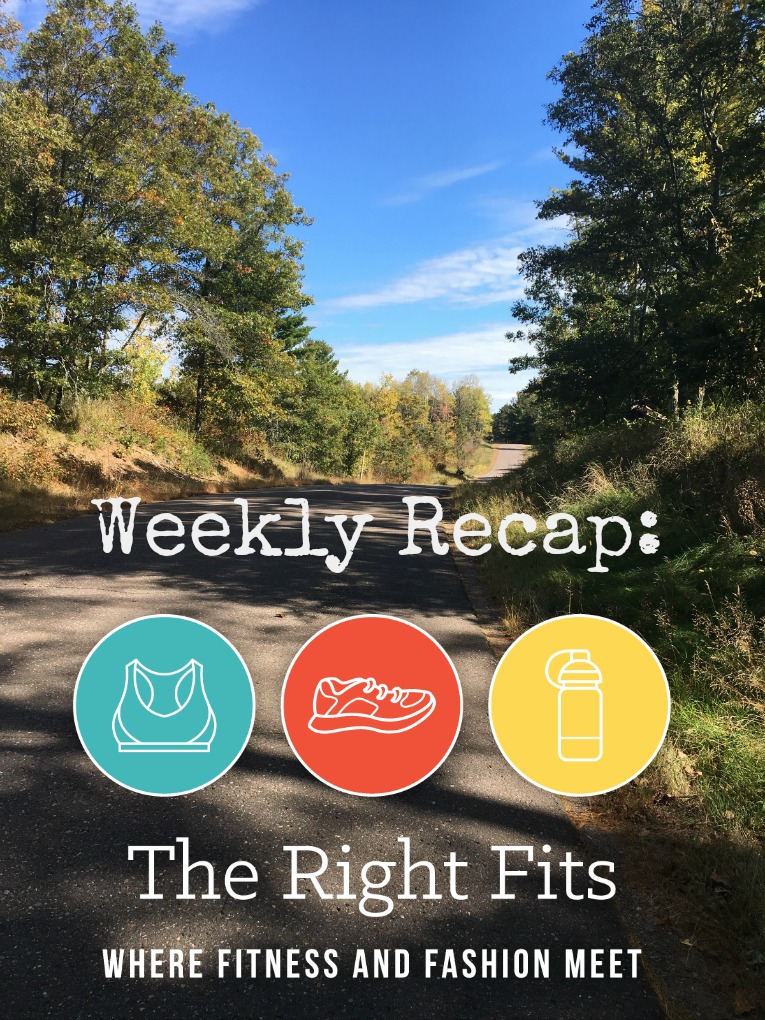 I just love fall in the Twin Cities; October is my favorite month of the year! With the Twin Cities marathon on October 9th (next Sunday!), my birthday on the 14th, and our wedding anniversary on October 18th, there are plenty of reasons to celebrate…as well as great running weather, right?
Though its darker in the morning, the weather has been wonderful. It's amazing how much better running feels in these temps.
Here's how my running/training went this past week:
Monday: My sister Cresta was in town for work. She had meetings in the morning, so I took a half day of PTO to hang out with her in the afternoon. We ran to the "troll tree" on Lake Harriet to drop off a note that my niece wrote to the troll.
I'll be sure to stop by later to see if he responded!
My sister had just done the Ragnar Trail Northwoods so we just did 4.5 miles together as her legs were still pretty tired.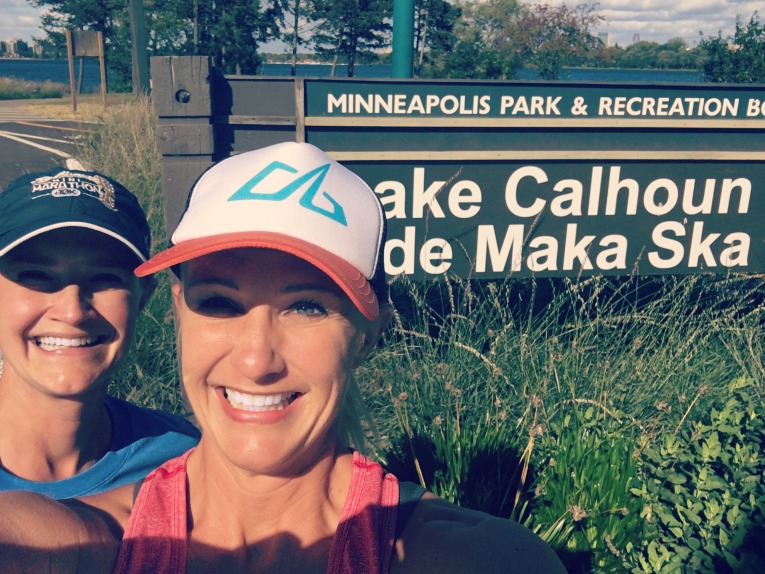 After the run, we did some shopping and then grabbed some beers at Inbound and Surly. I have four sisters and none of them live in the Twin Cities. I would love for one to move here…so I'm always trying to convince them how great a place Minneapolis is. 🙂

Tuesday: I ran after work in the rain. 4 miles easy at 9:15 min/mile
Wednesday: Easy 4 miler with Matilda in the morning. I didn't realize before Dustin took this picture that Tilda's new collar and her leash were quite so reflective! My headband is this reflective Sweaty Band.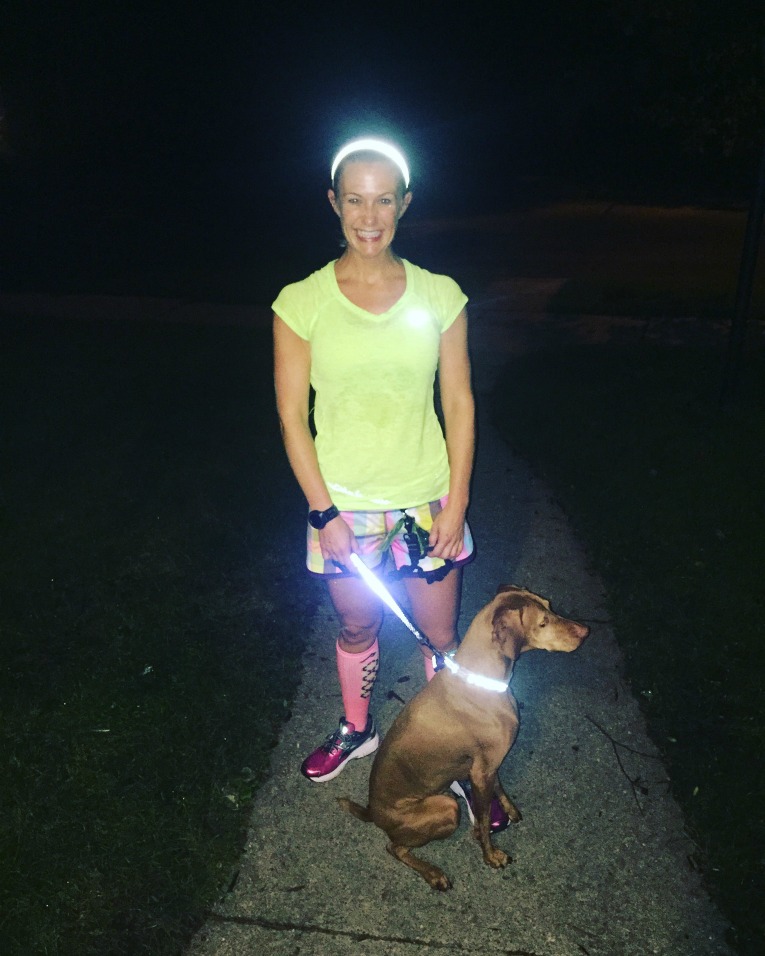 4 miles, 9:15 min/mile. After work, I made it to a 5:30 [solidcore] class. I never get out of work that early- it was such a treat! The instructor was Courtney- she was fabulous. Great class.
Thursday: I ran with my coworker (and running buddy) Nordica. We covered 7.75 miles at a 9 min/mile. It was so fun running with her- I hope we do it more often! She's super fast, but slowed down for me. Thanks Nordica 🙂
Friday: Complete rest. We drove up to the cabin after work.
Saturday: I slept in and then lounged for awhile before finally getting ready for my run around 10:30 am. Then I realized that I forgot to pack any socks! I didn't really want to run 10 miles or so without socks, so we drove into town to a local Dollar General where I picked up a pack of 6 pairs for $5. Not exactly high-quality running socks, but they got the job done!
I did wear my new Athleta Ready Set Shorts!

These shorts were a recommendation from Jess Runs ATL. Love them! They have two side pockets and a zippered pocket in the back. Buy them here!
10 miles at a 9 min/mile average. Those hills though…
Only on a cabin run would you find a random fishing pole on the side of the road:

…Or run by a rifle range. It was really busy there too, lots of gunfire. I guess it's hunting season!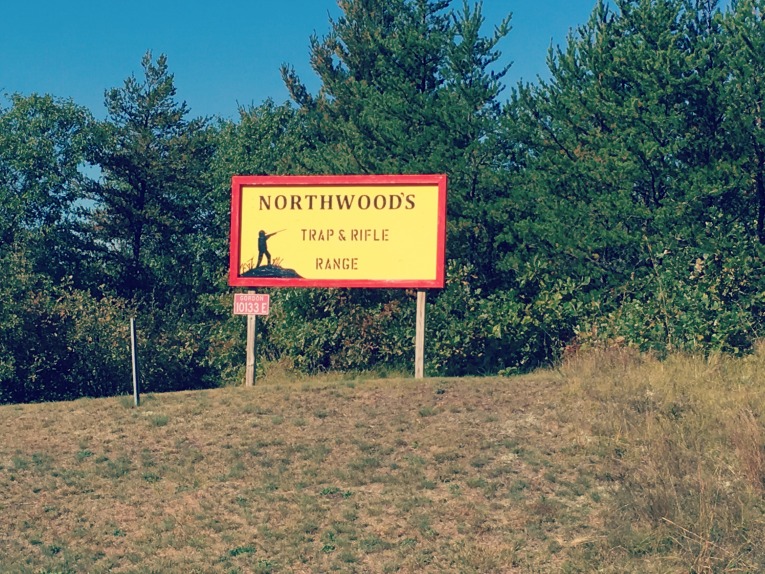 Sunday: Another 6.2 miles at the cabin on the hills. After we returned to Minneapolis, Dustin was heading to the climbing gym, so I decided to squeeze in another [solidcore] class. The 5 pm class was a 'super' solid class, meaning rather than 50 minutes, it was 65 minutes long. Tough! I chatted with a girl in the class who runs Ironmans (she has done Kona, which is the Boston of Ironmans!) She loves [solidcore] and swears by it. I'm sold! 🙂 (PS: If you try it, please tell them Jessie sent you! They have a great referral program.)
Summary: About 35 miles, 2 strength classes, 1 complete rest day. A pretty low-key week overall.
So, the reason we went to the cabin, (other than just to relax of course), was to pick up this carving of the Arc de Triomphe. Dustin's dad carved it in 1958! It hung in the Normandy hotel in downtown Minneapolis until the early 2000's.
…And now it is going to hang in our kitchen! I am so excited; I love having artwork with some meaning and family history. I shared a few pictures in this post of some sculptures we have already from his dad. Excited to have more!
Now we just have to figure out how to safely hang it…it's HEAVY.

I had also hoped we would be able to see the Northern Lights while we were up north, but unfortunately we didn't see them.
Anyways, it was a relaxing weekend at the cabin with beautiful fall weather. I hope the good weather keeps up for next week at the Twin Cities Marathon!
What's your favorite month? Have fall running temps arrived where you are? Please share!
Join Jess and me again for our link-up, instructions below:
(Visited 324 time, 1 visit today)