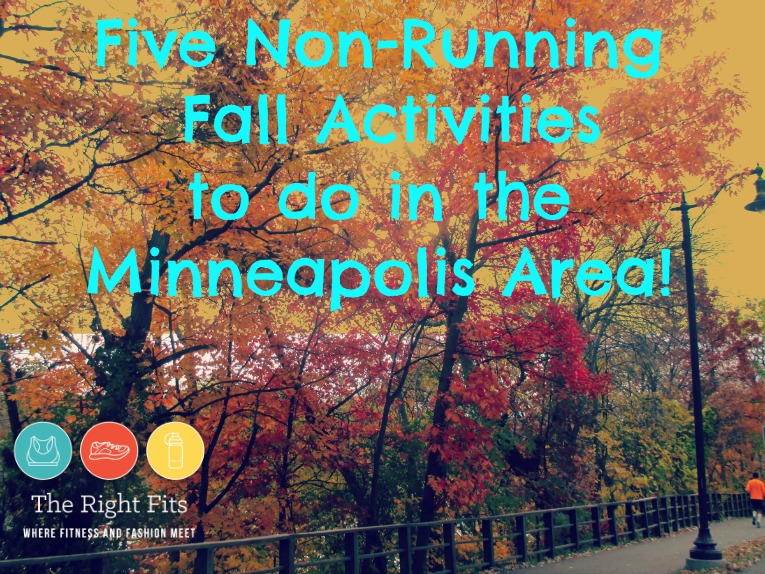 My Friday Five Favorites are almost always running related. But with Big Cottonwood less than a week ago, I'm taking a little breather from running. How about some non-running activities for fall?
October is probably my favorite month ever; I mean, it includes my birthday and our wedding anniversary. It also includes Halloween, bonfires, and fall marathons…Oh wait, back to running again! But fall running is pretty amazing, isn't it?
But in addition to running, there are a lot of other fall activities that I love to do! Here is a list of five of my favorites:
1. Apple Picking
Minnesota is the birthplace of the honey crisp apple. So we must go apple picking! It's such a fun, fall tradition.
Crisp fall air, gorgeous fall foliage, honey crisp apples (or your favorite varietal!) There are tons of apple orchards in the Twin Cities area, several of which allow dogs (per Sidewalk Dog) We are thinking about checking into Sponsel's or Deardorff's so Matilda can come with. Local readers, do you have a favorite?
Nothing says fall like a day at the apple orchard.


2. Make a stop at Oktoberfest at Gasthofs
I went to Gasthof's a whole lot more when I was in college but its still a good time at this age (I will just go to bed a lot earlier!) Oktoberfest is a fall tradition and Gasthof's knows how to throw a party. They hold one of the best Oktoberfest festivals in the Twin Cities from September 16th through October 8th.
More info:

3. Try out a new fitness class!
Fall is a perfect time to try out a new fitness class. The temptation to be outside in the sunshine is not quite as strong, so its a little easier to make your way into a studio.  It's a great way to start your "off-season" if you just completed a fall marathon. Time to cross train and build strength!
I highly recommend [solidcore] and The Barre, though there are a TON of great options in the Twin Cities. RunEatSnap has a Twin Cities Fitness Guide to help get you started; I have some reviews as well on this page.  Any questions, please ask!
4. Go to a pizza farm.
There are just two Sundays left at the Red Barn Pizza farm, September 18 and October 16. There are also pizza nights on Wednesdays throughout September and October, though Northfield is a bit far for a weekday. But the pizza and the environment- especially on a crisp fall day- are worth the drive.
You can read about past visits here and here. I LOVE this place and a fall Sunday here sounds spectacular!

5. Cheer for the Twin Cities Marathon!
As you know from this post, the Twin Cities Marathon is my favorite and I absolutely love cheering for it. This year will be super special because my sister Erin is racing it, but whether you have someone in particular to cheer for or not, spectating at the marathon is a blast for the whole family. It's a fall tradition for me!
Those are just five fall activities that I recommend. There are so many other ways to enjoy this spectacular season.
Let me know if I missed any of your favorite fall traditions!
For more ideas and deals on local events, check out this post by Groupon!
(Visited 374 time, 1 visit today)