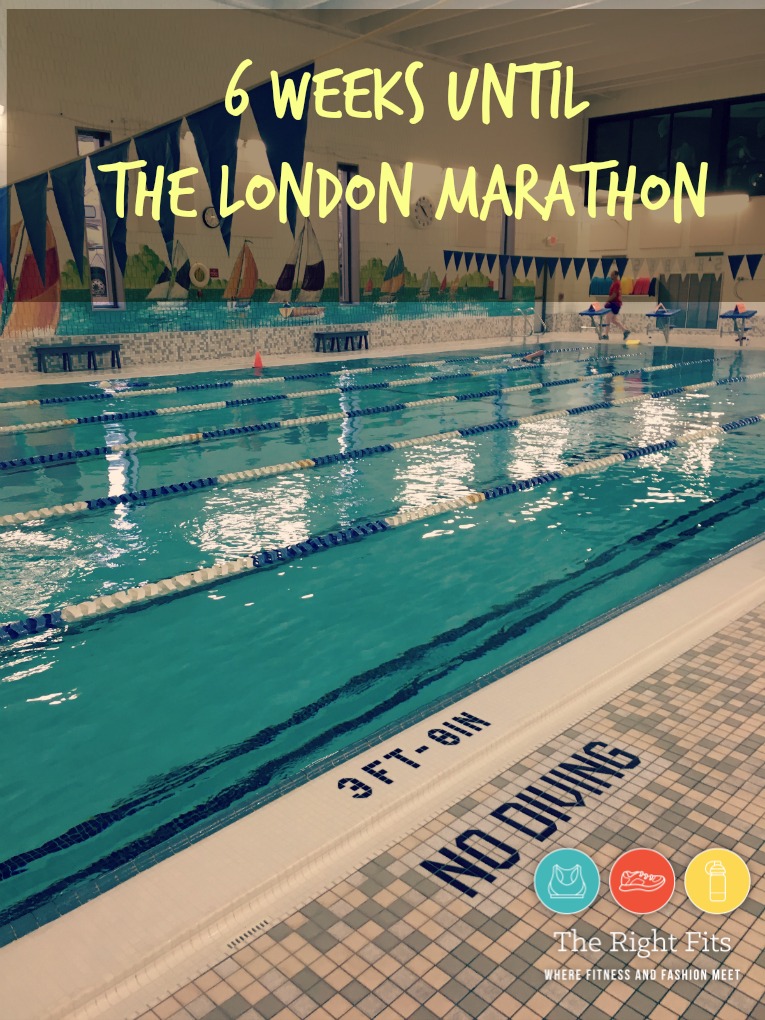 As I shared in last week's recap, I have been sidelined a bit by injury but am still feeling hopeful for the London Marathon in 6 weeks. I am fortunate that my injury is pretty minor; just a level 1 stress "reaction", which is basically a bruised bone, not a fracture. The recovery is usually fast; I took this entire week off of running and am feeling back to 100%!
I spent the past week cross-training; I even still had "doubles" on my schedule, just not running!
Monday: My first aqua jogging workout: 10 minute warm up, 8×4 minutes of an uptempo effort with 1 minute recovery, 10 minute cool down. About an hour total in the pool. Up tempo effort should be a 7 out of 10 effort. After work, it was back to the gym for 30 minutes of easy biking.
Tuesday: 35 minutes of easy aqua jogging before work. Every time I jog, I usually add on 10 minutes of swimming laps- just to prove that yes, I do know how to swim, ha! Actually, I really like swimming laps so its nice to mix it in. After work, it was back to the gym for a stationary bike workout as follows: 10 minutes to warm up, 15×2 minutes hard with 1 minute recovery, 10 minutes to cool down. A little over 60 minutes total.
I don't love the stationary bike. I used to love spin classes though, so I'm going to try to find a studio with good drop-in schedule. My gym's spin classes aren't very good- at least not the few that I have tried, though they still might be better than biking alone…
Wednesday: 1 hour pool running with my friend Laura (aqua jogging is much more tolerable with a friend! So thankful she was willing to join me.) She just "ran" easy to keep me company and I had the same workout as Monday (tempo intervals). My coach said that since aqua jogging and biking are a lot easier on my body, he'll have back to back workouts during this cross training period. After work, it was back to the pool for a DOUBLE aqua jog day. I did another 45 minutes easy in the pool.
Thursday: [solidcore] class in the morning and 1 hour biking in the evening. My coach had me do the same workout on the bike as Tuesday.
Friday: 45 minutes of aqua jogging before work. Later that day, I went to Orthology to have them take a look at my leg pain; my doctor there thinks that a lot of my pain was actually being caused by shin splints and tight tendons in my calf and along my shin. She worked it out with the "Orthology" method (Read all about it HERE) and then taped it, and it feels SO MUCH BETTER.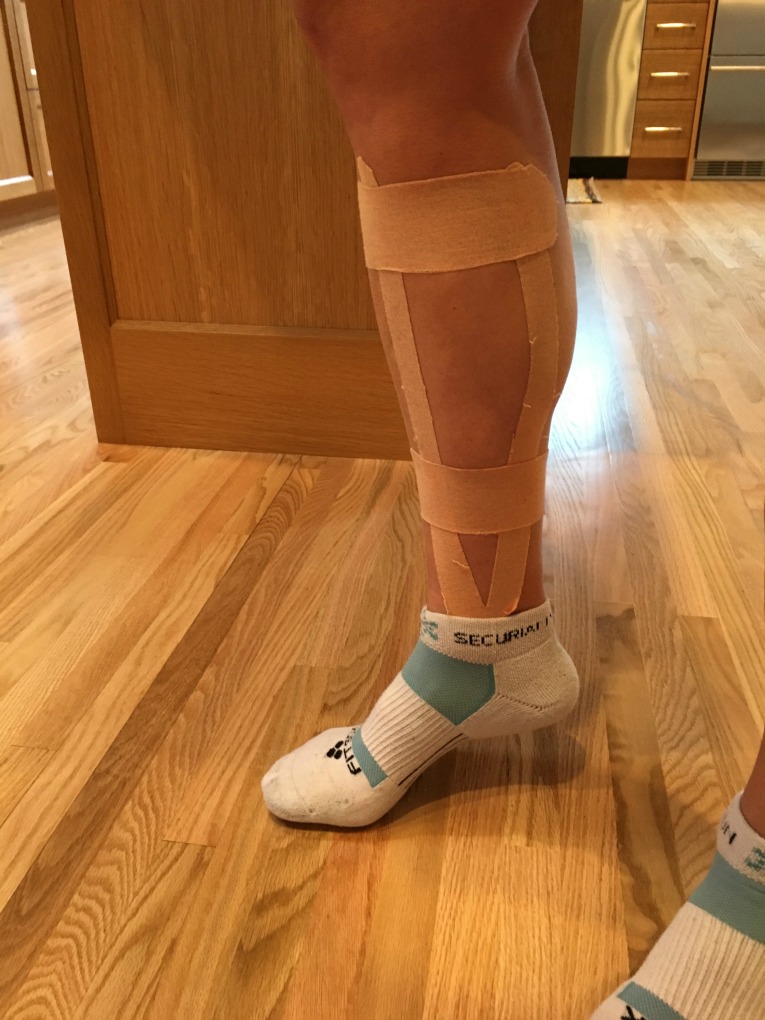 I just love Orthology! I can't say enough good things about them. They have helped me with so many different injuries- IT band, calf pain, now this. I think they are miracle workers! Seriously. I usually purchase a 4-pack of "tune-ups" for less than $100/session which works well for me (basically the cost of a massage.) Of course, if you have a diagnosed injury, you can go through your insurance too, but the tune-ups are nice if you just want to go in sporadically to have them work on whatever is bugging you.
Saturday: I was cleared to run by both my doctor and my coach, but decided to do my "long run" on the elliptical machine with two hours total on the machine. It actually wasn't too bad as I split it up. My friend Laura sent me this workout to do: 20 minutes to warm-up, 4×10 minutes of 10 minutes moderate, 10 minutes tempo, then finish with 10 minutes hard. 10 minutes to recover for 120 minutes total. I was able to watch Netflix while I worked out and it felt good to break a sweat for an extended period of time, just like the normal Saturday long run. Well, not quite the same, but it was something 🙂
Sunday: A run! I did 4 miles easy with Matilda with no pain. Woo-hoo! I mean, I felt a little clunky after not running for a week, but otherwise just fine. My coach wants me to run every other day for now to ensure I'm fully healed, alternating pool running and/or biking on the other days. But I'm happy to be able to run! What can I say, I love running.
Total: Over 4 hours of pool running, 2.5 hours on the bike, 2 hours on the elliptical, 1 [solidcore] class, and 4 miles of ACTUAL running. Quite a mix, right? It probably wasn't a bad thing that I had an extra week off of running post-Phoenix, but I'm excited to (cautiously) get back to it for London this week!
In other news, the mural in my treadmill room (I suppose it's a "gym" but it's tiny so it feels weird calling it that) is complete! I absolutely LOVE the way it turned out.

The artist is my sister Erin's old roommate from Chicago, Angela, who now lives in the Twin Cities. She's an incredibly talented artist and I can't say enough great things about her and how happy we are with how the mural turned out.
We told her we were looking to have an original painting of our neighborhood and the trails that we run every day. I wanted a bright and whimsical feel to it, and to feature some personally significant buildings and Minneapolis landmarks.
As you can see, it has our running club, the church we got married in, Tin Fish, the Lake Harriet bandshell, the Minneapolis skyline, the Spoon & Cherry, our house, and of course our little family running around Lake Harriet.

In the lower left are directional signs pointing to some of the international marathons we've completed, or for which we've both qualified and will hopefully run in the future (i.e. Boston- woot woot!)

You know what else was very cool about our "muralist" (never thought I would use that word)? Her daughter is also an artist and she came along to help out her mom a few times. Very cool!

This is now such a very special part of our home. I can't wait to finish the rest of the room and share more pictures with you. It will be my little running haven. I can't wait!
Thank you so much Angela for this amazing mural. It means so much to us and we will definitely treasure it.
(Visited 403 time, 1 visit today)