Today's installment of Fitness Fashion Friday is a bit of a stretch in terms of fashion…Today's post is all about putting your name on your shirt for races! 
Actually, as you read on, you might think this is more of a fitting debate…please share your thoughts on the topic!
You can see from all of these pictures that I am most definitely a fan of putting my name on my shirt for a race.
I did it for the Flying Pig Marathon in 2013:
I did it for the Outer Banks Marathon in 2014: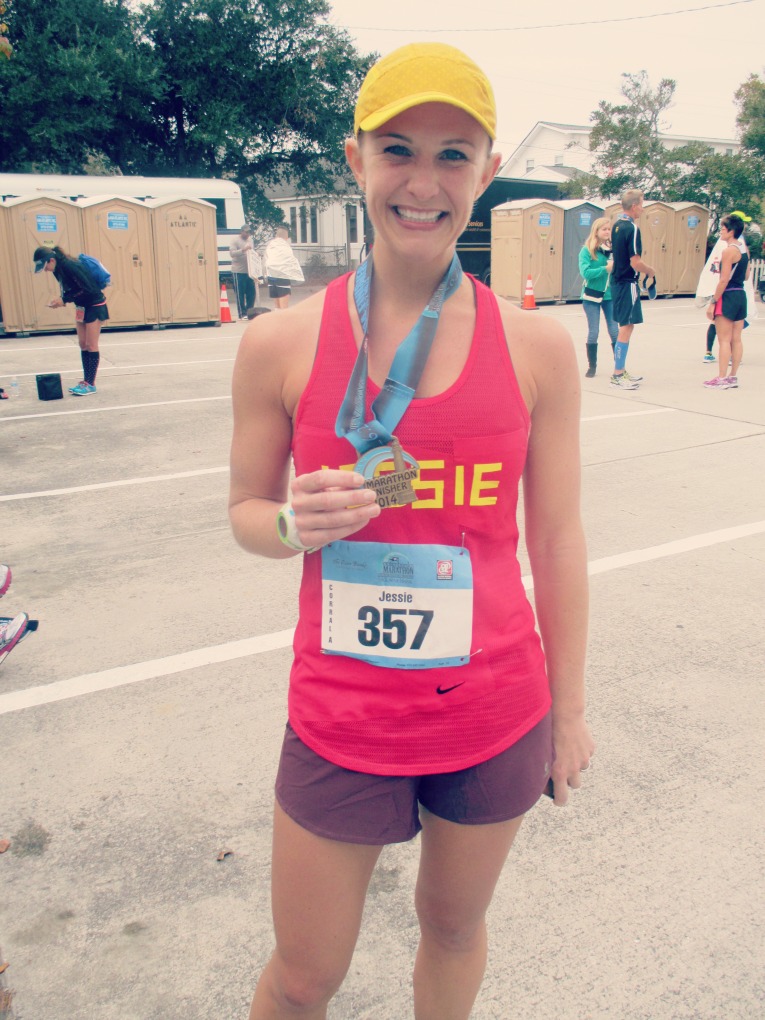 I did it for the Berlin Marathon in 2013, where many spectators cheered "GO YESSIE!"…Loved it! I think I'll go by Yessie from now on.
Those Yessie cheers came when I still had all 6 letters of my name on my shirt. That obviously didn't last the whole race!
I even put my name on my shirt at the Tokyo Marathon where 90% of the people surrounding me did not speak English. A few spectators did cheer for me by name though, and it was grand!
Here's an embarrassing one. I probably shouldn't be posting this next picture on the internet…
For my second marathon (Twin Cities Marathon), I wrote my name on my arm….while looking in the mirror. Yep. That didn't work so well!
#blondemoment
Ah, the joy of being young…
So, I'm clearly a fan of putting your name on your shirt for a race.
Why? The biggest and most important reason is that as a spectator, I LOVE being able to cheer for you by name.
I  feel like it helps make it a more personal experience. I'm cheering for YOU! You're doing a great job! Not just "Go Runner!"
As a runner, I think it's nice too. For most of my marathons, I don't have friends and family in the crowd (since we are traveling for most of them) so it makes it feel a little more like I do have friends and family in the crowd when I hear someone cheer for me by name. I usually am able to give a smile, but hey, if I can't give a smile, that's okay too.
So you may be wondering, HOW should you put your name on your shirt?

I call it "electrical tape" but I guess its just plastic tape that I bought at Target.
If you use this kind of tape, you'll have several options for color. Be sure to pick a contrasting color from whatever you're wearing. Maybe try to coordinate with the whole outfit for the Right Fit!

Using tape means you can remove it after the race and wear the shirt again, versus permanent marker. Generally (except for the Berlin Marathon as pictured above) the tape stays on pretty well. Using marker would probably be better though if your race is especially wet/rainy. But normally this kind of tape says on well and using tape means you can readjust the spacing of the letters or re-do it if you mess anything up.
I suggest putting your name on the front of your shirt across your chest so people can read it as you approach. If you put it on the back, no one will see it until you're passing by!
My normal routine is that I cut out the letters the night before (it's kind of therapeutic) and lay it all out with the rest of my race outfit. When "planning" out your name, be sure to start in the middle and work your way out to ensure you have plenty of space for the whole thing.
Putting your name on your shirt for a race, however, does seem to be a bit of a "fitting debate" amongst runners. Not everyone agrees with this fitting idea.
Some people think it's distracting or silly. Others say its just one more thing to worry about that they don't want to deal with on race day.
Check out this webinar I did recently with a few other Grandma's runners:
Around 21:00, you'll hear a few thoughts from those who don't wear their names.  Dustin doesn't wear his name on his shirt either and I don't love him any less for it! But if I were cheering for him from the sidelines and didn't know him, what would I say? Go handsome fella?? 🙂 I'd definitely prefer to cheer for DUSTIN.
Is it the hard-core, fast runners who wouldn't bother? Is wearing your name something only middle-of-the-pack runners do? Do the speedier sort not need a spectator's cheers?
I understand and respect everyone's opinion! It's personal preference, I know, but my personal preference is definitely to wear my name. What do you think?
 Corny? A good idea? Please let me know your thoughts in this FITTING DEBATE!
Good luck to all my fellow Grandma's Marathoners tomorrow. See you at the finish line!
(Visited 9,211 time, 10 visit today)