Happy Sunday!
We just got home from a fun-filled weekend of camping in Northern Minnesota, and now I'm here with my weekly recap of training for my 30th marathon, the Houston Marathon on January 20th!
Here's how training went this week:
Monday: Run commute home; I added on a bit to make it 7 miles and ended up running into Dustin out on his run; he took this pic of me with my run commute gear!
Tuesday: I took a 5:30 am ALTR class (50 minute HIIT/strength class) before work. After work, I joined the Oiselle Volee for their bi-weekly "Flight Club" at Surly Brewing. We ran 6 miles and then had a post-run pint.
I'm so glad I joined the flock! It's a fun group of women.
Wednesday: Another run commute in the rain. This time about 8 miles.
Thursday: My speed workout of the week was 6x800m repeats with a 2 minute recovery jog in between. With a 3 mile warm-up and cool-down, I ended up with 9.8 miles. Thank goodness I could combine it into a run commute or I would not have time for that much! It was POURING by the time I finished; I was completely drenched but managed to shower and look presentable in time for an 8 am meeting!
Friday: We had plans to head to Itasca State Park this weekend to camp. I was up very early Friday to do my long run. After the run, I worked a half day from home and then took the afternoon off so we could hit the road to get to our campsite before dark; it's about a 4 hour drive to Itasca.
My long run was 40 minutes easy, 60 minutes 'moderate', and 20 minutes easy; I did the first part with Matilda, dropped her off at home and picked up Dustin who did the 60 moderate with me, and then I did my 20 minutes at the end alone while he went on to finish his long run.
2 hours of running equaled 13 miles- my longest run post-broken leg!
It felt like a significant accomplishment to hit that milestone. It has been 7 months since I ran that far!
My leg has been feeling pretty good. Though my paces are still slower than they used to be, I'm grateful to be able to run that distance comfortably. It makes me SO happy to have running back in my life 'full-time'; for the social, for the convenience, for the runner's high, for ALL OF IT.
P.S. I used a Spring gel for this run- it was good! The texture was more like applesauce than the GU brand gels that I often use; it was more like the Huma chia gels, but a bit more filling. I think I like it!

Saturday: Rest day. Camping at Itasca State Park!
Man, it got COLD overnight! I think the low was in the upper 30's. BRRR! It did warm up close to 70 during the day, but it was definitely a brisk fall camping weekend.
We ended up doing a ton of hiking at Itasca State Park; I didn't track it but I'm sure it was a lot! The park is huge with tons of beautiful trails.
Itasca State Park is actually where the headwaters of the Mississippi River are located. It was pretty cool to check it out- a bit of a quintessential Minnesota bucket list item!
Sunday: 5 mile run with Dustin and Matilda (our dog) back to the headwaters from our campsite in the brisk morning (48 degrees!). We had the place to ourselves at that time of day!
Summary: Almost 49 miles of running, one strength class at ALTR, lots of hiking.
49 miles may seem like high mileage, but training for Houston is officially underway- 17 weeks to go!
I dread the day that it's any bit slippery outside as I know I will be on the treadmill A LOT later in the training, but I'd rather run the treadmill than break a leg again (and miss Antarctica AGAIN.) But before I get too far ahead of myself, I'm going to enjoy a few months of the BEST running season, FALL!
Thanks so much for reading and be sure to check out all the other great weekly recaps that are a part of HoHo Runs and Taking the Long Way Home 's weekly recap link-up!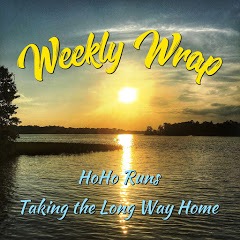 (Visited 319 time, 1 visit today)