Welcome to July! I can't believe it's here already.
First, a quick housekeeping note: I'm hosting a link-up all summer for runners to share their all time favorite apparel/gear. I'd really love some of you fellow bloggers to link-up and share yours. Just add it to the link-up on here whenever you write one! By the end of the summer, we'll have a fantastic list of crowd-sourced favorites!
On to the recap…
If you're only stopping in for the weekly recap, please check out this post, which walks through a full summary of my recovery from my broken leg. I'm just recently back to running- and it's a slow, slow build. I lost so much fitness over the 5 months of recovery. But I'm really happy to be running. I know the fitness will come back, it will just take time and consistency. I'm ready to do the work!
Monday: [solidcore] class before work. A PT appointment later in the day, during which we did a ton of strength training, plyometric drills. These appointments are becoming a workout of their own!
Tuesday: Ran on the treadmill, 3 miles with a 5:1 ratio. PT exercises. After work, I did a short swim at the gym: 1200 yards.
Wednesday: [solidcore] class again before work.
Thursday: Run outside with my friend Christie. She's taking a step back from hard training after setting a big PR at Grandma's half in Duluth so she's just running easy right now. Therefore, she was willing to do my 5:1 run/walk intervals for about 3.3 miles. It was so, so great to be back out around the lakes before work.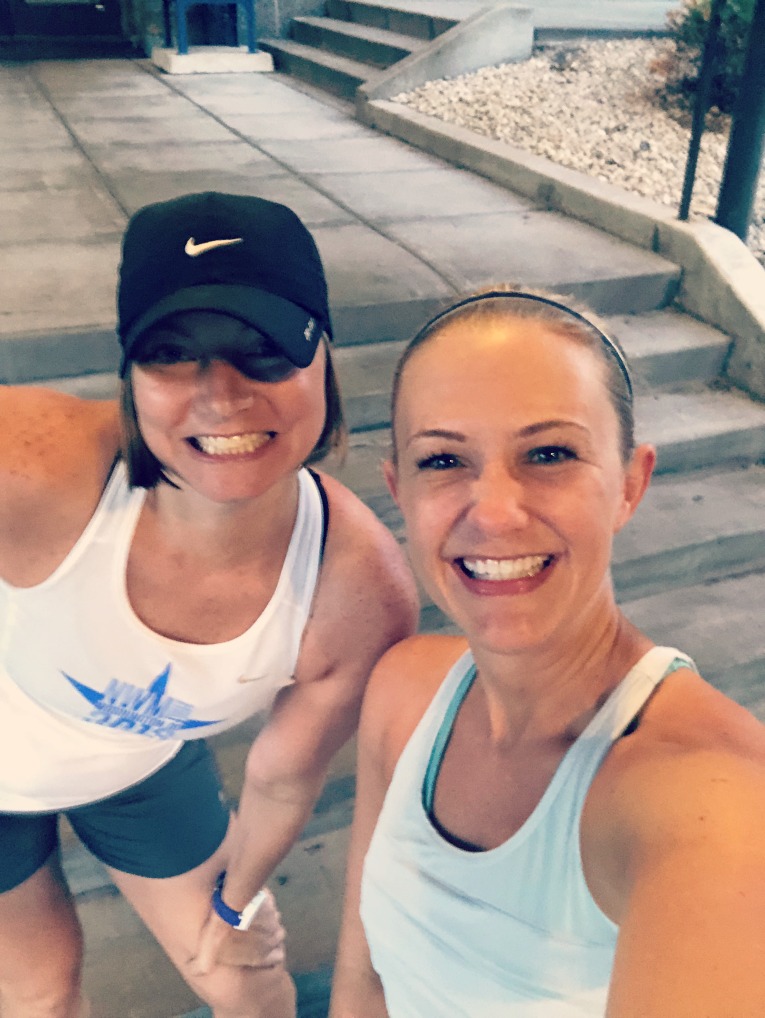 And it wasn't just me and Christie- as I was heading out to meet her, I asked Tilda "do you want to go for a run?" and she seriously leapt out of bed, all confused, but excited that we would be running together again! As long as it had been since I ran with Christie in the morning (5 months?) it had been even longer since I ran with Tilda. Since I broke my leg during a cold February, I wasn't doing morning runs with her, since it was just too cold for her thin-coat! So it was wonderful to run with her again. I missed my running companions, both of them!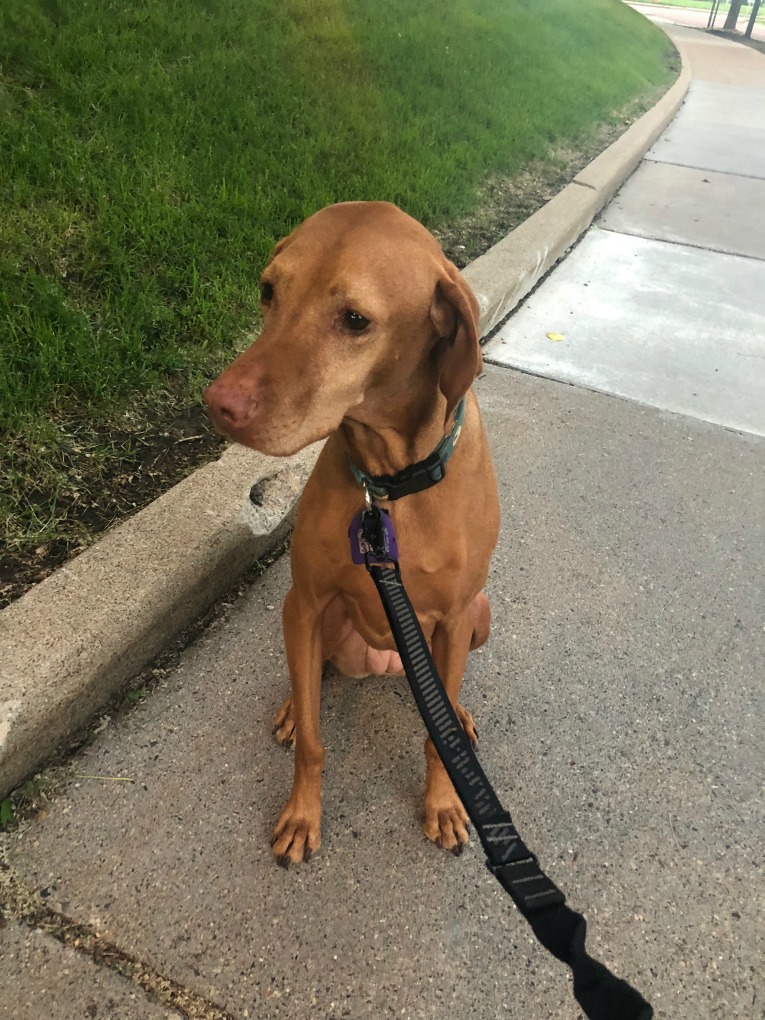 All in all, a  really fantastic morning. Those endorphins from that run lasted me all day.
Another great thing about running is that it is so efficient; we could run 3.3 miles in less than 30 minutes and be done, whereas the rest of the days, I have to spend so much more time doing an activity to get an equivalent workout, i.e. I'm on the elliptical or swimming for so much longer.
Man, I love running…
Friday:  Since I should only be running every other day (PT's orders), I went to the gym and did 45 minutes of elliptical and 10 minutes of the stairs. Then I had one of the coveted 7 am PT appointments. I didn't even shower post-gym before heading straight to PT (both my gym and my PT are located in the Minneapolis skyways). We did a TON of plyometric drills- jumping, ladder drills, box jumps- all kinds of stuff to work on my ankle strength. It was quite a workout to be honest and I worked up a real sweat.
Icing afterwards, as always!
Friday evening, we drove up to Dustin's family's cabin for the weekend. We planned it out so that Dustin would just come pick me up from work with the car all packed up and we'd hit the road from there.
Unfortunately, I was stuck at work later than I expected, so he and Matilda had to go kill some time on a patio with a beer until I was done!
Saturday: A run at the cabin; I have run up here many, many times, but when you're as out of shape as I am, it's really hard on those hilly roads. They crushed me!
I covered my longest run yet post-broken leg (4 miles!) with a 5:1 run/walk ratio.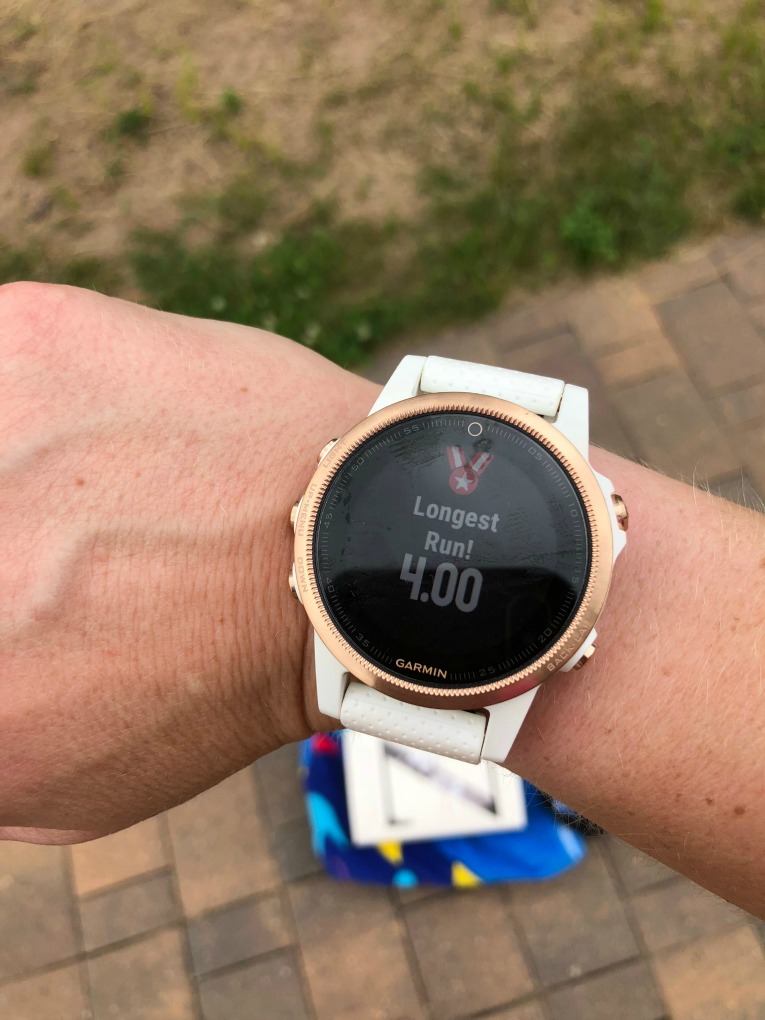 It was tough going out there though with the hills, heat, and humidity. I felt bad for any of you who had to do long runs out there! I know that a lot of the people I coach had a tough day. It was dangerously hot across most of the Midwest this weekend.
P.S. I did see a black bear on a run once up at the cabin! But thankfully on this run, all I saw were deer.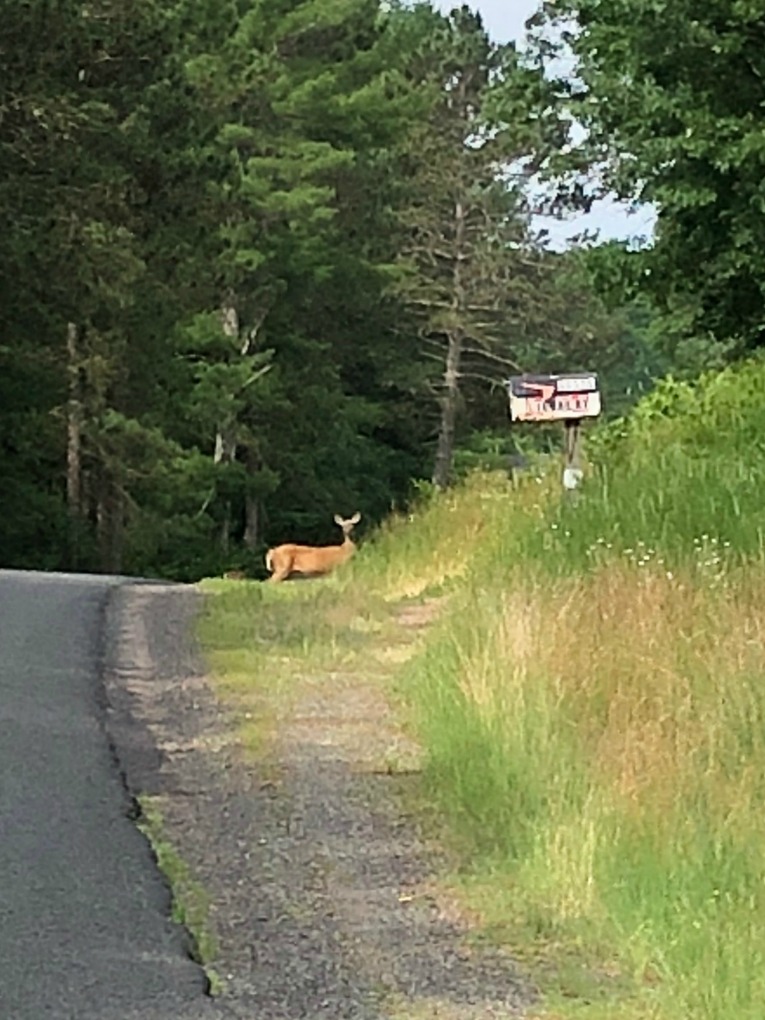 Later in the morning, I tested out my hand-me-down wetsuit for a short open water swim in the lake. I only swam for about 20 minutes as I still am getting accustomed to the open water. It's so much harder than the pool, but the wetsuit helped significantly. It gives you so much buoyancy, it's incredible! 
Let me tell you about this wetsuit: A friend I met primarily through social media, (the blog and Strava!) Kim, gave it to me for FREE and even mailed it to me after reading about my initial struggles in the open water.
It is so heart-warming that there are such nice people out there. Honestly, there are times when I question why I put so much work into this blog. It's not like I'm making a living with it. But then there are times like this that I am so glad I write a blog. This blog allows me to connect with someone hundreds of miles away that I would have never met otherwise.
This wetsuit represents the power of social media to connect people.
Thank you Kim!
But I digress..after a swim, we did a lot of paddle-boarding. It felt more challenging than last summer, as my ankle stability isn't what it was before.
I tried it a little bit of SUP'ing with Matilda (our dog) on the board; Tilda LOVES the paddle board but she doesn't always stay very still so it adds an extra challenge! I could only manage a little while with her on mine, before she switched to Dustin's board. He's a lot more stable than me!
(I love that my Garmin has a setting just for Stand Up Paddleboarding. Dustin and I went out again for an evening paddle and covered about 1.5 miles. So fun to see the stats!)
Sunday: I brought my resistance bands up to the cabin so I could do some of my PT exercises. My PT also has instructed me to do a lot of jumping now- one legged hops, side to side hops, scissor hops. I did about 45 minutes of exercises in the cabin, as it was raining most of the morning. I'm publishing this post around mid-day, so I'm sure we'll do more SUP and maybe I'll go for another open water swim (doesn't matter if its raining right? As long as it's not lightning!)
Summary: About 11 miles of running this week!-Woo-hoo! Two solidcore classes, a little bit of swimming- open water and in the pool, some stand-up paddle boarding, elliptical, 2 PT appointments with lots of plyo work…A full week!
(One more thing- Tilda's cabin-ready collar was a special gift from "For the Love of Woof" on Etsy. Check them out, their stuff is really cute!)
Well, that's it for me for my weekly recap. I'm linking up as always with HoHo Runs and Taking the Long Way Home for their weekly wrap. Check it out!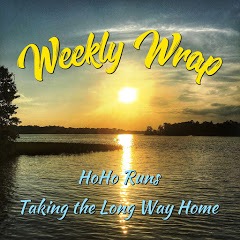 (Visited 353 time, 1 visit today)