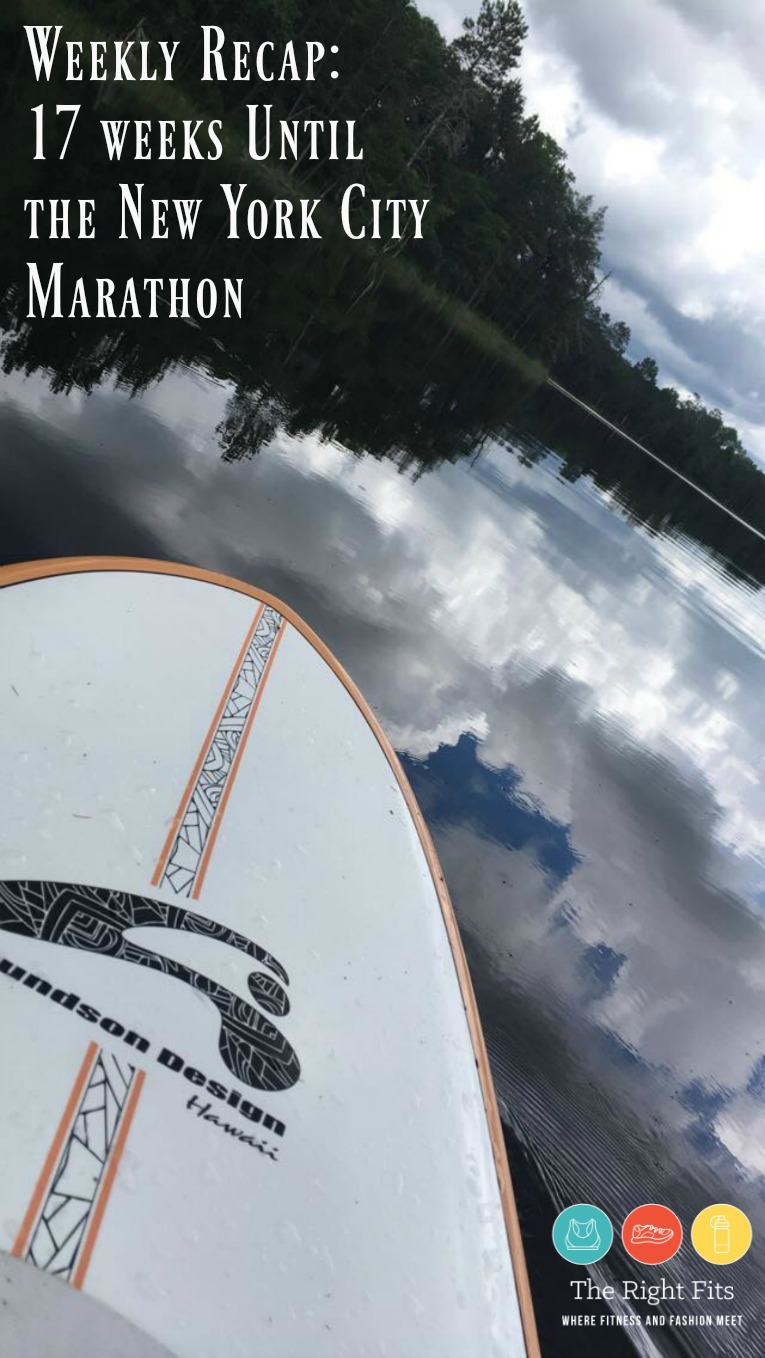 Summer is in full swing over here!
Today's weekly recap post is full of pictures of summer fun here at the Right Fits, mixed in with some training for the New York City Marathon.
Monday: I ran 7 miles with Dustin at the cabin, 8:40 min/mile pace; he went on for another 7 for his long run and definitely negative split that run 🙂
Tuesday: Still at the cabin and I had a workout to do: 2 mile warm-up, 6x1200m repeats with 1 minute recovery (I walked or slowly jogged the recovery- it was HOT and HILLY!) and 2 mile cool-down. 9 miles total. Dustin and Matilda drove out to find me and bring me water. So greatly appreciated!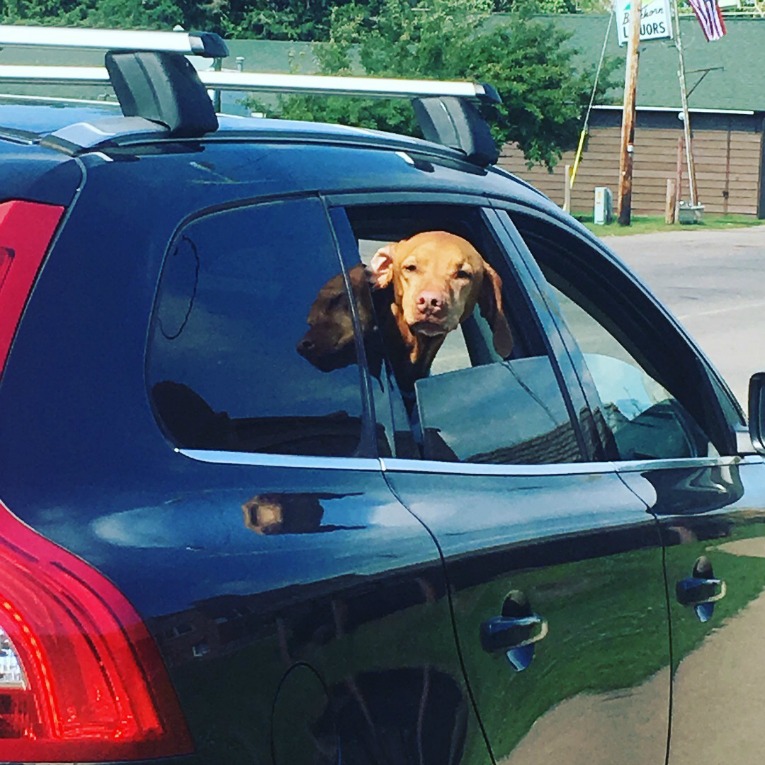 I realized that over the 5 nights at the cabin, I ran 40+ miles. That's a lot of cabin miles! Tilda only ran with me once she wears herself out just running around chasing dragonflies and the swooping sparrows. She doesn't need any extra exercise at the cabin!
Tuesday was our last day there; we spent some time cleaning everything and then made the drive back to Minneapolis. I'm missing the relaxing lake life!
Wednesday: Back to reality and work…It was a rest day from running, so I fit in a morning barre class at the Barre Edina. After work, I had a hair appointment. It was a relaxing evening with a beer and a book at the salon!

Thursday: I was really tired this morning- I guess all the fun at the cabin caught up to me! I could not get myself up before work so I had to do my hill workout after work, around 7:30 pm.
I had 2 miles to warm-up, 20x100m sprints with recovery the length of the hill, 2 mile cool-down. It was over 90 degrees and super humid this day, but I found a decent hill in my neighborhood that was right by an ice cream shop with a drinking fountain (lifesaver!)
Though I did sprint UP the hills as best as I could in that heat, I took the recovery very slowly. 7 miles at a 9:40 min/mile pace.
Friday: Flapjack Friday at Mill City Running! I met up with a few friends before the official run for a few miles and then we covered a few more with the group. 6.5 miles total.
Nice and easy, my legs were tired from the hills the night before!
Friday was Dustin's birthday! We had plans to celebrate on Saturday because on Friday we had tickets to see Brandi Carlile at the Basilica Block Party. She was fantastic!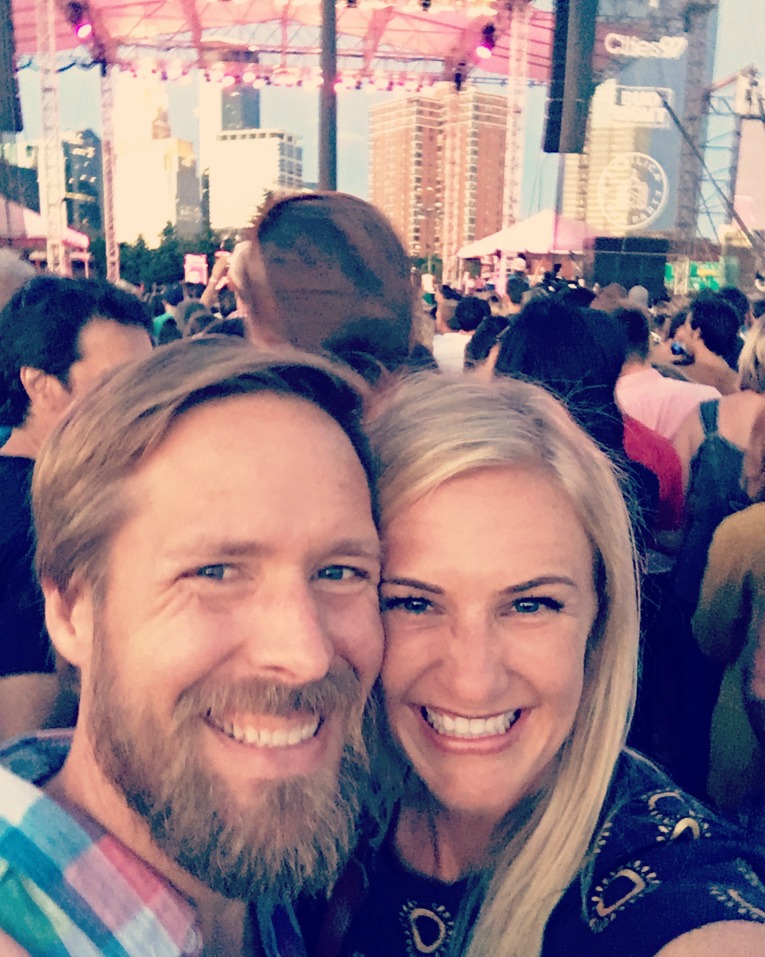 Saturday: Long run with the Calhoun Beach Running Club! 15 miles around 9:10 min/mile pace. It wasn't quite as hot as earlier in the week, but still warm.
It was so nice to come home to a delicious recovery smoothie made by Dustin…which apparently matched my shorts 🙂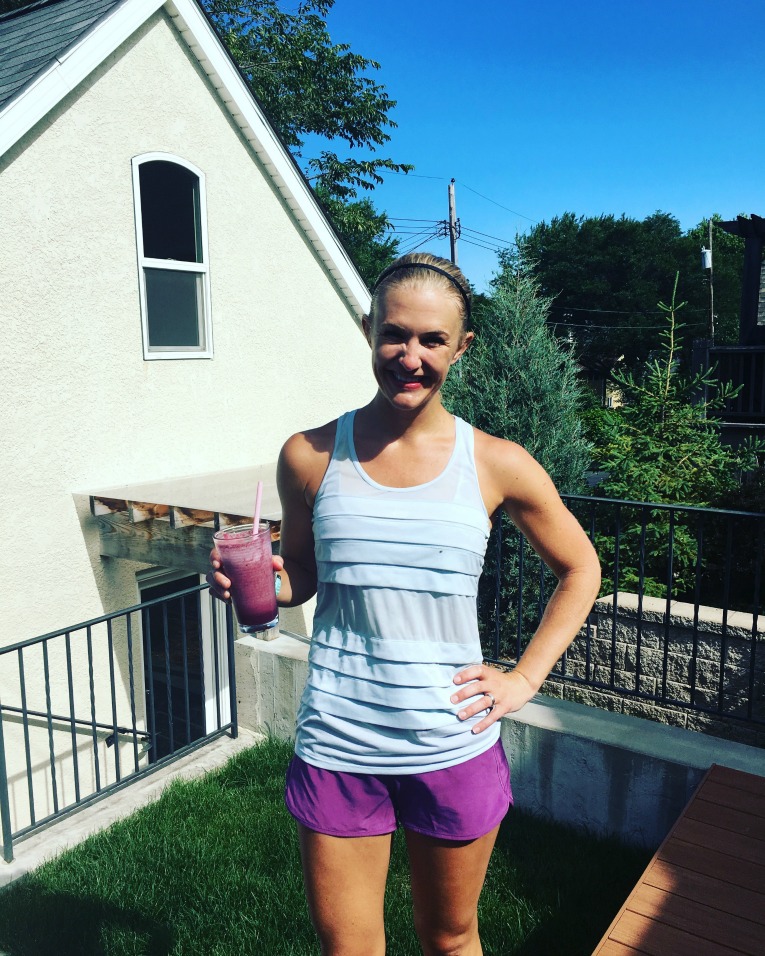 (My tank is Oiselle- on sale now. I bought it in multiple colors, I love it so much!)
But a smoothie wasn't enough for me post-15 miles, so we went to Hola Arepa for a late brunch/lunch. All part of the weekend birthday celebrations, you know?
After lunch, we met up with my nieces and sister/brother-in-law to hike around the Minnehaha dog park with Matilda (she LOVES that place- so did my nieces!)
After hiking, we grabbed ice cream cones (and/or beer at SeaSalt) and then swam a little bit in the creek past Minnehaha Falls. A fun summer afternoon.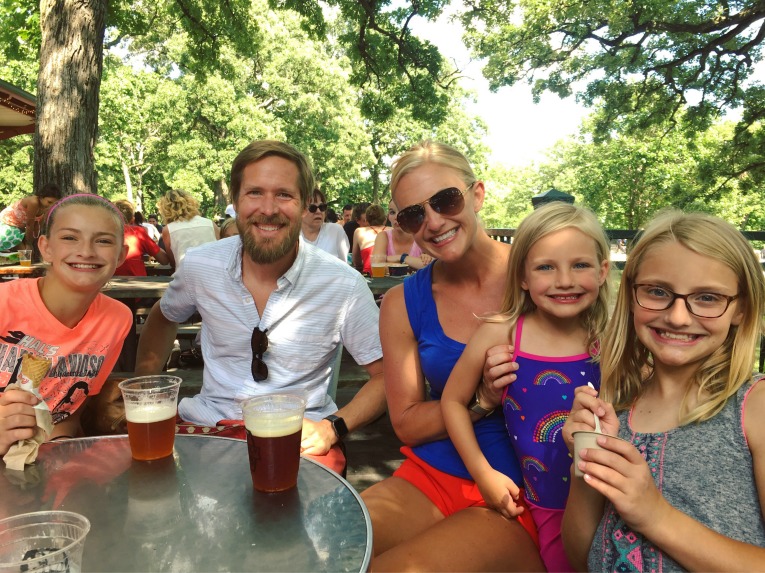 Saturday evening, we kept the birthday celebrations going with a wonderful dinner at Restaurant Alma.
Sunday: I joined my sister Cresta for her long run: 9 miles at her pace.
We ran around Harriet and down Minnehaha Parkway, stopping to pick up Mr. Little Guy's response to my nieces letters at the troll tree. Adorable 🙂
This little 'fairy door' as my niece calls it is such a cute little Minneapolis gem. The tree is on the south side of Lake Harriet and Mr. Little Guy normally replies in about a week. All the responses are on the silver sparkly paper in tiny print and put in a plastic bag inside the tree.
Summary: 54 miles of running, 1 barre class. I did fit in some extra strength training and PT exercises (for my IT band) on my own a few times since I wasn't able to fit in more barre.
Overall a great week in both training and summer activities!
I hope you had a fun summer week as well!
Any readers also doing the NYC marathon this year? Jess and I would love to connect, as well are planning a blogger meet-up that weekend and would love to see you!
Join us for our weekly recap, details below:

(Visited 350 time, 1 visit today)