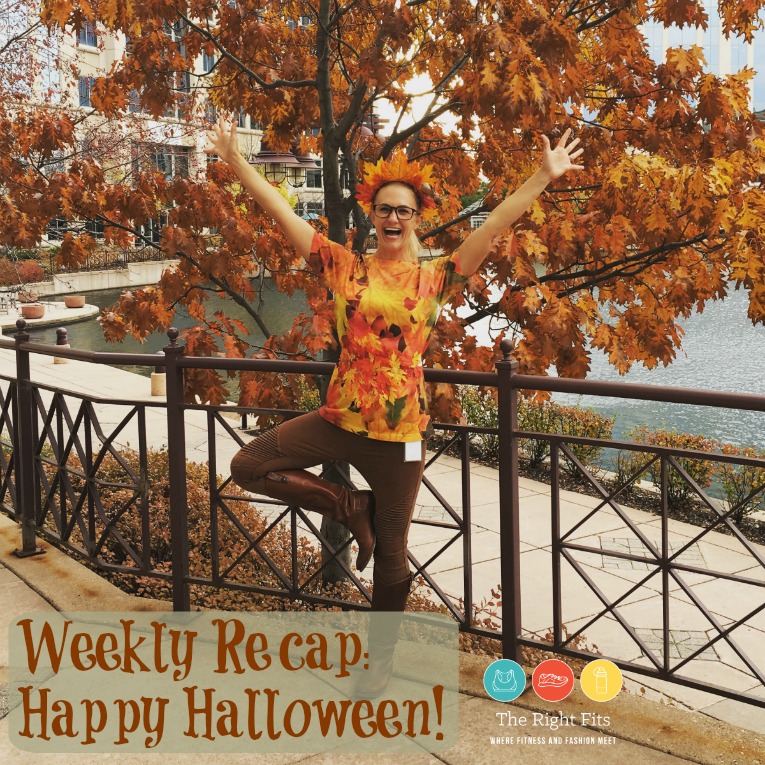 Happy Sunday! I hope you enjoyed the last weekend in October. It was also the last weekend before Daylight Savings Time…which means we are quickly approaching even darker running than before! If you haven't broken out your head lamp yet, it's probably time to do so 🙂
It was a really busy week for me at work, with over 60 hours there (which is a lot for me). I fit in what I could with fitness. Here's how it went:
Monday: [solidcore] in the morning. I mentioned in last week's recap that I've been having some foot pain. It's under the 'heel' of my big toe. I took Sunday/Monday off of running and it felt fine, so I cancelled my doctor's appointment. I probably shouldn't have though, as its still bothering me. Time to reschedule the appointment! I can still run on it, but I want to figure out what's going on. I have been icing it quite a bit.
Tuesday: My toe felt fine so Matilda and I ran 7.6 miles together around a 9 min/mile average. Tilda seems to love this fall weather- she was all fired up this whole week!
Brisk fall temps meant I could wear my new Muscle Tee from Oiselle with Oiselle rogas.
Speaking of Oiselle, my friend Julie gave me a heads up that there are Oiselle tights and shorts going for less then $10 on Amazon! Limited sizes, but I found the KC Knickers and the Jogging Knickers in a size 4 for less than $10 each- a steal!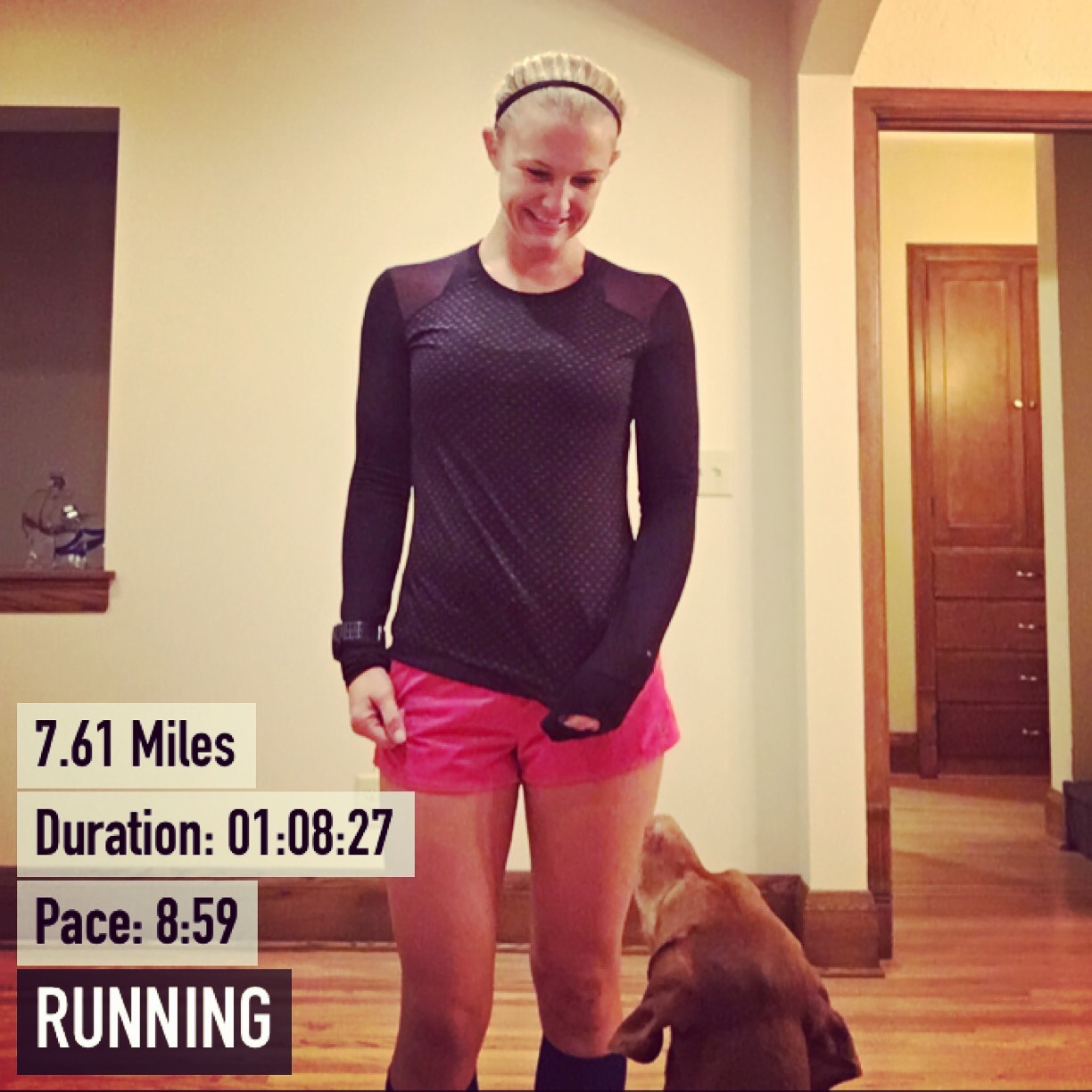 Wednesday: 4 miles with Matilda in the rain. She didn't like that run quite as much but she did seem to want to go faster just to get it done! (Average pace was still 9 min/mile but it went 9:47, 8:56, 8:29, 8:46).
Thursday: Another 7.5 miles with Matilda at 9 min/mile pace. I've noticed that when I run in the morning, it takes me at least a mile to wake up. My first mile is usually close to a 10 min/mile before I settle into my normal pace.
Friday: 1 hour barre class at the Barre, no running. Our work Halloween costume contest/party was this day. I put a lot of work into last year's Cheeseball costume, yet I didn't even win a prize.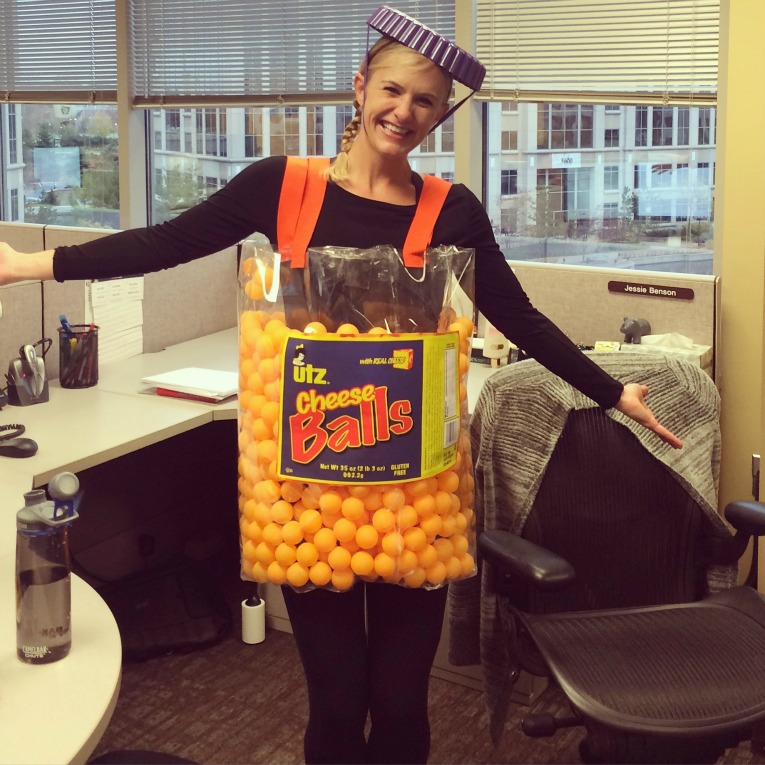 This year, I didn't put quite as much effort into it. Can you guess what I am?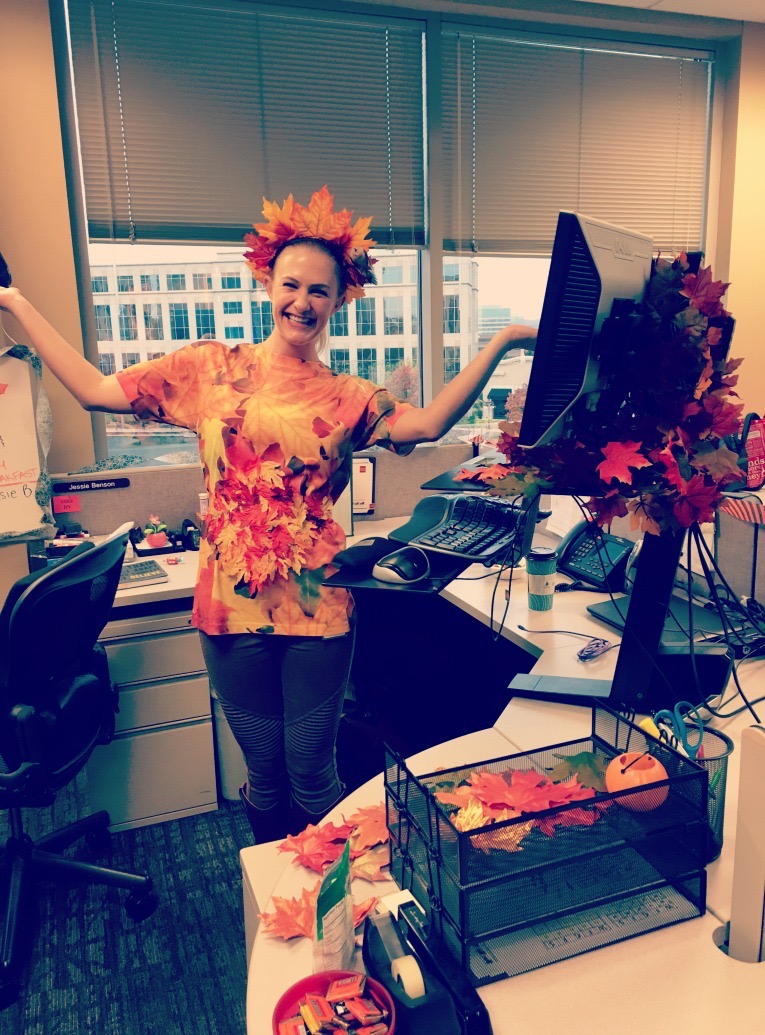 I recently got a stand-up desk at work and someone commented that I look like a tree, as no one else on my area of the floor has one yet. Well, I took that idea and ran with it and dressed as a tree! Most people thought I was "a Minnesota Fall," which worked too.
There was also a pumpkin carving contest at work. Some talented people out there!

Saturday: 13 mile long run around a 9 min/mile pace, followed by brunch at Birchwood Cafe. I can't believe I didn't put this on my list of best post-long run brunch places in Minneapolis. It should be! Their savory waffle is SO, so good.

After brunch, we had lots of errands to run, one of which was a stop at Chocolat Celeste in St. Paul to purchase some treats to bring to a party that night. Have you been? I had to buy a few extras for myself!

The chocolates were a host gift for our neighbors who invited us to their annual Diwali party.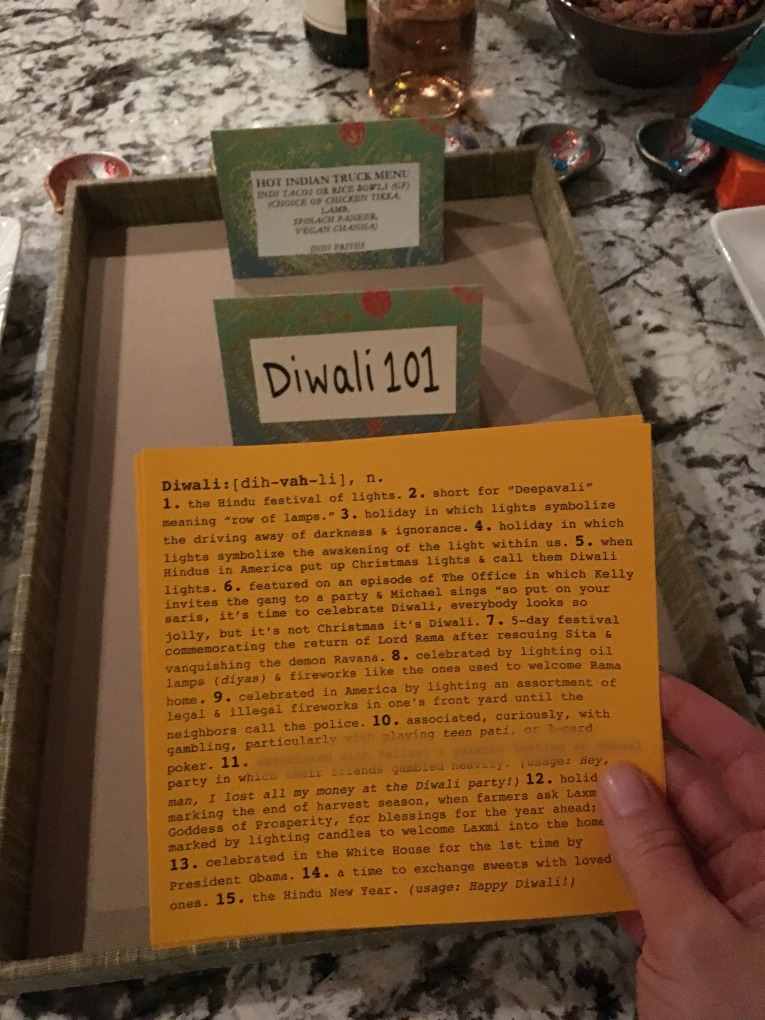 They are pretty awesome people- she is an author of children's books and he owns a food truck called "Hot Indian," (which also now has a brick-and-mortar restaurant in the Midtown Global Market.) The truck was outside their house for the party with free food for guests.

They also had a group of friends do a Bollywood dance during the party. I loved it!
The party was so much fun…actually a little too much fun. I got a little too tipsy…I am much too old for that!
Nonetheless, it was a good time. We were there until about midnight (easy "commute" home, i.e. walk about 100 yards!).

Sunday: I was not feeling all that 'chipper' this morning; I slept in and then lounged for quite a while. Eventually, Matilda and I went for an easy 4 mile run. The fresh cool air and activity did help make me feel better. No more 'fun' for this girl….
Summary: 2 strength classes- [solidcore] and barre, about 37 miles of running. All but my 13 mile long run were with Matilda the vizsla this week; she had a big week in running as she also ran with Dustin one of those days too!
Currently fitness plan:
I'd like to stay around 35-40 miles a week during this 'off-season' with long runs between 10-15 miles. I am running a half marathon in January in Key West as part of a trip with my sister Erin and her run club friends. I'd like to break 1:40 in that half- that's my goal! Boston training will start around then too. I would love to fit in yoga or barre at least once a week and ideally two strength classes (probably Alchemy or solidcore.). That's my plan for now!
In other news, Fly Feet Running has arrived in Minneapolis! They are currently offering free classes for their soft opening. I signed up for one this Thursday and will let you know what I think afterwards. (Thanks to Rita for the heads up on this!)
Anybody go to a fun Halloween parties this weekend? If so, did you see any good costumes? I saw a few people dressed at "Ken Bone, the undecided voter", characters from Stranger Things, and more than one Cousin Eddie from the 80's movie Christmas Vacation.
I will be handing out candy tomorrow for trick-or-treaters. I hope to see some more cute costumes then!
Be sure to join Jess and me for our weekly link-up, details below!
(Visited 477 time, 1 visit today)