I often forget to recap the week of my marathon because I'm too caught up in the actual marathon. But reading how the last week went is just as helpful as the rest of the training recaps, right?
Here's my weekly recap of THE WEEK of the Big Cottonwood Marathon.
Monday: Labor Day. 1 mile warm-up, 3×1 mile at goal marathon pace (8:12) with 2 minute recovery in between each mile, 1 mile cool down. This 'workout' wasn't supposed to be hard, just an opportunity to remember what goal marathon pace felt like. 5.5 miles total.
I had planned to run really early before going to cheer on Dustin and my running club friends at the Victory 10k, but when my alarm went off, it was storming. Instead, I slept in, and then went straight to the cheering. Matilda and I made it to the race just in time to see it start:

Dustin wasn't racing this too hard since he had 26.2 to run on Saturday with me in Utah, but he was happy with a tempo effort. (I think he finished around 39 minutes, or a 6:15 pace.)
It was a hot and humid morning too. I was impressed by all the fast runners! Man, there are some amazing athletes in the Twin Cities.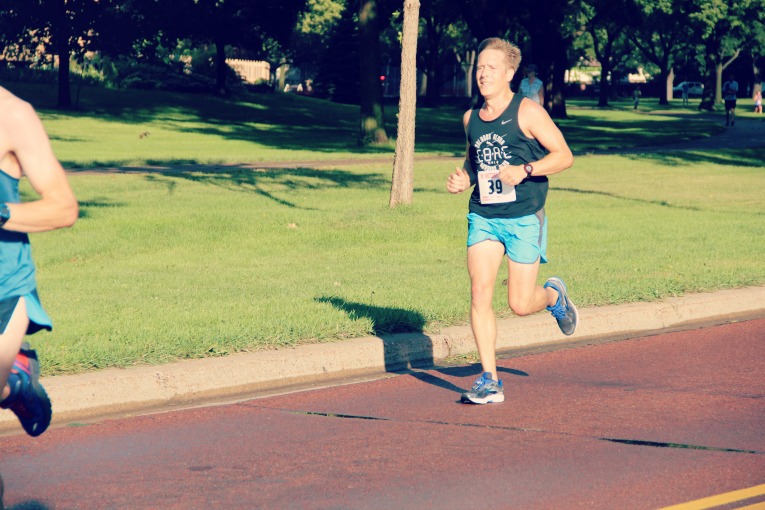 P.S. I love cheering for races! So does Matilda, until she sees (smells?) Dustin run by and freaks out because she must chase him!!! She was all stressed out until he came to find us after the race.
(This is not stressed out Tilda. This is chill Tilda.)

Anyways, I ran after the race around 10 am. Hot! Those marathon pace miles felt hard and I started to get worried about race day…
Tuesday: Complete rest.
Wednesday:  Strides/100m sprints: 2 mile warm-up, 10x100m with 1 minute recovery, 2 mile cool down. 5.5 miles total. I did this run with Matilda in the morning. Super humid.
I put these charms on my Brooks Ravennas. They were a gift from my sister Erin from Momentum Jewelry.
Just run!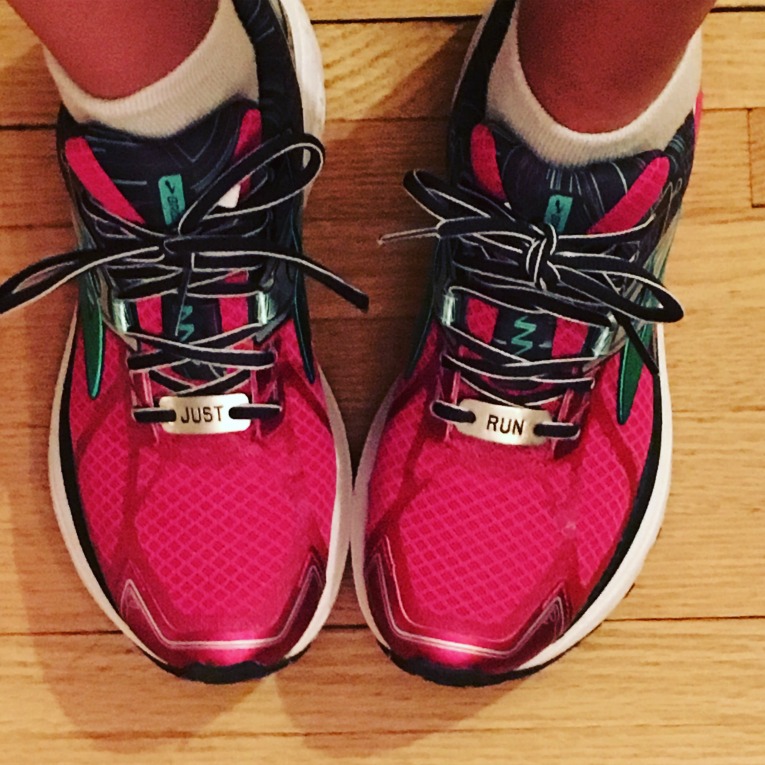 Thursday. Easy 5 mile in the morning with my friend Christie and our visiting running friend Julie. It was still dark in the morning when we finished! How sad….
Then I worked a half day and caught a flight to Salt Lake City.
Friday: 4 mile shake-out run in Cottonwood Heights. It felt like it was all uphill. Uh-oh! Was it the altitude? How was I going to run 26.2 miles at altitude?

After the shake-out run, we went to the expo, which was tiny and low-key. I looked up last year's results to see just how many people ran the marathon, it was only 1,200. There is also a half marathon that starts half way down the marathon course.


We had some time to kill, so we drove the course. This picture is from the starting line:

Driving the course made me pretty nervous. I did not train on the downhills enough! And what about those terrible up hills in mile 18-23? Oh, man…I was nervous. This may have been my 24th marathon, but I had put a lot of pressure on myself for this race. I mean, the trip itself was solely to give Boston one last shot. THE PRESSURE!
Saturday: The big day. 26.2 miles at goal marathon pace. 🙂 Race recap to come shortly!

Sunday: Um, rest. I think I deserved it.
Summary: 46 miles. 2 rest days. 1 big race!
I'm linking up with Jess again this week at Jess Runs ATL– join us! Instructions below:
(Visited 333 time, 1 visit today)