Hello, hello, from Turks and Caicos!
I haven't had a lot of time to check in here on the Right Fits while on vacation. However, today is rather windy and mostly cloudy, so we've had a little more downtime in our suite. Speaking of our suite, we were informed upon checking in that we were upgraded to an ocean view suite!
Can't complain about that! The
Windsong Resort
, where we are staying, is a charming boutique hotel in Provendenciales on Grace Bay. The resort is mostly suites with a few regular hotel rooms. We were originally booked to a garden view suite, but the hotel was overbooked, so they put us in the ocean view suite.
The ocean view is quite nice! The suite is way more space than we really need, with a living room, kitchen with counter seating, a little dining room table, laundry machines, TWO bathrooms, and a large bedroom. It greatly exceeded my expectations!
We arrived on Wednesday evening, settled in, and then grabbed dinner at the
Mango Reef
restaurant. We have a rental car here, which I think is necessary. There are taxis, but they will cost you about $80/trip, so we would have spent much more than a rental car already, had we used the cabs.
This was the first time Dustin had to drive on the left side of the road! It took a little getting used to, to say the least…every time he thought he was turning on the blinker, low and behold, the windshield wipers would go on. There really aren't a lot of "addresses" or street signs here either. Most directions are just "go past the gas station and turn left at the so-and-so restaurant…" We definitely have been winging it a bit, and have become a bit lost a few times, but it's all part of the fun I suppose.
Driving on the left side of the road…
Thursday morning, I was up at 5:30 am, ready to do my long run. However, Dustin was the sensible one, and pointed out that it was still pitch black outside, and maybe, just maybe, it was a good idea to wait until we could see where we were going before heading out….so I waited another 45 minutes or so, and then we were out the door as the sun rose, trying to beat the heat.
I had found
this route
 on the USATF website for a ~14 mile route.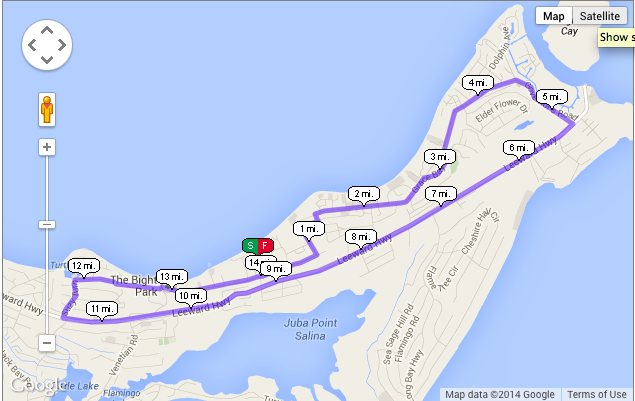 We actually didn't come back on the Leeward Highway as the route would have had us go, as it seemed too busy to run on the highway. Instead, we came back the same way we went out, which was a lovely sidewalk path along the road with all the resorts of Grace Bay.
I had forgotten how hard it is to run in the heat! The sun rose quickly, and it beat down on us. It was hot and humid (upper 80's by the end of the run). Dustin and I shared the Nuun in my fuel belt, but we drank that all up quickly. Fortunately, I brought some cash with me, so we were able to stop at a store for some water. We survived, but it was definitely tough. We were not ready for that kind of heat!
After the run, shower, and breakfast (which was included for guests at the Windsong!) we found some chairs on the beach, and settled in for sunbathing. We took breaks to sail on a little Hobie Cat, test out the paddleboards, snorkel the reefs, and just enjoy the lovely island.
With the less-than-perfect weather today, we actually took a conch farm tour. I'll post about that next. It was quite interesting!
Have you done a long run on a beach vacation? How did it go? 
(Visited 554 time, 1 visit today)