Only one week until the Atlanta marathon (and cheering for the Olympic Trials the day before!) So excited! The weather looks pretty good too; it is going to be a fun weekend, all about running!
Before I dive into my recap of training, I want to point you towards my review of the SQUID GO ice/compression device. I shared my experience in THIS POST. Check it out and let me know what you think!
Monday: I had the day off of work for President's Day.
What a treat to meet a few friends around 9 am for a run in daylight! I had 9 miles easy, so I ran from home to meet them, ran 7 with them and then ran home.
The topic of the run was the cancellation of the Tokyo Marathon. Several of our friends were headed there to complete their 6th World Major and will now defer that accomplishment until next year. I understand why they cancelled it; coronavirus is a real threat. I'm a little concerned about our trip in May to Bhutan to run a marathon there. We fly through South Korea and Thailand to get to Bhutan; I guess it's not worth stressing about at this point, since there's nothing I can do about it. I do hope the pandemic ends soon!
Speaking of the World Majors, I finished my 6th one in New York City in 2017 and received that massive medal! It was a proud moment.
Anyways, later on Monday, I took a Discover Strength session at the Northeast Minneapolis location. This was my last strength training day (two weeks out) before the marathon. Discover Strength recommends stopping two weeks out from a marathon. Makes sense to me!
Tuesday: 6 miles on the treadmill after work.
Wednesday: Another very frigid day in Minneapolis, so another treadmill run. 3 miles easy to warm-up, then 5x(6 minutes with progressively faster paces every 2 minutes), 2 minutes in between each set, and then cool down to 9 miles.
Right after I hopped off the treadmill, I discovered that Ruth had destroyed one of my Duckfeet boots! These were some of my favorites- comfortable, water/weather-proof…Not only had Ruth destroyed the boot, but it appeared that she had ingested most of the leather that she chewed. We called the emergency vet, and they recommended we bring her in. They gave her a shot that made her throw up almost instantaneously, after which she was just fine. They did find lots of leather in her belly so we made the right choice to bring her in.
They gave her the shot a second time to make sure everything was out, and then we had to wait for a bit to make sure she was okay. We didn't get home until about 10:30 pm. I had run 9 miles and not eaten dinner either…ugh. Definitely an unexpected change to the course of the evening! But, I love that little rascal Ruth and am glad she is okay.
Thursday: After a later night the night before, it was hard to get up early, but I had a commitment after work, so if I wanted to run, it had to be before work. 6 easy treadmill miles. Barely awake!
The industry event for my day job (i.e. with my side hustle being coaching runners of course!) was at the new-ish Tasting Room in Uptown.
Friday: Another 5 miles on the treadmill. Uneventful.
Saturday: Yay! An outside run! Being just a week out from the marathon, my long run was only 10 miles. My coach put '26.2 minutes' at marathon pace in the middle, where I was supposed to visualize each minute as each mile of the marathon. 🙂 Unfortunately, with a lot of melt/refreeze, I was a bit more focused on avoiding the ice than visualizing the marathon, but the idea was good! 10 miles at an 8:50 min/mile average.
(We stopped for water at the Trailhead at Theodore Wirth.)
Since I didn't have an exceptionally long run, I was able to join some of the run club girls for brunch. We went to Lagos Tacos in Uptown, where it was apparently National Margarita Day!
Sunday: I met up with my friend Vicki at 9:30 for a run; it was gorgeous, sunny, and 30 degrees! But we were so bummed to discover that the lake trails were VERY icy. There was so much melt, but with temperatures below freezing, it was incredibly slick. We tip-toed our way around two lakes for 7 miles with lots of walking over the icy spots.
Summary: About 53 miles of running, 1 strength training session.
With Atlanta not being a goal marathon, I haven't tapered quite that much, as I'll sort of "train through" it to Bhutan, which is 12 weeks later. I also have a few shorter distance races on my radar, mostly through our USATF racing circuit, where I hope to maybe shoot for some new PR's. Already looking ahead to the next one before this one is even done!
Here's your weekly Ruth pic- ruthless Ruth! She's a wild one, but I love her!
I'm linking up as usual with Running on the Fly and Confessions of a Mother Runner as part of their Weekly Rundown. Check it out!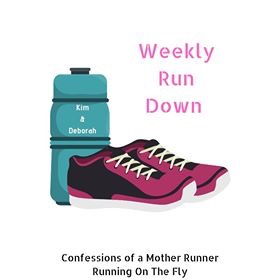 (Visited 402 time, 1 visit today)