Happy Sunday! I'm back as normal with my weekly recap of training. If you only stop in for the recap, be sure to check out this 're-post' for a laugh:
Fitting Remarks: How to Talk to Runners: Advice From a Non-Runner
My recap of the Brookings Marathon is also posted: Fits Do Race Reviews: The Brookings Marathon
I also wanted to post a quick plug for my coaching services- I have some space this summer for more athletes and would love to work with you! I provide customized coaching for a reasonable monthly fee. Take a look at this page and shoot me an email if you're interested in learning more.
On to the weekly recap!
Monday: The Brian Kraft Memorial Day 5k. This race around Lake Nokomis attracts a super fast crowd; last year I was there just to cheer, but this year, I was healthy enough to participate!
I was not, however, one of those super fast runners; I just did my best for where I'm at!
Splits: 7:23, 7:10, 7:23
Time: 23:05
It was pouring rain for the whole race; I did about 20 minutes to warm-up, then the 3.1 mile race, then 15 minutes to cool-down for about 7 miles on the day.
I have to remind myself that it was less than a year ago that I was cleared to start running again, rather than be a little disappointed in my current fitness level. My 5k PR is 21:45 and I'd love to get back there again, but definitely have some work to do!
Tuesday: Total rest. I was supposed to run, but slept in and then work was too crazy. When I finally got home around 9 pm, I didn't have it in me to run. Rest was just fine, as to be honest, my ankle (the one I broke) was actually a little sore from the 5k effort.
Wednesday: 8.5 mile run with Vicki before work. Beautiful morning. What a difference a rest day makes! I felt great.
Dustin was in Miami for work, so when I got home, Matilda was all kinds of crazy; vizslas are still crazy even at 10 years old! Since it was such a beautiful day, I decided a short 3 mile run with her wouldn't hurt.
11.5 miles on the day.
Thursday: Easy 6 mile run with Christie and Matilda (my dog). Another beautiful morning in Minneapolis.
Friday: Easy 5 mile run with Matilda.
Saturday: My friend Christie had basically the same workout as me in her long run. Hers was just a bit longer; (we have the same coach).

3 miles easy, then 16x (0.2 miles moderately fast, then 0.3 mile recovery), 1 mile cool-down. Ended up with 12 miles total. A great long run!
After the long run, I wasn't able to eat anything until after 2 pm. I was starving! The reason I couldn't eat is that I had to fast for 3 hours before an appointment for a Bod Pod reading.
What's a Bod Pod?
The BOD POD is an Air Displacement Plethysmograph (ADP) that uses whole body densitometry to determine body composition (fat vs. lean). Similar in principle to underwater weighing, the BOD POD measures body mass (weight) using a very precise scale, and volume by sitting inside the BOD POD.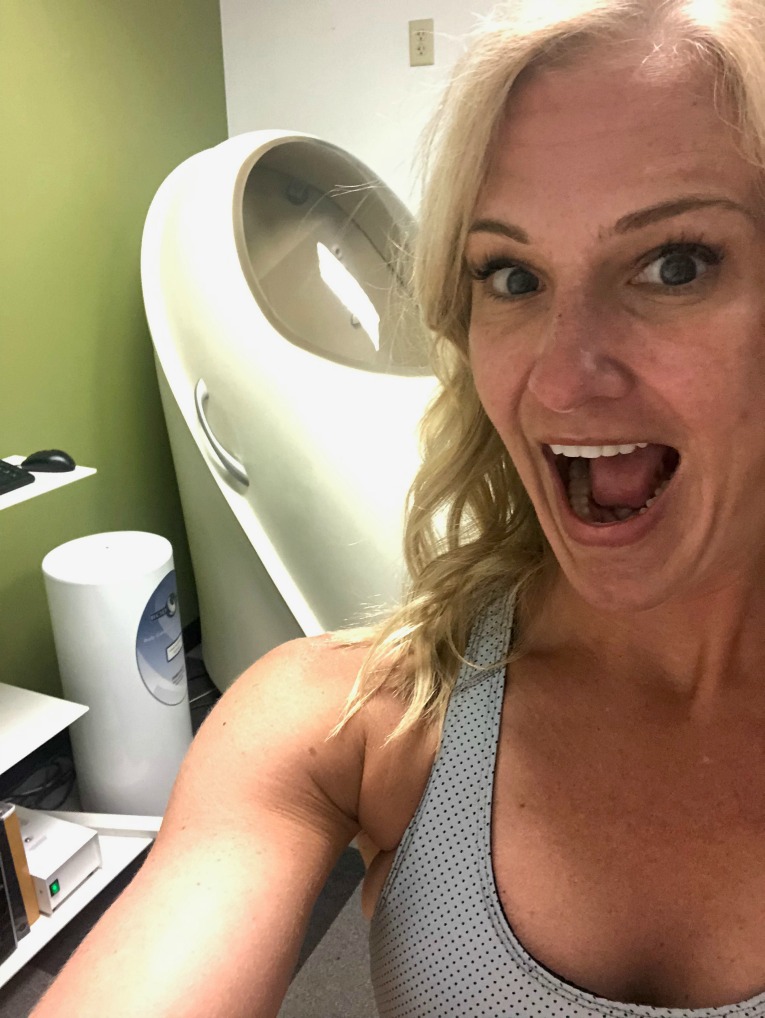 I did the Bod Pod as step 1 of a month-long challenge at Discover Strength; the Bod Pod gives you a body composition reading regarding percentage of fat, metabolic rate, and caloric goals to lose fat. I am not planning to make any drastic changes for the challenges, except at least 2 strength training sessions per week and a more thoughtful look at what I'm eating (and drinking.)
Anyone else ever done one of these? After the end of the month, I'll do one again to see if I made any progress.
Sunday: Oiselle run at the Lakes Running Company in Excelsior.
6.75 miles for me; there was a brunch afterwards at Coalition across the street from the store, but unfortunately, I didn't have time to stick around. It's such a great group of women, I'm so glad I joined my local 'flock!'
Summary: About 48 miles of running, no strength training- boo! With Dustin in Miami for work, so I was a "single dog-mom" and could only fit in running this week. Hopefully next week will be better! The whole idea of the Body Comp Challenge that I'm doing is that I need to strength-train twice a week, so I'm going to try as hard as I can to fit it in.
I'm linking up with Running on the Fly and Confessions of a Mother Runner as part of their Weekly Rundown. Check it out!
(Visited 270 time, 1 visit today)