Another week, another weekly recap! Here's how training went for the Indianapolis Marathon:
Monday: 8 solo miles before work, easy pace 9:30 min/mile, Discover Strength session after work.
Tuesday: 5.5 miles with Matilda (my dog) before work, 9:15 min/mile
Wednesday: Workout Wednesday! 3 miles easy, 2 miles at 8:05, 3 minute jog, 6x (200m with 200m jog recovery), 3min jog, 1 mile at 8:00, 2 mile cool-down. 10 miles total before work!
Thursday: 8 easy miles before work, 9:38 min/mile with a few friends! Discover Strength session after work.
Friday: After 4 days of getting up super early, I decided to sleep in; I ran after work from my office along the River Road. 5 hot miles (We had an excessive heat warning. It was a scorcher!)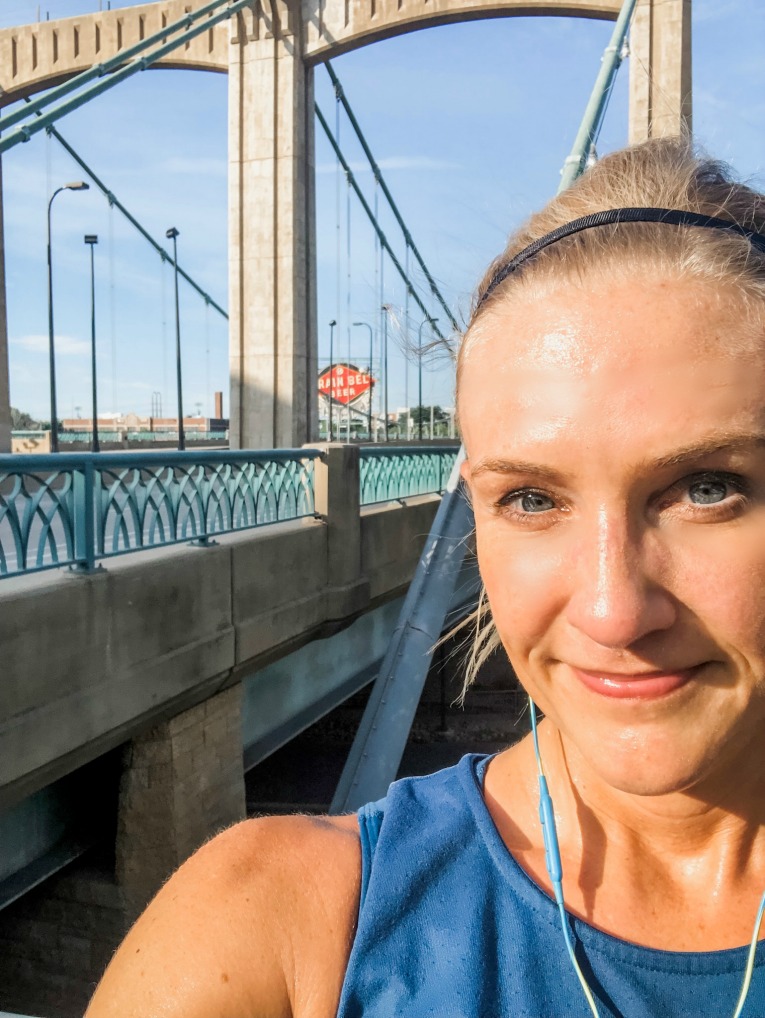 Saturday: 12.5 very hot and humid miles. I was supposed to do a progression in the long run, getting faster every mile for miles 5-10, but with the excessive heat warning, I just couldn't. I was barely able to keep up a 9:30 min/mile average!
I promised myself I wouldn't complain about running in the heat. You don't break your leg slipping on the ice in the heat, right? Nope! I just slowed the pace, took plenty of water breaks (every fountain I passed!) and focused on getting through the miles.
Sunday: Dustin, Matilda (our dog), and I ran 4 miles together. It was quite hot, so we let Tilda stop multiple times to get into the lake to cool down. 8:51 min/mile. I've been enjoying our little 'family' runs on Sundays!
Summary: 52 miles of running 2 strength sessions at Discover Strength. High mileage, yes, but mostly very easy paced, especially due to the heat!
After Saturday's long run, I drove out to Chanhassen for a follow-up bod-pod test. If you recall, I did the first bod-pod test at the beginning of the month, (read more HERE) and then participated in a challenge through Discover Strength where I did at least two strength training workouts a week, tracked my food on MyFitness Pal, and had a coach/nutritionist monitor everything to ensure I was getting enough protein, etc.
I was surprised to see that I decreased percentage body fat by about 4% in just a month. To be honest, I am a little skeptical about the results, because I did the second bod-pod test after a long run in the heat, where I know I sweat off a few pounds. They claim that the bod-pod reading is based on air displacement and not affected by water weight, measuring lean muscle mass, but I have my doubts. I tried to rehydrate after the long run, but on a such a hot day, I have to think that it might have messed with the results, at least a little bit. Regardless, I do think the challenge was a success and I feel stronger, which is all I wanted!
Besides, I probably lost all those gains through my activities the rest of my weekend…
Saturday afternoon, we met up with my younger sister Laurie, her husband, his sister and her husband, at Bauhaus Brew Labs in NE Minneapolis for a beer.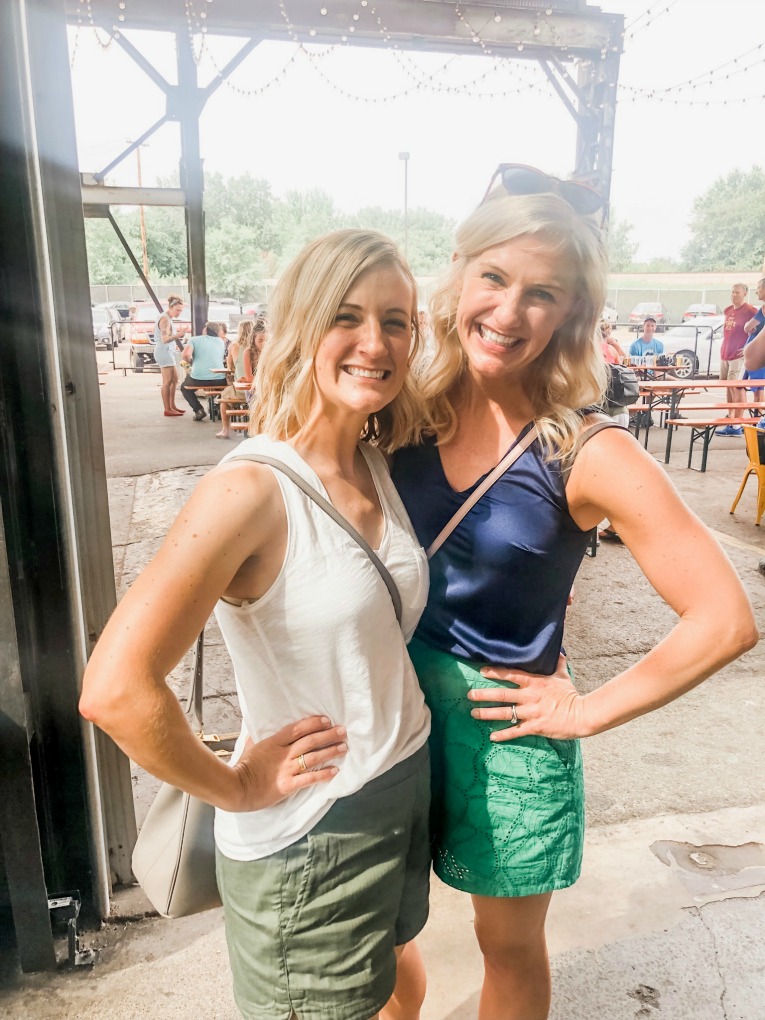 They were in town for a show at the Ordway in St. Paul.
After catching up with them for awhile, we went to Rock the Garden at the Walker Sculpture Garden.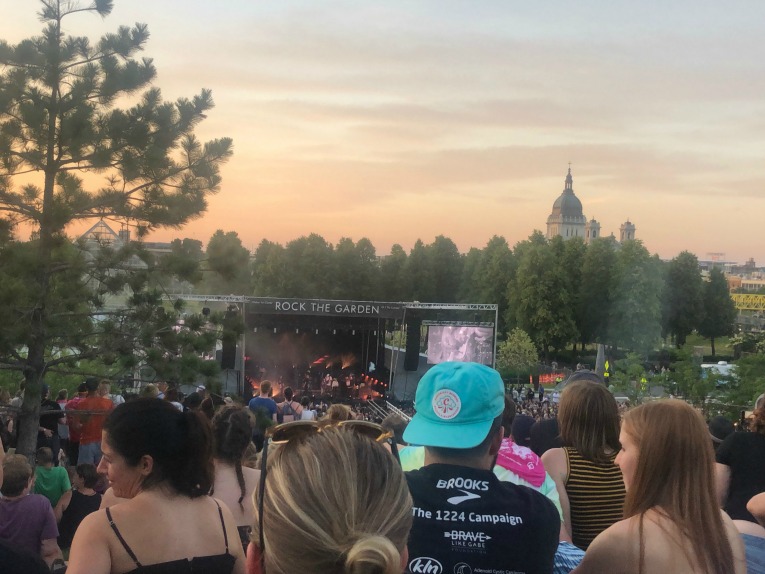 It was SOOO hot out there, but still fun to be outside and listen to some new-to-me music.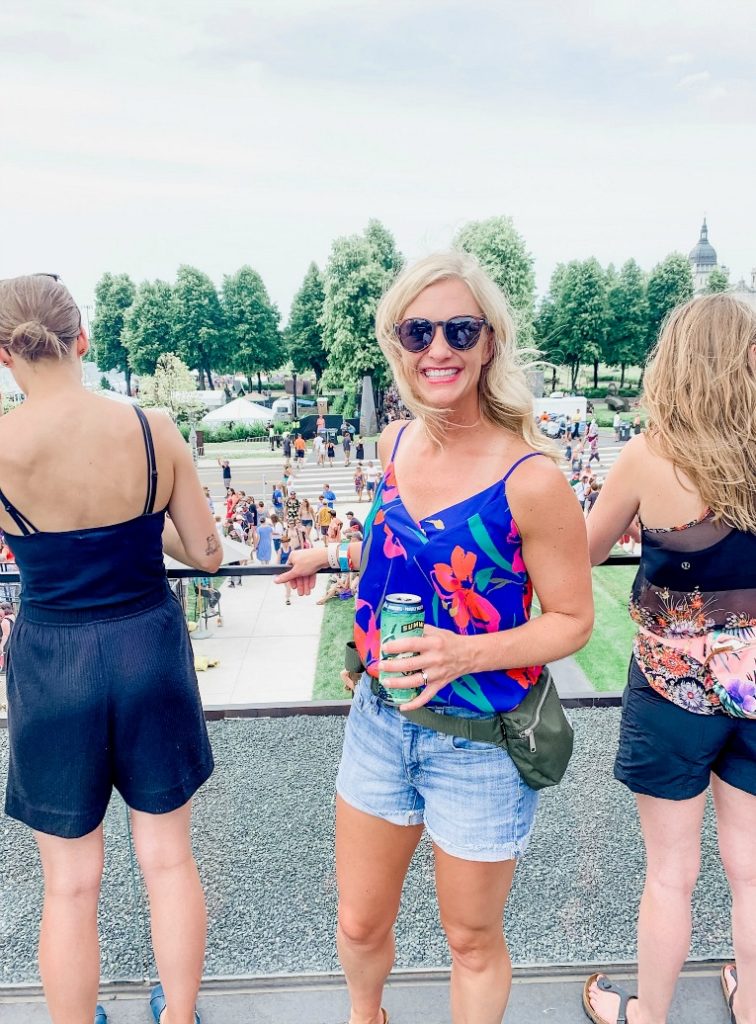 Sunday, after the quick 4 miler, we met our friends Craig and Richard for brunch at Red Cow. Plenty of beers on Saturday, mimosas on Sunday- my guess is that my bod-pod gains were gone, ha! Worth it for a fun summer weekend, right?
I'm linking up with Running on the Fly and Confessions of a Mother Runner as part of their Weekly Rundown. Check it out!
(Visited 225 time, 1 visit today)