Hello and welcome to July! Summer is in full swing over here. Here's how training for the Indianapolis Marathon went this holiday week.
Monday: Total rest. I woke up to lightning and thunder. The treadmill did not sound appealing. I had a dr. appt after work so wasn't able to run. Unplanned rest day.
Tuesday: I was feeling super anxious this week about work, so I just could not sleep. I was up and out the door running before 5 am. 3 miles easy, 4x (600m hard, 200m recovery, 400m hard, 200m recovery, 200m hard, 400m between sets; basically 8k of work) then 2 mile cool-down. 10 miles total before work.
Discover Strength 1-on-1 session after work.
Wednesday: 7.5 solo miles before work, and then in the evening, we drove up to Dustin's family's cabin in Gordon, Wisconsin.
Tilda's favorite place is the cabin!
Thursday: We slept in and finally made it out for a run around 9 am. It was HOT and those deer flies were terrible. I managed to cover 9.25 hilly miles at a 9:19 min/mile pace. Dustin went shorter and then drove out to find me to make sure I hadn't been eaten by a bear…and also to give me some water, which was much needed!
I did find a water fountain at a local ballpark, which was lovely, though at first, the water was boiling hot! After it ran for a little bit, the water was much cooler and refreshing.
Friday: 5 cabin miles with Matilda. No bears. Lots of bugs.
Saturday: Dustin and I had registered for the Gordon Good Neighbor Days 5k, which started at the same ballpark at which I found the water fountain on Thursday. To get in more miles, I ran the 4 miles to the park, thinking I'd add on some miles after the race to get to the 8-9 my coach had on the schedule.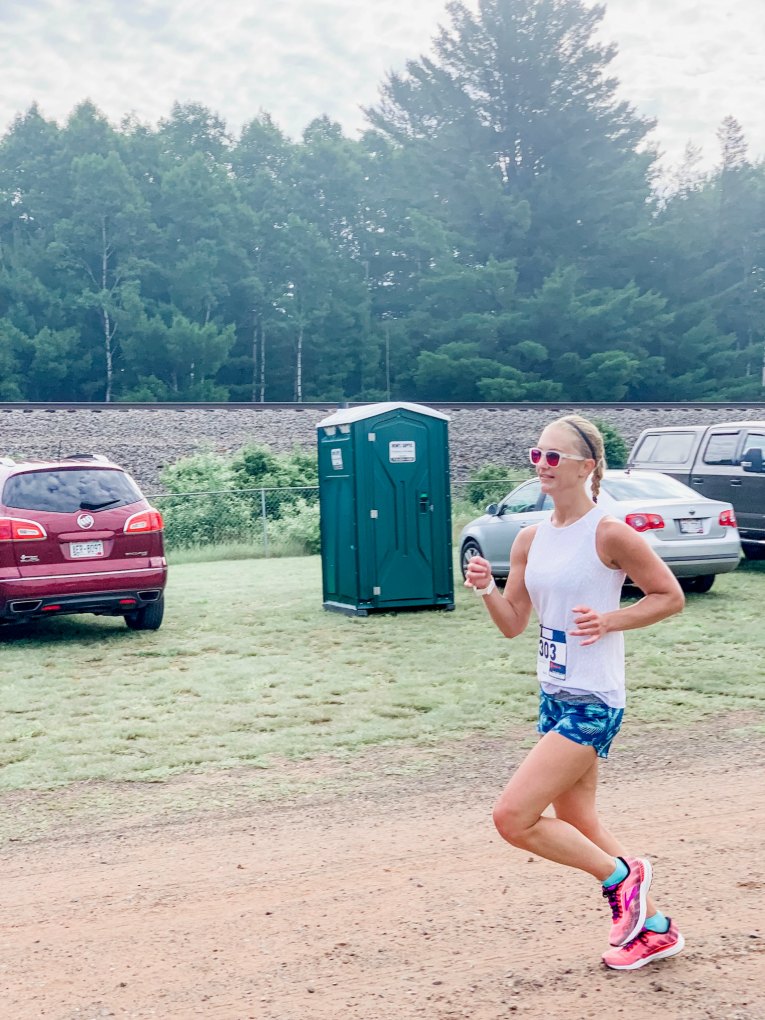 Well, the 5k turned into a 4.6 mile run for me, as the course wasn't marked correctly and the lead runners (i.e. Dustin!) took a wrong turn and I blindly followed. Dustin ended up with 5 miles total, but still came back somehow to place 3rd overall. (It was a very tiny race and most of the people actually 'running' took the wrong turn, so they may not have gone 5 miles, but most runners went more than 3.1.)
I, unfortunately, wasn't able to catch all the female runners who took the correct turn so I lost my 2nd place female spot and just eased up and did the miles when I realized what had happened. Oh well! It's just a small town race, I'm not too worked up about it. Still fun. 8.6 miles total for the day.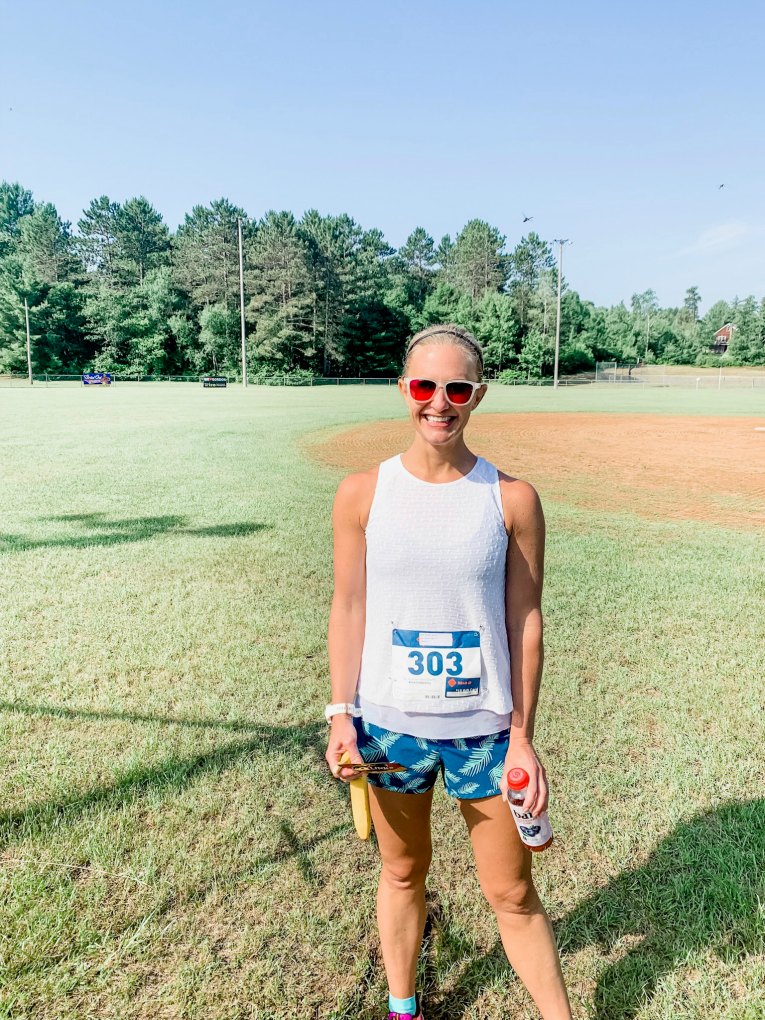 We drove back to Minneapolis late Saturday so that I would have a day to unpack and repack, as I am heading to Montauk (in New York) for the week for a work offsite. Anyone have any advice as to where I can run while I'm there? I've never been to the Hamptons and am looking forward to it, although it is work…and of course I'm nervous about making sure I get in my miles!
(We were back in Minneapolis in time to grab dinner at Tilia, one of my favorite neighborhood restaurants. Dinner was courtesy of my sister's friend Jen, who stayed with us for the Twin Cities Marathon and gave us a gift card as thank-you. So generous!)
Sunday: 8 miles in Minneapolis. The first 5 were with Dustin at a faster clip and then the last 3 alone at my pace. 8:44 min/mile average for 8.
Sunday was also Dustin's birthday. We had a delicious dinner at Hai Hai to celebrate (love that place!)
Summary: 48 miles of running, 1 strength session.
I'm linking up with Running on the Fly and Confessions of a Mother Runner as part of their Weekly Rundown. Check it out!
(Visited 225 time, 1 visit today)