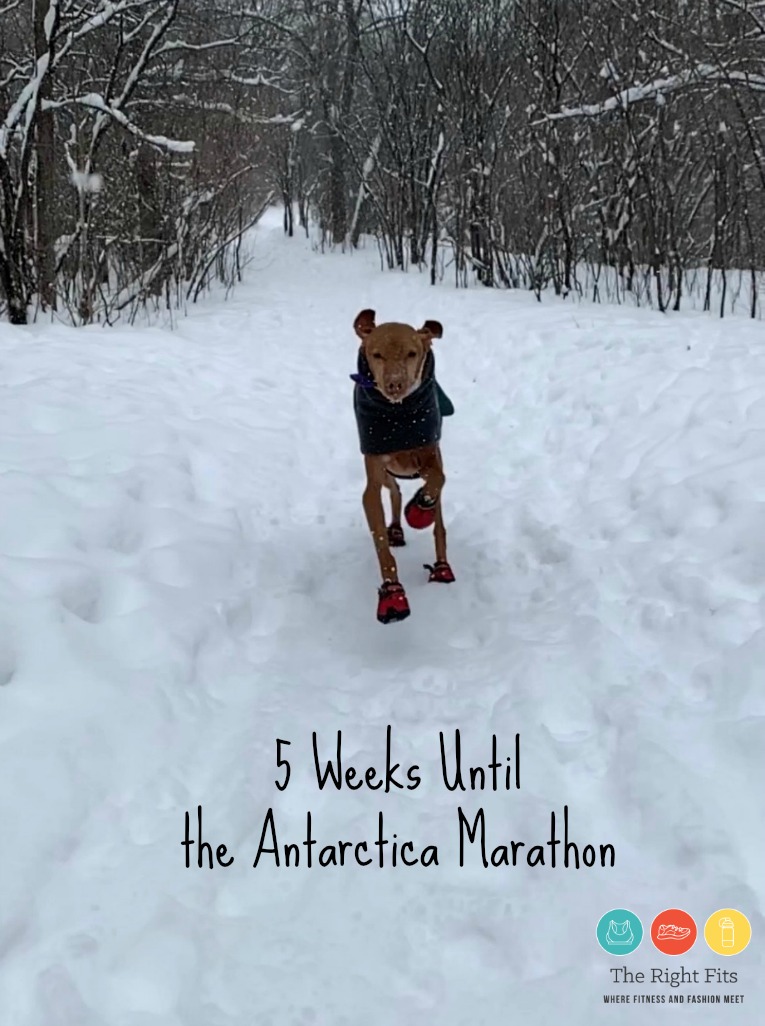 5 weeks until Antarctica!
I'm still feeling really nervous about posting about it, or even letting myself get too excited. After all, I'm publishing posts with the same title that I wrote a year ago…
Fingers crossed that the next 5 weeks are healthy and injury-free!

A few people have given me a hard time about not getting outside to run when I'm supposedly training for Antarctica.
Yeah, I won't be heeding their advice.
I would much rather show up in Antarctica unprepared for the winter running than not show up at all. I, for one, have not forgotten about last year's broken leg and cancelled trip!
Additionally, I'd like to think the previous 14+ years of Minnesota running will have prepared me enough for the conditions I'll face. My goal right now is just to stay healthy and actually get to go on the trip this year!
Speaking of the broken leg incident, next Sunday will be the one-year anniversary of that fateful day. I need to do something to commemorate the occasion. Any ideas? My sister wants to do a slow-motion run across the exact spot I slipped. Seems dangerous!
Okay, on to my weekly recap!  Training was entirely indoors this week, due to lots of snow and ice and cold in Minneapolis.
Monday: 5 miles easy on the treadmill before work. After work, I took an introductory "Discover Strength" training session. My friend Vicki has been raving about these workouts, so I decided to give it a try. It's a really intense 45 minute strength workout, either one-on-one with a trainer, or in a small group of 3 other people. The trainer pushes you to failure on a variety of moves, with the idea that you can accomplish a lot in a small amount of time.
It was pretty hard- I was very sore afterwards!
Tuesday: 5 miles after work on the treadmill.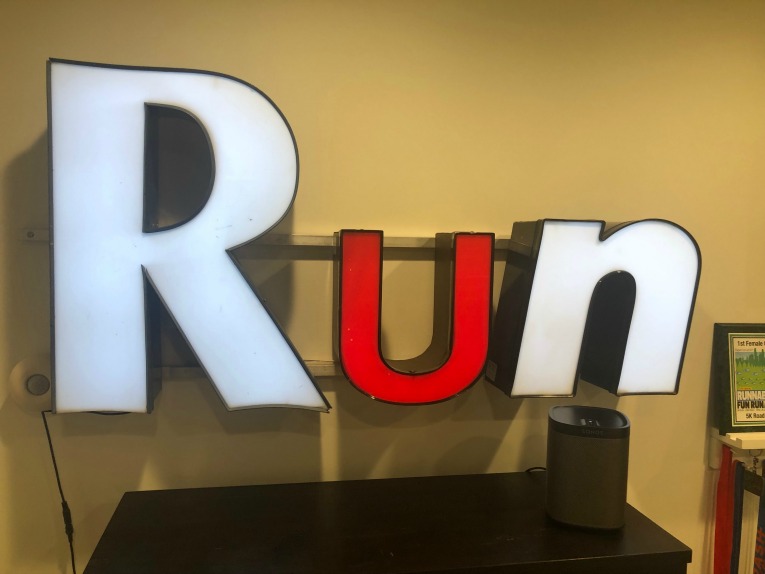 Wednesday: 5 miles before work on the treadmill.  That evening, I had a work event at the Norseman Distillery; we had a meeting first and then took a cocktail class. It was great fun!
Thursday: Well, after the cocktail making class the night before, I was too tired to run before work. I had a second Discover Strength session planned for 6:15 pm, so I went to the session and then ran on the treadmill at home after the workout. (5 miles.) Running after strength training was not a good idea. I felt like my legs just wouldn't cooperate!
Friday: 4 treadmill miles after work.
(Here's a little part of the mural by my treadmill that you don't usually see, as its blocked by the treadmill- signs pointed towards the locations of several different marathons that we've run!)
Saturday: 10 treadmill miles. My first double-digit run after the Houston Marathon 3 weeks ago! (Catch up on that my recap of that race HERE.)
Sunday: Another 10 miles on the treadmill. Rather than bumping up quickly on the long runs again to prepare for Antarctica, my coach is having me do two 'longish' runs both days on the weekend to build for this weekend and next, and then one 20 miler after that.
I hope the weather is better for that 20 miler so I can do it outside, but if I have to do it on the treadmill, I've done it before and will do it again!
Summary:  44 miles of running, 2 strength sessions.
I've been doing a ton of purging and organizing in my home recently. How did we accumulate so much stuff??  This weekend during my organizing, I realized that I have nearly 20 pairs of Oiselle rogas- just a bit excessive!
Not to mention all the Oiselle distance shorts, Rabbit shorts, Patagonia shorts, lululemon shorts, and many other random pairs of shorts.
Clearly, too many running shorts!
Is anyone following Marie Kondo's recommendations for folding when it comes to your running clothes? I would love to see a picture of how you've done it! I followed her advice for folding for my shirts/tanks, but not my shorts or my socks yet.
That's it from me this week. Thanks for reading, and be sure to check out all the other great weekly recaps that are a part of  HoHo Runs and Taking the Long Way Home 's weekly recap link-up!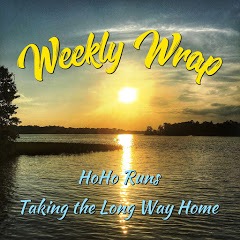 (Visited 383 time, 1 visit today)