Hi everyone!
Big day in the marathon community, wasn't? I swear, everyone I knew had a race today…even me 🙂
Here's how my week of training went:
Monday: 5.25 in the morning with a few friends and then another 5.25 after work with my friend Vicki. I had no reason to do a double other than I wanted to catch up with both groups of friends and running was the best way to do it!
Tuesday: Complete rest after yesterday's double. Cooked up a big batch of this pasta (quick, easy, and tasty!) to eat for the week. Carbo loading!
Wednesday: I was supposed to run in the morning with a friend, but we got 'stormed' out, so instead I ran 7.3 miles after work on Minnehaha Parkway. 9 min/mile
Thursday: 4 morning miles with Tilda, 9:25 min/mile
Friday: 5 morning miles with my friend Christie and Matilda.
Saturday: easy 4 miles with Tilda. Then I picked up my sister and her friend (who was also running TCM) from the airport and we headed straight to the expo:
After the expo, we did two more miles as their shakeout run.
Sunday: The Twin Cities Marathon!
Surprise!!!
So, I registered for TCM to pace my sister to her 4:30 goal. I hadn't mentioned it on here because I wasn't 100% sure that I would run it all. Afterall, FIVE marathons in 2016 is a lot (Phoenix, London, Grandma's, Big Cottonwood, and now TCM) but I wanted to pay it forward after Dustin paced me twice this year. I also was really excited to experience one of my all-time favorite marathons with no pressure. (Well, technically, that's not true- there was pressure to hit the paces Erin needed.)
I'll write a separate post about my first experience pacing as well as how I 'trained' to do a marathon four weeks after my last one.
Bottom line- pacing Erin was a success and it was so MUCH FUN. She was a little off her goal (finish time was 4:35:10) but it was a 17 minute PR for her. She ran very strong and I had a blast helping her achieve that goal!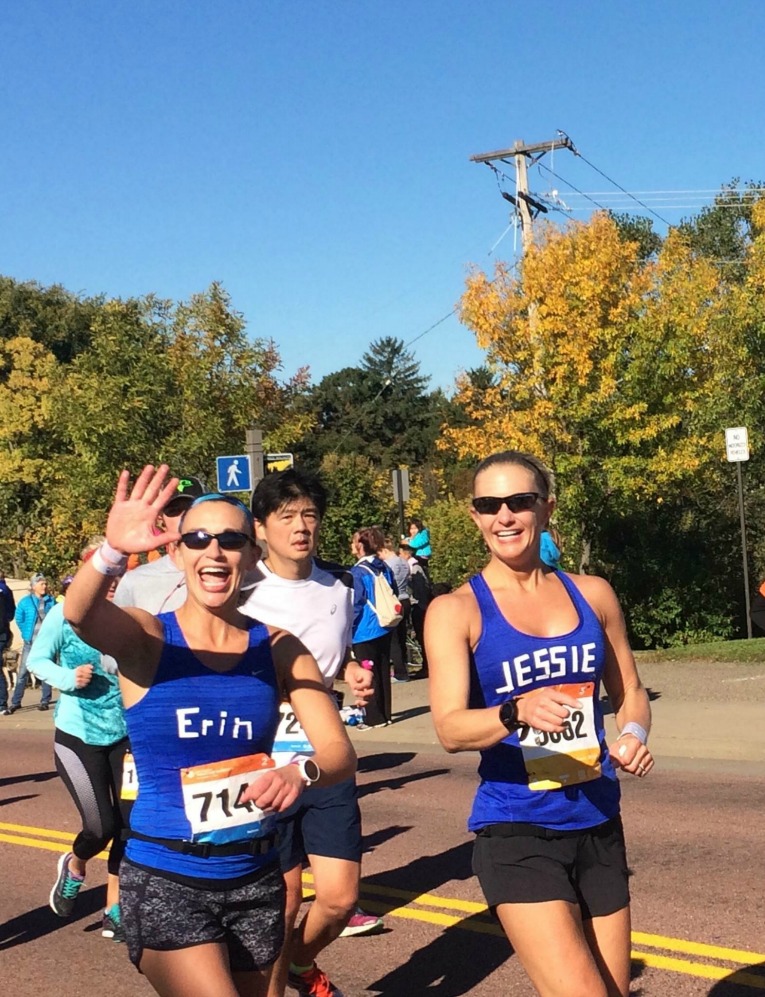 I'm sorry if I didn't mention it here (especially to Eri, who asked me directly- so sorry for lying!) I don't think four weeks between racing marathons is a great idea, but pacing a marathon an hour slower than my marathon four weeks ago felt okay. And now I'll for sure be on a marathon break until Boston!
I don't have a ton of time to write more about the race, but we had perfect weather and I remembered just how much I LOVE this marathon. The spectators are phenomenal. So are the volunteers. And the WEATHER! The weather was picture picture sunny but cool fall day.
Let me know if you had a race this weekend! Or join Jess and my linkup below with more details of your training 🙂
(Visited 654 time, 1 visit today)