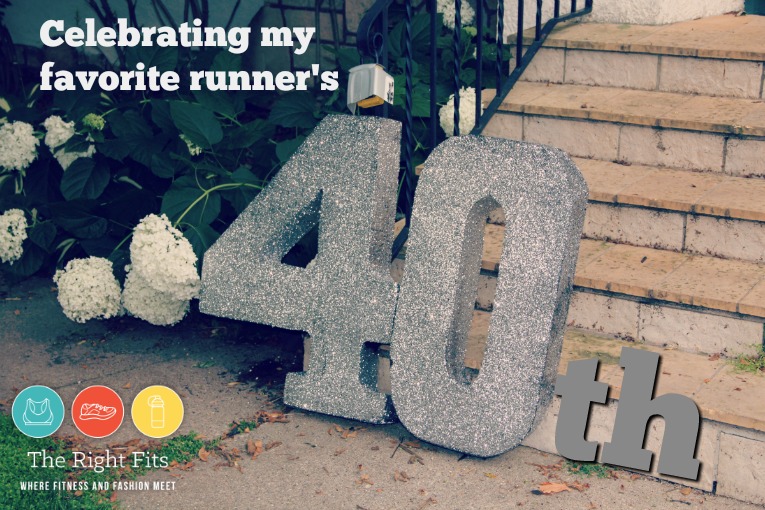 Last Thursday was Dustin's 40th birthday. I know, I can't believe he's 40…He's a young 40 🙂
Anyways, he doesn't like to be the center of attention, but I still wanted to celebrate this momentous day.
I decided to plan a "surprise" party that included things he likes- running, pizza, and beer. Casual, easy, perfect for my favorite runner. And on a  'school' night, so I knew it wouldn't go too late!
I decided that a 40 mile run would be crazy. Even a 40k would be a bit too long for a Thursday night. Instead, I went with a 4.0 mile run!
I took a half day of PTO to prepare for the party, which included running the course, marking the route with chalk and signs. It was a pretty easy course- our house to Lake Calhoun clockwise and back to our house. But I didn't want anyone to get lost!
Matilda and I ran the 4.0 mile loop, carrying chalk, tape, and signs. Not easy! She was confused as to why we kept stopping! <– I explained it was for a birthday surprise!
(By the way, I recently joined Strava. Let's connect on there!)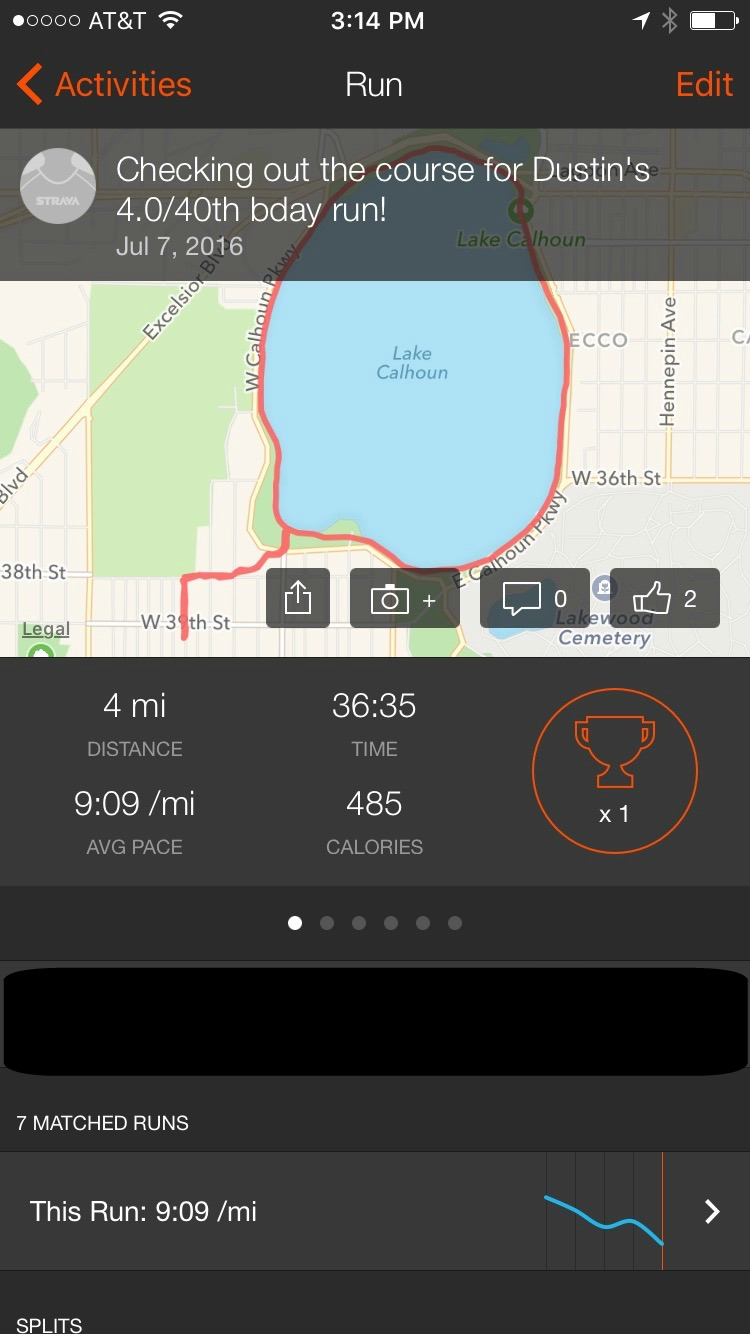 I found a great picture from Dustin's high school cross country days, which I was able to put onto a cake! Love that hair.
There was a "wave" start- Birthday Wave, Masters Wave, Fast People, and Fun Runners!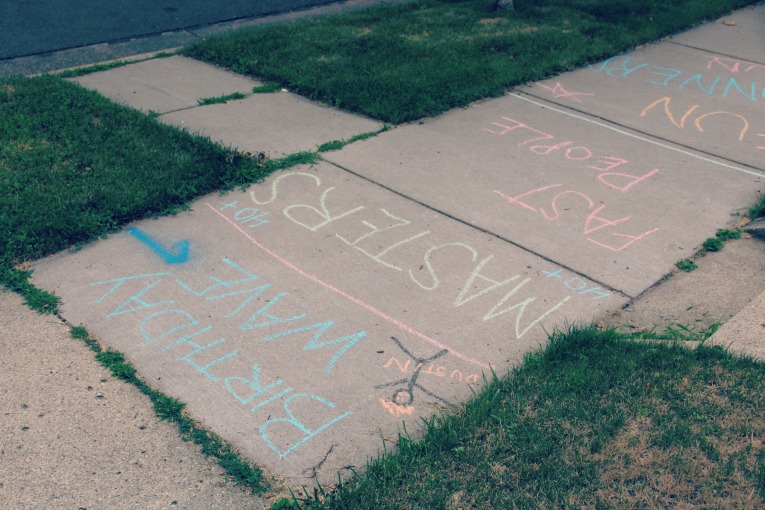 I ordered decorations primarily from Etsy (the big 4-0 numbers from above are from this Etsy store).
Dustin's "Awesome since 1976" shirt is from Amazon.

The "race" started promptly at 6:15 pm with the National Anthem 🙂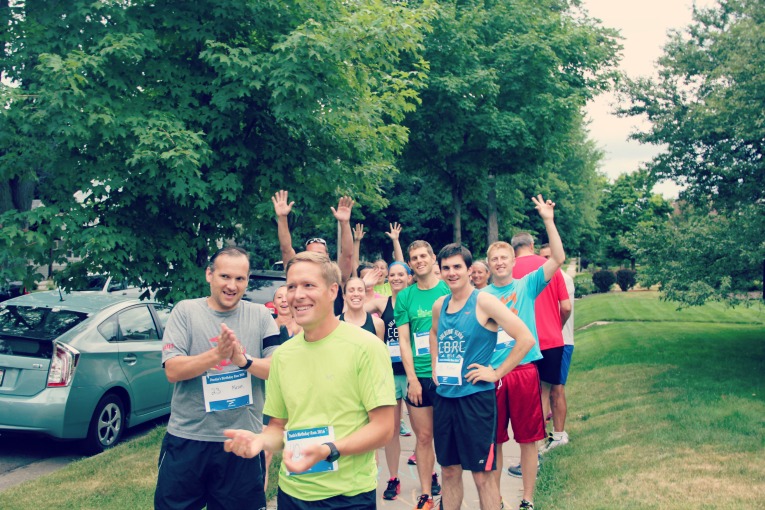 My friend Peri was my co-"race director." She helped me with the pizzas when they were delivered from Pizza Luce and helped protect things when it started to rain. Thanks Peri!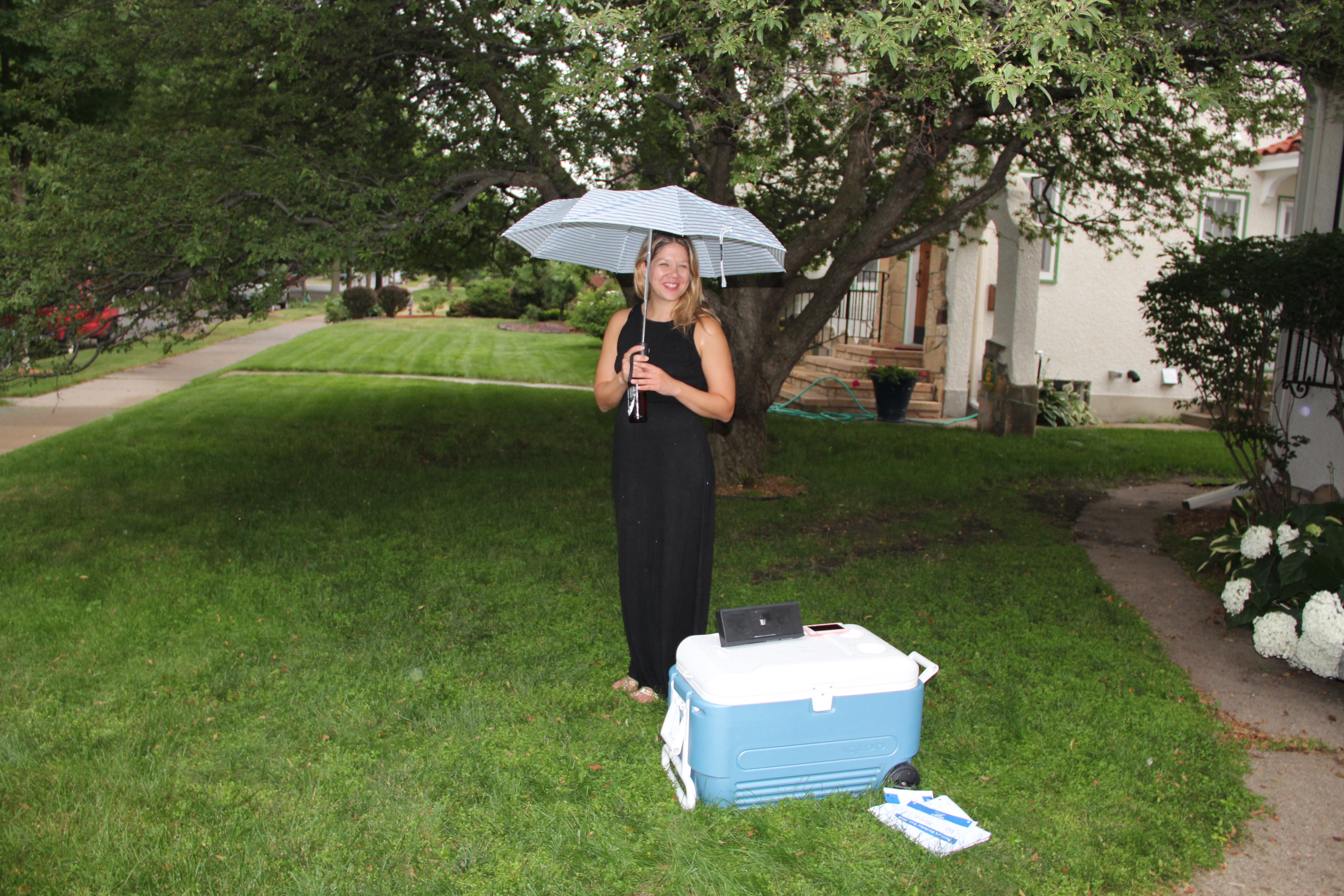 Fortunately, these were all fast runners so they beat the storm.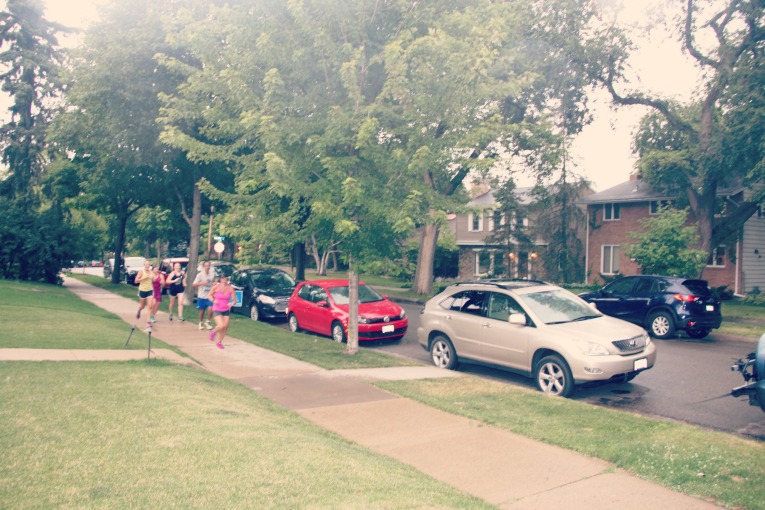 By the way, this race was official; I mean, I rented a race clock from MDRA (Minnesota Distance Running Association.) Legit.
About 25 runner friends RSVP'd, though some decided to add on another lake to get more miles (only about 15 people pictured below)
Our friends were kind enough to take down all the signs on the run back. Thanks guys!
I told the runners they could keep their shoes on (even on my brand-new wood floors…)
But most people took them off.
That's a lot of running shoes!

I asked the runners for feedback on the event.
Pros?  Race was clearly marked. Post-race food was great (Pizza Luce , salad, watermelon, chips and of course, birthday cake). Plenty of water and Gatorade at the finish. And all kinds of beers.
Cons?  Bathrooms were limited to three.  Race bibs were printed on regular paper, so they disintegrated quickly in the rain. No chip time.
(Let me tell you, runners can eat a lot of pizza and drink their fair share of beers!)
Overall, I think it was a good time. Even for this reluctant birthday boy!


Happy Birthday Dustin!
(Visited 1,467 time, 1 visit today)