Yes, it's official! I registered for the Big Cottonwood Marathon on September 10th. Boston registration opens on September 12, so this will be my 'last chance marathon.'
It starts at altitude, but it has a LOT of downhill. My coach said I'll need to do some hard training on the downhill to prepare my quads.
But look at those stats- 25% of runners qualify for Boston at Big Cottonwood. I like my odds!
I'm excited for this marathon!
Speaking of Boston qualifications, I have been reading reports that ALL Boston qualifiers will be able to register this year. Have you heard this? Apparently, so many of the big qualifying marathons were super hot this year (Chicago, Boston) that a lot less people qualified. In fact, usually Grandma's Marathon has about 1,500 qualifiers and this year there were only about 300! So who knows, maybe my 36 seconds from the Phoenix Marathon would be enough, but I'm going to assume that's not true and try again in nine weeks.
Yes, only nine weeks of training. Two of those will be taper, so really just 7 weeks to get ready to run a 3:35; I'm ready and pumped to share my journey with you.
Here's how training went this past week:
Monday: We were still at the cabin. I had my first 'tempo' type workout, which was 2 mile warm-up, 6x1200m at a 7:30 pace with 1 minute recovery in between, and 2 miles to cool-down. Dustin did the workout with me.  I had sort of set myself up to fail, as I wasn't well hydrated and cabin running is HOT and HILLY. I hit the first three 1200's on pace, but the last 3 were a disaster. I suffered through it. 8.5 miles total.
Tuesday: Last day at the cabin. I ran 6 easy miles in the morning and then another 4 once we returned to Minneapolis. 10 miles on the day.
Wednesday: Rest from running. I used this as a strength day and took a [solidcore] class after work.
Thursday: Short speed workout: 1 mile warm-up, 15x200m at a 6:55 pace with 45 second recovery, 1 mile to cool-down. I've noticed a pattern where my coach usually does one tempo-like workout and then one short fast speed workout each week. 5 miles total.
I had a second run on the schedule, which I did around 3 pm to mark the 4.0 mile route for Dustin's 40th birthday run. About 9 miles on the day.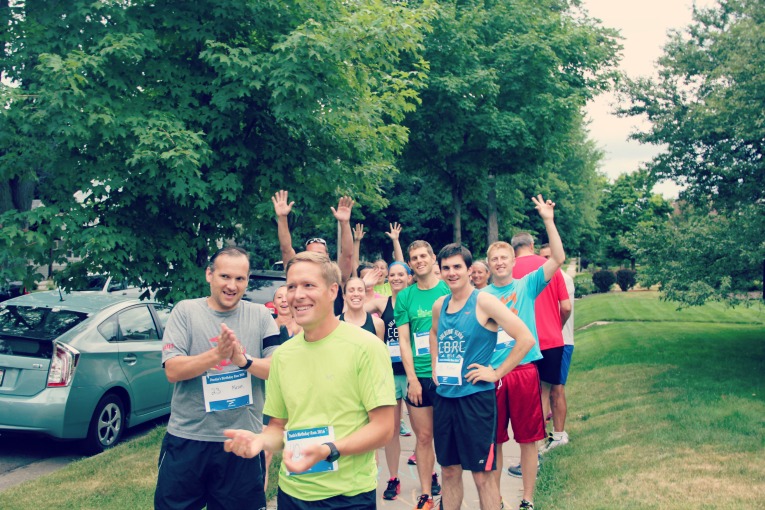 Friday: Easy 7 miles in the morning.
Saturday: 14 mile long run, easy pace (about 9 min/mile average, though we started out much slower and then I worked my way down to closer to 8:20's at the end.) This was my longest run since Grandma's and I felt pretty good. The weather was much better; it helps that our run club starts at 7 am now in the summer to try to beat the heat. Twin Cities in Motion had a support stop set up at the Calhoun Executive Center, so we set up the route to hit that stop twice over the 14 miles. Perfect.
Saturday night, we went out to dinner at Upton 43, a restaurant in our neighborhood, to continue with Dustin's birthday celebration.

Sunday: Easy 7 miles with Matilda. I slept in a bit and then lounged until basically the lunch hour and it was pretty hot. I could tell Matilda wasn't feeling it, so I let her take a lot of water breaks and breaks in the shade (remembering my tips for running with your dog in the heat.) 7.5 miles total.
Summary: About 56 miles, 1 strength day
It feels great to be back at training. I'm excited for this "last chance" for Boston 2017 and sharing the journey with you guys!
Do any of you have your fall race picked out? Please share! Let's hope that all this hot and humid training will make us stronger come fall, right? 
(Visited 457 time, 1 visit today)