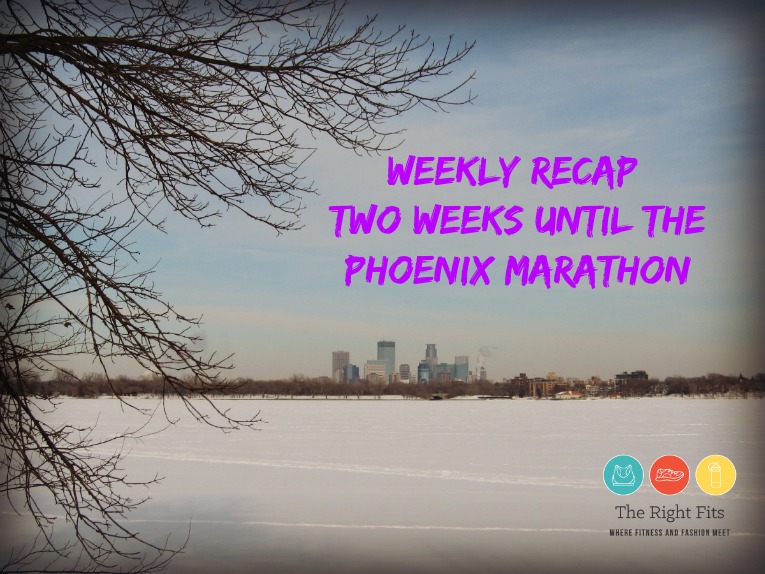 I still love running; I'm just not "in love" with running.
That about sums up this week. If you recall, last week was a big one- it was my peak week with 76 miles. I loved running last week. But this week? It kinda lost its charm. The incredibly cold windy weather meant that I was on the treadmill basically the whole week. And of course, my body was tired from the previous week. And I had the calf pain. I was a little burned out. I'm hoping the rest of the taper feels a lot better, but the taper is ALWAYS a challenge, especially mentally! (Check out this post with tips for the taper.)
Monday: I woke up to some crazy winds…With Dustin still out of town on a ski trip, the treadmill wasn't an option in the morning. I don't have a treadmill at home- I will soon! But for now, I would have to head to the gym close to my office so it makes sense for me to go straight to work afterwards. Anyways, I had my appointment at Orthology to get my calf worked out. It felt quite a bit better afterwards and they gave me the okay to run. I did 7 easy miles on the treadmill after work.
Tuesday: Double run day. Yasso 800's on the treadmill: 6x800m with 2 minute recovery, 2 miles to warm-up and 2 miles to cool down for 7.5 miles total. Another easy 5 on the treadmill after work. 12.5 miles total for the day.
Wednesday: Another double run on the treadmill. 6 miles in the morning, 5 in the evening, 11 miles total.
Thursday: Easy 4 miles on the treadmill.
Friday: REST! I went to see "How to be Single" with some girlfriends. It was a cute movie- probably more of a 'rental' than a "must-see" in the theater, but it was still a fun way to celebrate "Galentine's" with friends.
Saturday: Last significant long run! 16 miles with 12 at goal marathon pace.
So, after 34 miles earlier in the week on the treadmill, I couldn't stomach the idea of doing my long run there as well. But Saturday's forecast was pretty terrible. It was -8 degrees real temperature when I woke up, and it wasn't going to reach zero degrees by the time we finished. But, I decided to bundle up and give it a try. I figured I could always cut it short and finish on the treadmill if it was too unbearable.
And guess what? It wasn't that bad. I had 16 miles with 12 of them in the middle at goal marathon pace. Dustin paced me and it went pretty well! The sun was shining and the wind wasn't too bad.
Sunday: 5 miles recovery with my two favorite Valentine's (….Dustin and Matilda :))

Summary: 55 miles. About a 25% decrease from the week before. It would have been closer to a 20% decrease, except I skipped one double run on Sunday to rest the calf. I opted to go watch some live music for Valentine's Day instead.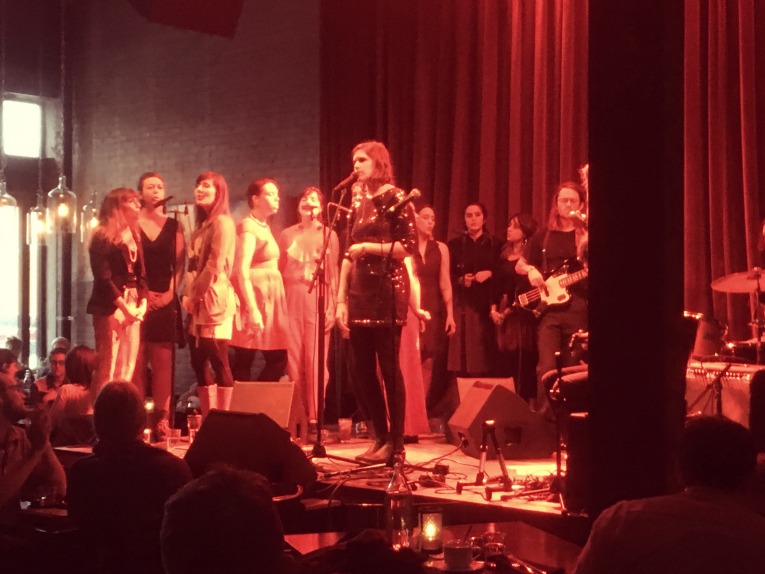 Back to Saturday's long run- The run was better than I expected, except for the fact that I did end up with frostbite on my chin- seriously! I think it's because my balaclava got sweaty and then froze; it froze my skin! I have never had that happen before, but I sent a picture to my sister (who's a doctor) and she said it definitely looks like frostbite. Not great..or very pretty, ha!
Running in that kind of cold is hard on the body (in my opinion) and I was pretty beat afterwards. But instead of taking a nap, I headed over to a friend's apartment to watch the Olympic Trials.
(This is how runners watch the trials after a long run…on the foam roller!)

Did you guys watch the race? It was so exciting! Here are my thoughts:
The NBC footage wasn't that great. The focus seemed to be more on the men, even though the women's race was way more exciting (and I'm not just saying that because I'm a woman.)
I got better information from Twitter than from TV.
I would have loved to see more data during the race, i.e. pace per mile for the lead runners. When Shalane started to struggle at the end, did her pace slow way down? I read most pace per mile information on Twitter.
It was so heartwarming to watch the friendship between Shalane and Amy. Amy really helped Shalane when she was struggling and it was so nice to watch. When interviewed at the end, Shalane said "Sweet baby Jesus, thank god for Amy." Loved that!
At the brunch, there was quite the debate as to whether Amy should stick with Shalane and of course, would each of us do the same? I think Amy did everything she could to help Shalane (and more) but at what point is it okay to leave your running buddy behind? At what point, do you have to run your own race?

In this circumstance, Amy could see how close Desi Linden was behind her and when Desi got too close, she went for it.

On that note, at what point would Dustin leave ME behind at Phoenix? Ha! I actually don't think he will because this race is for me. He's got his BQ secured; he's doing this race just for me (#swoon) 🙂
Galen Rupp- Can you imagine winning the first marathon you ever run? AND the kicker was that his first marathon ever was at the Olympic trials! Holy crap.
Meb Kelfzighi- you can't help but love him. He just seems like the nicest sportsman.
Kara…oh Kara. I was really rooting for her. I mean, as you know, we are BFF's, right?

I would have loved to see Kara come up from behind and place. I definitely got a little choked up watching her cross in fourth place.
But Kara said she "put it all out there." That's all you can do.
Her response was so classy and heartwarming. Love her.
Did you watch the trials? What did you think?
How excited are you for the Olympics?  I can't wait to watch them!
I hope you had a great Valentine's Day. I spent my day hanging out with this guy and all the animals.  l just love Tilda's face in this picture…
(Visited 279 time, 1 visit today)