WOW. What a week. It was my peak week in training and I survived. Barely! Here's how it went.
Monday: 1,000m repeats at a "cruise" pace, i.e. 7:40 min/mile. 2 miles to warm-up, 8x1000m with a 1 minute recovery jog in between, 2 miles to cool-down. 9 miles total. I ran this with Matilda the vizsla and when we got to the point in the route where we would usually turn for our normal 7 mile route, she was NOT interested in adding on a little more to finish the workout. a 7:40 pace is still "easy" for Matilda (she runs faster than that with Dustin all the time) but apparently she wasn't interested in the longer miles. I felt bad pushing her, but we were close to finished so I encouraged her to keep going and she obliged. I'm sure she slept well while I was at work!
Tuesday: 7 miles in the morning with two run club friends. Minneapolis received a huge blizzard midday; most schools were cancelled and a lot of my coworkers headed out early to work from home. I had a second run on the schedule and I thought it would be fun to run it outside- to show how Minnesotan I really am! After all,  it was just 4 miles; I made it to Lake Calhoun only to find that the trails weren't plowed and it was blustery and very windy around the lake. I decided to stick to the shoveled sidewalks in my neighborhood where it was a bit more protected. And it wasn't that bad! 11 miles on the day.
After the run, I shoveled our sidewalk. Then I made a snow angel.

A blizzard run was a good way to celebrate submitting our applications for the Antartica Marathon 2018! I know, it's crazy to think we are planning for  a race in 2018. And we are not even sure we'll get in, we're currently on the wait list (though we were told our chances are pretty good.) It would be the trip of a lifetime- I really hope we get in!
Wednesday: Another double run day, but this time I didn't fight the snow outside. Instead, I ran 7 miles on the treadmill before work and another 5 miles after work. 12 miles total.
Thursday: I ran with the Calhoun Beach Running Club after work. My workout was short sprints, or 8x300m repeats with 90 second recovery in between,  2 miles to warm-up and 2 miles to cool-down. 7 miles total.
Friday: Easy 5 miles in the morning.
I had to log in to work from home late in the the evening. Matilda "helped' by sitting on my lap of course!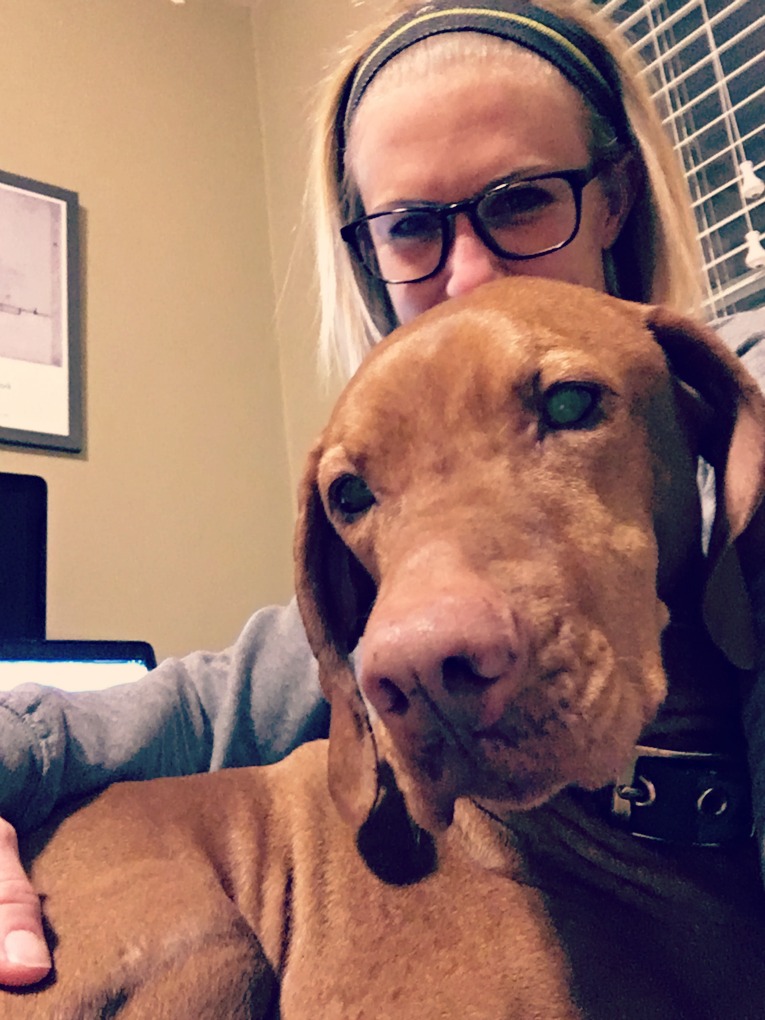 Saturday: My longest long run- 22 miles! It was tough out there too. The trails weren't very clear from Tuesday's blizzard and we were all working really hard to go at a slower-than-normal pace. My calf is sore now and I'm sure its from the snowy running. I have an appointment at Orthology tomorrow to hopefully work it out, and my coach re-arranged my workouts until after the appointment. We're not taking any chances this close to the marathon!
The long run route was from the Calhoun Beach Running Club down the Cedar trail to downtown and back up Nicollet to the club. I ran 7.5 miles before the club, 12 with the club, and 2.5 afterwards. It was pretty amazing that even though no one in my club is running the same marathon as me, I still had company for all but the first 3 miles (My friend Christie hopped in for 4 before the club with me and another friend added on after the club's 12 mile route with me. Pretty awesome!)  I joined the club for brunch after the run, then took Matilda to the dog park for about an hour, and then I crashed for a few hours- a much needed nap! 22 miles in the cold will do that to you.
Sunday: 5 miles in the morning with Matilda and my friend Vicki in the morning. Another easy 5 with Matilda in the evening. 10 miles total.
Summary: 76 miles. Uff-da! I was a little tempted to try to get to 80, but my coach reminded me it's not about "chasing the miles." Plus, the sore calf. No need to press my luck.
Running was the focus of this week, that's for sure. As for the weekend, Dustin was in Colorado  with two of my brother-in-laws skiing, so I was on my own. It was actually kind of nice! On Sunday, other than running with my friend Vicki, I kept to my introverted self the whole day and loved it.
Here are a few articles I read during my "me" day…and nope, I didn't watch the Super Bowl. I saw some of the highlights online, but skipped the actual game.
I hope you all had a great week!
(Visited 413 time, 1 visit today)