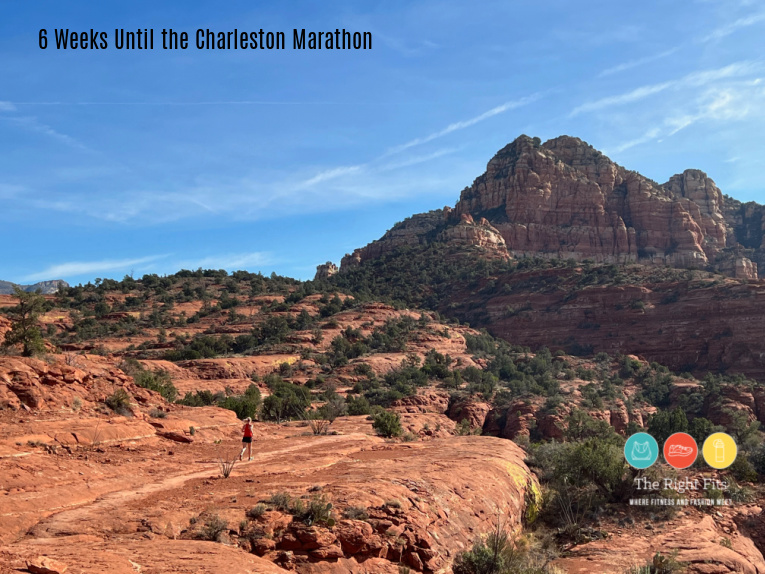 Happy Sunday! Another week has gone by, so I'm here as usual with my weekly recap.
This was an interesting mix of a week with a few days in Sedona followed by winter arriving in full force in Minneapolis. From running in shorts/tank to running on snowy trails, it was a week with a bit of everything!
Read on for the details…
Monday: 8.25 mile trail run/hike in Sedona. We did a big loop around Cathedral Rock, which was a shared trail with mountain bikers. For mountain bikes, it was rated a double black diamond; I cannot believe that anyone could BIKE that trail. We were scrambling on our hands/knees for quite a few parts and there were so many sections of sheer rock with drop-offs. No way could I do it on a bike, I could barely do it on my two feet! It took us over 2 hours to do 8-ish miles, which shows you that it was more of a hike than a run, but we ran when we could. Definitely still felt like a workout!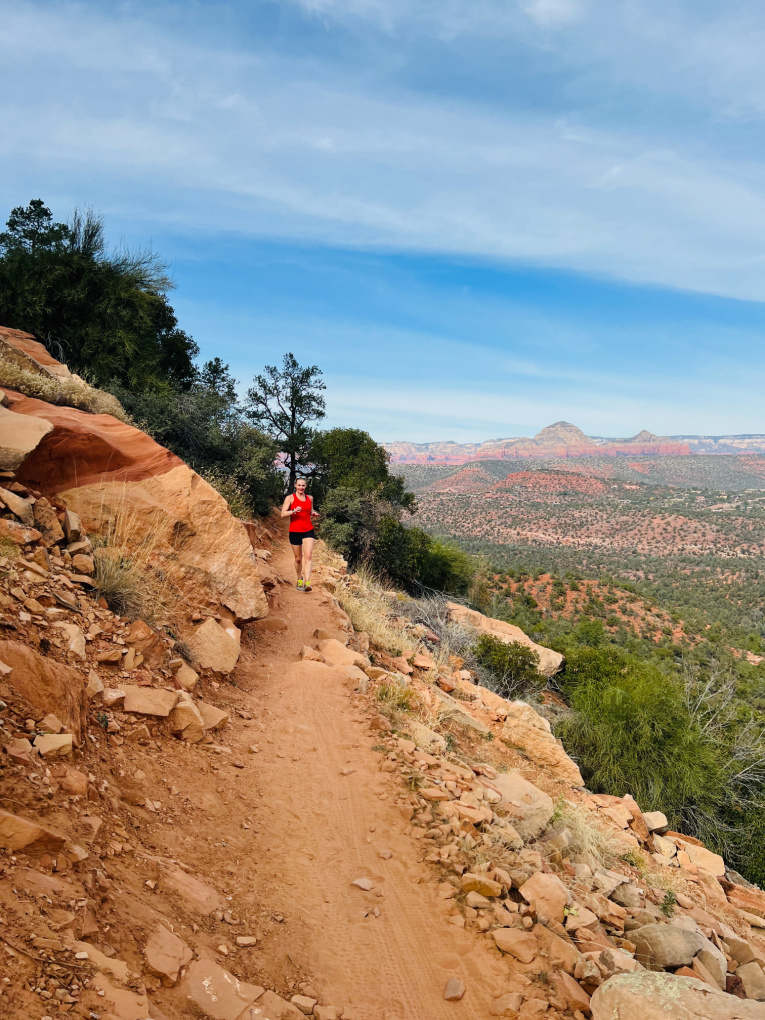 After the run, we decided to do the actual hike/climb up to Cathedral Rock. We did that hike last time we were in Sedona, but I don't think I walked out to the edge like I did this year. I guess I conquered my fear of heights a bit more this year! There was a section we had to step over that dropped straight down and that made me very nervous!
That hike- up and down- was about a mile but took us an hour.
After a very full morning of activity, we grabbed a refreshing smoothie from the Local Juicery before heading back to our resort, the Enchantment. We tried to hang out at the pool, but the sun was setting behind the rock and it actually got a little chilly, even for this Minnesotan!
It was a beautiful pool with a great views of the canyon though.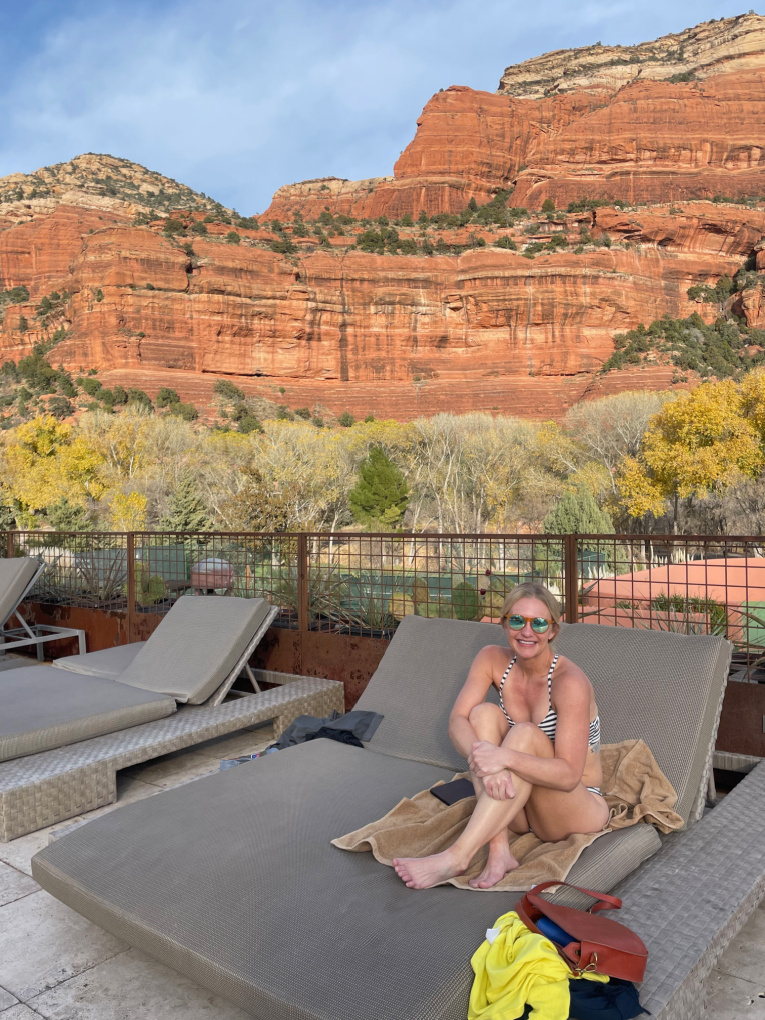 Eventually we made our way out to an early dinner at Rotten Johnny's for some delicious pizza.
Tuesday: Travel day.
I took Tuesday as a rest day, since we had to be up early to drive from Sedona to the Phoenix airport to catch a flight back to Minneapolis. Well, I did squeeze in a quick 15 minute yoga class on the Peloton app to stretch out my back before we hit the road. The yoga really seems to be helping.
We returned to snow and cold in Minneapolis. It was a bit of a shock to the system….
Wednesday: I wasn't quite ready to take my workout to the snowy trails, so instead I opted for the treadmill: 3 miles easy, 5x(3 minutes at 8, 1 minute float, 2 minutes at 7:30, 2 minute jog), 1 mile cool down to 8.5 miles on the treadmill. I watched "Yellowjackets" on Netflix which isn't amazing, but good enough for a treadmill show.
After work, I did a 20 min full body strength + 10 min core +20 min yoga flow on Peloton.
Thursday: I braved the winter weather and met up with my friend Sarah for 9 miles before work, 9:25 min/mile average. I wore my Kahtoola nanospikes which helped on the packed snow.
After work, I did a 15 min yoga flow + 20 min of upper body on the Peloton app.
Friday: The Twin Cities area was forecasted to receive a foot of snow, starting midday on Friday. Though I don't hate the treadmill, I usually opt outside if I can, especially for a long run. So when my friend Christie said she was going to do her long run Friday instead, I decided to join her. It was actually upper 20's and somewhat clear trails for my 15 miles, 8:50 min/mile average. We stuck to the Midtown Greenway for some of the run before I finished with a few laps of Bde Maka Ska.
All done and showered and ready for work by 8 am!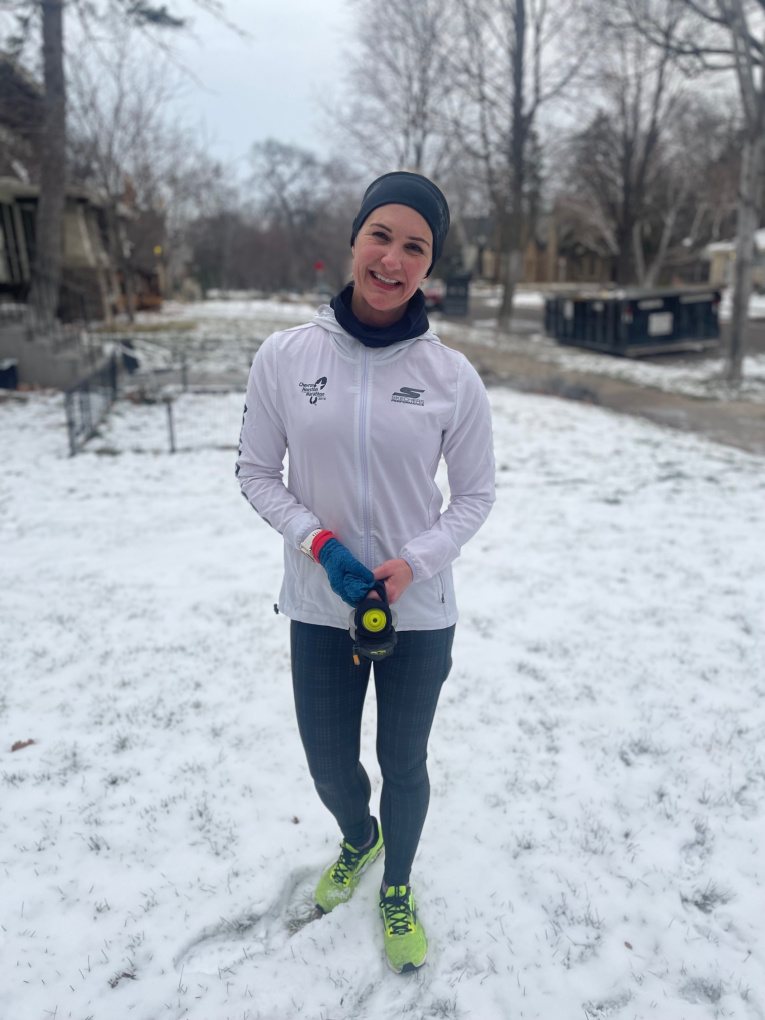 Saturday: With my longer run out of the way, I slept in a bit, took the dogs for a walk, and then ran 8 miles on the treadmill. Dustin actually did his long run outside and said the lake trails were all plowed, but I didn't mind zoning out on the treadmill with some TV. I followed up with the run with 15 min of core + 10 min of yoga on the Peloton app.
That evening, we headed to the Walker Art Center for a screening of the British Arrow Awards (read more here) followed by a holiday get together with some friends.
I had actually left my Kahtoola nanospikes with my friend Christie on Friday as I didn't really need them on the Midtown Greenway for our long run. I got them back from her on Saturday and put them on over my Rothy's for a little extra traction on the the short walk outside!
Super stylish, right?
Sunday: A slower start to the day but eventually Dustin and I went out for a run. We did 7 miles together with Ruth, our vizsla.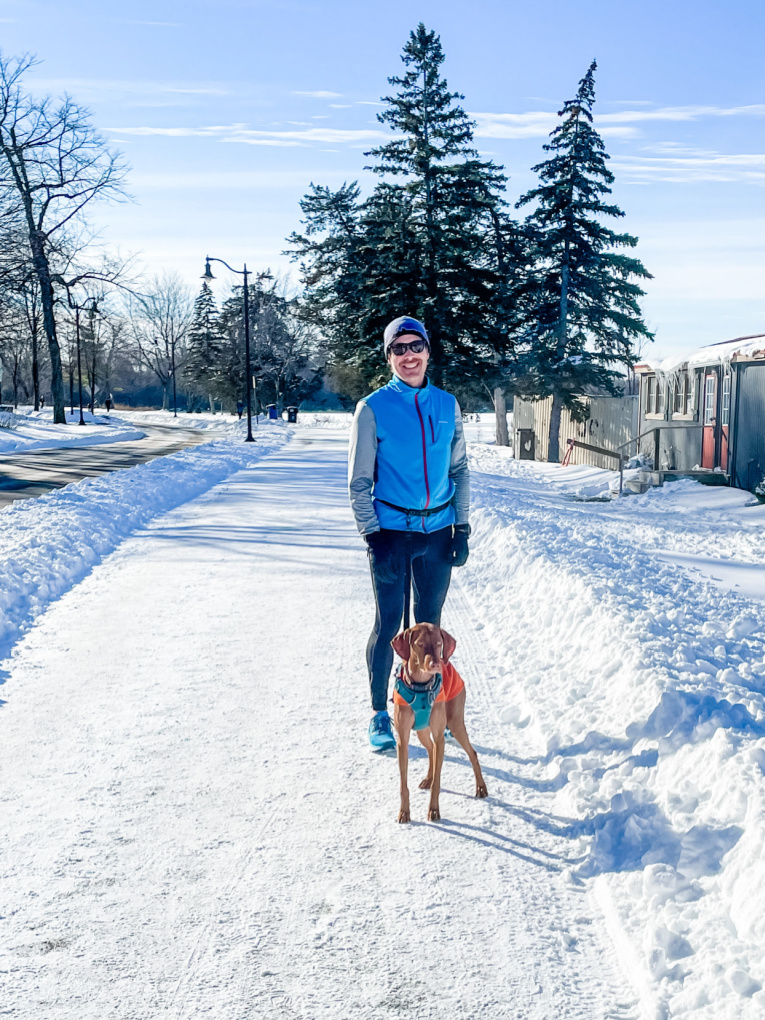 Then I added on 3 more to get to my scheduled 10. The trails around the lakes were totally runnable, as pictured above (though I did wear my Kahtoola nano spikes). The temps are supposed to get up close to 50 this week, which is great, except I'm worried about the melt and refreeze with all this snow…All the joys of winter running in Minnesota!
10 miles, 8:50 min/mile average.
Summary: 59 miles of running, a good mix of strength/yoga on the Peloton app.
I'm linking up with Running on the Fly and Confessions of a Mother Runner as part of their Weekly Rundown. Check it out!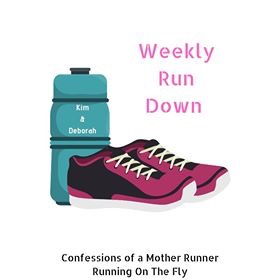 (Visited 272 time, 1 visit today)