Hi friends! I'm Jessie at the Right Fits, here to share my weekly recap of training for the Charleston Marathon, which is coming up quickly!
Charleston, South Carolina will be my 38th marathon and 27th state.
Here's how training went this past week:
Monday: 7.1 solo miles before work, 9 min/mile average. 35 min of lower body on the Peloton app after work (15 min stacking stuffer with Selena that I loved + a 20 min class with her; the stacking stuffer was lots of clamshells and leg lifts, perfect for runners!)
Tuesday: I 'convinced' Ruth (our younger vizsla pup) to run with me. I say 'convinced' as she loves to run, but doesn't seem quite as eager when the run is in the dark and early morning. It was nearly 30 degrees, so I don't think it was too cold for her, but she does like to sleep in a bit, ha!
At first she was a little hesitant, but then she was pulling me to a faster-than-normal pace, 6 miles, 8:10 min/mile average.
After work, I joined my local Oiselle team run; we met at Surly Brewing at 6:30 and I did 3.5 miles, easy 10:25 min/mile pace. The route we did through some neighborhoods was actually really slippery, so I was happy to take things slower.
9.5 miles on the day.
Wednesday: Workout Wednesday! I couldn't believe it was upper 40's with clear trails, so I did this run in SHORTS. In December- in Minneapolis! Yowsa.
3 miles easy, 4x(4-3-2-1 fartlek with recoveries and increasing paces), 1 mile cool down for 9.5 miles, 8:50 min/mile average. This workout went pretty well; it was so nice to be in shorts with mostly clear trails!
Is it weird to see a runner in shorts with snow on the ground? That's Minnesota!
You can tell I was pretty sweaty too!
Thursday: 5 miles on the treadmill before work, 5 miles on the treadmill after work! Both runs actually flew by and I'm glad I split it up the way I did. 10 miles on the day.

Two 10 min Strength for Runners classes with Matt + 20 min "ABBA" core with Matty after the evening run.
Friday: Rest from running; I did a 20 min Arms & Shoulder strength with Robin and 10 min Arms & Shoulder Strength with Selena on the Peloton app.
Saturday: I woke up to a new layer of snow; it didn't look like it was that slippery out there, but I knew I couldn't hit my workout paces in a few new inches of snow. I really wanted to have a strong workout, so instead I opted for the treadmill.

3 miles easy, 4 miles at 8:20, 1/2 mile easy, 3 miles at 8:15, 1/2 mile easy, 2 miles at 8:00, 1/2 mile easy, 1 mile at 7:50, 1.5 miles easy to 16 miles total.
It actually was not that terrible to do 16 miles on the treadmill. I zoned out with my headphones and some good shows on the TV in front of me (it's an apple TV with Netflix, Hulu, HBO, etc.). I had a few breaks to gel and drink some nuun; honestly, it didn't drag by that much!
Sunday: As Dustin and I were getting ready to head out for our regular Sunday run, I asked Ruth "wanna go for a run?" And she went into the office and crawled into her cozy cove! So…apparently a little too chilly for her, which I totally get and don't want to force her to run if she doesn't want to.
She and Matilda did get some time at the dog park instead, for which she was more than happy to be outside in the cold!
Dustin and I did 7.3 miles, 9:05 min/mile average. The trails weren't plowed, so running in the few inches of snow was tough- especially on the hip flexors! I plan to do some stretching later today, that's for sure!
The kahtoola nanospikes did help a bit though- highly recommend them to other winter runners!
Summary: 59 miles of running, a mix of strength on the Peloton app
Remember when I finished the Route 66 marathon a few weeks ago, and they didn't have finisher's medals due to a supply chain issue? Our medals arrived this week and they are soooo big.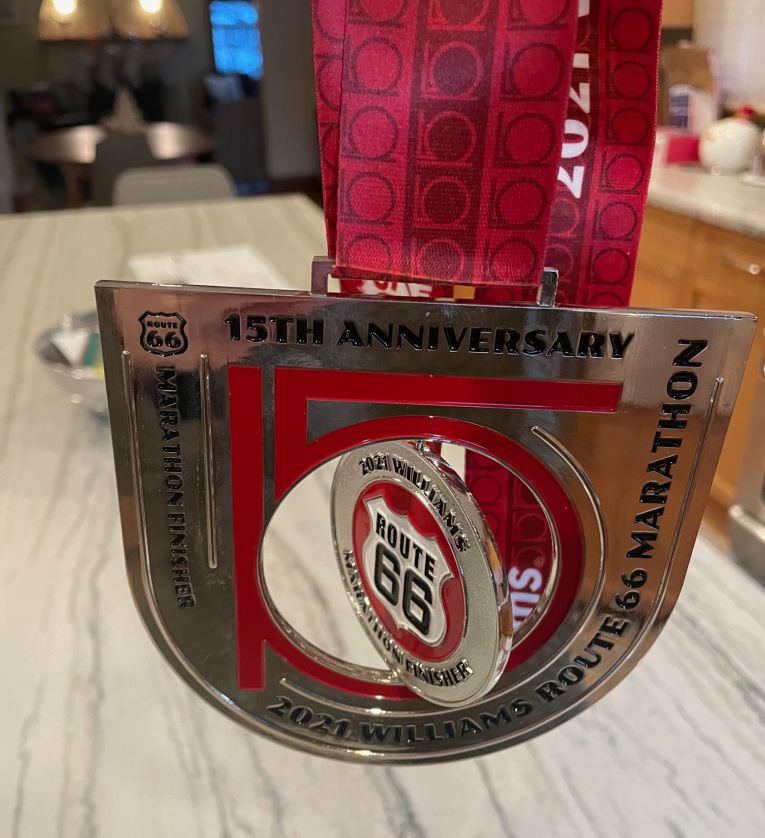 I don't even know if they will fit on the medal display racks my dad has made for us.
Left side is Dustin, right side is me. Don't worry, I have a new board ready to be added!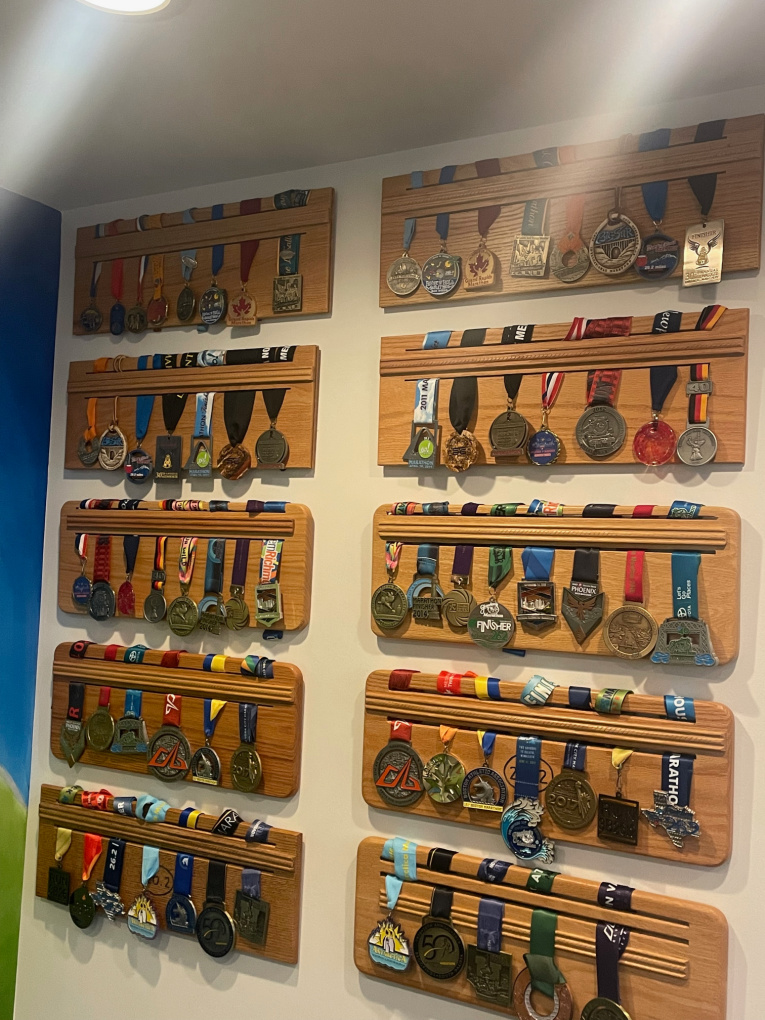 I also received the special "coin" for finishing the detour to the Center of the Universe /shortest ultra marathon.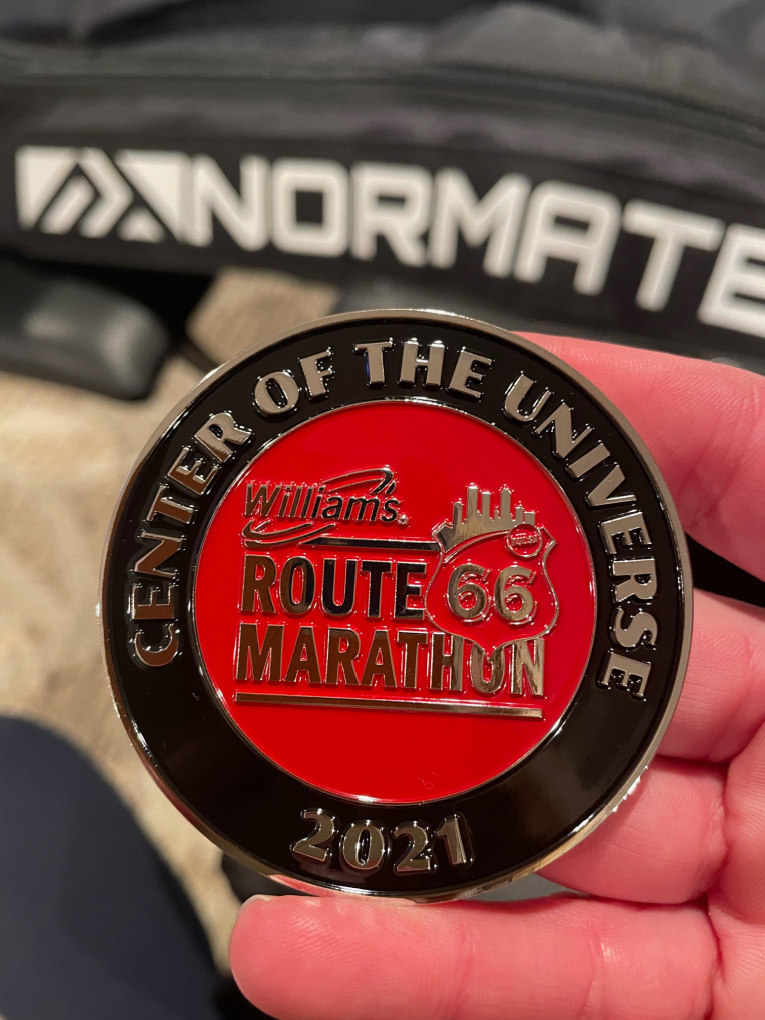 The award for doing the double (5k Saturday, marathon Sunday) was missing, but that's okay. The organization probably had a lot of extra costs with mailing these out.
I'm linking up with Running on the Fly and Confessions of a Mother Runner as part of their Weekly Rundown. Check it out!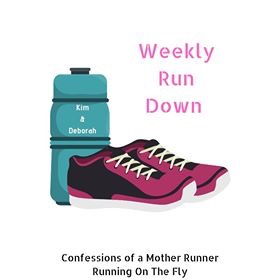 (Visited 324 time, 1 visit today)