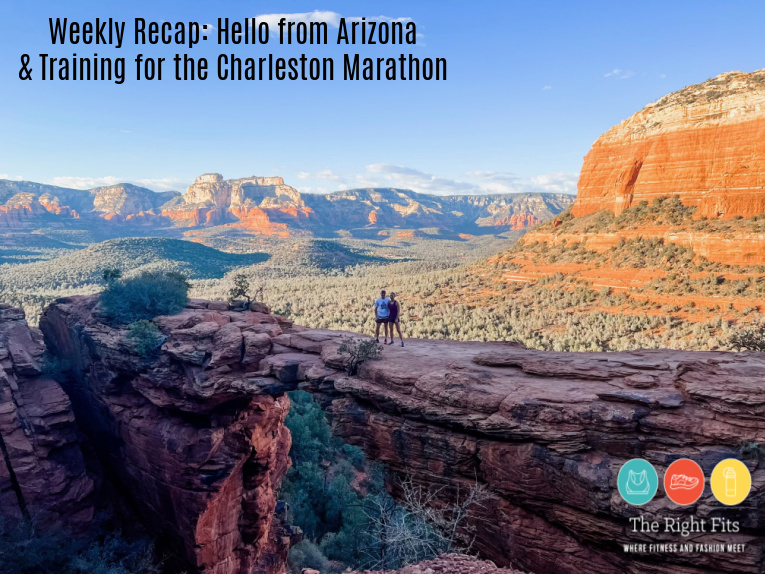 Hello, hello! Last week, instead of a weekly recap, I shared my race review of the Route 66 Marathon in Tulsa, Oklahoma. Catch up on that post HERE.
I figured I'd quickly recap the week after that race as well as this week. Here's how training went for the Charleston marathon the past two weeks!
Monday: Rest, fly home from Oklahoma
Tuesday: Rest from running, 45 minute strength on Peloton, 10 min core
Wednesday: Short & easy first run after Oklahoma, 4 miles with Christie, 9 min/mile, 10 min core on Peloton
My sister Erin and her family – and HER vizsla named Ollie arrived on Wednesday night!

Thursday: 1 mile jog to start line, 6.2 miles with my sister Erin at the Drumstick Dash- 10 min/mile average, 1 mile jog home after, 8.2 miles total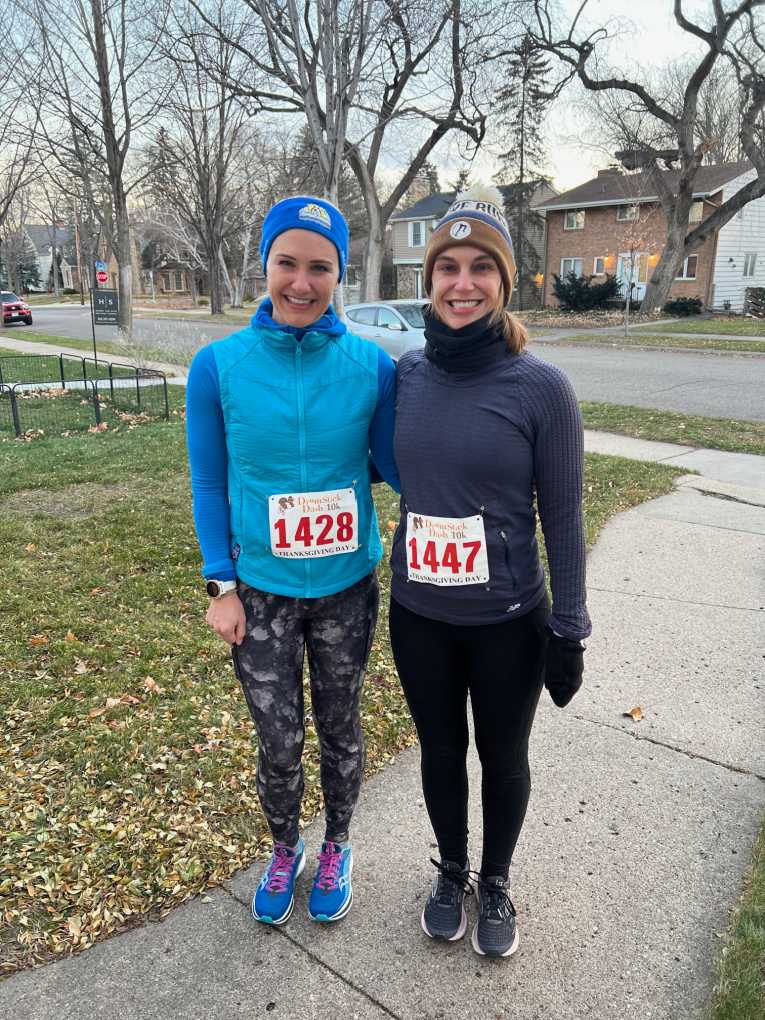 We had a smaller Thanksgiving at my sister Cresta's house- just her family, my sister Erin and her family, and Dustin/me.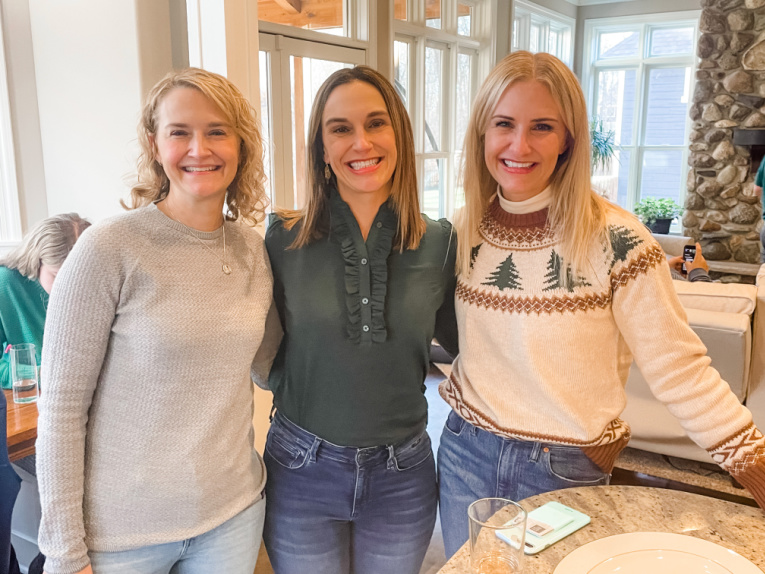 Friday: 4 miles solo followed by 4 miles with my sister Erin and her vizsla Ollie and our vizsla Ruth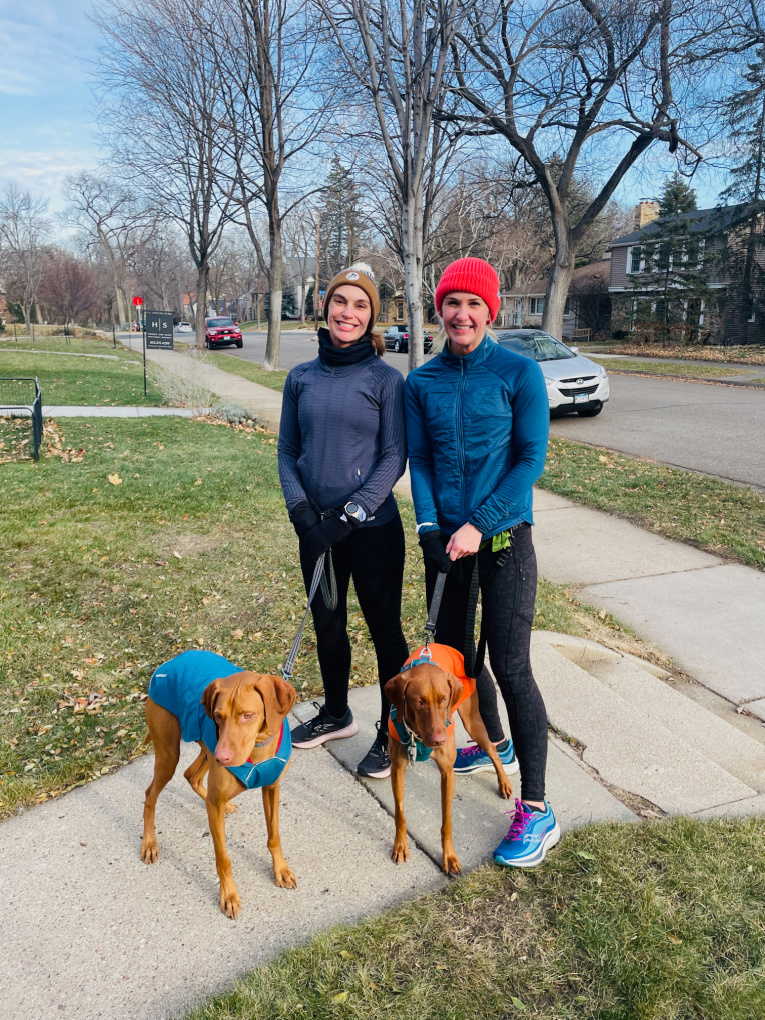 Saturday: Long run with a visitor! My friend Isabelle is from Switzerland, and she had a friend visiting for Thanksgiving, Ramona (on the left.)
4 miles easy, 4×2 miles at 8-8:15, 3 min jog in between, cool-down to 15 miles, 8:55 min/mile average

Sunday: Second longish run of the weekend, 11 miles, 9 min/mile average

Summary: 47 miles- obviously a lot the week after a marathon, but I'm treating Oklahoma as a supported long run; I didn't race it, but rather am training through it, as I move on to Charleston.
On to this past week!
Monday: 8 very easy solo miles, 9:45 min/mile. After a big weekend with two longer runs, I was very intentional about taking this run slower than normal. 25 minutes of Strength for Runners + 10 min core for runners on Peloton
Tuesday: 7 miles early with my friend Isabelle, 8:55 min/mile average. 30 min strength + 10 min core on Peloton
Wednesday: Lately only my friend Isabelle is willing to meet between 5-5:30 am, as my other normal running friends aren't back in the office and don't need to start that early. But for whatever reason, they all were willing to start at 5:30 this day! There were 5 of us, all rocking our Noxgear vests in the dark morning hours. (Only 3 at the end for the pic!)
I had a workout- 3 miles easy, 5x(4 minutes progression, 2 min jog) cool-down to 9 miles, 9:11 min/mile average. The trails were just slightly slick from an overnight rain that must have frozen, which made the workout a little more challenging. 20 min strength for runners + 10 minute core on Peloton.
Thursday: Lovely recovery run with my friend Vicki, 8 miles, 9:20 min/mile average. Vicki and I work for the same company and always have a lot to discuss. A very valuable friendship.
Still in shorts on December 2!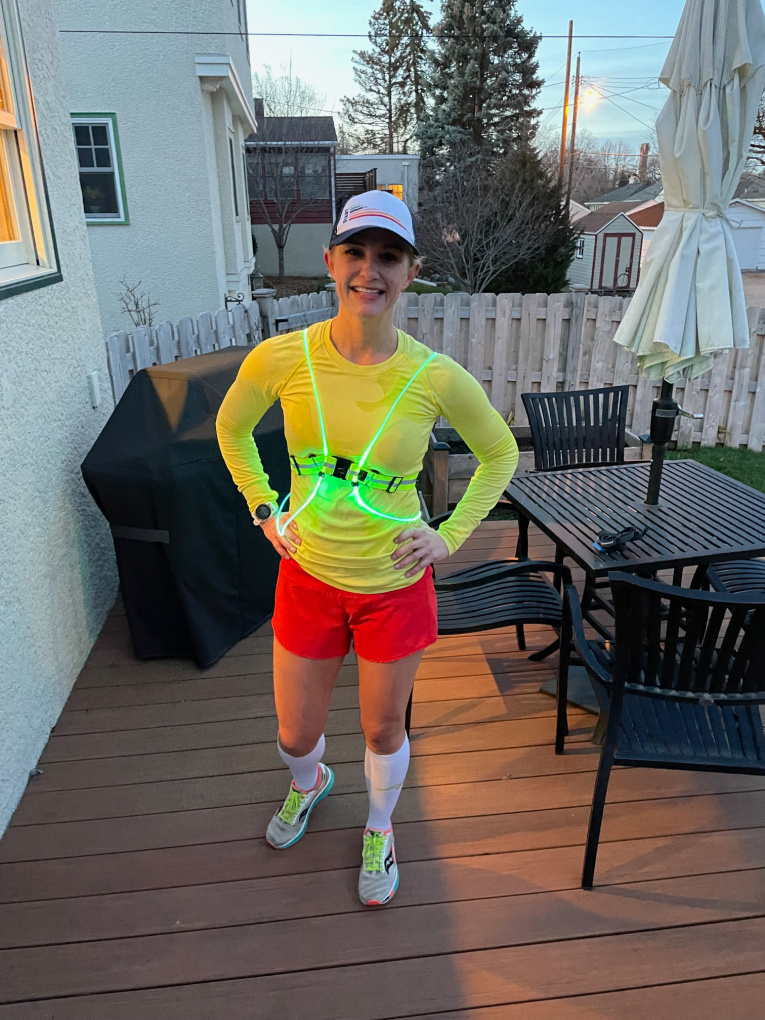 Truth be told, I've been dealing with some lower back pain/tightness for awhile now. I had been seeing a chiropractor, but I don't think it was helping. He only did adjustments and I think my issue is much more muscular. My body is reminding me that I'm not invincible; I can't just run and lift. I need to incorporate stretching/yoga, so that's what I'm doing. I did two 20 minute beginner classes on Peloton. Man, am I tight but I think the yoga will really help. I also have an appointment next week with a different PT to see what they recommend. I'm fairly sure its the result of a lot of running (3 marathons in 5 months) and not enough stretching and self-care, so yoga is BACK.
Friday: I was up early to do another 20 minute yoga class on Peloton, before getting ready to catch a flight to Phoenix. We flew there for a surprise 80th birthday celebration for my mother-in-law. Dustin and his brother worked with their stepdad to plan this months ago; she was totally surprised when she arrived at the restaurant and we were all there waiting! It was so lovely. No running this day- just lots of food, drink, and celebration.
Saturday: I did a quick 10 minute yoga on Peloton before Dustin and I did a 6 mile run around Scottsdale; it was 65 degrees, but that sun is hot! Felt great. 8:40 min/mile average.
After shower and a breakfast, we hit the road to Sedona, which is about a 2.5 hour drive from Phoenix. We had a late lunch and then headed out to hike/jog to Devil's Bridge.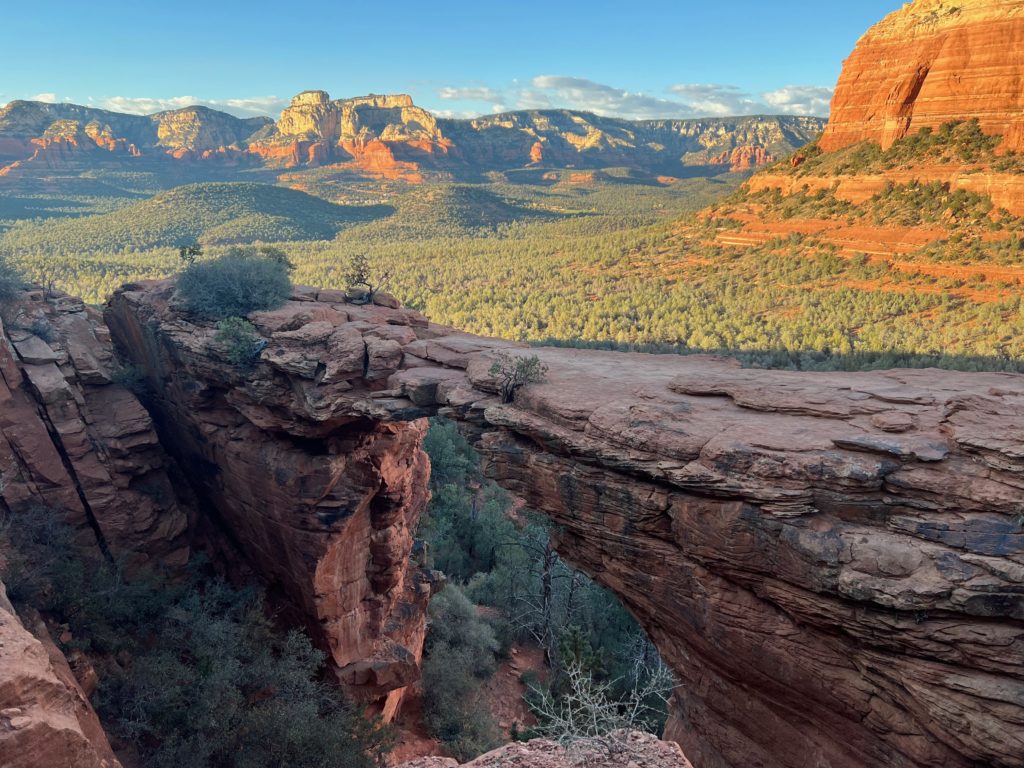 I have to admit I have a bit of a fear of heights, particularly with sheer drop-offs on both sides…but I made it across. All for the 'gram, ha!
Sunday: Up early for a long run in Sedona! We tried to find a flat road, but that's difficult to do in Sedona! We ended up on Verde Valley Road, where I did 17 miles, 9 min/mile average. My splits were ALL over the place from 7:40 to 10:40, depending on whether I was climbing or going downhill!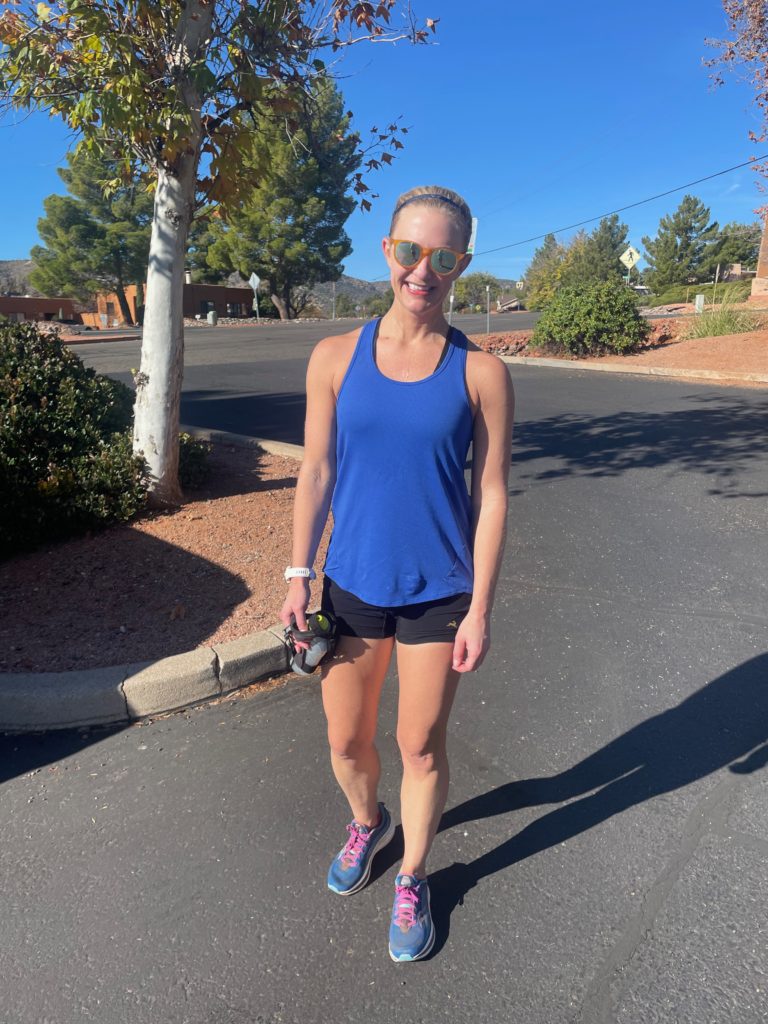 The highlight of the run was when a squadron of javelinas (wild boars/pigs) ran across the road! Of course, I couldn't get my phone out in time, but I swear I saw them.
Post-long run, we stopped at Berry Divine for an acai bowl. Yum!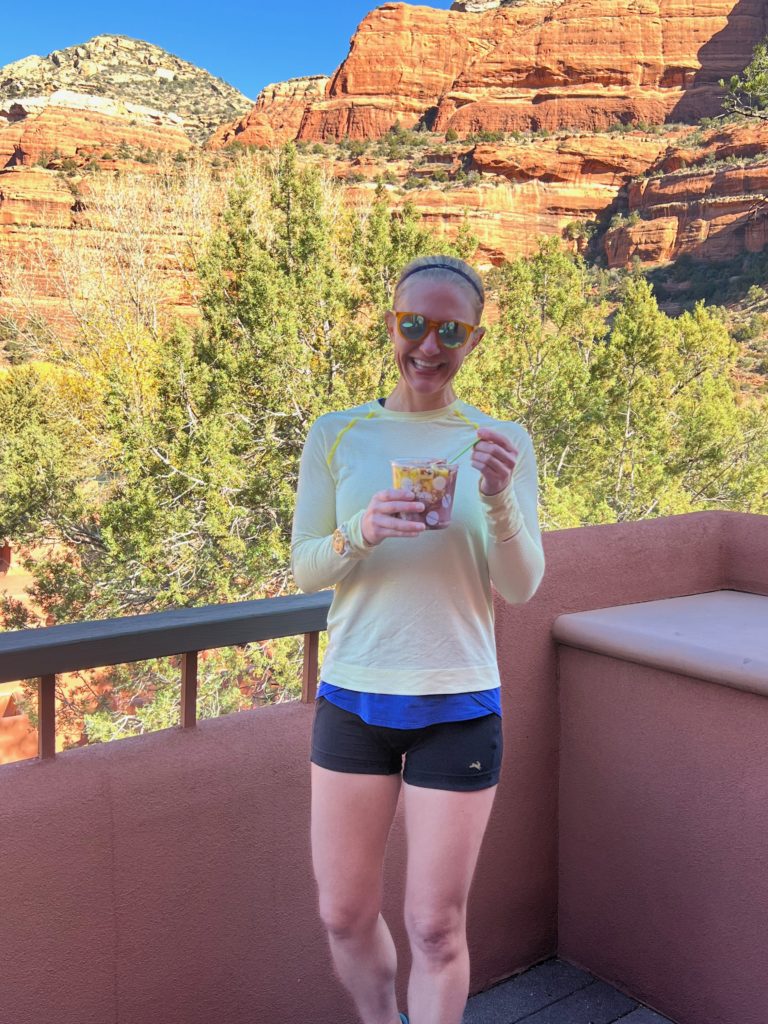 I'll share more about the rest of our time in Sedona, but for now, I'll wrap up this long post!
Summary: 60 miles of running, a mix of strength/core/yoga on Peloton
I'm linking up with Running on the Fly and Confessions of a Mother Runner as part of their Weekly Rundown. Check it out!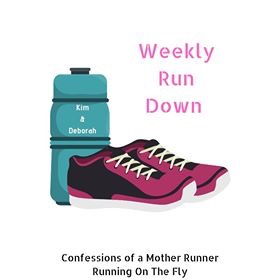 (Visited 388 time, 1 visit today)