Just one week to go until my 37th marathon! For a full list of the marathons I have done, check out THIS PAGE.
Last week, I mentioned how my shin was super sore after Saturday's long run. I took a bonus rest day on Sunday and magically, the pain went away! I mean, I did also ice, stretch, and ice some more, but I am confident I made the right choice by resting instead of running on Sunday. Amazing what a day of rest can do, isn't it?
Here's how this past week went!
Monday: Solo 9 before work, 9:28 min/mile average. Daylight Savings Time did give me a little bit of light by the end!
Peloton: 20 min Glutes & Legs with Matty, 20 min Glutes & Legs with Rebecca, 10 min core with Matty. This is the last week I'll strength train lower body before the marathon.
Tuesday: 6 early dark miles with Ruth; I don't think she loves running before eating breakfast, but I don't want to feed her and run right after (which I know can be risky), so hopefully she will adjust to running on an empty stomach. Other morning runners with dogs, how do you time feeding your pup?
Peloton: A 20 min core with Matty class. My goal is core every day, but it doesn't always happen!
Wednesday: One last LONG workout before work (fortunately it was a WFH day!)
3 miles easy, then 4x(1 mile at marathon effort, 1/2 mile faster, 1/2 mile jog), cool down to 12 miles total. Whew! This workout was longer than my "long" run would be the following Saturday. My coach does like to do one last big workout about a week and a half out though.
Peloton: 20 min upper body with Rebecca, 10 min core with Matty
Thursday: Easy 6 miles with my friend Vicki, 9:18 min/mile.
We were running around Bde Maka Ska, which is not heavily wooded along the perimeter, so we were surprised when a deer came barreling past us on the bike trail! Poor thing was so scared and it was at the time of the morning where the light was really tough so I hope all the drivers in cars saw him. And I hope he made it to a safe place!
I was able to still wear shorts for the rainy run with Vicki Thursday!
Thursday evening did not go exactly as planned; I had given Ruth and Matilda each one of those Himalyan cheese chews. They both only had it for about 5-10 minutes before I took it away, as I didn't want them to over do it. About 30 minutes later, Ruth started throwing up and it didn't stop ALL day. By about 4 o'clock, when she had thrown up so many times and didn't seem to be getting better. I called our normal vet; they were worried it was a blockage, so they told us to head to the emergency vet. We zipped over to the University of Minnesota Emergency Vet in St. Paul (they are the best) where we spent the next 3 hours; like a lot of vets these days, they were really busy.
After x-rays, fluids, anti-nausea meds, (and about $800 later- oh Ruthie…), they told us she was fine, just had a very upset tummy from the chew.
She was still pretty lethargic for a few days and was treated to some boiled chicken and rice.
Matilda took care of her that evening!
Friday: Another easy run with my friend Vicki and another friend Andrea, 6 miles, 9:30 min/mile average. There was actually a little bit of snow on the leaves! I guess it's that time of year. It didn't stick around though.
Back in pants for that run.
Peloton: After work, I did one last pre-marathon leg workout on the Peloton app, 20 min glutes & legs with Rebecca, a 10 min barre with Hannah (really like this one from 8/11/21- my first barre class on the app!), followed by a 10 min core with Matty class.
Saturday: Last longish run before Oklahoma.
I met up with my regular group of running friends, though they were mostly going a little shorter post-Indy half last weekend.
I had 45 minutes easy, 26.2 minutes at marathon effort, and 18.6 minutes easy for 90 minutes, 10.6 miles, 8:45 min/mile average.
Saturday night, we grabbed dinner at Pajarito with Vicki and her husband to plan a potential 2022 ski/snowboard trip. The last snowboard trip I took was to Steamboat Springs in 2018, right before I broke my leg. We normally would take one every winter, but after the broken leg (which didn't happen snowboarding, but still made me nervous) I didn't want to risk any injury before running Antarctica in 2019, and then 2020 happened…and 2021 wasn't much different (pre-vaccine.) It's time to get back to snowboarding.
I'm excited to have a mountain trip on the books again!
Sunday: 4 miles with Dustin, 8:45 min/mile, followed by a short walk with the dogs and then a 20 minute core class on the Peloton app.
We're dog sitting my sister's dog Lola, so there were lots of triple dog walks over the weekend!
And that's a wrap! Next weekend if all goes well, I'll hopefully be writing this while relaxing post-marathon!.
I'm linking up with Running on the Fly and Confessions of a Mother Runner as part of their Weekly Rundown. Check it out!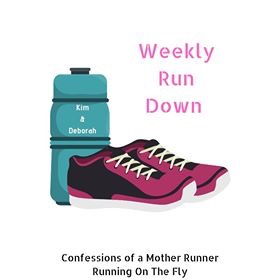 (Visited 215 time, 1 visit today)