October is the best time to be a runner in Minneapolis! The weather is perfection and the fall colors (if you're not running in the dark of course) are amazing. I tried to make the most of it this week!
Here's how training for the Oklahoma marathon went:
Monday: 9 morning miles, 9:14 min/mile average followed by a 30 minute yoga session for a work thing.
I did about an hour stack of strength training on the Peloton app after work (10 min arms & light weights, 20 minute Glutes & Legs, 10 minute Glutes & Legs, 15 min Strength for Runners.)
Monday, October 18th was actually Dustin and my wedding anniversary! Alas, falling on a Monday made it tough to celebrate, particularly as we kicked off an Obedience Level 2 class with Ruth at the Canine Coach Monday evening. But I still want to mark in here- 13 years!
I really am lucky to have a partner who shares my passion for marathons/running. And dogs. And travel. And so many other shared interests! But running is a big one, ha!
Tuesday: 7 easy morning miles, 9:25 min/mile average. 4 mile dog walk after work.
Sunrise picture on my morning run, sunset picture on my evening walk!
Wednesday: I received my flu vaccine Tuesday after work; I've never had a reaction before, but for some reason this time, my arm was way more sore than expected and I was really tired and groggy afterwards, especially Wednesday morning. I moved my schedule around and used Wednesday as a complete rest day.
Thursday: Workout Wednesday was moved to Thursday due to the flu vaccine! 3 miles easy, 10x(3 min at marathon effort, 1 min jog), recover to 9 miles total, 8:55 min/mile average.
A crop with gloves is totally okay, right?
20 min Chest & Back, 10 min Arms & Light weights, 10 minute core on the Peloton app after work.
Friday: 6 miles with my friend Vicki before work (plus Ruth!), 9:15 min/mile average.
2 x 20 min strength for runners classes on the Peloton app; I decided to go back to the beginning and try all of these classes; these two were from 2019, when there were still participants at the studio for the classes. It seems like there is a little more cardio (burpees, etc) in the older classes too, which I don't love. I get enough cardio with running!
Saturday: A gorgeous October long run day! It was mid-30's when I headed out the door at 7:45 am, but the sun was shining bright and I was just fine in shorts and a long sleeve.
16 miles, 8:55 min/mile average. Longest run since Fargo! I felt pretty good too.
Peter Cottontail on the Trail was looking festive on the Minnehaha path!
After the run, we had a dermatologist appointment for Ruth (a check-up for an issue she's been dealing with for a few months). The vet was out in Eden Prairie, so we brought Matilda and stopped by the Bryant Lake dog park afterwards. Such a gorgeous day.
I did crash for an hour nap after the dog park before heading to the grocery store; my goal when I return to the office this Monday is to bring my lunch the days I go in. Downtown Minneapolis has a lot of great lunch places, but the $$ adds up and I have felt better health-wise about my lunch choices the past 1.5 years eating at home, so I'd really like to keep that up! But it does take a lot of planning ahead, since I run a lot of miles and am a hungry gal!
Saturday night was a low-key night in watching some shows.I loved "Only Murders in the Building"; now we're watching Dopesick. Heart-breaking. I was happy to stay in after last week's 80's party; it took me awhile to catch up on sleep after that one!
Sunday: 6 miles with Ruth & Dustin, 8:30 min/mile average.
2 x 20 min Strength for Runners classes + 10 minute core on the Peloton app afterward.
Summary: 53 miles of running, lots of Peloton strength training classes
That's a wrap, only four more weeks until my next marathon. I don't have aggressive goals for Oklahoma, particularly since its so close to Fargo, but I hope to feel good and have a good time!
I'm linking up with Running on the Fly and Confessions of a Mother Runner as part of their Weekly Rundown. Check it out!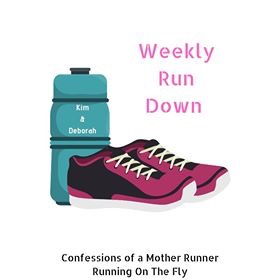 (Visited 356 time, 1 visit today)