Two weeks to go! My 36th marathon will be on September 25th. This week still had some longer miles, but the next two weeks will be the 'serious' taper. Even though Fargo is only a 4 hour drive from Minneapolis, I actually have never been. Any readers have any recommendations for post-race celebrations? Let me know!
Here's how training went this week as I started the taper:
Monday: Labor Day holiday, so Dustin, Ruth, and I ran together, 8 miles, 8:30 min/mile average. I always run a little faster with Dustin. His normal 'easy' pace is around 7:15, so slowing down to 8:30's probably feels pretty slow to him, so I try to keep things under 9's. It's not ideal every time though, since my recovery runs should be over 9's…but I like running with him when I can, so I am sure to make the runs without him easier to get a real recovery. I think it's really important to take the easy runs easy, especially when clocking higher weekly mileage.
Tuesday: As planned, I intentionally took this recovery run slower, 6 miles, 9:15 mile/mile over lunch, with the last mile or so with Ruth to burn off some of her energy!
Wednesday: Workout Wednesday, bright and early; I remembered to wear a headlamp this time. I can't believe it's already that time of year! I only needed it for about 30 minutes before the sun was up.
3 miles easy, 20 minutes at 8:30, 3 min jog, 10 minutes at 8 min/mile, 3 min jog, 15 minutes at 8:15, 3 min jog, 5 minutes at 7:40, cool-down to 10.5 miles total, 8:55 min/mile average. I'm not totally sure about the purpose of this workout, I need to ask my coach, as it was a little odd to bounce back and forth around marathon pace. But it felt solid and not too draining. The cooler temps definitely helped!
Wednesday night, we had our season finale of bocce. There was a little party too, with food, drinks, and an accordion player! So fun. Glad we decided to join the league.
Thursday: Rest from running! Took the dogs for walks (including Breck, my friend's golden retriever that we are watching), and did a few Peloton strength classes- 20 minute strength for runners with Matt Wilper and 10 minute core for runners with Becs Gentry. I take Matt and Becs classes the most; I like how they are catered to runners. The moves aren't too complicated either.
It's impossible to get three dogs to pose for a picture!
Here's a better picture of all three:
Friday: 6 miles with Ruth before work, 8:45 min/mile average.
Saturday: Long run day! I had 15 miles total, 4 miles easy, then alternating 1/2 mile at marathon pace, 1/2 mile easy for 10 miles, then 1 mile easy.
15 miles, 8:55 min/mile average.
I met up with a few friends and we did a loop down the Greenway to the River Road and back through downtown. The temperature was in the 60's, but it was way more humid than I expected!
The most notable part of the run happened pretty early on; while on the Greenway, we saw black smoke rising from the side of the path up in some trees. As we got closer, we realized it was a homeless tent community that was on fire! It was very close to a power plant too and we were hearing small explosions/booms as the fire built. I called 911, and it rang about 20 times, but I never got through! Fortunately another passerby got through to the 911 operator and the firefighters arrived shortly thereafter.
It was scary; it didn't look like anyone was hurt though and it sounds like they contained the fire pretty quickly after we passed by.
(For the record, it appears that the 911 operator did call me back and I missed it; I am guessing they heard the phone bouncing in my pocket and thought I had butt-dialed!)
After the run, we walked over to our neighborhood's dog festival, "Linden Hills Woofstock!"
So many dogs, vendors, live music, a beer tent, and more!
We met up with a few friends and their pups; this is Sölden, named after the town in Austria!
And this is Bruce, who is a senior pup who prefers riding in his chariot at festivals! He's the sweetest old man.
Sunday: Sunday family run; Dustin, Ruth, and I ran 7.5 miles together, 8:45 min/mile average. I plan to do a couple Peloton strength classes today too.
Summary: 53 miles of running, a few Peloton strength classes. I'm feeling excited to take on 26.2 miles again soon!
I'm linking up with Running on the Fly and Confessions of a Mother Runner as part of their Weekly Rundown. Check it out!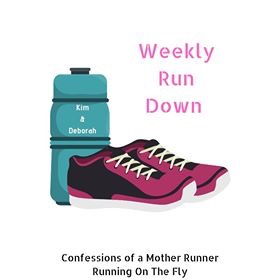 (Visited 244 time, 1 visit today)