Happy Tuesday friends! I'm linking up with Kim from Kooky Runner and Zenaida for their Tuesday Topics, Tips for Running in the Heat!
Timely, right? I feel like most of the country is in the middle of a crazy heat wave.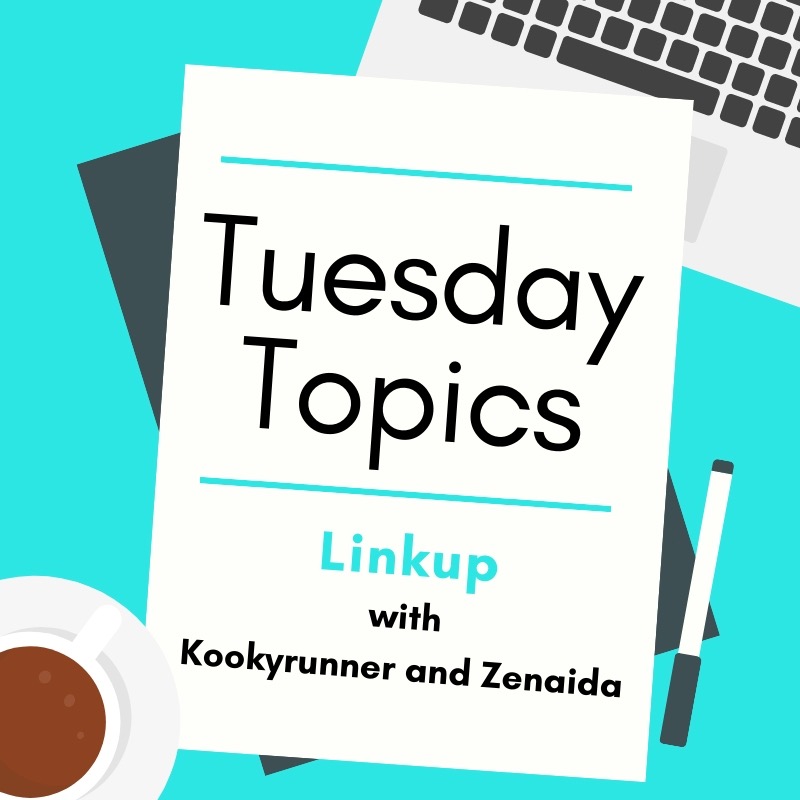 As a Minnesotan, some may think I should stick to sharing tips for running in the cold, not the heat! But we actually get all the fun extreme weather here. We set record high temperatures last week, at nearly 100 degrees in early June, with plenty of humidity!
I really struggle in the heat, but I do have some tips for things that help to make it a bit more bearable.
Embrace the sports bra squad!
Like many others, I am a bit self conscious of how my stomach looks when running, but I cast all those insecurities aside in the name of staying cool!
Hydrate, hydrate, hydrate!
This is so important, including after you run. Nuun is my favorite hydration, but water works, or Powerade/Gatorade! One of my sisters will use Pedialyte; whatever your hydration of choice, be sure to drink a lot of it!
Wear a hydration vest!
Along the same line, a hydration vest is an easy way to have water with you on a hot run. I have this 50 oz Circuit Vest from Camelpak with the 50 oz bladder and spots for two extra water bottles in front.
Extra tip- fill the bladder with ice! It will keep your core cooler as you run. It will melt and then you drink it!
Start early.
Start as early as you can! Go to bed early, set multiple alarms, and get up early to beat the heat.
Run based on effort, not pace.
Don't try to chase a certain pace in the heat, you'll only set yourself up to suffer! The heat really is hard on your body. Slow down. It's okay.
Try to plan routes with shade.

This isn't always possible, but if you can, the shade makes a difference!
Make friends who are willing to provide hydration stops!

This one is unique and mostly exists for me right now because my friend Christie is injured, but it really helps to have a spot to look forward to where you can fill up your hydration bottles and take a quick breather. It might work to get your kids and family involved on a hot long run to have them provide a fun support stop for you!
Wear a hat and sunglasses and most definitely wear sunscreen!
Know where the drinking fountains are!
Wear light colored clothing.
Carry a phone.
This is generally a good tip overall, but it is important to have a phone with you in case you start to feel light-headed or dizzy and need to call a friend for a ride!
Have a post-run refreshment ready to go!
I love the Daily Harvest smoothies after a hot run! Whatever you crave- ice cream, an ice cold Coke, have it ready when you get back.
Don't be ashamed to take the run indoors.
Last weekend, I did 14 miles outside and was really struggling; I finished my 20 miler with 6 miles on the treadmill. I felt a little "weak" for doing so, but in hindsight, it was the smart thing to do.
Be kind to yourself.
Running in the heat is a challenge, so don't get too discouraged.
Remember that the work you do in the heat will pay off with fall PR's!
What did I miss? Please share your tips for running in the heat!
Be sure to check out Zenaida and Kim's blog for links to other posts about running in the heat!
(Visited 222 time, 1 visit today)