Hello friends! Another week, another weekly recap of training for the Idaho marathon in just 9 weeks! Here's how fitness went this past week:
Monday: I woke up to pouring rain and decided to wait to run; instead, I just started my workday early. Then when there was a break, I snuck out for an intentionally easy recovery run: 8 miles, 9:30 min/mile pace. I even wore my "recovery" shoes, my Hokas!
In-person Discover Strength session after work.
Tuesday: 6 easy miles with friends before work, 9:15 min/mile average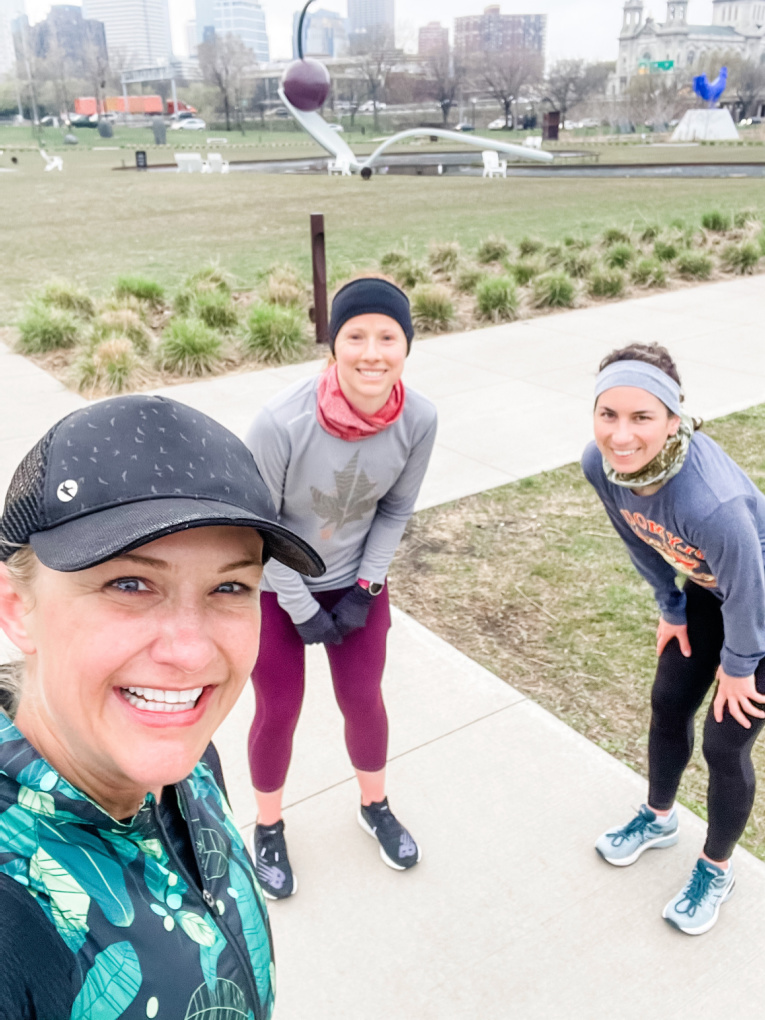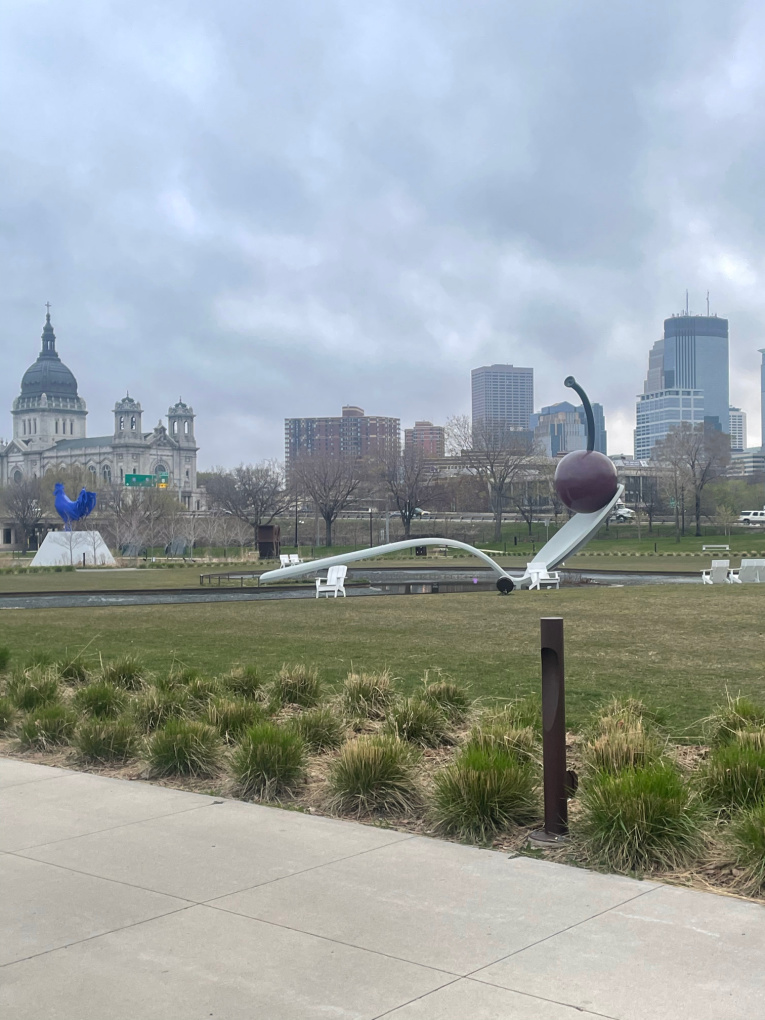 Wednesday: Workout Wednesday! This one was a doozy: 3 mile warm-up, 4x(4 min at marathon effort, 1 min hard), 8 minute jog, 4x(4 min at marathon effort, 1 min hard), i.e. no break between marathon pace and hard pace for the full 20 minutes, then recovery, then do it again!
My coach advised me to be more conservative on the marathon pace in order to have a more significant pick-up on the hard minute and I did a much better job pacing this week vs. last week's similar workout.
11 miles total, 8:45 min/mile average. All before logging in for an 8 am meeting!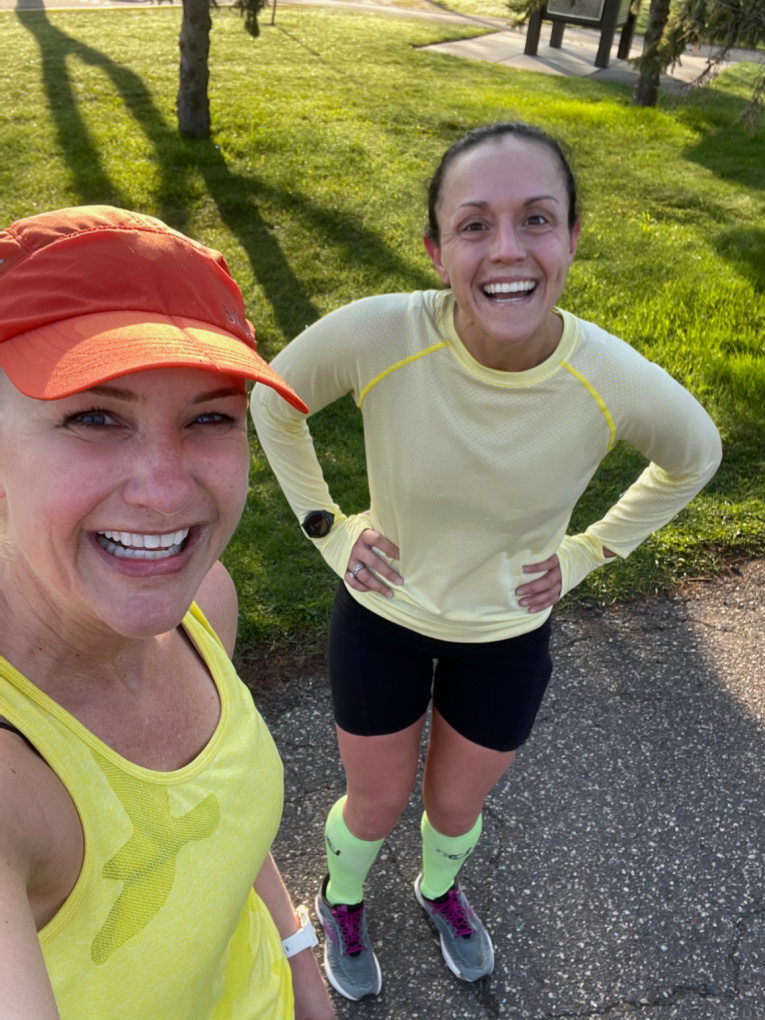 Virtual 1:1 with Discover Strength after work. Legs were cashed!
Minneapolis now has an Allbirds store (downtown in the North Loop), and you know how much I love Allbirds! Dustin and I stopped by for their sneak peek/soft opening. He bought a pair, but since I had just purchased the Oiselle Allbirds, I abstained- this time!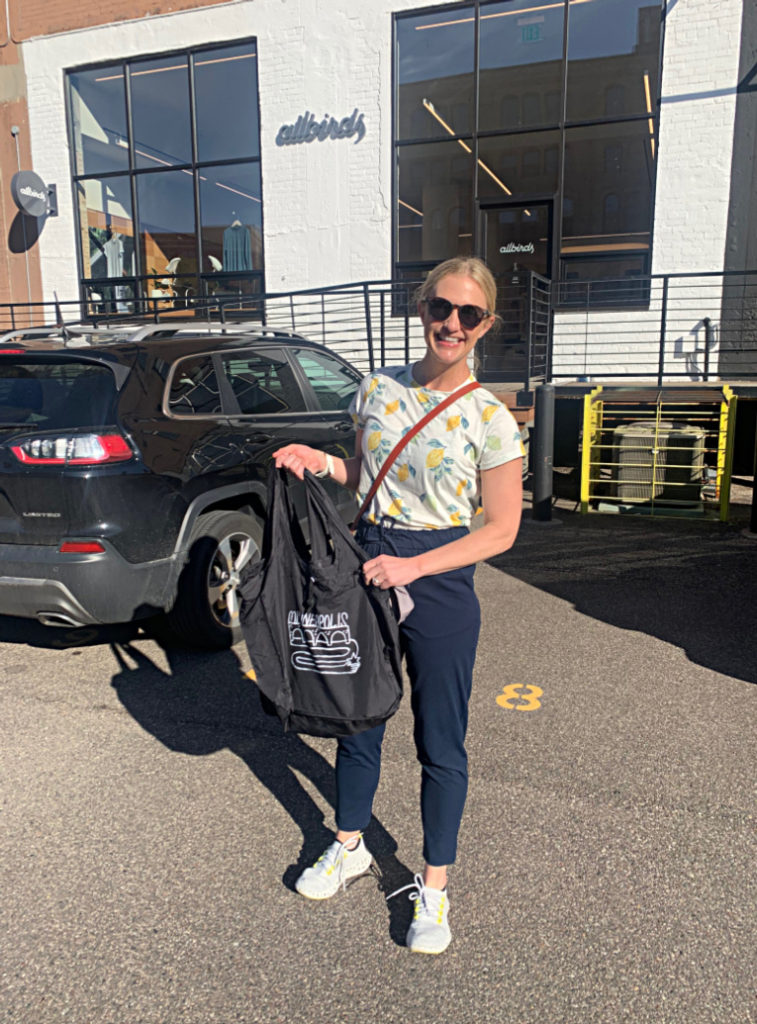 Thursday: Complete rest. After a big Wednesday, I appreciated the day off of running. I still walked plenty- that's what you get for having two vizslas!
Friday: Easy 6 miles with my friend Vicki and Julie, 9:24 min/mile average.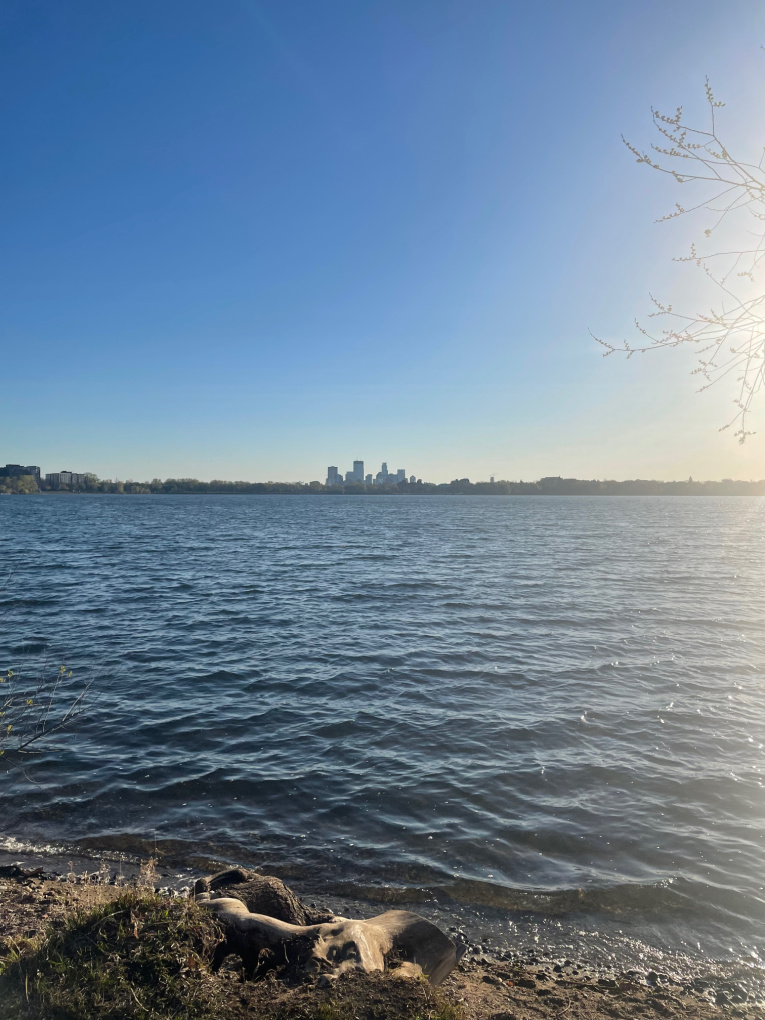 I layered up the nuun gear for this run!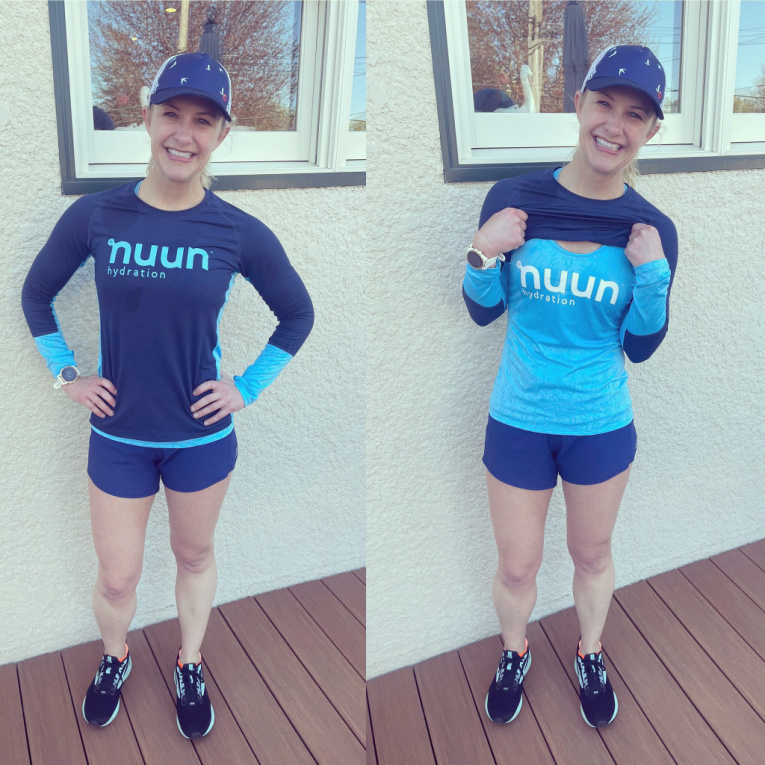 Virtual 1:1 with Discover Strength after work
Saturday: Solo long run! I started at 8 am and should have started earlier. Wowza, it got hot! The high in Minneapolis for the day was 88 degrees and by the time I finished my 18 miler, the sun was out in full force and I was melting.
I had not adjusted yet to this sort of weather. I definitely had to make it a sports bra day!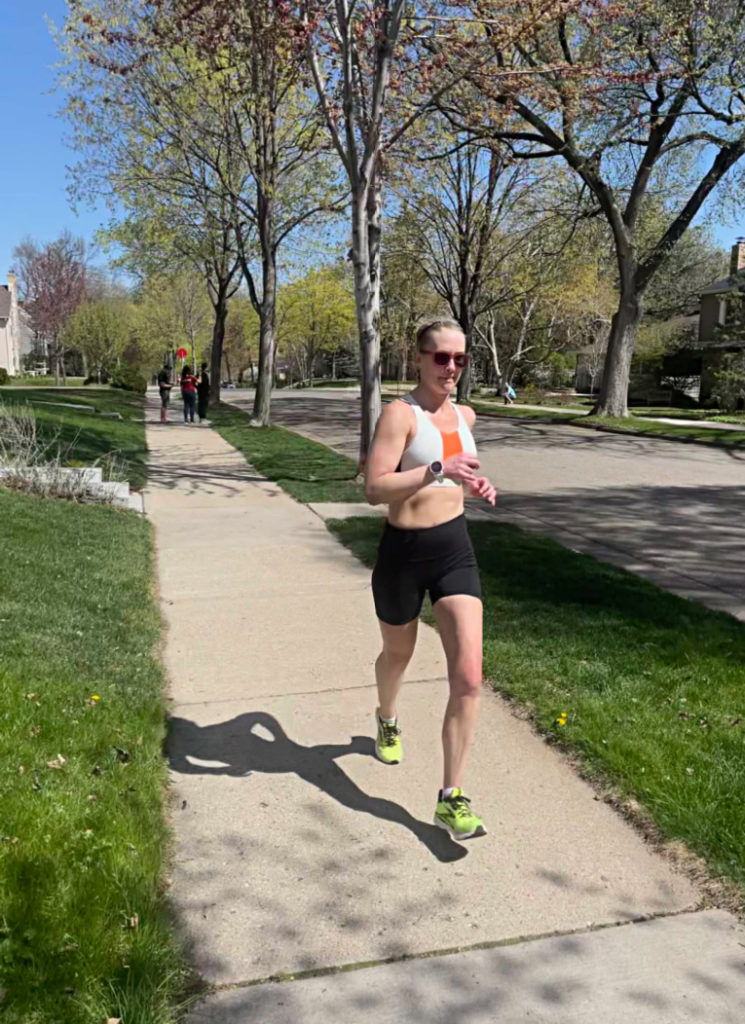 I had brought my handheld water bottle full of water, which I consumed pretty quickly, but the route I ran took me past a Super America gas station, so I brought a mask and a credit card to stop to get a Gatorade and refill it there. That still wasn't enough though!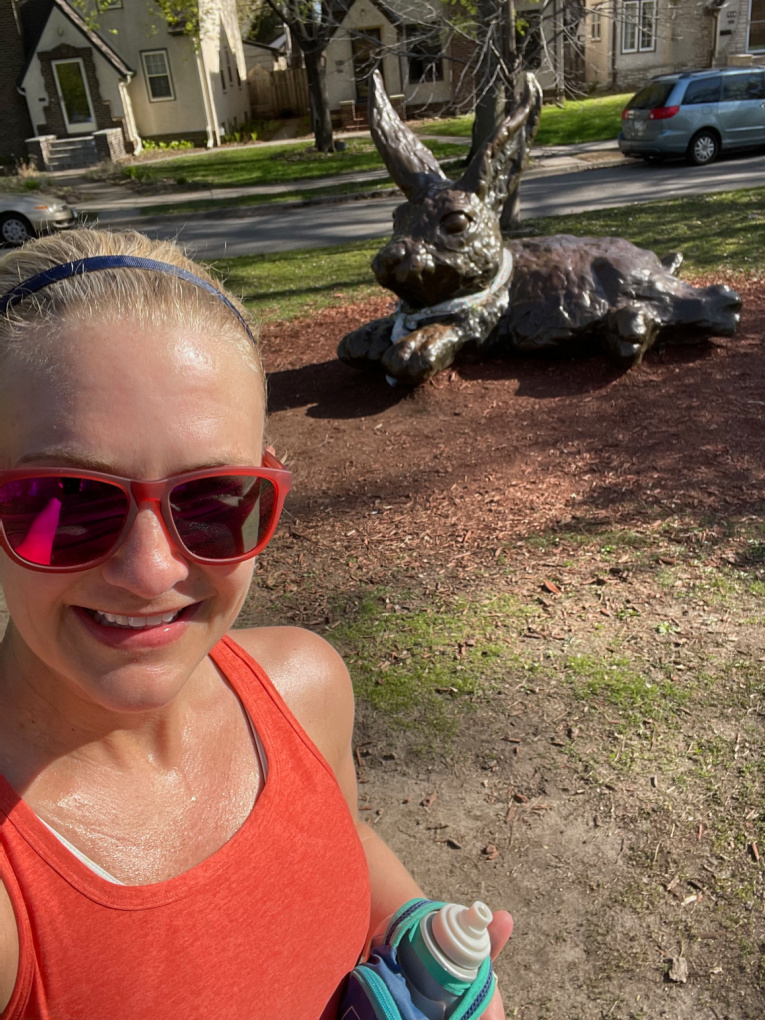 I managed to finish the 18, all alone- 9:10 min/mile average. Not my best run by any means, but I stuck with it.
Sunday: Sunday run with the fam! (i.e. Dustin and Ruth), 7 miles, 8:55 min/mile average. Legs were tired from 18 the day before.
Summary: 56 miles of running, 3 strength training sessions
I've been strength training with Discover Strength for just over 2 years now; what attracted me to their workout originally was the efficiency– it's a full body workout in just 30 minutes and they really push you. It was also very convenient when I was working downtown as there was a studio just a hop/skip & a jump away from my office in the Skyway and I could easily squeeze in a session, which meant I was consistent about doing it!
During the pandemic, I was really consistent with 2-3 virtual sessions per week. I have been pretty happy with them and have even started venturing back into the studios for 1:1's in person.
However, Discover Strength is heavy lifting, and I want to get back to lighter lifting /toning (barre.) So, I am making a switch, at least partially, where I hope to incorporate barre again 2 times a week and just 1 session with Discover Strength; I need a bit more balance (and am maybe a little burned out of Discover Strength- which is totally me, not them!) I also miss the total lack of any injuries when I was doing barre; there's so much glute and core strength involved that I think its a great complement to running. So, you'll see barre start to come back to this weekly recap next week, as I booked my "first class free" at The Bar Method for Monday! They just opened a studio right down the road from me. Masks are required.
My relationship with strength training is always evolving, but I think that's a good thing. It's valuable to switch things up!
And that's a wrap; I hope you had a great week in fitness, be sure to visit all the other bloggers who link up with Running on the Fly and Confessions of a Mother Runner Check it out!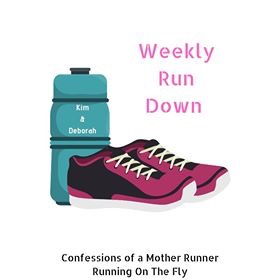 (Visited 255 time, 1 visit today)