It was a busy week over here at the Right Fits, both in training for the Idaho marathon and in non-running life. Here's my recap!
Monday: Solo 8 mile morning run, nice and easy 9:30 min/mile pace
Barre class at the Bar Method after work. It had been so long; it felt great to be back 'to the barre.' The studio was lovely and the staff was welcoming. They even gave me a little epsom salt package to soak any post-class soreness!
Tuesday: Workout day! My coach said accuracy on the paces was more important than speed.

3 miles easy, 3 miles at 8:30 (actual 8:12, 8:14, 8:22), 5 minute jog, 2 miles at 8:20 (actual 8:21, 7:54), 5 minute jog, 1 mile at 8 (actual 8:01), cool-down to 11.3 miles total, 8:45 min/mile average.
Wednesday: Absolutely gorgeous morning, 8 miles with my friend Julie before work.
Bald eagle on Bde Maka Ska!
Another barre class in the evening at the Bar Method.
After the class, Dustin and I stopped by the soft opening of Wooden Ship Brewing Co, a new brewery just a few blocks away from our house. I invested a little bit of money to be a founder or "crew member," which means I get a free pint every day! There's no way I'll actually go there THAT much, but maybe once a week we will stop by. It's a great addition to the Linden Hills neighborhood!
Thursday: Busy day with meetings starting at 7 am, but I was able to sneak out for a quick lunch run with Ruth, 4 miles, 8:30 min/mile average.
Friday: I mentioned a few recaps ago that my grandmother had passed away; her funeral service was on Saturday, so I took Friday off to drive to my home town of Beloit, Wisconsin.
That meant I needed to get my long run done Friday before we hit the road. Fortunately my friend Julie was interested in joining me for part of it.
We had a beautiful morning for a run- sunny and mid-40's, but it just wasn't my day. Residual fatigue? Stress/anxiety about seeing family (all my immediate family is vaccinated, but I don't know if that was true about everyone at the funeral)? I'm really not sure why I was struggling so much. I was supposed to do some marathon pace miles, but couldn't. I ended up with 16 miles at a 9:07 min/mile average and it was a tough one. I'm not going to dwell on it; everyone has bad runs!
After the run, we dropped the dogs off at Pampered Pooch Playground and then hit the road for the 6 hour drive to Beloit.
Dustin realized about half way that he had forgotten his running shoes, so we made a pit stop in Madison at Movin' Shoes for him to pick up a new pair.
The last time I was in Beloit was in 2016 for my other grandmother's funeral, and for that visit, we stayed with my sister in Milwaukee, rather than in Beloit.
So this was my first time staying in Beloit since….2007, perhaps! It had been a long time. Beloit has changed so much in 14 or so years! We stayed at the Hotel Goodwin near the Beloit College campus, which was nice.
We had dinner at Velvet Buffalo in the hotel. It was my first time eating inside since March 2020! The hotel also had a nice little rooftop bar.
We met my sister Emily at Truk't Tacos for a drink while she ate (her flight got in a bit later.) So many new restaurants!
Saturday: A morning run in my hometown. A "run" down memory lane.
We covered 6.3 miles, 8:48 min/mile average. There is a nice trail along the Rock River with a few pedestrian bridges that cross the water. It was a lovely little run!
Later that morning was the service for my grandmother. Though the reason to gather was very sad, it was really nice to see 3 of out 4 of my sisters and my parents in person for the first time since November 2019!
Sunday: Instead of driving back to Minneapolis after the funeral service, we drove to Lauderdale Lakes, Wisconsin, Saturday afternoon. My sister Erin has a place there. It was so fun to be together again! We had a great time playing games, eat/drinking, hot tubbing, hanging by the fire, etc.
Sunday morning, we did a 6.2 mile run together, 10:35 min/mile average. I loved running with Erin! And honestly, I was kinda grateful for an slightly easier pace for me as it was hilly by her place! Dustin did a run on his own and that was probably for the best since I would not have been able to go at my normal "run-with-Dustin" pace on those hills!
Summary: 59 miles of running, 2 barre classes at the Bar Method
We're on the road now back to Minneapolis: (I use my phone as a hot spot to be able to blog in the car!) I hope you had a great week in fitness, be sure to visit all the other bloggers who link up with Running on the Fly and Confessions of a Mother Runner Check it out!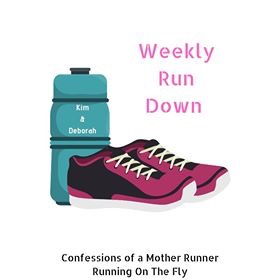 (Visited 234 time, 1 visit today)