The month of May is just flying by, isn't it? We've been treated to some really perfect running weather lately in Minneapolis too. High 40's, no wind, beautiful sunrises…I am loving these morning runs! A great time for of the year for running.
I'm now seven weeks out from the Idaho marathon; here's how training went this past week!
Monday: 8 solo miles before work, intentional recovery pace, 9:30 min/mile. Plenty of time to stop and smell the flowers!
Barre class at the Bar Method after work
Tuesday: 7 miles before work with a few friends, 9:15 min/mile.
I had an appointment to get blood drawn for Inside Tracker; has anyone done this? I'm hoping it's worth the cost; I will keep you posted on my thoughts after I get the results!
The appointment was downtown right across the street from my office, so I decided it was finally time to step foot inside the office again…I hadn't been there since March 12, 2020! Our office is technically open, we just don't formally return until after Labor Day. I worked in the office for a few hours, long enough to get lunch at Sushi Takatsu! I definitely missed all the great lunch options downtown.
Wednesday: Workout Wednesday!

3 miles easy, 2x(5 min at marathon pace, 1 min hard, 4 min at marathon pace, 1 min hard, 3 min at marathon pace, 1 min hard, 2 min at marathon pace, 1 min hard, 1 min at marathon pace, 1 min hard), recover for 5 minutes (jog) and then repeat that whole thing again! It was essentially 20 minutes of continuous work alternating between marathon effort and hard effort, short break, another 20 minutes of work.

11 miles total, 8:45 min/mile average. My friend Julie joined me, which was lovely. She pushed me, for sure! It's always great to have a friend for workouts.
(This pic is in front of our crab apple tree in the front yard. It smells amazing right now!)
Thursday: Rest from running! I did do a class at The Bar Method after work and there's always a lot of dog walks in there, but no running.
Friday: 6.2 miles with Julie before work, a hilly route through the Sculpture Garden. 9 min/mile average.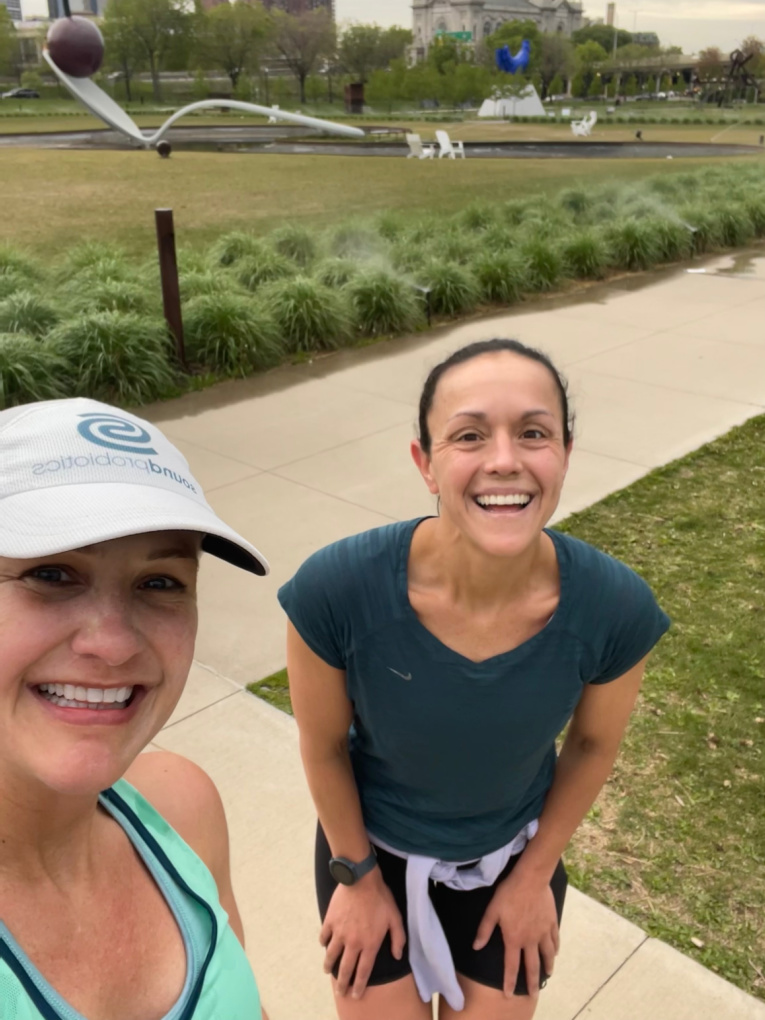 Saturday: Long run day! My long runs have been a bit of a struggle; I feel great during the week and on the weekday workouts, but then drained on Saturdays. This Saturday wasn't quite as bad as last weekend, but still not my strongest.
3 miles easy, 4x(2 miles at 8:30, 0.5 mile at 8, recover 1 mile), cool-down to 18 miles, 9 min/mile average. I did okay on the 2 miles at 8:30 (though it felt harder than it should), but struggled to bring it down below 8 on the 1/2 mile repeats. Argh. I was plenty hydrated, rested, fueled, (I took two Maurten gels throughout the run.) I am not sure what's going on; I'm ready for a strong long run!

Sadly, my friend Christie is injured right now, but the silver lining was that she was kind enough to set up by the bunny on Minnehaha with Gatorade and water for all of us. Such a treat on a warm, sunny, long run!
And another crab apple tree picture!
After the long run, we took Ruth to the Howe for brunch; they are very dog-friendly, with a whole separate dog menu! (And a tasty menu for the humans too.)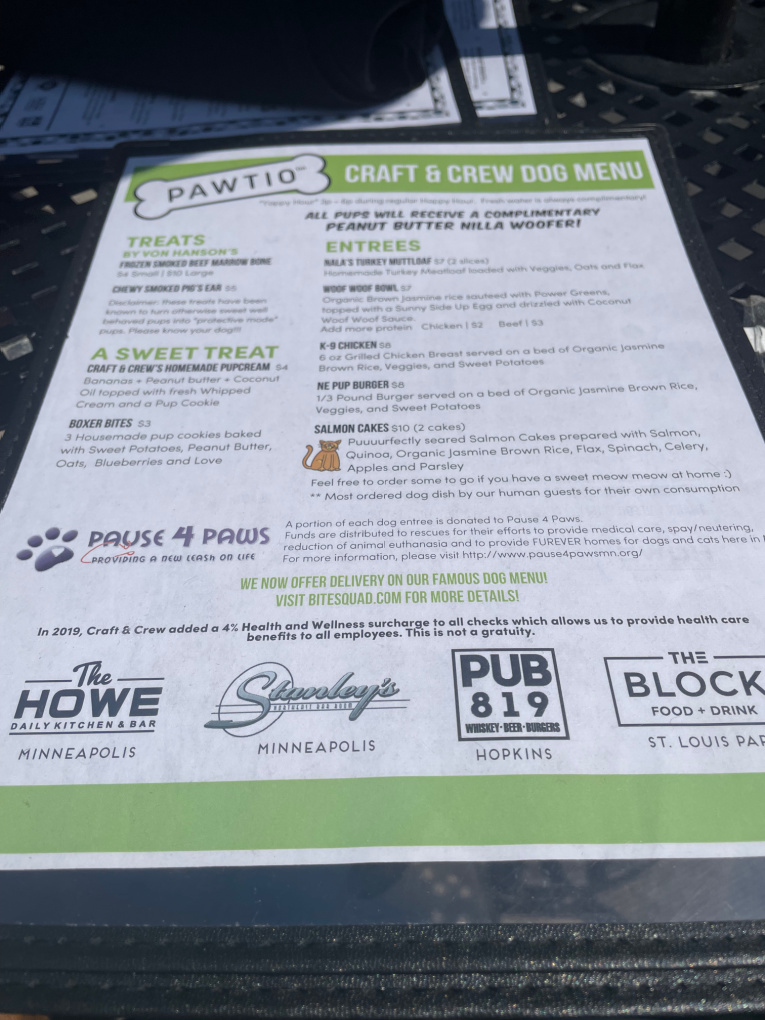 After brunch, we took both dogs to the Bryant Lake dog park in Eden Prairie to meet up with my sister and her family (and their dog Lola) for some play time.
Ruth's recall definitely still needs some work; the dog park is totally fenced in, but quite large, and she had no interest in staying close to us the way Matilda does! We have some work to do in that area.
After the dog park, we went back to my sister's house to catch up for a bit. My niece recently turned EIGHTEEN (I can't believe it) and is off to the University of Wisconsin in Madison next year. She just found out she made the cheerleading team too! Go Badgers! I'm so excited for her.
Sunday: First Oiselle Volee in-person meet-up since 2019! We met at 8 am to run a loop of Bde Maka Ska, but I ran from home to get some extra mileage, 7 miles, 9:05 min/mile average.
When I got home from that run, I realized I was at 57.5 miles for the week; I decided to head out with Dustin and Ruth for 3 bonus miles to get my 60! I hadn't hit 60 in 2021 until now!
Summary: 60.5 miles of running, 2 barre classes.
I'll wrap up this post with three NON-running updates from this week.
We had to get our chimney rebuilt; (the joy of a 1920's home!) Local readers, we used Mohler Chimney and they were great! Not a fun way to spend money, but it had to be done.
2. Once or twice a week, Ruth goes to doggy daycare because well, she's a vizsla and needs the extra exercise during the week! They posted this picture of all the vizslas there that day. Can you tell which one is her?
3. And finally, a friend of a friend started a small business selling her State Fair Blue Ribbon winning brownies and they live up to the hype! Check out "That Good Brownie." You won't regret it!
And that's a wrap; I hope you had a great week in fitness, be sure to visit all the other bloggers who link up with Running on the Fly and Confessions of a Mother Runner Check it out!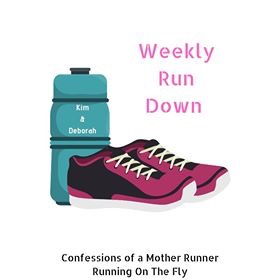 (Visited 331 time, 1 visit today)