Summer has arrived! Or at least summer weather has arrived here in Minneapolis. Right in time for a big week of training for the Idaho marathon, which I'll be racing in just 6 weeks!
Here's how this "big" week of training went!
Monday: 8 solo miles before work. Any combination of 2 lakes- Cedar, Bde Maka Ska, Harriet, or Lake of the Isles- is approximately a 7 mile run from my house, but Cedar always feels the farthest away! Not sure why. It was a pretty morning out there though, and I enjoyed the solo miles.
Barre class at the Bar Method after work
Tuesday: 6.2 miles before work with Sarah and Julie, beautiful sunny morning. It was 65 degrees when we ran at 6:30 am!
The Sculpture Garden was a recurring theme this week, as you'll see from my pictures…
Wednesday: Workout Wednesday and another alternating marathon pace and "hard" workout: 3 miles easy, 4x(4 min mp, 1 min hard), recovery jog for 5 minutes, then 4x(4 min mp, 1 min hard).
So, 20 minutes of work, recover, 20 minutes of work.
The first set of 4x(4 min mp, 1 min hard) went okay, but not great. And then the second set was a complete bust. It was very humid and I didn't bring water, so I am sure dehydration played a factor.
A disappointing workout for sure. But I won't dwell on it; I know its just one workout and I can do better next time. (And I will definitely bring water next time!)
11 miles, 9 min/mile average. Done.
Even though I've backed off of Discover Strength sessions a bit, I still have a few sessions to use up. So I did a virtual 1:1 after work.
Later in the evening, we had our first bocce ball game; we joined a neighborhood league with our friends Julie and Mason at a nearby park.
Most of the other teams are made up of retirees who are much better than us at bocce. But it was still fun! We play every Wednesday until the beginning of July.
Thursday: Another hot and humid morning! I did 5 easy miles with a few friends, 9:30 min/mile average. Barre class at the Bar Method after work.
Friday: Another 5 miles before work, this time with my friend Vicki. 9:40 min/mile average. It was pouring when we met up; I thought for sure one of us would cancel, but we both showed up and got in the miles! It wasn't too bad once we started. I was pretty drenched though!
Saturday: 21 miles. My longest long run since the Atlanta marathon in 2020!

My coach just put 3 hours & 15 minutes on my schedule, all easy, with no particular mileage goal in mind, just time on feet. I ended up with 21 miles in that time; it was a struggle though.
We started at 7 am and it was already in the 70's and very humid!
I carried a handheld water bottle (pictured above) but I drank that so quickly…it was a lifesaver to have Christie (my running friend who is injured) out on the route with Gatorade and water for us. I planned my route to swing by where she was THREE times. I would fill my handheld each time (and drink more while I was there.) Thank you Christie! I wouldn't have survived 21 miles in that heat/humidity without that support stop.
It was a brutal 21 miles; there were some walk breaks and of course the stops to visit Christie, etc. but I got it done. Took a lot out of me though!
Multiple visits to the Sculpture Garden on the 21 miler!
First thing I had when I got back to my house was a refreshing Daily Harvest smoothie (Use this code for $25 off: RE-YT75RVG)!
…and then a LOT of water, nuun, and plenty of food!
Sunday: 5.5 miles with Dustin and Ruth, 8:45 min/mile average, with plenty of stops for Ruth to get some water. It was another hot and humid morning and I don't want to push her too hard.
I tested out a new Rabbit crop; the fit was okay, but I probably could have sized down to make it a bit snugger/more supportive.
Summary: 62 miles of running!!!, 2 barre classes, one virtual 1:1 strength session, lots of dog walking as usual. Full week!
Next week will be a big cutback week, as we are heading to the Boundary Waters for a few nights of camping with friends (and the pups!) I will miss next week's recap too, but stop by later in the week for a belated recap!
That's a wrap; I hope you had a great week in fitness, be sure to visit all the other bloggers who link up with Running on the Fly and Confessions of a Mother Runner . Check them out for workout ideas and inspiration!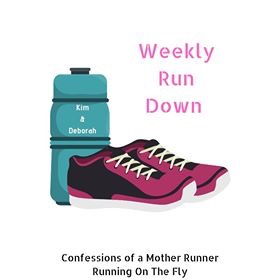 (Visited 325 time, 1 visit today)