Only 5 weeks until my 35th marathon, first marathon of 2021, and first marathon 'post'- pandemic! Can't wait. Here's how training (and life) went this past week:
Monday: Intentional recovery pace, 9 miles at a 9:40 min/mile, after a 62-mile week last week! Barre class at the Bar Method after work.
Tuesday: 7 miles, 9:10 min/mile average, super humid / sweaty one! Bar class at the Bar Method after work.
Wednesday: Workout Wednesday! And the temperature was much less humid than last week, which helped the workout to go much better.
3 miles easy, 4×15 minutes at marathon effort with 2 minute jog in between, 2 mile cool-down, 12.6 miles total, 8:38 min/mile average.
15 minute sets: 8:03, 8:06, 8:03, 8:03- pretty consistent! I was happy with that. What a difference the weather makes!
After work, we had our second game of bocce! We lost again, but it was a close one and a ton of fun.
Thursday: We were all packed up and ready to head to the Boundary Waters today. But when we woke up Matilda (our 12 year old vizsla) was struggling to breathe, wouldn't get out of bed, and wouldn't eat anything. We were so worried that this was the end…we had to call around to multiple emergency vets to find one with availability (thank goodness we have options!) Our primary vet wanted us to find one with an "oxygen kennel" available in case she needed it. We ended up at the Como Park Vet outside of St. Paul. After about 4 hours of waiting in the parking lot (our vets are still only curbside), we found out she has aspiration pneumonia. Apparently, she "aspirated" something- food, or who knows? But no Boundary Waters for her (or us, for that matter.)
We were disappointed to cancel the trip, but mostly just relieved that she was going to be okay. She's on medicine now and is recovering.
With all the stress of the day, it was a rest day for sure; just a few short walks with Ruth (the younger vizsla), but it was pouring the whole day, so she wasn't too interested in walks either.
Friday: 6.5 miles with my friend Julie before work, nice crisp morning (upper 40's). So different than earlier in the week! We were twinning in our Brooks Launch GTS 8's!
Saturday: The weather was much nicer for my long run compared to last weekend. My friend Sarah joined us for the first 6 miles or so and showed us a 'new-to-the-rest-of-us' route through the Bryn Mawr neighborhood to Theodore Wirth Park and back. I ended up with 17.5 miles, 9:19 min/mile average.
Even though it wasn't nearly as hot as the week before, I embraced the hydration vest and was glad I did!
There was a "Save the Boundary Waters" event going on at Bde Maka Ska; bit of a sad reminder that we were supposed to be in the Boundary Waters instead of long-running. Oh well, at least Matilda is okay. I'm glad it happened before we were in the Boundary Waters with no cell service.

Later that afternoon, my friend Julie invited us over for a backyard dinner, with delicious smoked brisket and many great side dishes. It's so nice to hang out with friends again like the good old days!
Sunday: 6 miles with Dustin, 8:45 min/mile average; rainy, gloomy morning, but not a bad day for a run, to be honest!
Bald eagles and blue herons are relatively common around the Minneapolis Chain of Lakes, but it still brings me joy to see them!
Summary: 59 miles of running, 2 barre classes, 1 full rest day.
Since we didn't go to the Boundary Waters, we used the extra time to start demo on a bathroom remodel on our main bathroom.
Not as much of a cutback as originally planned when I thought we'd be canoeing across the Boundary Waters!
In 2016, the floor in front of the old shower leaked and ended up collapsing! Here's a few pictures from that fun experience:
So we redid that section of the bathroom (larger shower replaced the tub and small shower). At the time, we had just finishing remodeling our kitchen so we needed to space things out a bit (financially, but also I just wanted to be done with construction after the kitchen!) We had plans made to redo the rest of the bathroom but didn't move forward.
In the beginning of the pandemic, we turned our attention to a different project, which was turning a closet into a bathroom in a guest bedroom, which turned out great!
But now we are ready to finally redo our bathroom; my main pet peeve with the current bathroom is that the two separate sinks do not leave much, if any, counter space. We are getting new cabinets with more counter space and retiling the floor, painting, etc.
It's a bit of a mess right now, but hopefully will be worth the mess when complete! Dustin is doing most of the work himself, though we hired someone for the cabinets and the plumbing.
I'll be sure to share more pictures as we go!
That's a wrap! I'm linking up with Running on the Fly and Confessions of a Mother Runner ; check out their blogs to connect with other fitness bloggers for workout ideas and inspiration!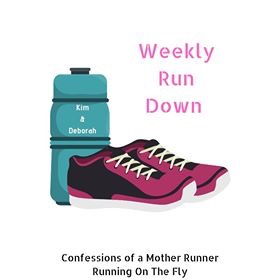 (Visited 269 time, 1 visit today)